Dallas scarcely knows seafood outside the trappings of a steakhouse. On the stretch of McKinney Avenue that is our de facto steakhouse-seafood row, we are fluent in two models. One, a world of back-lit marble and bespoke cocktails—jazzy, splashy, chic. The other: antlered moose and somber portraits of presidents.
What we have not had yet is the likes of Water Grill, the grand dame of seafood in Los Angeles. Its new outpost on McKinney, its first branch outside of Southern California, brings with it the mystique of West Coast seafood. It is more like an oyster bar with the old-world warmth of a chowder house—a place to have a bowl of unimpeachable clam chowder and a martini, to enjoy a Lillet Blanc and a platter of chilled shellfish.
One evening, you might tuck yourself into the raw bar, for all the world like a New Orleans oyster bar, oyster shells worked into the black granite of the counter. Water Grill is known for its chilled seafood platters: prized Channel Islands sea urchin harvested within view of Malibu, their intensity like a wet ocean gale; Peruvian scallops served on their purple-rimmed shells; half a wild California Dungeness crab. You'll wear a bib and perhaps taste your first spiny lobster, charcoal-grilled, sweet-fleshed, and utterly West Coast.
And this could almost be enough. But thread your way back to the main dining room. It's like stepping into an antechamber of Captain Nemo's Nautilus, with dark wood and ropes knotted around heavy beams and glass fishing lanterns hung in nets. The glow from many sources hits your vision like a fleet of ships at night. The open kitchen is a bustle of fire and crustaceans, lobster tanks there within sight.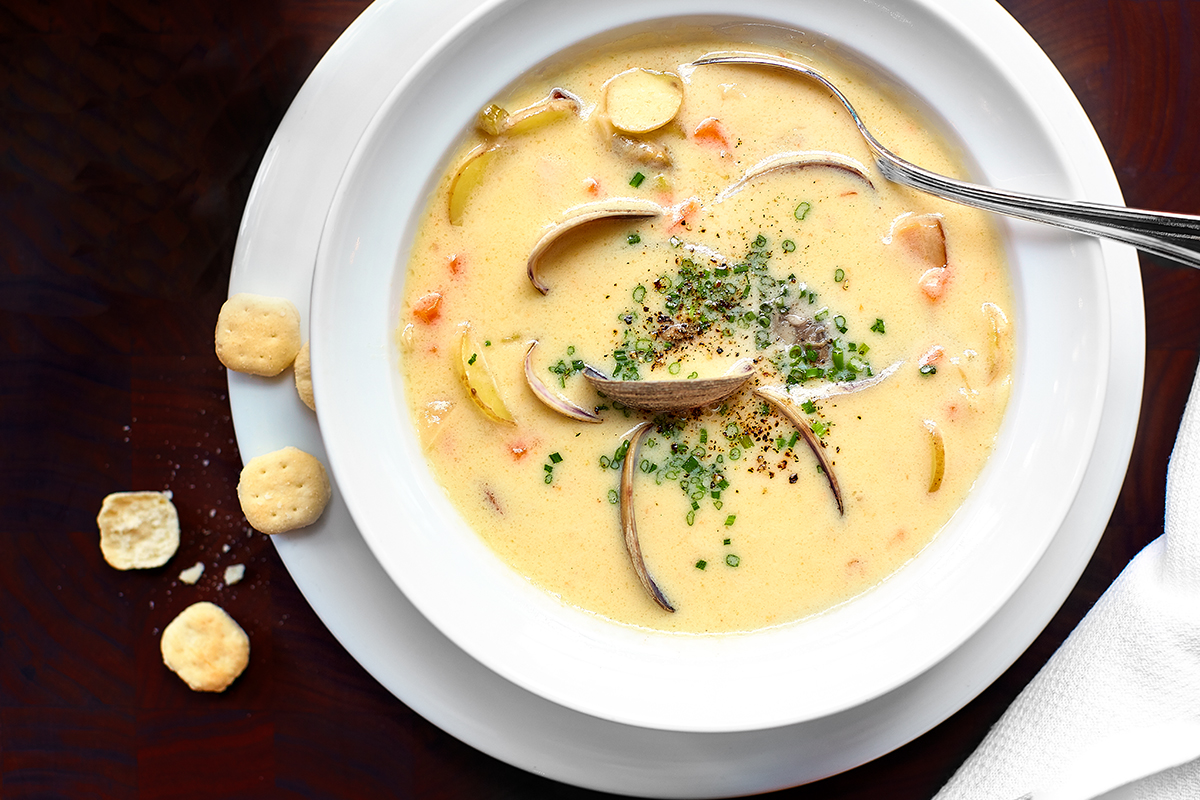 (left) Not-so-humble clam chowder is finished with slivered potatoes and whole clams; (right) whole fish prepared ceviche-style is a stunning off-menu item
When you ask about whole fish, servers will tell you the poundage, pulling from a vest pocket the scrap of paper on which arrivage weights are scribbled and then crossed out as the evening progresses. Fish that's cut in their Los Angeles facility in the morning four to five times a week arrives in Dallas that evening—around the same time that it reaches their farthest outpost in L.A.
Should you be so inclined, you, too, can spend your next date dismantling a $500 crustacean born in the waters of the Barents Sea.
A steak is a steak; an order of live seafood is a gamble, a far headier rush. Across the room, a couple has ordered a whole king crab, a 6-pound behemoth that seems spotlit no matter your vantage point. Should you be so inclined, you, too, can spend your next date dismantling a $500 crustacean born in the waters of the Barents Sea.
There is nothing in the world quite like spiny lobsters, their bodies all tail, the fan of their migration spreading north and south from Santa Barbara, requiring a shifting set of sources in their short season. After them come spot prawns, pulled from the same waters, sweet and succulent and prized as diamonds. There are three to six sources behind every specimen on Water Grill's vast menu, which makes clear distinctions between farmed and wild-caught. They're deeply anchored. They've invested in a mussel farm off San Pedro Bay. And when swordfish proves a difficult catch one weekend, it remains on the menu only because they're six sources deep.
All of which would be a moot point if the kitchen didn't know what to do with a heat source and a pedigreed piece of fish.
Though more than one executive chef from L.A.'s Water Grill has gone on to open a seafood restaurant that wins accolades, do not expect Michelin stars here. But what they do well, they do very well. Their crab cake is peerless—generous with crab, moistened with cream, and barely bound with Ritz crackers. Mussels from Washington and Maine are as plump and creamy and bright as their coral-colored harissa cream sauce.
Whole Gulf red snapper, served escabeche-style, is beautiful, its skin cross-hatched red and white, its marinade tangy with citrus juice and good olive oil, the dish deftly flourished with green olives and shaved ribbons of carrot and fennel. It arrived one night when we'd ordered the off-menu ceviche, a whole creature's flesh delicately cut, festooned with Fresno chiles and lime supremes and elegantly laid out between head and tail, an aristocrat cat's ultimate dream. Either one is a rather dramatic confirmation that in whole-fish preparations, they reign.
The menu's middle page, the land of smaller preps, is where inconsistencies crop up. Chilean sea bass with brown butter and hazelnuts was a wonder of texture, its softness almost folding into the creamy cauliflower purée, both were so much like velvet. Swordfish with soft batons of grilled zucchini showed they can pull off a classic prep.
Odd, then, the flops. In the sides, you feel a California vibe: braised kale with chopped hazelnuts and a cool dollop of Greek yogurt; beet-arugula salad with a tandoori-spiced yogurt. Under a mound of quinoa, curried yogurt, and toasted pepitas, butternut squash bore marks and smokiness from the grill. It was good. But here I first saw unevenness. Simple elements presented somewhat mystifying problems. The kale overpowered by a gust of burnt garlic. The butternut squash, for all its grill marks, still crunchy, while the quinoa was mush. And even a raw tuna entrée was oddly unfinished, nothing happening between strips of candied lemon and crunchy, fibrous grilled fennel. It needed a crack of black pepper, a pop of something. Of what use is it to nail the nuanced work if you're going to fall down on the rest? This is precisely where they're vying with their neighbors, with a well-composed plate of miso-glazed sea bass over crab fried rice.
I love their rice pudding, served humble and warm, dressed up with cacao nibs. A scoop of divine ice cream will do after a matchless shellfish glut. And, certainly, no one can top them there. But in some areas I fear they need to get their ship in order. Dallas is not forgiving. And there's other fish on McKinney.
Write to [email protected]
Get the SideDish Newsletter
Dallas' hottest dining news, recipes, and reviews served up fresh to your inbox each week.