DLM Supply
During her 13-year tenure at Nordstrom, 10 of which were spent as a menswear buyer, Deavon Moore noticed a shift in the way men bought clothing. "When I started, you saw a man in your department once every hour. It was women doing all of their shopping," Moore says. "Today, men are actually interested and shopping for themselves." The motivation: more choices. "They used to have one traditional shirt that was usually too big for them," Moore says. "They have options now and want things that fit." So naturally, when Moore opened DLM Supply in Oak Cliff last fall, she aimed to outfit her customers head-to-toe.
The smell from the retro popcorn machine welcomes shoppers into the exposed-brick retreat, where easy-to-shop displays encompass both traditional and innovative menswear, accessories, grooming gear, and leather goods, from Rodd & Gunn's beachy Italian-linen button-downs and smart Zespa sneakers to Billy Reid basics. "I'm focusing on casual denim, a great fitting shirt, and then a third piece that sets them apart," Moore says. "I wanted to create a place where the customer sees something new every time he comes in." 837 W. Davis St. 469-917-8081. dlmsupplyco.com.
STAG Provisions for Men
If you need evidence that men have more sartorial choices these days, visit STAG, which offers apparel, accessories, and home goods that are as eclectic as the stylish interior. Vintage Native American baskets sit alongside Malin+Goetz candles, while traditional Texas-made button-downs from Hamilton Shirt circulate among reimagined classics by life/after/denim. The diverse inventory perfectly captures the artisanal Americana trend, which is why STAG feels just as at home on Cole Avenue as it does on Venice Beach's Abbot Kinney Boulevard or Austin's South Congress Avenue. 4525 Cole Ave., Ste. 140. 214-599-2143. stagprovisions.com.
Rye 51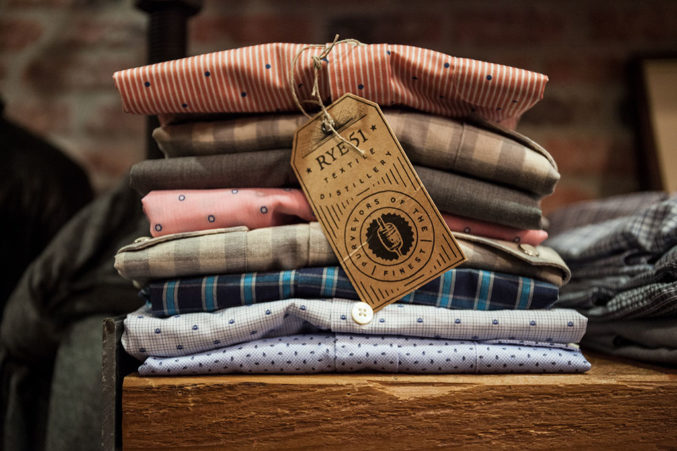 Amid the preppier tenants of Uptown's West Village, gents can discover an oasis of natty machismo at Rye 51. The flagship of the brooding, well-appointed purveyor of men's apparel, accessories, and footwear welcomes visitors with a pour from the in-house whiskey bar. Contemporary designers include L.B.M. 1911, Moore & Giles, and Rye 51's own eponymous line, which creates affordable, small-batch goods by utilizing ethical factories and workshops from Los Angeles to Peru. Adding to the hipness are the occasional pop-ups featuring local barbers or whiskey taste-offs. 3699 McKinney Ave., Ste. 310. 214-780-0202. rye51.com.
J.Hilburn
For 10 years, Dallas-based custom clothier J.Hilburn has helped gentlemen affordably suit up from home via an online shop. Now, with the line's first brick-and-mortar spot in Inwood Village, Dallas men have the added option of getting outfitted by expert stylists in person. Creative director Robert Milam gave us the six must-have items every man should keep in his closet to dress "less Steve Harvey and more James Bond." 5350 W. Lovers Ln., Ste. 122. 972-338-2210.
View Gallery for Robert Milam's 6 Men's Style Tips
Saint Bernard
Since dropping the "Sports" in 2015, Dallas-based Saint Bernard (5570 W. Lovers Ln., Ste. 388. 214-357-9700) has broadened its inventory, dressing customers for everything from a destination wedding to a Saturday night out—and weekend ski trips, of course. Local vendors are a priority for the store; the Inwood Village location is stocked with Texas Standard and the largest selection of Mizzen+Main of any retailer in Dallas. Here, a peek at those lines:
Mizzen+Main
You may have spotted Mizzen+Main's sharp, moisture-wicking shirts in one of J.J. Watt's Instagram posts or while watching Mark Cuban play judge on Shark Tank. Founded by SMU grad Kevin Lavelle, the American-made performance menswear brand has a natural affinity for the sports world, given the jersey-like nature of its wrinkle-resistant, sweat-absorbing material.
Texas Standard
Launched in 2016 by Drew Bagot (who comes by the retail industry honestly by way of his mother, longtime Neiman Marcus VP Shelle Sills) and his wife, Christine, Texas Standard's collection of stylish, good-old-boy staples includes leather accessories and pure cotton polos, pocket tees, and sport shirts, all priced for less than $100. "We spent years working to capture the essence of Texas," Drew says of the modern barbed wire-inspired logo. "The history of Texas started with ranching, and the tradition probably will continue for thousands of years."
Get the ItList Newsletter
Be the first to know about Dallas' best events, contests, giveaways, and happenings each month.