Do you know an Air Jordan fan who's missing?
Or maybe just missing a foot?
Such an odd little mystery it is, the kind I hate to love, the sort that wakes me in the wee hours. Is it a murder mystery? Can't say. It might be a suicide. It might be an accidental drowning.
It's even possible that the mystery man didn't die, although his remains are now awaiting burial.
Our tale officially begins on the scud-gray morning of November 3, as Dallas cleans up from a series of deluges that helped make 2015 our wettest year ever. Some neighborhoods have just received more than a foot of rain in nine days. And as city workers collect storm debris in one affluent enclave, things go haywire.
They were at Kessler Parkway Park's bowl-shaped eastern end, which served till about 60 years ago as a police shooting range and still conveys an illusion of isolation. Land rises steeply here on three sides: a forested natural hill to the south, showcasing some of Oak Cliff's priciest real estate; a levee to the north and east, blocking views of Interstate 30 and downtown and the white Calatrava bridges.
From the west comes Coombs Creek, ordinarily sleepy but lately bearing a torrent. It vanishes into a tunnel that looks like it could swallow a double-wide, then flows through the levee, under streets, and into the Trinity River. Covering the tunnel mouth is a grate, bars spaced several feet apart. Tree limbs tend to dam against it, creating work for public servants.
One such fellow spied the Nike, lying alone on the creek's soggy flood plain. It was about 10 feet from debris that his crew had pulled from the grate and piled up a few days earlier.
"He picked up the shoe with intentions to throw it into the pile of waste but noticed that there was something inside," a police report says. "He initially thought that there was a
baseball inside."
Some debate ensued among the cleanup crew. Someone suggested the something was a foot. It was, after all, wearing a gray sock. He proved his point by pulling it out.
"I'm a redneck," the man would later tell me. "I'm not afraid to touch stuff."
He hastened to add that he wore his city-issued gloves. And that, because of city rules, he could not give his name to a writer.
It was Law & Order time once the appendage emerged. You know—911 call, patrol officers arriving, then homicide detectives, staff from the Dallas County medical examiner's office, cadaver dogs, and a TV helicopter or two.
Authorities searched up the creek, along the levee, and down by the river. A medical examiner's investigator ventured into the tunnel's blackness, with water creeping up as high as his waist.
But any resemblance to a real TV drama soon faded. No one found a clue, much less the rest of the body. And so it went the next day, when investigators sifted in vain through debris that filled four dump trucks.
News coverage was scant and fleeting. "The Dallas County medical examiner's office will work to identify the person and determine a cause of death," the Dallas Morning News reported.
---
I knew nothing of this until four months later. The obsession began in Grand Prairie, 13 miles west of the foot-discovery site, on a blustery morning in March. I was sprawled out in the weedy back corner of Southland Memorial Park, composing photographs for a project while warily eyeing a fire ant mound. My eye fell on a few fresh graves, their tombstones flush with the dirt. Only numbers adorned them.
In the majority of cases, feet were the only body parts found, because shoes gave the best odds against scavenging animals. Athletic footwear serves another important role. It floats and thus can wash ashore more easily.
Beneath the stones, I learned that night, lay the remains of those who'd died in anonymity. Dallas County pays for such burials after securing DNA profiles; it cremates most identified corpses if relatives can't or won't pay for interment. (An exception, as described in a county record: "Decedents weighing more than 600 pounds are also buried, due to cremation chamber
size limitations.")
Googling the tombstone numbers took me to the online databases of NamUs, the National Missing and Unidentified Persons System. This project, federally funded and managed by the University of North Texas, catalogs heartaches by the tens of thousands. It's an invaluable resource for relatives and others bedeviled by the unknown.
Scrolling through recent Dallas County listings, I came upon UP#14515, the case of the disembodied right foot. "Size 10.5 Nike Air Jordan," the case report said. "Possible Space Jam edition."
A photo showed a filthy white high-top with cracking leather. But its iconic red logo—a basketball with wings—seemed unscathed.
The wearer was said to have died in 2013 or later, age 16 to 99 years. Some tissue remained on the bones, but not in a condition that enabled a determination of race. Gender was also listed as unknown. DNA tests were pending, so the remains had yet to be buried. On an "identification potential" scale, the case got two stars out of five.
I was hooked. By the details or their lack? I cannot say. But my friends might tell you this much: if he were a Catholic, his favorite saint would be Jude. He's a fool for lost causes.
The next day, I called the medical examiner's office. Was the case still alive, or had the deceased been identified? "We can't even confirm that the person has passed away," one employee told me. I swallowed the hook deeper, sent public information requests to the medical examiner and police, and waited—in vain, as usual—for the legally required prompt response.
---
Desk work proved futile. Namus database searches turned up no Air Jordan wearers who'd gone missing in recent years, nor any bodies-without-feet cases in Dallas and down
the Trinity.
Was there any possible source of stray body parts near the discovery site? The closest hospital was about six blocks away. I made a hail-Mary phone call. "We are confident the severed foot found last fall has no connection to Methodist Dallas Medical Center," spokeswoman Chris Hawes wrote in a follow-up email.
Legwork loomed, up Coombs Creek. I sought inspiration in Stephen King's novella The Body, in which four boys take the sort of macabre hike I was planning and get a be-careful-what-you-wish-for lesson. The story did little more than refresh my memory of a scene in the movie version, Stand by Me, in which leeches attack one boy's scrotum. Lesson for me: be careful what fiction you put on the bedside table.
Two of my hiking buddies soon begged off accompanying me. One said he was too busy, and the other mentioned water snakes. So before the late-spring heat hit, I bought some calf-high rubber boots and waded in alone, down by the tunnel's mouth.
It was momentarily magical. Pecans, sycamores, and catalpas towered overhead, casting the steep banks in deep shade and rendering the million-dollar homes invisible. Fish flitted in little pools. Wild grapevines beckoned to my inner Tarzan. Civilization wafted in only as an aroma from Lone Star Donuts, on the other side of the levee.
Soon all the flotsam and jetsam of humanity commanded attention. There was plenty of consumer-culture trash, like candy wrappers and plastic bags, but some of the most abundant items were little white balls, escapees from the fairways of Stevens Park Golf Course, a mile upstream.
More sobering were the heavy things at my feet—big chunks of a brick archway, the rusted remains of a car's undercarriage—and a stump that had lodged in a tree fork about 20 feet above today's water line. Now I could picture how this creek had raged in the days before the foot's discovery. And as if to comment more explicitly on how a human body could fall to pieces out here, a metal grocery cart came into view, snagged on a root and crumpled like a piece of tin foil.
But wouldn't such a current have swept the foot down into the tunnel and on to the Trinity? If the shoe had lodged in the logjam at the tunnel grate and city workers removed it, why wasn't it in their debris piles? Could someone have dumped it in the park deliberately? Maybe a coyote had dropped it there.
---
I could still see the tunnel grate in the distance when I found a young man's photo ID face down in the mud. It was an "international translation of foreign driver's license," the sort of official-looking card that opportunists peddle to unofficial immigrants. He was said to be from Mexico, and to be named Freddy.
The clue the authorities had missed! I briefly let myself imagine this before starting the internal, infernal argument. Why wouldn't the card have washed away sooner? What were the chances that a Mexican guy's real name was Freddy? That the birth date was legit?
But at least it was a lead, something I otherwise lacked. So it was back to the internet—and more fruitless pecking. Next came a call to the Consulate General of Mexico, in which I tried to explain my mission without sounding like a nut. A spokesman said he'd relay a message and call back. A few days later, to my surprise, he did. Please, he said, come meet Sergio Hayakawa, the consul for protection and legal affairs.
The consulate sits about 5 miles northwest of the foot-discovery site, on some spongy Trinity watershed land of its own. There, in a large but cluttered office, a harried Hayakawa rekindled my fantasies. Freddy, he said, was really Freddy; he was part of a younger generation of Mexicans who'd been born far south of the border—Oaxaca, in this case—but given American names. The birth date was real, too. Indeed, the consulate had had contact with Freddy a few years ago and issued him a passport.
Now Hayakawa could not find the young man. A previously valid phone number no longer was; no new one turned up. And he wasn't on anyone's list of known decedents.
The consul agreed to send letters to old addresses but seemed dubious that we'd turn up meaningful information. He mused about all the border-crossers who'd died without names in South Texas, the relatives left to wonder endlessly. He recalled a North Texas identity puzzle that had taken 25 years to solve.
"It's better," Hayakawa said, "to know they're dead."
It's even better, of course, to know they're alive. And Freddy apparently is. After wasting a fair amount of time looking for him in West Oak Cliff, where he had lived along Coombs Creek, I got a lead that placed him several hours south, in the Houston suburbs. We never spoke directly, but Facebook led me to a woman who knows him and relayed this message:
"Freddy is alive and has two feet."
---
Begging, cajoling, and arguing finally got me the Dallas County medical examiner's records I'd requested two months earlier. The District Attorney's office had withheld them at the request of a police detective, who claimed he was trying to protect an active criminal investigation. Yet other police officials had separately released all their records on the case. "There is no evidence of an offense therefore no ongoing investigation," a DPD spokeswoman wrote me.
Indeed, the autopsy report showed no sign of an ax-wielding narco on the loose. It described ankle cartilage as "smooth and without grossly evident tool marks or injury," then added: "No fractures are identified." So how did the foot become separated from its leg? The report didn't say.
Foot size led the medical examiner, unlike NamUs, to declare the victim a man. I checked for other discrepancies and learned it was best to call the shoe a Hare Jordan, not a Space Jam model. It was released in April 2009 and sold for a bit north of $100. One distinctive feature, on the shoe's tongue, didn't show in the NamUs photo: Bugs Bunny soaring above the word HARE, basketball in hand, in a Michael Jordanish way.
At the back of the file was a tantalizing tidbit: the name of a young man who had called the medical examiner's office and reported his right foot missing. Joshua Bapties said he'd lost it a year earlier in Arlington, in a car crash on a Trinity River bridge.
The notes didn't say whether investigators had run the lead to ground. I quickly dialed up Bapties, pulse again racing despite the unlikely scenario. Wouldn't the autopsy have detected crash injuries? And while Bapties' foot could have flowed down the Trinity to an area near where the mystery foot was found, how would it have gotten back up Coombs Creek?
Bapties told me his mother had called him on the night of the mystery foot's discovery, right after seeing a TV news blurb about it. The foot certainly would be no good to him now, after all these months and the fitting of a prosthesis. But he could help the Dallas investigators, she said. And he might find out what had happened to a piece of him that, thanks to the phenomenon of phantom pain, still aches.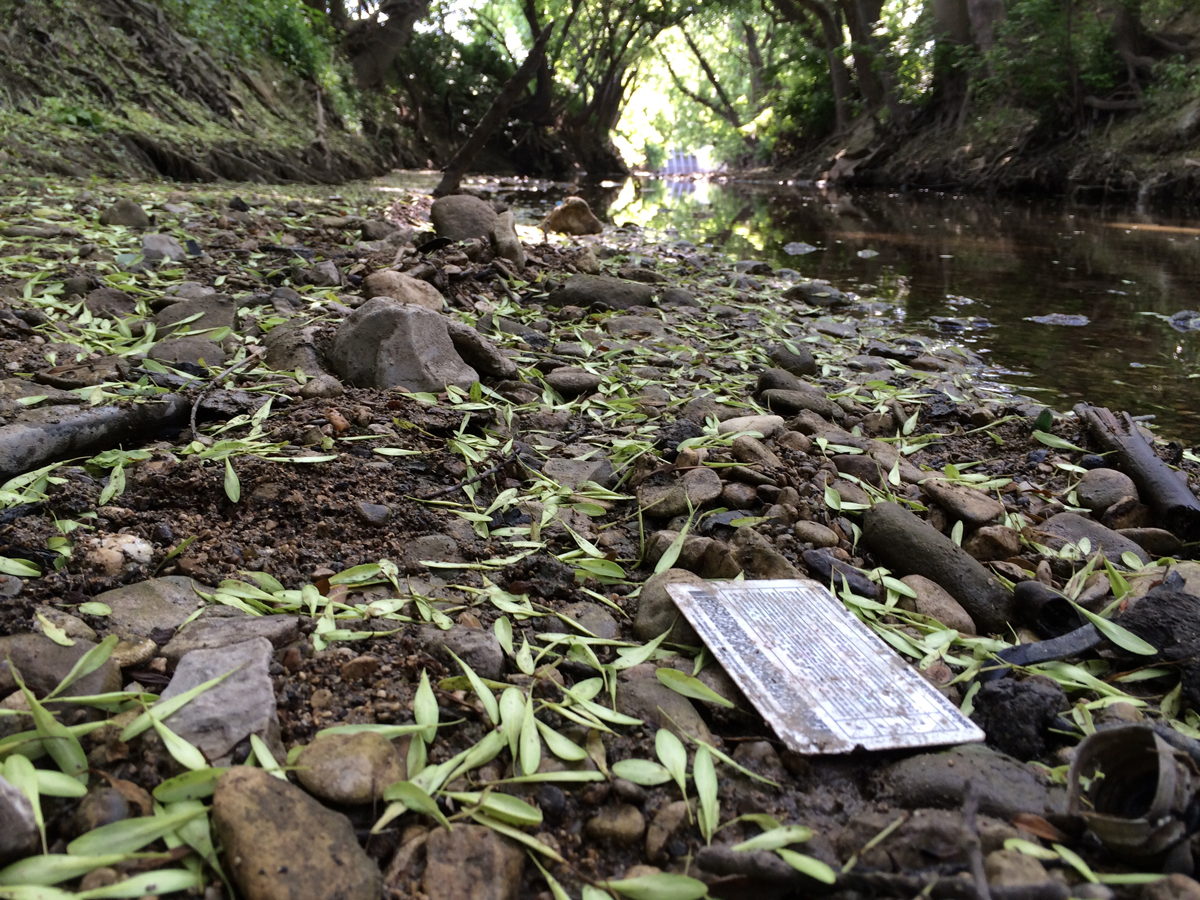 When the author visited this isolated area at the eastern edge of Kessler Parkway Park, he found what looked like an exciting clue: the "international translation of foreign driver's license" of a young man from Mexico named Freddy. Mostly, however, he encountered piles of trash and golf balls from Stevens Park Golf Course, located a mile upstream.
"There was curiosity," Bapties said. "Where did it go? What happened to it?"
He reeled off details of the one-car crash and its aftermath: dark night, rain-slicked street, driving too fast, careening into a Collins Street bridge abutment, having his car and body shatter, waking up weeks later in the ICU, undergoing numerous surgeries, surviving against long odds.
Part of his silver Pontiac sedan wound up in the water, presumably carrying his right foot—and the steel-toed boot it was wearing. That's how Bapties knows the Oak Cliff foot isn't his.
"It's somebody else's," he said. "Isn't that weird?"
---
All else having failed, it was time to ask folks at the British Columbia Coroners Service for insight. I knew from news coverage that they'd dealt repeatedly with stray feet.
"We're the foot experts of the world," service spokeswoman Barb McLintock said, chuckling, before agreeing to have their identification specialist call back. Soon that woman, Laura Yazedjian, was telling me about the 12 feet they'd recovered in or near water since 2007. Eleven were in athletic shoes, as in Dallas; the 12th was in a hiking boot.
Local news coverage has led over time to sinister speculation and stories in faraway publications, including the Washington Post and U.K. tabloids. "We got every single possible type of very helpful tip," Yazedjian said, so drily that I didn't realize she was about to wave at wacky murder plots and extraterrestrials.
Then the deputy coroner got serious about what physical evidence showed. Just as in Dallas, there was no sign of foul play. It was all about the natural consequences of decomposition in turbulent water. "I always have to make the point," she said, "that the feet are not severed."
DNA tests have tied most of the feet to Canadians who disappeared years earlier. They're now classified as dead, with suicide or accident suspected—by jumping or falling into water, for example. The tests have also tied some of the feet to one another. So the death toll stands at eight, not 12.
In the majority of cases, feet were the only body parts found. Yazedjian said that's because shoes gave the best odds against scavenging animals. Athletic footwear serves another important role. It floats and thus can wash ashore more easily.
Why has BC had so many cases? "Before 2007-2008, anyone who saw a shoe on the beach kind of walked past it, figuring there was a lost shoe on the beach," Yazedjian said. "Once people started finding feet in shoes, every single person who sees a shoe on the beach is checking."
She didn't mention it, but disembodied feet have fascinated British Columbia since long before she came on the scene. Vancouver, the province's largest city, has a place called Leg-in-Boot Square. It's named for an 1880s discovery along a nearby ocean inlet. By one account, the limb turned out to belong to a bear-mauling victim; by another, police put the remains on public display and never solved the case.
---
Will our tale, too, fade into history as mystery?
It very well might. Most remains that have been listed in NamUs' unidentified persons database since its 2007 launch are still unidentified.
But it needn't be this way. The foot's DNA test results arrived over the summer, enabling automated cross-checking against not just NamUs' databases but also the FBI's, which includes millions of profiles from the criminal justice system and beyond.
The checking takes months, said Todd Matthews, NamUs' director of case management and communications. So far, it has turned up nothing.
"A hit literally could come at any minute," he said. "We've got the hook baited, and we're trolling."
Even if this process comes to nothing, a DNA match might still be out there. It's in a missing person's old hairbrush or toothbrush or medical specimens, perhaps, or in blood samples from close relatives.
Will the right someone step up and stop my wondering? Someone who remembers the guy with the white Hare Jordan high-tops? The winged basketball logo? Bugs Bunny on the tongue?
Get the D Brief Newsletter
Dallas' most important news stories of the week, delivered to your inbox each Sunday.