On one of the 341 days of the year that the State Fair of Texas isn't running, it's weird to drive your car down the quiet, empty fairground streets where you expect to see booths of tamale balls, throngs of screaming children, rigged Midway games, and Belgian waffles. A giant xeriscaped mound of earth sits empty in the middle of the road, with two huge bootprints in it where Big Tex should be standing. There's not a Fletcher's Corny Dog in sight. Everything's in a sad holding pattern, waiting to be woken up again, like the toys from Toy Story. Or like Bride of Chucky. It's unclear which.
Since 2005, the Big Tex Choice Awards have challenged State Fair concessionaires to step out of their cotton-candied, corny-dogged comfort zones and wow us with something truly dangerous to our health. But as we enter the contest's 12th year, in a post-fried-bacon-cinnamon-roll, post-deep-fried-jambalaya, post-buffalo-chicken-in-a-flapjack world, there's one question that comes to mind: is there anything left to fry? The answer, for better or worse, is yes. Definitely yes.
I've come to the Creative Arts Building to meet the minds behind Fried Jell-O. As I park at a sandwich board that says "BTCA TASTING," I feel like an embedded journalist of super-top-secret fried goings-on. Read: I FEEL VERY LISA FRANK UNICORNS. The State Fair has never allowed a journalist to observe this stage of the Big Tex Choice Awards. That's partly because they try to keep this process secret, but also because nobody from the media has ever asked to watch. I have an obsession with this competition that started with a deep love/hate relationship with Fried Butter. I've followed the competitors since about 2008, and when I heard grumblings that the process might be rigged, or that certain people were getting preferential treatment, I started digging.
Surely the State Fair of Texas couldn't be fixing this competition, right? Surely the same place that hosts a Midway of unwinnable games couldn't be rigging this, too. I mean, it's just fried food.
I find the chef demo kitchen in the Creative Arts Building, where most of the contestants prep their dishes for the judges, just as Juan and Brent Reaves drop the first ball of their Fried Jell-O into the fryer. The brothers are the sons of Smokey John, who has had Smokey John's Bar-B-Que booths at the fair since 1977. With their "82 years young" partner, Ms. Ruth, they run four Smokey John's booths and two Ruth's Tamale House booths. Despite their smiles and laughter as they prep the Fried Jell-O, it's clear that this competition has them on edge. Brent keeps checking a timer for the Jell-O as it bubbles in the fryer. The air is thick with nervousness and powdered sugar.
The rules governing the Big Tex Choice Awards are more complicated than you might imagine. Concessionaires who have worked at the fair for at least one year are allowed to enter up to two items for consideration. Items must be new to the fair, and while there is no requirement that they be fried, most in the history of the competition have been. For those of you following closely at home, the only two non-fried items to ever win the competition were the Smoky Bacon Margarita and Funnel Cake Ale. So there's a pattern emerging there, too.
In the first round of competition, five judges, all employees of the State Fair, read anonymously written descriptions of the submitted items and make cuts based solely on the words on the page. There follows a preliminary tasting round in which the field is narrowed to eight finalists. Then a panel of celebrity judges picks winners in two categories: Best Taste and Most Creative. This year, 21 of the 55 entered items got cut in the first round and never got tasted.
Cassy Jones, who has had her booth at the fair since 2013, made the finals last year with Deep Fried Alligator's Egg Nests. This year, she went with something sweeter, Pecan Pie Bites. Her description read as follows: "Brown sugar mini muffins chock-full of pecans are oven baked to a golden brown and topped with a hefty dollop of rich whipped cream and sprinkled with chopped pecans." Unfortunately, her item never made it to the tasting round. Jones was understandably upset.
"Oh, I don't think it's fair!" she says. "They should taste everybody's. If you're a vendor, you should be eligible. Not because of the judges thinking a name is cool or not. Not because of a description."
While I can't tell you how I know this, I can tell you that this year a fair employee in charge of typing up the food descriptions for the judges had trouble with one unusual item. The employee called the competitor to ask what "sous vide" meant.
The fair says it would be impossible to taste every submission. "We do our best to make this like the Academy Awards. This is the big leagues," says Melanie Linnear, director of concessions. "But it would just take too long to taste all of them."
Imagine if the first round of the Academy Awards were just descriptions of the movies. To Linnear's point, though, the way they run the process does take a lot of time. It's a nightmare for the judges. This year, the judges tasted items at 9:30 am, 11 am, 1:30 pm, and 3 pm over the course of nine straight workdays. Judges complained to me that they couldn't take meetings during these weeks because of the competition and that it really affects their workday.
Meanwhile, the Creative Arts team at the State Fair hosts the public pie competition with 200 or so pie entries. They manage to get every pie tasted by judges in one sitting.
Jones isn't alone. Many competitors don't like that the first round hinges on whether they can name and describe their item in a compelling way. Most of the concessionaires write these descriptions themselves, but some now hire advertising agencies to do it because so much is on the line.
Juan Reaves is not like those disgruntled concessionaires. He likes the process. As he drops another Fried Jell-O ball into the fryer, he shocks me with his glee about the first-round rules. "We think it's great!" he says. "You don't have to produce it if it doesn't pan out!"
I let out an inappropriately loud laugh. "Wait," I say, "you don't go through months and months of trials before you narrow your millions of tested ideas down to two items you submit?" Every competitor I spoke to up to this point talked at length about testing their recipes, taking a whole year to get it right. Some of them even go so far as to get patents for their items before they make it to this tasting round.
Not the Reaves brothers. They submitted the written idea for Fried Jell-O without ever trying to see if it would work. Just wrote some words down on a piece of paper and sent it in. And then, to their surprise, they made the tasting round.
Brent describes their process: "We were like, 'Let's do Fried Jell-O!' And we had no idea how it would work. I mean, we had sort of an idea of how it would work." He pauses dramatically. "But none of that worked." His brother Juan laughs. "This is how we operate. We're like, 'Let's do it!' 'Okay! How?' 'I don't know!' " They both laugh, and it's contagious.
Juan, Brent, and Ms. Ruth didn't have any problems naming their items this year. Fried Jell-O and Deep Fried Bacon Burger Dog Slider on a Stick are about as perfect as you can get when you're looking to name freak-show food acts for the State Fair. Fried Jell-O brings to mind that Jeff Goldblum line from Jurassic Park: "[They] were so preoccupied with whether or not they could that they didn't stop to think if they should." And Deep Fried Bacon Burger Dog Slider on a Stick is a name that includes every State Fair food trigger word.
As the brothers carefully scoop the Fried Jell-O out of the fryer, they are eyeballs-popping-out-of-their-heads nervous. They hover around the fryer, discussing the appearance of their Frankenfood. "I think it's good," Brent says. "It didn't get too hot. I don't know. I can't tell."
We're minutes away from judges' tasting, and there's no time to fry another batch. They cut into one glistening fried ball, and they breathe a sigh of relief.
Spoiler alert: despite the Reaves' "We're just winging it here" attitude, what they created is outstanding. It's essentially a beignet ball with all the happiest moments of your childhood inside, dusted with powdered sugar. The cherry Jell-O gives you a way-better-than-a-jelly-filled-doughnut moment.
I follow closely behind as a State Fair employee takes a tray of Fried Jell-O to a secret room where the judges await. She's carrying a lot, so I ask if I can help. Her response: "No." Great care is taken to make sure that this is a blind tasting. Instead of walking straight to the judging room, we walk a different, increasingly convoluted path every time we ferry a food item. One time we even took a ride in a golf cart, drove all the way around the building, and walked into a different entrance instead of taking the very short walk to the judging room.
The State Fair woman places the Fried Jell-O tray in front of the judges, and they lean in. "Oh," one says, "is this the Fried Jell-O one?" They closely inspect the presentation of the fried balls of Jell-O before they pick up their individual servings. Glasses are pushed down on noses, then pushed back up. Sleeves are rolled. This is serious. "Okay, so that's powdered sugar on top," one judge says. "But they didn't serve it with chocolate sauce like the description says. Hmm."
One judge gives the whole tray of food a McKayla Maroney not-impressed face. There's a lot of nervous squinting going on in the room as the judges finally bite.
And then the whole room erupts. "Oh, my gosh, how cool is that!" "It's like a really good doughnut." "With a surprise in the middle!" They love it. This is big.
If these judges name you as one of the eight finalists in the Big Tex Choice Awards, you suddenly have the State Fair of Texas public relations machine behind you, promoting your items, and that can mean a huge bump in sales at your booth.
Clint Probst won in 2014 with Fried Gulf Shrimp Boil and this year entered Southern Fried Chicken & Dumplins. "If my baseline with no participation in the BTCA is $150,000 [for the run of the fair], I can almost double that if I'm a finalist," he says. "If I win, I can almost triple that." And, just like that, the business of deep-fried, ball-shaped foods starts to sound quite serious.
---
In 2005, the first year of the competition, Abel Gonzales won with an item he still serves at his booth today, the Fried Peanut Butter, Jelly, and Banana Sandwich. After that win, he brought you Fried Coke in 2006, Fried Cookie Dough in 2007, Fried Butter in 2009, and Fried Jambalaya in 2012. All winners.
With Fried Coke, he says, he sold about 50,000 orders. And last year, although he didn't win, he was responsible for Fried Lobster, an item everyone speculated would never sell because it was so expensive. It cost 60 tickets, or $30. He sold the heck out of them. Because of course he did. This is Dallas. We have valet parking at our State Fair.
"With the lobster, I had no clue how it would sell," Gonzales says. "We thought we'd have 50 orders a day, but we sold 200 lobsters that first day." The first order came at 9:30 am, and he was sold out in two hours. "I kept 50 in reserve so that we could have something to sell when we opened the next day. We sold a little more than 1,000 lobsters that first weekend."
Probst says, "You do about 20 percent of your sales for the whole season of the fair in that first week. The rest of the fair, you do your other 80 percent. So that first weekend can really help you project your sales for the whole fair season."
If you just look at Gonzales' Fried Lobster numbers and use Probst's math to project Gonzales' total sales for the season on lobster, you're looking at about $150,000 for the 24 days of the fair's run. Gonzales says he actually did $200,000.
Before you get all excited doing math for these concessionaires, figuring that they're swimming Scrooge McDuck-style through their backyard pools filled with fried gold doubloons, don't forget to factor in overhead. According to several concessionaires I spoke with, the State Fair of Texas collects 23.5 percent of gross sales from every concessionaire. And it's all in coupons, remember, since they don't want to deal with cash at the booths for safety reasons. That's millions of dollars in coupons.
Justin Martinez, who has past wins for Fried Bubblegum, Fried Thanksgiving, and Funnel Cake Ale, has worked the fair with his dad since 1990, although his dad started in 1978. His three booths do a ton of business selling funnel cakes, foot-long corn dogs, and his winning fried items—all measured in coupons. "Coupons are turned in every evening," he says. "They weigh them that night. Two days later, we get a check."
Martinez takes inventory every night before he turns them in, to make sure the numbers check out. He says discrepancies have arisen only a couple times, and in every case it was a mistake on his side.
It's not clear to me how he was able to make that determination. It's also not clear to me what effect humidity or beer spillage or greasy fingers might have on the weight of millions and millions of little pieces of paper. A part of me hopes there's a counter hidden somewhere on the fairgrounds that only concessionaires have access to, a counter like they have at Chuck E. Cheese's, where instead of trading your coupons for cash, you can pick out a super-cool boombox.
While I understand that you don't want your concessionaires having hundreds of thousands of dollars in cash at their booths, it seems so cartoony for the concessionaire to have coupons as their only record of sales. What if the wind catches a stack of coupons? What if Liam Neeson comes to the fair and all the coupons get kidnapped? There are so many ways this process can go wrong. Makes me wish someone would invent a better way to pay for products without having to use cash. I'm just spitballing here, but we could call them "debit cards."
Not only do the coupons count as cash, but they also help the fair determine whether a season is successful, since they track total coupon sales instead of tracking attendance. That's right. The fair says they don't know how many people attend every year. Even though you walk through a turnstile to get through the gates. The Dallas Morning News published a report in April that said: "The State Fair of Texas says it drew 2.5 million to 3 million people last year. And the year before that. And every year for the last 15, no matter what was happening with the weather, the economy, or the popularity of the fried-food contest. The fair has used the same estimate since 2001 because—unlike most big fairs around the country—it doesn't keep track of attendance, its president says."
---
For some, suffering the peculiarities of the State Fair is worth it. The benefits of being a finalist in the Big Tex Choice Awards go beyond just the money (or coupons) that can be made during the three-week frenzy. Ever since Isaac Rousso's Deep Fried Pop Tart was a finalist, in 2010, he has been crushing it. He is now the master concessionaire at Addison Kaboom Town!, handling all the food and beverage for the event, serving more than 20,000 people during the Fourth of July fireworks show. And he just signed a huge deal with Walmart to run restaurants in their stores—nationally.
"We're multitasking our asses off right now," Rousso says, laughing. "This is all tied directly to our success at the fair." It took Rousso seven years of applying to be a vendor at the fair before he got in. But all that perseverance is paying off. "We live this. And we couldn't be here if it wasn't for the fair and them giving me a platform."
His first restaurant will open soon in a Walmart in Plano, near the George Bush Turnpike. Then they have a multi-year plan to roll out nationally. "Having the opportunity to find a great partner like Walmart that believes in a local Hispanic guy—that's like a movie," he says. "How does that happen to me? I pinch myself every day." And he's not just bringing restaurants into Walmarts. He's already working with Walmart to get his State Fair Cookie Fries, a finalist in this year's Big Tex Choice Awards, into the freezer section.
While the concessionaires I talked to did say they'd like to see changes made to the judging process of the Big Tex Choice Awards, without exception, every competitor I spoke with overstated how thankful they are even to be at the fair. They knew the price of doing business at the fair when they signed their contracts. Maybe it's because they're all perfectly happy and thankful for the competition and their concession stands. Or maybe it's because the State Fair has them by their fried chocolate-covered strawberry waffle balls.
Several competitors brought up the fact that their contracts are up for review every year, so they had to be careful about what they said to me. One concessionaire who wished to remain anonymous told me he was threatened with that one-year contract by State Fair officials when he complained about the judging process.
It also would not be wise to complain about having to buy employees' uniforms through the fair, which concessionaires are required to do. Nor would it make any sense to gripe about having to use fair-approved vendors for food and beverage.
Gonzales isn't complaining. "I would say the price of doing business with the fair is pretty cut-and-dried," he says. "I fully expect to be a good $50,000 to $60,000 in the hole before we even open the doors. There are no real gotcha costs. We don't pay rent. They do spring some stuff on you, like new signs they are making us buy on Nimitz and the Midway. Those are in the thousands, and we will have to eat that." Wonder if they'll fry it for him before he starts chewing.
Cassy Jones, she of the overlooked Pecan Pie Bites, says, "That first year, we didn't make any money. Didn't take home a penny. We had to buy all the equipment, and everything here just costs more. A case of beer at Walmart is $19.99, but we have to have it delivered. Ben E. Keith charges us more than $30 a case. They all charge more, more, more. The ice man charges $7 a bag."
One concessionaire says, "It's their way or the highway. You can't push. They'll push you out and set somebody else up in there. I saw them do it. They kicked someone out, and someone new was in there the next day."
Okay, that does sound like a complaint. Which is why the concessionaire didn't want me to use a name. Again, goes back to those one-year contracts.
And nowadays just getting a booth at the fair is difficult. There were 160 applicants for two open spots this year. If you're not a legacy like Justin Martinez or Smokey John, it's extremely hard to get a spot. None of the newer concessionaires I spoke with, the ones who have gotten in to the State Fair within the last 20 years, made it in the first year they applied. It took Rousso seven years to get one booth. And Gonzales only got in because of a connection with Smokey John. All of them are on edge about losing their spots, even those who've had booths at the fair for decades.
"The only vendor out there that is pretty much untouchable is Fletcher's," Gonzales says. "There would be a fair revolt if people didn't have a corny dog. Other than that, our contracts are renewed every year."
---
After reporting this story for weeks, the time finally came for the meeting I had been waiting for months to attend. After nine workdays of tasting 34 entries, the five judges would cut the group of contenders, including Fried Jell-O, to a final eight competitors at an after-hours confab.
I wish I could tell you how seriously all the judges took that last cut. I wish I could say that they deliberated and argued for hours and that at one point, someone loosened his tie and yelled, "YOU CAN'T HANDLE THE FRIED TRUTH." But I can't. Because this was the one moment I wasn't allowed to attend. "I just couldn't get all the judges comfortable with a reporter being there," said Karissa Condoianis, VP of public relations for the fair.
I tried again, this time begging in an email, "I can come without paper, pen, or my phone. No quotes. I'm looking to get a feeling for how long you guys deliberate. Willing to offer up my firstborn child as collateral if anything is leaked." Still nope.
Up until this point, the process had been very open and fair. What some concessionaires told me about the process being rigged didn't seem accurate. But then this. Why on earth would a conversation about Southern Fried Chicken & Dumplins necessitate a closed-door meeting without the Fourth Estate there to witness the proceedings?
A few days later, on August 17, at 5:20 am, the State Fair held a press conference to reveal the eight Big Tex Taste Award finalists. Even though the sun wasn't up, the Midway arch was lit, and things were already starting to look more fair-like. I walked into the media room at the Cotton Bowl to the sound of mic checks and whispers. I'm not sure what an appropriate number of media outlets would be to cover such an event, but whatever that number is, this was way over that number. Cameras were everywhere, and the newscaster hair level in the room was high to quite high. A creepy Little Tex mascot did the Vanna White thing with each fried-food finalist poster, turning it around as the item was revealed. All eight finalists were there, too, including the Reaves brothers and Ms. Ruth.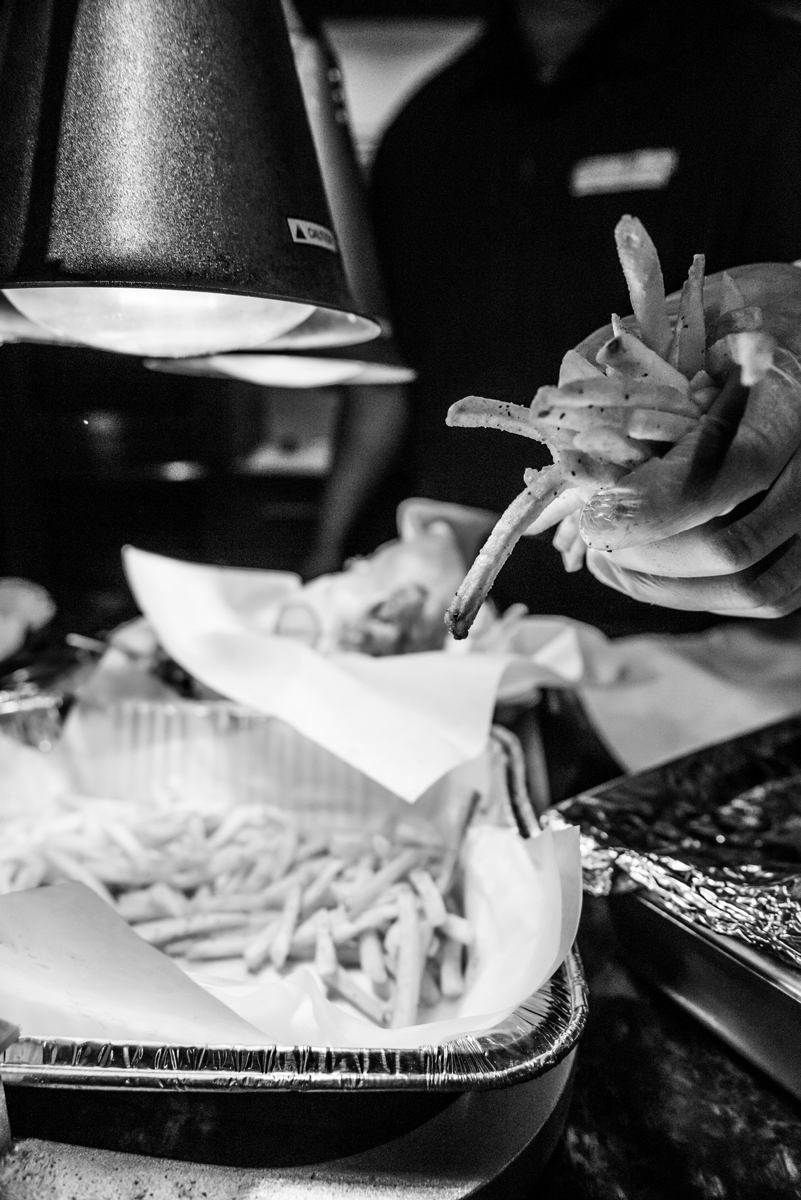 Brent Reaves begins building the dish with a Hawaiian roll and an all-beef patty, adds a hot dog, bacon, and a pickle, then fries it all up in tempura batter.
When the media were allowed to interview the finalists of their choosing, the Fried Jell-O folks were beset by cameras and reporters holding mics. "We're just happy to be here at all," Juan told a nice reporter lady. He turned to Brent and said, "Aw, man, I hope someone DVR'd all this."
Eleven days later, the finalists were invited to one last round of competition for all the glory, Big Tex trophies with the words "Best Taste 2016" and "Most Creative 2016" engraved on them. The golden ticket to a year of incredible sales at your concession stand was just one dunk in the fryer away. This time, the competitors would have their food judged by celebrity judges, including a champion bull rider, some dude who won a cooking show on the Food Network, and The Kent Rathbun. Tickets to the event, which was held in the cavernous Food Court, were available to the public for a mere $100 each (with proceeds going to a Texas college scholarship program).After much inspecting and deliberating, the judges were ready to announce their winners. Juan and Brent looked like they were going to throw up. The moment it was announced that State Fair Cookie Fries won for Most Creative, the air fell out of the sails of all seven of the other competitors. Juan and Brent continued to look like they were going to throw up. Rousso kindly accepted his award and awkwardly side-hugged Little Tex.
And then it was time for Best Taste to be announced. This was it. Nobody breathed. Juan and Brent: still throw-uppy. When the words "Fried Jell-O" followed "and the winner for Best Taste is," Ms. Ruth's hands flew into the air, and she gave Juan a wrap-around-the-neck hug that lasted long enough for everyone to know she really meant it. Brent wiped tears from his eyes.
"It's like I've won the gold medal," Ms. Ruth said, as the crowd cheered.
What she really won, though, was a whole lot of coupons.
Alice Laussade won the 2013 James Beard Award for humor writing, and she is the mother of Meat Fight, which will be held this year on November 13. Reach her at [email protected].
Save
Get the FrontRow Newsletter
Get a front row seat to the best shows, arts, and things to do across North Texas. Never miss a beat.