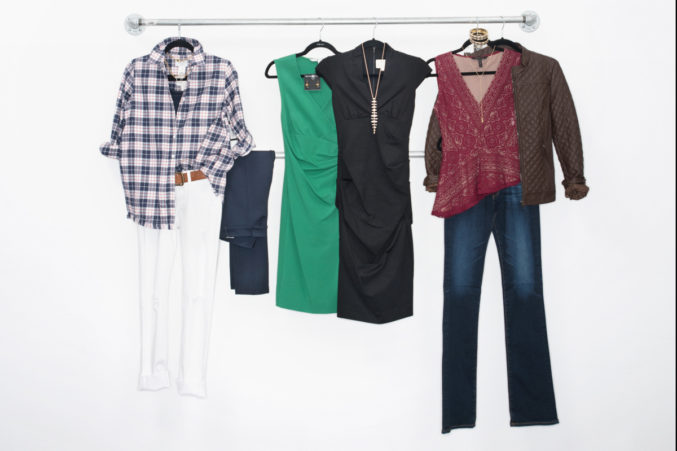 Front Door Fashion Simplifies Style
A lawyer and her wife seek help in rebuilding their wardrobes.
An attorney friend first told me about Front Door Fashion. As she put it, "I had no idea what a difference a vest, cigarette pants, and a scarf could make in my life." She had been stuck in business casual limbo, surrounded by young men in khakis and polos, and needed to make a change. She found the Design District style service. My friend explained that, after submitting a detailed questionnaire about your size, shape, likes, dislikes, and overall fashion ethos, the company will send you a box with four to six outfits. There's no fee for the service, just the cost of the items you choose to keep. But there's an even better option for Dallasites: make an appointment and they'll dress you in person, pulling additional items directly from the warehouse racks. I convinced my wife, Melissa, who turns 47 this month, to try it with me. She has been telling everyone within earshot that she is "almost 50" and "on the downslide." We made an appointment and arrived to find our own private styling rooms. In short order, two bubbly glasses of Champagne and stylist Blaine Oelschlegel had Melissa singing a new tune.
Melissa
The Brief: "I need help. I need someone to bring me out of my comfort zone, someone to bring a fresh eye, someone to make hundreds of choices manageable. I have 5-year-old work clothes, no cute weekend clothes, and early-onset grumpiness. Good luck."
5 pm
"I am not wearing that. Or that. Or that. Geez, does anyone wear that? This is crazy. Blaine, I am leaving."
5:12 pm
"Alright, on second thought I should have spent more time figuring out my likes and dislikes. I could have been a better consumer if, for instance, I realized in advance that I like V-necks. Thankfully, Blaine is smarter than I am."
5:48 pm
"Blaine, I now realize that you are a genius. Can you move in and dress me every morning? Hell, just make all of my decisions for me. Like, what should I have for dinner? Never mind—come sit between me and Kathy on this stylish couch and hold us with your willowy, kimono-draped arms while my credit card clears."
Kathy
The brief: "I've got a Best of Big D party to go to, and Tim Rogers will be in a tux. I don't want him to be prettier than I am. And if you can find a pair of jeans that doesn't make me want to kill myself, I will love you forever."
5 pm
"This is creepy;  it feels like my closet at home. I have that suede jacket, that brown wool sweater, and earrings that match all of these necklaces and cuffs. I'm glad I wore Spanx."
5:27 pm
"Are you sure you don't have any more of these Nicole Miller Artelier dresses? I would never have picked this up off the rack because I was sure it would make me look like a sausage, and now I can't live without it in three colors."
5:36 pm
"Melissa, that black dress looks amazing on you. Wait a minute, did you take that from my 'keep' rack? That's my Best of Big D dress. Blaine!"