Dallas is no seafood town. Blame the absence of a coast, the fact that no saline breezes tickle our nostrils. Say that Dallas was built by cattlemen, that we're closer to the open range on this prairie. Whatever the reason, ambitious new seafood-centric places are rare, and the ones that do show up don't necessarily last long. Driftwood in Oak Cliff opened and closed before I had time to return for its salmon rillettes. John Tesar's Spoon Bar & Kitchen was fleeting as well. 
Now here comes Nick Badovinus of Neighborhood Services, opening Montlake Cut in the very space that formerly harbored Spoon. His tack, a definitive Pacific Northwest take born of his Puget Sound roots, is simple, straightforward, and well executed. Badovinus' love of the sea is palpable.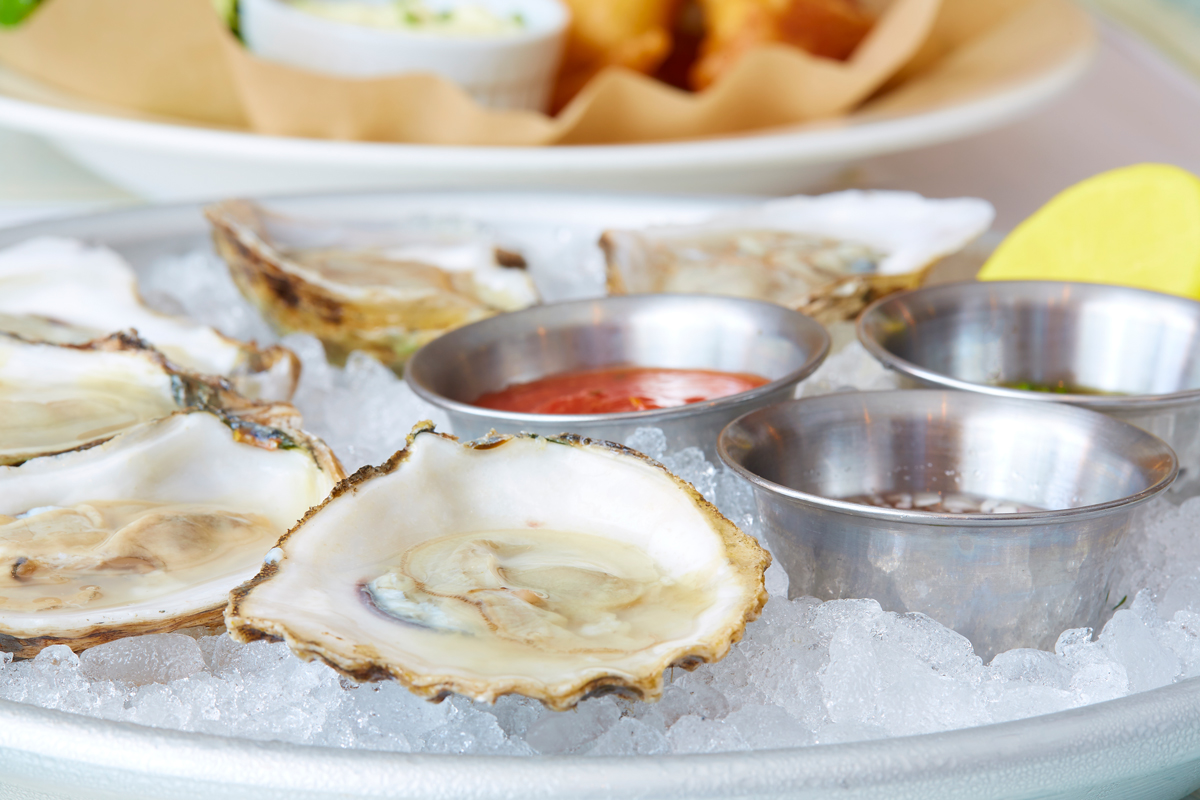 It's already a comfortable port of call. From the street, its warmth beckons like a pub on a wind-swept evening when the ocean is churning and you turn in to find shelter. This is where you want to be. Of course, being Preston Center, patrons are more likely to wear polo shirts than be salty sailors. But the feeling is the same, perhaps because there's a ship-builder's sensibility to the space, every nook and cranny pleasantly filled with nautical details—ship's lamps and knotted ropes and a Bainbridge Island ferry schedule that conjures your last trip to Puget Sound. The interior is bright where places have gone moody, snug and sound-paneled where others' concrete floors and harsh surfaces are unfriendly. A window into the kitchen gives the appearance of a fish tank, and there's one of those, too. 

Badovinus grew up eating fish freshly caught in Puget Sound and fishing for salmon with his uncle. He serves his seafood with the simplicity you'd find in such places. "I wanted to do a little restaurant that was like going home," he says.
Crustaceans, classically treated, are a showcase for the sea's treasures.
Nestle into the bar. It's a tight squeeze into those barstools that are captain's helm chairs. Rum drinks come in tiki glasses with plastic mermaids and umbrellas. The bartender's hands blur over the Trader Nic, iceberg blue with Añejo rum, curaçao, absinthe (flamed in the glass), ice, both cubed and crushed, and a final shake of bitters. It's a sweet drink, like a piña colada. There is absolutely nothing not to like. Spritzes are fun, too. The Petit Bateau, sparkling and grapefruity with a sprig of rosemary, is like wind in the sails. Later, you'll want something that complements your meal, perhaps an American cider (try the Tieton Cider Works Blossom Nectar, dry and appley) for the fish and chips. A Burgundy Chablis tastes of the rocky soil, telegraphs its terroir, just as the oysters do. Limpid, clean, and crisp, it speaks love poems to East Coast oysters. 
That the sea is the main event is nowhere more evident than with the oysters, sourced from both coasts. One night, I was seduced by the bracing salinity of Sandy Necks from Cape Cod. (Our waiter had made a claw with his hand, approximating the shape of the land spit: it's sticking out there, he said, right out in the ocean.) Contrast this piquant saltiness with West Coast oysters, plumper, milder, sweeter, with a cucumber finish. I wouldn't adulterate them for the world, not with the mignonette, a little sweet, or the ponzu dipping sauce that never made sense with anything but seared ahi tuna—though the menu's Asian-inspired approaches, most numerous in the raw preps, worked more often than not. A silky tartare of tuna held up to the bold advances of harissa, sesame oil, and togarashi spice. Slices of salmon belly, seared almost imperceptibly, just enough to seal in flavor, were sauced with a light blond miso that tiptoed delicately between tart, sweet, and pungent. Under similar treatment, creamy scallops' delicate flavor vanished, and crowning pearls of salmon roe added neither lusciousness nor pop.

Items swim on and off the menu as seasonality dictates. Crustaceans, classically treated, are a showcase for the sea's treasures: king crab in big, voluptuous pieces to swipe cold through gochujang mayonnaise or, for the purest of raptures, to dip hot in drawn butter. Dungeness crab is mounded onto a halved avocado and luxuriously dripped with house Thousand Island dressing. 

I hesitated when my friend suggested the shrimp cocktail. But this, of course, was the place to erase the injuries of countless past hors d'oeuvres. The shrimp were plump and tender. The cocktail sauce, just sweet enough and racy with horseradish, announced the party line for sauces. Uncomplicated, they're apt partners, whether remoulade, dill tartar, or creamy gribiche pert with pickle. 
One feels confidence in Badovinus' cooking. So a light-brothed cioppino, not bold and tomatoey, but softer with fennel and celery, came served unlike any I've had, mussels and clams mounded up with wild Argentine shrimp poised on top, daubed with harissa aioli and crowned with frisée, looking almost more salad than fisherman's stew. Plunge into the first shrimp, brimming with a light, tremulous sweetness, and you see why. 

Meanwhile, some of the greatest pleasures came from things not of the sea. A crisp wedge of iceberg lettuce crunched satisfyingly under the knife, falling into folds under buttermilk dressing. Cozy veal and venison chili with scarlet runner beans, served in a blue enamel bowl as a special one evening and topped with Monterey Jack from Seattle's Mt. Townsend Creamery, made me dream for days. (Not so the clam chowder, rich in al dente vegetables, poor in clams.)

In light of all this, simple fish preps—many accompanied only by red sorrel, watercress, and frisée—were the last place I expected false starts. And yet, especially in early visits, they were puzzlingly forgettable. Pink-fleshed Quileute Nation steelhead trout, served almondine-style, gained only contrary resistance from a bulky scattering of Marcona almonds the kitchen had chosen to keep whole. (The delicate crunch of the French original's slivers offers a more delicate foil for the fish.) One evening, our server raved about the South Carolina Golden Tilefish, naming it Badovinus' favorite. Its light, mild flesh, slightly gummy, had little of its reputed sweetness. But a sole Milanese was perfection. Inside a panko crust, golden and buttery as a Ritz cracker, it retained moisture and sheen. A ramekin of velvety beurre blanc stood to the side in deference to a crispness it would not sully with a pool of sauce—a wise, deceptively simple choice on the part of the chef.

I wanted something from the fish and chips that the dish couldn't give me. The fish itself—haddock that night—was flaky and tender in its beer batter. But my taste was formed by fat chips cradled in newspaper, their steamy centers soused with malt vinegar. Montlake Cut's dainty shoestring fries couldn't deliver. The place isn't exactly blue-collar (sourcing means a barbecued snapper sandwich came in at $21), though it is refreshingly free from self-aggrandizement. Servers do not tout the house sauces. The house, one feels, is the sea. 

For dessert, then, better than the chocolate pot de crème or the banana pudding with soggy pretzels, I suggest the rum cake, surprisingly light and suitably citrusy, whose Chantilly cream billows like the clouds in a maritime painting and whose lime zest rides the crests, lively as saline air.
Get the SideDish Newsletter
Dallas' hottest dining news, recipes, and reviews served up fresh to your inbox each week.