The friendly, talkative guy at the front counter chirped about which games were recent additions as he strapped on my yellow bracelet. 
"Which is your favorite?" I asked.
"Bump 'n' Jump," he said, smiling. 
"Wrong answer, dude," my dad said, before he could elaborate. "You meant to say Defender. It's the best. I worked at an arcade, so I'm pretty much the authority." 
My mom joined us. "I thought I heard someone reliving his arcade glory days," she said, before leveling her gaze on the bracelet-strapping guy. "But seriously, get more pinball games."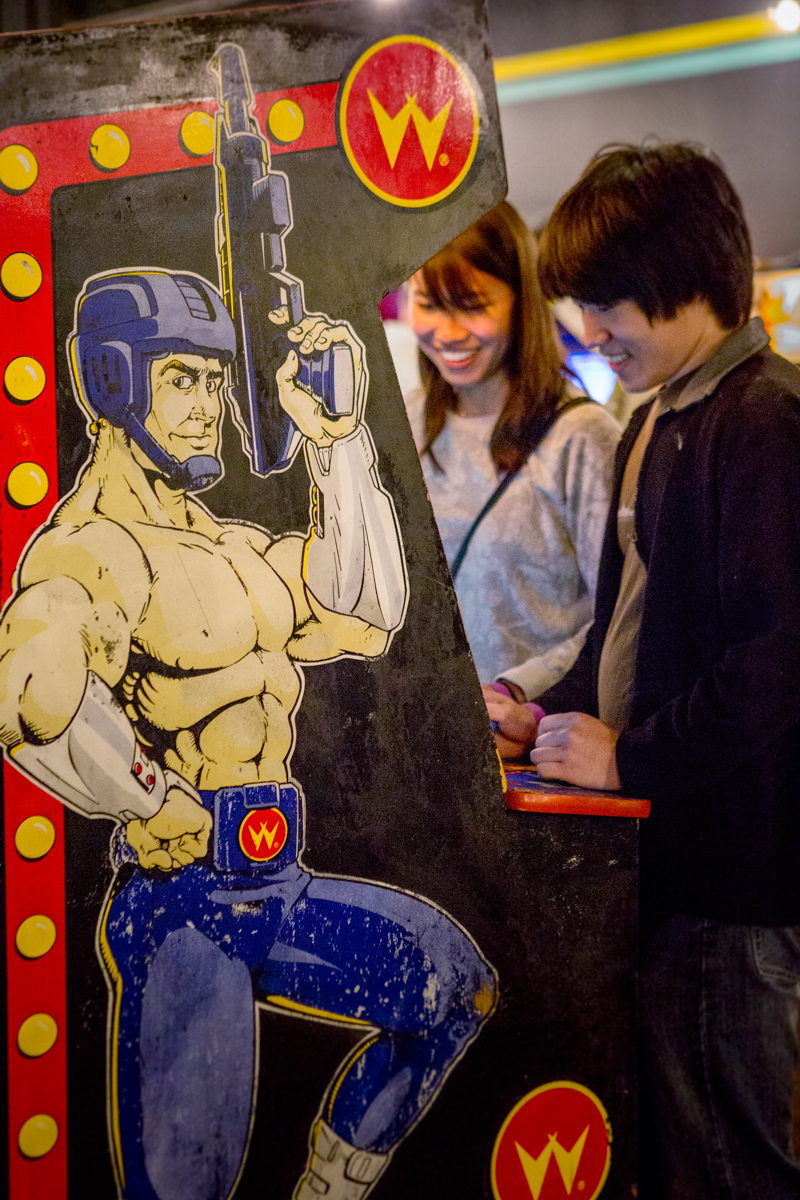 Free Play Arcade opened in December in a Richardson strip mall. You pay $10 at the door, put on a paper bracelet, and play unlimited arcade games for the rest of the night. No tokens, no quarters, no "game over." The bar offers a rotating variety of beers in a comfortable space, but the 60-plus arcade games are the main attraction. Add an infinite loop of '80s pop hits, and you've got a throwback paradise. 

In awe, I wandered through the awesome retro game selection: Ms. Pac-Man, the original Mario Bros., Robotron, and Defender, my dad's beloved space-based shooting game. Nearby, a young woman screamed obscenities at Sunset Riders, roving packs of dudes swarmed Mortal Kombat II, pinball games flashed, and an old man in a black suit fired through round after round of Revolution X.  

My brother darted up: "They don't have the Ninja Turtles game." (Our mutual childhood in four words: Teenage Mutant Ninja Turtles.) It was some consolation to discover the near-identical The Simpsons game, but that was occupied by a horde of millennials. I schooled my brother at Soulcalibur and headed to the bar. At 9 pm, an announcement interrupted "Billie Jean" to kick out the kids. As children poured out, adults lined up to get in. My friend showed up and whined that Free Play didn't have bubble hockey. 

The bar serves local, classic, and obscure beers, plus energy drinks, sodas, and a few wines. The bartender recommended the London Homesick Ale from Austin's Oasis Texas Brewing Company. I sipped one as I watched my dad play Defender. I was curious to try the game, but he was oblivious to the world.

 My brother popped back up to let me know that The Simpsons was momentarily unoccupied. Our excitement turned to boredom once we passed the highest level we'd ever managed to attain as children (Level 3). "I don't have the attention span for this," my brother complained and suggested we hit the bar again. There we met Richard, one of Free Play's owners. He told us he'd been repairing and selling old arcade games for several years—and has even more machines in storage, which enables him to frequently switch up the selection. Everyone I'd talked to loved Free Play, but they all had demands. My friend wanted bubble hockey. My mom wanted more pinball. And what about Teenage Mutant Ninja Turtles?  

"Oh, I already have one of those," Richard said. "It was converted to a Simpsons game, and I'm in the process of converting it back."

Placated, I noticed that my arcade-expert dad—who was content with the game selection—had finally tired of Defender. Trying my hand at this infamous, old-school favorite seemed like a good way to close out my gaming adventure. I approached and took a deep breath.

It turns out I am terrible at Defender. Hopefully that Teenage Mutant Ninja Turtles game will be ready soon.
Get the SideDish Newsletter
Dallas' hottest dining news, recipes, and reviews served up fresh to your inbox each week.