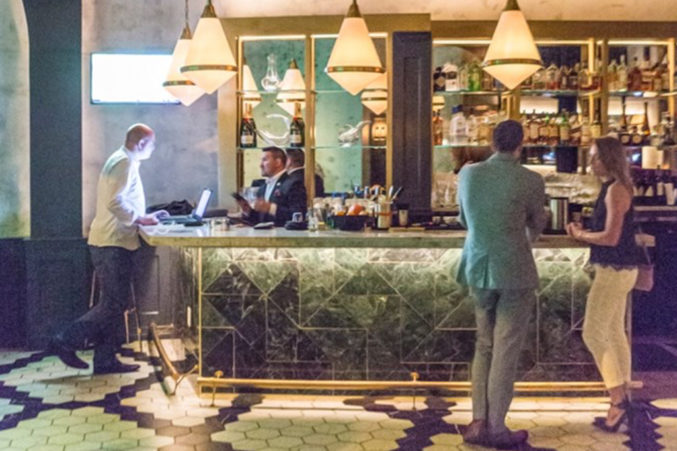 Bar Review: Quill
There is a DJ and dancing. But try not to call it a club.
We headed down the long hallway leading to Quill. A Tupac song played overhead. We felt pretty cool.
The hallway opened into a cavernous, immaculate space with teal couches, big mirrors, and high-arcing ceilings. A flock of waitresses in matching skin-tight dresses congregated near a DJ spinning '80s pop hits and classic rap. 
It was 10 pm on a recent Saturday. Though nearly 30 people were sprinkled about the room, on bar stools and around tables, the space was so huge that it looked empty. And, disappointingly, no one was dancing. The faux-hawked bartender told us we could grab a booth. 
Our waitress, Desiree, smiled and handed us menus, though she couldn't answer many questions—she'd only been at Quill for a week. When she walked away, my companions didn't even pretend they weren't ogling her.
A minute later, Desiree came back and told us we had to move. Another party had reserved our booth. We grabbed some stools at the bar and had just settled in there when a manager walked over. It was getting late, and he needed to make the place feel more like a "lounge," he said, taking the stools away. 
Desiree found us a third place to sit: a comfy couch facing a fake fireplace. A few minutes later, she brought us our cocktails, colorful and beautifully garnished. But my companions aren't easily impressed. 
"This is more ice than Old Fashioned," my blond friend complained, but then pointed to the intricately cut garnish, shaped like a throwing star. "Good work on the orange peel, though." 
I was enjoying my Forbidden Kiss, a mix of gin, liqueur, and lemon, and noted that Quill's drinks were much better than the standard vodka-and-Red Bull fare found at most clubs. I wanted to know more, so I called over a suit-clad assistant manager named Marco. When I referred to Quill as a "club," he hesitated.
"A club is crowded and loud," he corrected, politely. "At an upscale lounge, people are comfortable, relaxed." 
Marco explained that they only allow in 100 to 150 people at a time—so that when the dancing starts, folks won't feel too cramped. When I excitedly asked when the dancing would start, he assured me it wouldn't be long. Then he emphasized the words "upscale lounge" a few more times and disappeared back to the bar. 
Sure enough, within a matter of minutes, the bar was mobbed with pretty people, most of them in dresses and suits. I saw men in vests, women in stilettos, and one blonde whose skirt was so short she could hardly move her legs. 
A man in a suit jacket and two beautiful women—one dark-haired and petite, the other black-clad with teased-out '80s hair—posted up near our booth. By their hip-wiggling and subtle swaying, I could tell they were on the brink of dancing. I walked over to them, and the guy offered this charming greeting: "Are you, like, on something right now?" 
The woman with the awesome hair quickly explained that her brunette friend was interested in that guy, but she was just here to have a good time.
"I'm super New Age-y," she said, sipping wine. "I know I don't look like it, but I'm into smudging and crystals." 
Then she dance-walked to my blond friend and leaned over him. 
"I'm a strong, independent woman," she said in a sultry tone. "But I like a man who can take control of me." 
Unamused by his bewildered expression, '80s-hair lady looked over her shoulder and noticed that her brunette friend had begun to dance. She ran to join her. I shrugged, smiled, and followed.