No one would describe Barrett Tillman as wild.
In conversation, he is serious, focused. His way with words is measured. But what he does as a brewer could, in many ways, be described as wild. He uses bacteria to create something called sour beer, manipulating the microbes like a latter-day Louis Pasteur. Even the people he works with at Deep Ellum Brewing Company don't quite understand how he does what he does.
He experimented, tasted, adjusted, and waited. He subjected his friends to the experimental sours they playfully dubbed "Barrett beer." 
Saccharomyces cerevisiae you know. It's the tame, cultivated brewer's yeast that metabolizes malt sugars into alcohol in the process of fermentation. Bacteria, on the other hand, are the enemy of most brewers, microbes to seek and destroy. Multiplying more quickly than yeast and competing for nutrients, they produce acids and off flavors. Contaminate a brew with bacteria, and it can send whole batches careening toward fetor and funk. Introducing a sour beer and its wild yeast and bacteria at a brewery is like walking in with a case of explosives. (Blue cheese similarly often gets its own aging cave, so invasive is the mold.) The sour brewer, a renegade, brings in precisely what other brewers want to keep out: chaos. 
Under the microscope, it looks like this: the round globules of Saccharomyces cerevisiae joined by the plump rods of Lactobacillus bacteria; in some cases the acorn-shaped Pediococcus bacteria; and in the wildest of the sours, the rogue Brettanomyces yeast, behaving quite differently from its cousin. Uneven in shape, like hand-carved flint or frilly-ended torpedoes, Brettanomyces brings the funkiest flavors. Spice. Smoke. Leather. Barnyard.
American brewers, new to the landscape, look to the Old World, where the kings of sour beer are Belgium and Germany. There are the Berliner Weisse wheat beers, made using conventional yeast, their crisp, refreshing, citrusiness coming from Lactobacillus culture. Far out in funkiness are Belgian lambics, the most notoriously squirrely, not cultured at all but spontaneously fermented with wild yeasts captured in situ, lassoed from the air or naturally sloughed by wooden aging casks used again and again, like seasoned skillets. Their flavors can be incredibly complex and specific to the places where they're brewed.
Tillman didn't like the first sour beer he tried, years ago. They're an acquired taste, with their notes of yogurt, sauerkraut, animal, and hay. But he came to appreciate their complexity and the layered approach they require in brewing, a craft that lies somewhere between microbiology and poetry. As a homebrewer, he excelled and began winning awards all over the state.
Drew Beechum took note. He is the vice chairman of the American Homebrewers Association Governing Committee, a role that requires him to watch the brewing scene nationally. He's also a homebrewing author and producer of the podcast Experimental Brewing. "In a homebrewers' club, there's one or two people who are all about the sour beer," Beechum says. "Because it's a different skill set, some will dabble and then walk away. Or it turns out you have the knack—something about the way your mind works, the way you think about the chemistry. It requires an additional layer of patience and an additional layer of acceptance of loss." You could wait two years and then pour the results down the drain. But, he says, "It never surprises me: you'll see these people who light up like meteors. When you run across them, there's almost that Rasputin-like glow to their eyes."
Tillman is among the handful of people in the country Beechum says he would email with a question about sour beer and get an answer he feels he can trust. 
Born in Alabama, Tillman moved with his family as a teenager to New York state, where being one of the only African-Americans in class taught him to do his own thing, "be uniquely myself," as he puts it. In art class he designed the image—a black man wearing a baseball cap—that would thereafter be his crest. Getting the image to populate every screen in the computer lab was a budding tech nerd's practical joke. Later, it would become the logo for his brewing moniker, BlackMan Brew. He moved to Dallas in 2003 and worked for several companies, doing primarily web design. A co-worker introduced him to homebrewing. 
He never took the easy route. Tillman would be the one to take the commercial yeast cultures his homebrew buddies bought and tend them so the yeast multiplied, which made the specimen go further but also meant he always had multiple strains in the tiny Garland home that was becoming a microbial nursery. He was curious about brewing, all kinds of brewing. His motto: just try things. He read about parsnip mead and honey wine in old manuals. He made carrot mead, beet mead. He made a prickly pear saison. He bought a used wine barrel, so he could experiment with barrel aging. His friends would gather around it in his garage; they must have looked like they were making moonshine.
Meanwhile, he was working full time. "IT is very much a man and his computer," he says. In homebrewing he found something creative and technical, but also human. On a basic level, brewing was part guy time. 
At some point, sour beer became his muse. He hadn't tasted many, as there were few on the market. But he was intrigued, drawn to their complexity. He got his hands on them through informal beer trades. On a business trip, he might exchange with a homebrewer in California, in Chicago, in Philadelphia. 
At home, he expanded his knowledge. He loved the interplay between bacteria and yeast in sour beer, as well as their evolution over time. "As a sour beer ages, it changes," he says. "Some of the nuances of the bacteria and wild yeast don't come out till later." He experimented, tasted, adjusted, and waited. He subjected his friends to the experimental sours they playfully dubbed "Barrett beer." 
He got down to the science, seeking to isolate the variables that create flavor. The rods of bacteria and spheres of yeast took concrete shape under a microscope, magnified 400 times. He used an inoculation loop to fish for the bacteria he wanted, transferring them to Petri dishes. He couldn't create a lab's thoroughly sterile environment, but he devised a home setup. Turn off the air conditioning. Use two propane torches to form a vacuum, a 6-inch space free of the particulate matter that roams the air. Wearing latex gloves, pass the inoculation loop through a flame and then pull the yeast or bacteria onto the plate. 
"It's just a rudimentary attempt to understand where all the flavor in my beer is coming from," he says with absolutely no irony.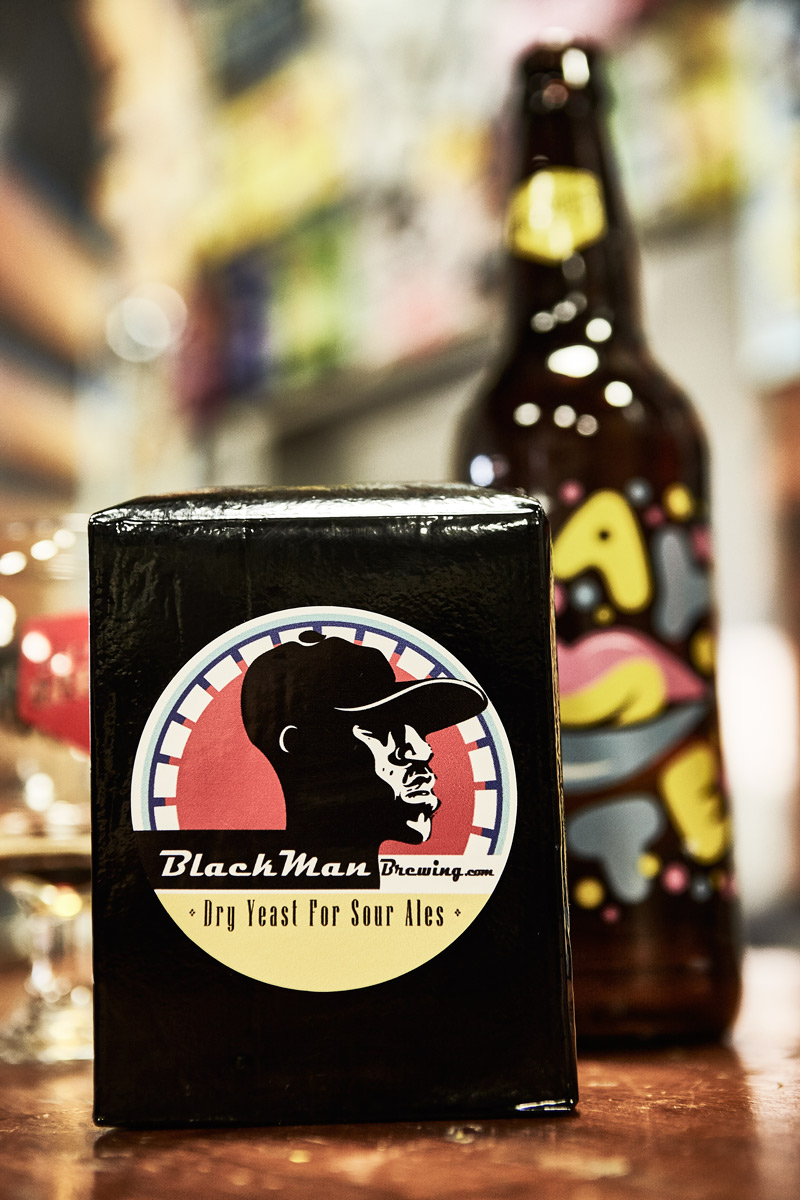 Tillman banked each strand of mixed cultures in 30-milliliter vials in his fridge. And because sours evolve over time, he made 1-gallon test batches of each so he could monitor the shifting flavors—scores of gallon jugs that filled his closets. Was this frothing specimen developing a fruity profile? Bready? Grassy? Goaty? Which ones did he want to hold on to and explore, perhaps blend with others? He realized he could get more structure and complexity by combining several strands of bacteria. The count mounted to 42 unique mixed-culture, yeast-bacteria strands, which he managed, keeping notes in dense, thorny spreadsheets. 

"I really like hiding beers and forgetting about them and then being surprised by them later," he says. That unpredictable serendipity is part of the beauty of sours. They gave him something to master on a technical level. 

He wrangled yeast from the wilds. A few cultivated strains of yeast are sold commercially for brewing. But yeast live everywhere, filling the air like single-cell pollen that waft in search of sugar. You can capture yeast that has settled on fruit or grain you then use in brewing. Travel for work meant opportunities to bring back new yeast caches. A trip to St. Louis meant Muscadine grapes from Missouri wine country that yielded one of the cleanest yeast strains he'd snagged. A friend might return with two twigs from a trip to South America, and out of that, he'd make mead. 

"There's more of a story," he says. "I like the wildness of the yeast-wrangling." Terroir means something to him. "I would ferment Texas persimmons I stole from someone's yard," or make a farmhouse ale from barley he gathered in Alabama, where his daughter lives, the provenance full of personal meaning. Theirs has been a long-distance relationship. Every trip he would bring back something with which to brew. "I'm a visitor in my daughter's life," Tillman says. "It's how I could process and deal with that separation.

"My attention to what I do is my personality put into the beers that I make. I'll tune out the rest of the world so I can focus on what I'm trying to accomplish. I spend a lot of time dealing with myself," he says. 

He's also keenly aware of how the practices link him to a matrix, human and historical. Fermenting in the open air, harvesting fruit from a grandmother's tree, farmhouse brewing's seasonality and resourcefulness—with commercial brewing, you lose some of the history. "That richness is something we have to reinterpret," he says. "The science comes second. The science just makes it repeatable."

He knew he was in deep when he spent an entire day at work engrossed in a pet homebrew project. He'd found a French manuscript from 1809 that he thought would explain how Belgian lambic had evolved from what was being referred to as a Belgian white beer. But since he couldn't read French, Tillman spent the day typing the entire manuscript into Google Translate. I should probably think about what this means, he thought—the fact that he could spend hours at this stuff when he had other work to do. And that he could flip his résumé, professional development entries for IT having tapered in the last three years, replaced with a list of brewing awards. 

Spend an afternoon with Tillman, and you will never again see tart, sour, and acidic as synonymous. Degrees and shades of sourness are nuanced, hard to pin down. There's sour and there's sour. There's the citrusy sour of Lactobacillus, the vinegary sour of Pediococcus. Tillman prefers a clean, juicy, Sunkist sour, not a goaty sour, heavy with Brettanomyces.  
"This is what I have to offer," Tillman says. "This is what I can give the world. This is what I know the most about right now." 
Fruited sours, to which he's drawn, are a subcategory in which a secondary fermentation with fruit can make the layering even more complex, as sugars register as sweetness and the fruit's tannins register as tart. He sketches the evolution of a fruited sour: sweet and fruity, to sweet and tart, to tart and dry, to tart and acidic. Where does the fruit end and the sourness begin? "Like the difference between a pink grapefruit and an orange grapefruit," he offers. 
This sour range is where he shines. He has made an art of playing in this spectrum of brightness. The sourness he seeks is not a take-you-hostage sour, not a seize-your-jaw-in-a-rictus sour, though it gets you in that place at the back of the cheek. Rather, he dabbles in a fine panoply of sourness in which there are many shades. It's not a competition for a level, but a kind of sourness. 
"For me, what I really like to play with is where the acid stops and the beer begins," he says. "And then, over time, I changed that over to, 'Okay, we have acid. Where's the funkiness and the malt going to start?' I like to have that definition between acidity and funk and malt. To design that, to wait for it." Therein lies the thrill.
But what do you do with that? How do you push away from the day job you've trained all your life for? These were not easy questions, and they came at a time when his mother had died, and he was trying to reconnect with his daughter. But something had to be done. "This is what I have to offer," he says. "This is what I can give the world. This is what I know the most about right now." 
He launched a business selling proprietary dried yeast blends for sour beer. "Like you scoop out a teaspoon of yeast and you just have magical bread," he says. "Yeast and bacteria are really free in this world, so when you find something that works, you want to put your name on it." He has sent orders all over the world. Sometimes he'll hear from someone six months later, a year later, the beer finally ready to taste. They love it. Or they hate it. Either way, he wants to know. But this wasn't enough to quit IT. 
A venture to muster funding for his own sour brewery was stymied. "It's hard to get people to believe," he says. "You have a product you have to age six months before you make any profit." 
His first sour beers on the Dallas market were collaborations. For Cedar Creek Brewery, he developed a Berliner Weisse called Opening Act. For Lakewood Brewing Company, he made Artsy Tartsy, fermented with Texas plums. He worked as a substitute brewer at Four Corners Brewing Company. 
His brews constantly came up in local competitions, his wins qualifying for the titles of Brewer of the Year and Brewer Royale for the North Texas Homebrewers Association several years running. Yet his weren't beers one could necessarily produce commercially. For a brewery to hire a sour brewer is an investment—the extensive labor hours, the separate equipment. And sour beer only makes up about 2 percent of the domestic craft beer market. Deep Ellum Brewing co-founder John Reardon expressed interest. This, too, took patience. And then the offer came. 
Getting hired full time at Deep Ellum Brewing put an end to his gypsy-brewer-style operations. They gave him a 10,000-square-foot space and a long creative leash. (Like a good sour strain. You give it room, let it do its thing.) They invested $200,000 to $300,000 in barrels and a similar amount in tanks. "The challenge at Deep Ellum is definitely different from working at home alone, trying to get people to believe in my beer," he says. "Now I'm just trying to expand the reach." 
The first sour he designed, Play Date, released in November, uses Deep Ellum's Dallas Blonde, fermented with Medjool dates. It's honey on the nose, then clean, juicy sourness that fills the whole mouth. (See? That's Lactobacillus and Pediococcus working together, he says.) The second, Freak Flag, is a bolder move, an American-style Flanders red ale fermented in red wine barrels, then oak vats. It's based on his Flanders red homebrew that recently won first place in a regional competition. It's vinegary sauerkraut brassica funkiness (that's the Brettanomyces, he says) in complex counterpoint balance.
The experimenting continues, though now on a different scale, the weight of a commercial brewery behind him. He continues to homebrew, because that's where ideas play out, and competition provides feedback. Does he ever think about earning a degree, seeking a certification in microbiology that would allow him to understand the bugs even better? Of course, he says. That's what keeps him up at night. Then again: don't ever let concern about other people's knowledge get in the way of your own experience. 
Turning Sour: What to Drink
Sour beers can be hard to find. Imports from Germany, Belgium, and Switzerland have been available longer, but the new crop of American sours—many out of California, Oregon, and Michigan, as well as Austin-based Jester King—is only now finding its way into the Dallas market. 
Fritz Briem 1809
The 1809 is part of a small run of beers developed by Fritz Briem, director of technology at Munich's Doemens Academy brewing institute, who has revived historic recipes like this classic, crisp, refreshing Berliner Weisse. The light-bodied beer is pale yellow-gold with sour, yogurty, lemony notes from Lactobacillus and a light wheat flavor. The date is a reference to the year in which Napoleon supposedly toasted his victory over the Prussians with a stein of this beer. The label's antique Gothic lettering is a plus. Available at Spec's, $5.25 for 16.9 oz.
Bruery Terreux saison rue
This beer from California is an example of a saison farmhouse ale, historically brewed during winter months to quench the thirst of sweaty farmhands during the summer. It's on the more challenging side, complex and wild-tasting, with sourness and a hoppy bitterness vying for attention. The saison category is broad, often incorporating spices and local ingredients. Bruery Terreux's version has notes of coriander and orange peel and the funky signature of its wild yeast. Available at Spec's, $12.62 for 750 ml.
Jolly Pumpkin oro de calabaza
Jolly Pumpkin was an early visionary in the American craft sour brewing scene, making brews that are both complex and polished. Their Oro de Calabaza, which won awards right out of the gate, is fittingly golden-orange, made in the style of a strong golden ale (higher in alcohol content) and aged in Chardonnay barrels. Light to medium in body and only slightly tart, it's soft and mellow, a balance of sweet, floral, and fruity with a little spice. With its light play of wild yeast, it's remarkably approachable. Available at Spec's, $10.52 for 750 ml.
Monk's Cafe flemish sour ale
Brewed by the centuries-old Brouwerij Van Steenberge in Flanders, Belgium, for the owner of Philadelphia's Monk's Café, known for its Belgian beers, this brew is made in the oud bruin, "old brown" Flemish style, which blends old and new vintages for greater balance. Copper in color, it is sweet and caramelly with malty, toasted biscuit flavors and a little lingering bitterness. The sourness isn't acute; it acts more as a refreshing punctuation mark, balancing the sweetness. Available at Spec's, $4.20 for 12 oz.; $11.99 for 750 ml.
Get the SideDish Newsletter
Dallas' hottest dining news, recipes, and reviews served up fresh to your inbox each week.