Julian Barsotti's latest love letter to Italy is his most specific, fixated on a place as much as an idea, a feeling. At Carbone's, he honored his Italian-American roots. At Nonna, he ventured into the regions of Italy. Sprezza, in the emergent Maple Avenue Dining District, gives primacy to Rome.
What does it mean to open a Roman restaurant? Is it Roman because the early menu boldly featured garum, the fermented fish sauce harkening straight back to the times of Pliny the Elder? Because an illustration tucked under the "stagioni" (seasonal pastas) section of the menu depicts the famous sculpture of Romulus and Remus suckled by a she-wolf, Rome's founding myth?
"It's light and bright, and you'll love it," I found myself telling inquisitive dining partners, rather than trying to define the Eternal City's cuisine. (The description also encompasses the cocktails and the space itself, with its light tones and white-painted driftwood.) The rigor of classicism, seasonal freshness, the ancient thread of Rome's Italian-Jewish cucina ebraica—it's the kind of food you'd eat at a table al fresco near the Trevi Fountain.
It's polished and sophisticated, simple and full of flavor. It uses few ingredients. And it has energy. It is singularly suited to Barsotti's style, his creativity and nimbleness and love of food traditions bound by locale shining through.
If it's your first time, your server may give you instructions, explaining the menu of small plates, suggesting a strategy. But the menu is so appealing, written like the plates are composed, with a focus on ingredients, that it scarcely needs an intercessor. I found myself itching to begin.
Antipasti are given an amplitude that warms my heart. Their aim is to excite and invite, to open the appetite, and they do. A chilled octopus salad had new potatoes, red Fresno chiles, and green olives, with a circle of Meyer lemon aioli, canary yellow on the plate. Cucumbers, mozzarella, a fine dice of raw, sweet goldbar squash, and more red Fresnos formed a pretty four-color composition with summer's sweetness. Arugula came with tart-sweet plums, speck, and Parmesan. Note the small number of ingredients, often four, like the seasons. They need no more to enchant.
Fritto was a lovely rendition one evening—calamari, asparagus, and spring onions with crisp, shaggy coats and an underscore of bright, tart Meyer lemon sauce. Barsotti likes to play with the floral complexity of Meyer lemons. It's one of the ways the kitchen soothes and sweetens the pure Roman flavors, which can be so pungent. But remember garum? An undercurrent of assertiveness is part of what gives Roman cuisine its vitality.
There's a lovely way in which the kitchen puts white space around things, keeping flavors clean and direct. Italy's herbs sing.
So fear not the bollito-style beef tongue (the "quinto quarto"—offal offering), served cold with a giardiniera and scattering of arugula. That smear on the side is tonnato, a tuna sauce. It sounds odd, this northern Italian staple most often served over veal, but it's not so strange. Tuna and anchovy are blended into something close to an aioli, without garlic, but with lemon juice and capers. The tongue, sliced thin and languid as Dali's melting clocks, is a plush canvas. I very nearly finished the whole plate and could easily have ordered another, folding up little parcels and stabbing spicy leaves of arugula. I admired the way the dish challenged nonchalantly. 
The only clunk was a shaved asparagus-frisée salad with a flat slab of pancetta and a crispy egg like a paperweight. Pickled green garlic had decided the main message should be vinegar. I disagreed. But the next visit it was gone, replaced by another, these dishes inheritors of a vast, rich tradition.
The wine list by Sergio Quijano is entirely from southern Italy, a more focused list than even at Nonna, where already the selection is strictly Italian and listed regionally. Most bottles fall in the $45 to $59 range. In part because it's so reasonably priced and the servers are of good counsel, it's easy to find treasures—a beautifully balanced Etna Rosso from Sicily, but also more uncommon, sometimes feisty finds from Sardegna and Apuglia—that set you up for what may come next, pizza or pasta or probably both. The "del giorno" section offers at least one entrée-style dish, though they are not the main point.
Look up from your plates. In the open kitchen, pizza al taglio comes out of the oven, thin and crisp. Pasta is finished in the pan and twirled onto plates. At first, the open kitchen seemed outsize, with its impressive hood of dark, riveted sheet metal, like the hull of a ship. It's almost equal in size to the dining area, airy and built like a Craftsman-style house. But when the big space fills with motion, you feel the thrum of its energy and sureness of movements. Great showers of pecorino cheese descend in drifts.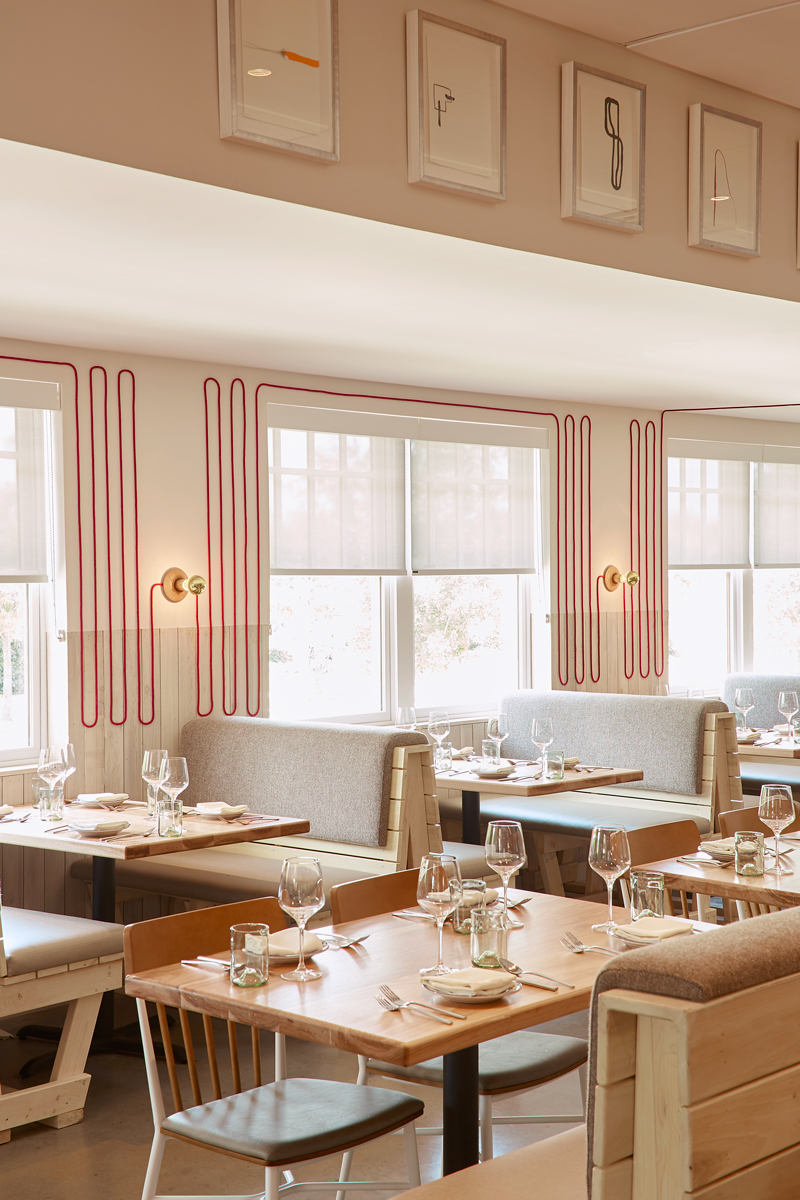 Try the cacio e pepe, the quintessential Roman classic that's so magnificent, so exacting and simple: Pecorino Romano in perfect measure; bucatini, thicker than spaghetti, giving resistance. In such simple pastas, not finished with cream, vigorous tossing turns the sauce creamy. I would only have asked the server to linger 10 seconds longer with his pepper mill—an extra lashing of pepper, whose offices are imperative and austere.   
Purists can debate the carbonara's peas. What I debated was the thickness of the sharp Pecorino sauce. It eclipsed the gilding of egg yolk that to me is its greatest pleasure, losing a little vitality in favor of lushness.
But the kitchen's approach is not rigidly classical. Take the tortellini primavera, rolled in a butter sauce with spring onions, haricot verts, and fresh thyme. Inside those tender packets was not the usual ricotta filling but a soft velouté of carrots, turnips, onions—all gentle garden flavors, the vegetables on the inside meeting the vegetables on the outside. Why had no one thought of this before?
One evening, I went with seafood lovers who could appreciate the menu's distinctly Italian marriages of land and sea. We found it in clam crostini with basil and fennel crema. And in a clam pizza with pancetta that popped. Most of all, I loved halibut Nonna Betta, a direct reference to a dish Barsotti ate in a restaurant in Rome's historically Jewish enclave. With its pistachios and nubs of artichoke, it was beautifully cooked in a tomato cream sauce of unexpected velvetiness. Barsotti hadn't thought he would place such emphasis on seafood. Yet some of his strongest impressions from research trips in and around Rome came from simple seafood restaurants that reminded him that the Mediterranean glittered a few miles away.
There's a lovely way in which the kitchen puts white space around things, keeping flavors clean and direct. Italy's herbs sing. A braised rabbit dish came with baby carrots, farro, thyme and rosemary—just enough rustic flavors to enhance the meat, given a lovely pan sear and served in a jus. By retaining simple architecture, the dish was grand. So, too, the tiramisu: not too sweet, just layers of mascarpone and coffee-soaked sponge dusted in cocoa powder and marked imperially with an "S."
Outside, someone has chosen to have Corinthian columns rest under the Texas sun. Inside, Rome's energy is in the plates.
Get the SideDish Newsletter
Dallas' hottest dining news, recipes, and reviews served up fresh to your inbox each week.