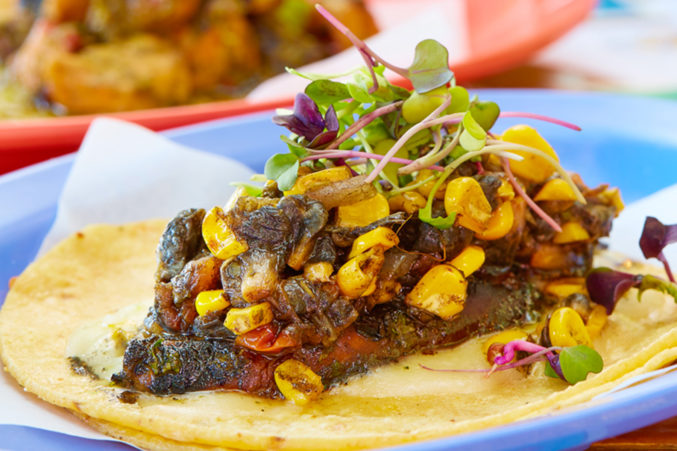 Restaurant Review: Tacos Mariachi
Just west of Trinity Groves, partake of these Baja-style offerings.
A boy and a girl come hurtling through the door and tumble into the arms of a man sitting at one of the tables, awaiting his tacos. Their spontaneous joy is perfectly in keeping with the atmosphere of Tacos Mariachi, a few blocks west of Trinity Groves, where owner Jesus Carmona is happy to talk up his Baja-style menu. If you're here for a simple fish taco, think again. He'll steer you toward shrimp tousled in crema that runs pink from chile de arbol salsa, or mahi mahi in adobo. Or more juicy shrimp, again, this time popping with pesto. He's after distinction and brings creative license to tacos with a little flair (and prices to match). The one I'd get every time bursts with fresh, pulpy huitlacoche paired with roasted portobello. An underlayer of cheese in many can add what feels like too much richness; I would have loved some tangy brightness to balance the overwhelming creaminess of tender octopus, melted asadero, and avocado. Among simpler tacos, you'll find tender cubes of arrachera; lengua done sous-vide that is something pretty stupendous; and carnitas Carmona calls "confit." I may claim artistic differences (I know some love that smoked salmon wrapped in griddled cheese like a crêpe), but there's a sure pulse coming out of this place with a little bravado and a lot of presence.