Big Hair
One of the most pervasive stereotypes outsiders ascribe to Dallas women is that they all favor hairstyles with more volume than circa-1970s Dolly Parton at an award show in a humid climate. And, well, okay, our ladies' hair is big, but it's not that big.
What to See: The Sixth Floor Museum vs. Southfork Ranch
The Sixth Floor Museum: It manages to say so much about Dallas even though its focus is the JFK assassination.
Southfork Ranch: It doesn't even say much about Dallas. Plus, the ranch is way smaller than it looked on TV.
You Wanna Go Eat What?
TEX-MEX VS. MEXICAN
Sure, it's on signs and in commercials, but no one here ever says, "Let's go have some Tex-Mex." They just say "Mexican." Complicating matters: the presence of actual regional Mexican cuisine. If you want that, you'll have to specify "you know,
Mexican
Mexican food."
What to Wear to the Ball
Crystal Charity Ball: A fundraiser for children's charities that is the most well-heeled of the Dallas society circuit.
Cattle Baron's Ball: An American Cancer Society fundraiser where people dress like cowboys and sometimes get stuck in the rain.
Black Tie Dinner: The country's largest fundraiser for the LGBT community, held in a fabulous ballroom where the liquor flows freely.
Big Tex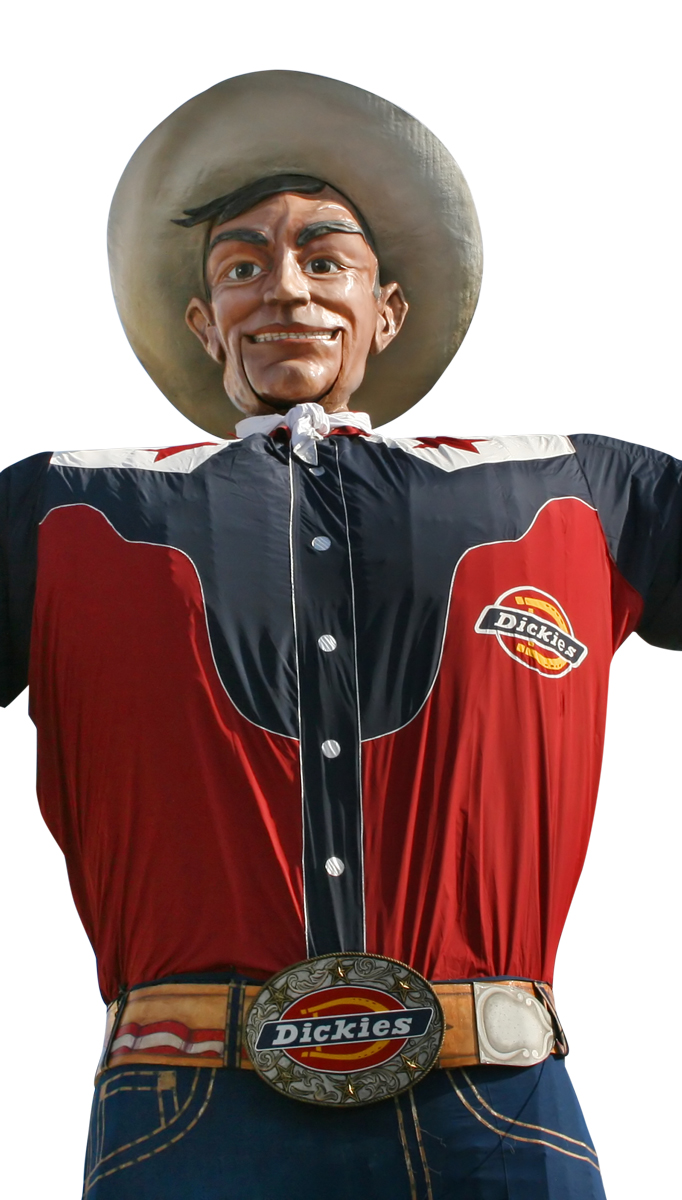 Big Tex began his life as a 49-foot-tall Santa Claus on Colket Avenue, in the tiny town of Kerens, Texas, where the local chamber of commerce placed him in 1949 in an effort to drum up holiday shopping sales. He was purchased in 1951 for the State Fair by future Dallas Mayor R.L. Thornton, and the artist Jack Bridges was commissioned to turn Santa Claus into a cowboy. The original infamously burned to a crisp on live TV on October 19, 2012, the day before that year's fair ended.
The Truth About Texas Toast
It's just normal white bread, sliced twice as thick. Why? Why not? It's bread. You can't go wrong with more bread.
If you don't like the heat, move. Summer in Dallas.
We don't really have fall here. We barely have spring and winter. Here is a quick guide to Dallas' seasons: Summer, It's Still Summer?, Fall-ish (note: lasts one day), Maybe Winter?, Summer Again, Belated Winter, Summer's Coming. Basically, if you have a coat or jacket you like wearing, put it on as soon as the temperature drops below 80.
The Blues
If you want to drink but don't want to go to a bar, it can get complicated. It's not just where you can get alcohol, but when. Each North Texas city has its own laws on booze, which means some towns allow the sale of beer, wine, and liquor; some allow only beer and wine; and some places are completely dry. But a few laws—called "blue laws" or "Sunday laws"—are consistent statewide. Liquor stores must close by 9 pm, and they're closed all day on Sundays.
Get our weekly recap
Brings new meaning to the phrase Sunday Funday. No spam, ever.