The first time I cruised by The Grove at Harwood, the lot was full, and the side streets were crammed with cars. The white-and-blue wooden picnic tables were packed, and men in cutoffs and barefoot women dominated the volleyball courts.
The following Saturday evening, I checked back at the Grove, fully prepared to fight through crowds of outdoor-loving Dallas yuppies. Instead I found only a handful of cars in the parking lot. I passed the empty volleyball courts and made my way to the bar. 
"Everyone is busy watching the UFC fight," Rachel, the pretty brunette bartender, told me. "If I wasn't working, I'd be watching it, too."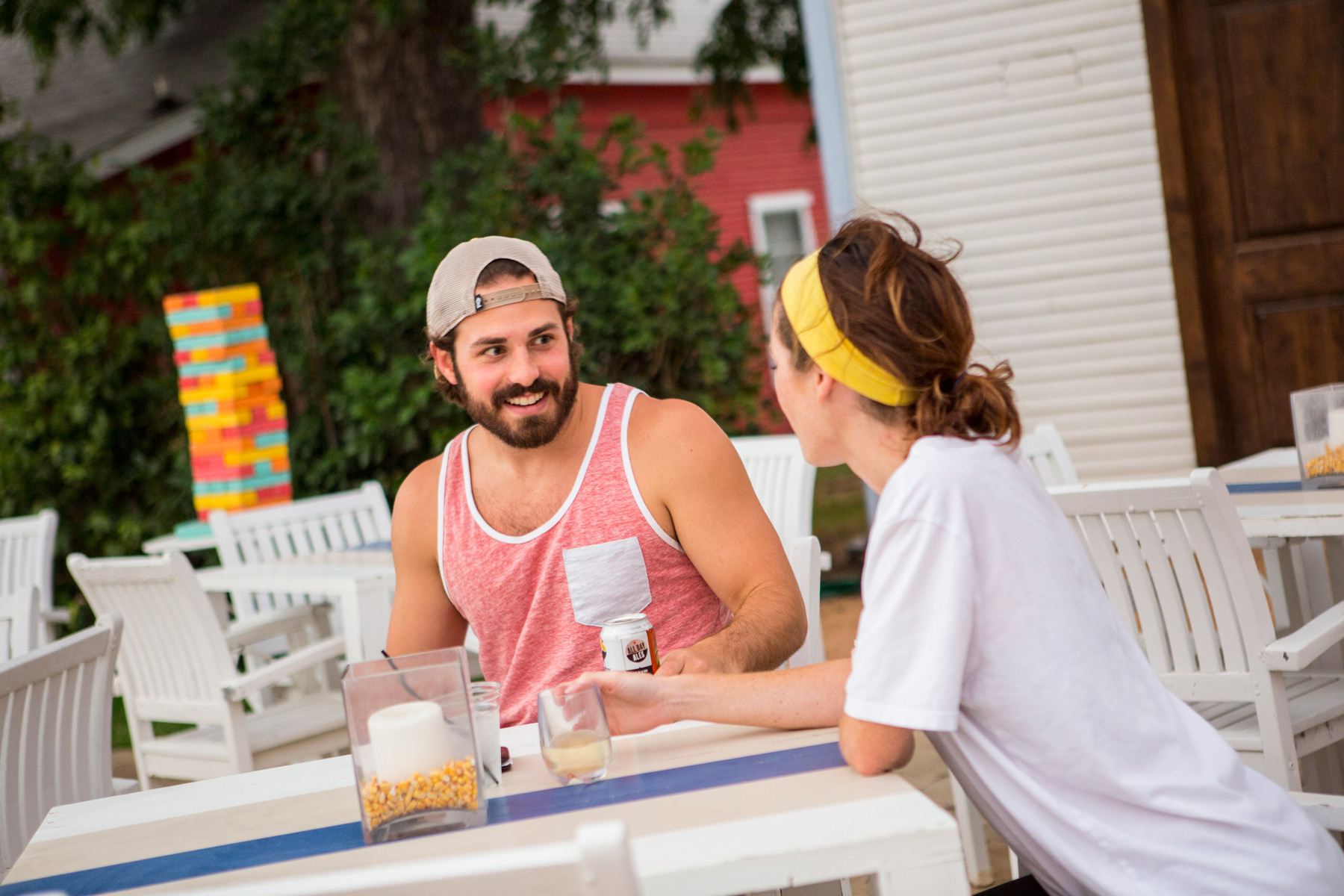 I had noticed by now that the Grove is entirely outdoors. The "bar" is actually just a classy concession stand. I figured the 90-degree temperatures probably weren't helping to bring in the crowds, since it's not easy to enjoy a drink while you're drowning in your own sweat.

Grumpy to be outside in the eyeball-scorching summer heat, I studied the menu. There's an assortment of healthy appetizers and panini sandwiches. The alcohol options include beer, wine, and margaritas. I perked up when I noticed an additional menu taped to the bar: snow cones. Specifically, alcoholic ones. Vodka flavors included cherry, bubblegum, grape, root beer, and mango. There was even a surprisingly delicious bourbon-and-Coke option for my companion. 

We grabbed a picnic table near the cornhole game and crunched down on our alcoholic ice. Straight ahead was a bocce ball court and two hammocks slung between tall trees. The faint glow of downtown was partially visible through the foliage. A canopy of fairy lights glowed overhead, and large oscillating fans dispensed a misty breeze so strong that I didn't even feel warm. The wall of the building was covered in mounted pots filled with purple plants, and between the cute centerpieces and hand-drawn wooden signs, it felt a little like going to a Pinterest-inspired party in your richest friend's backyard.

Meanwhile, two couples began a heated cornhole match—though their beanbags mostly missed the boards entirely. A pair of pretty young women previously sharing a hammock abandoned it to grab margaritas. I decided to investigate the alcohol content of my snow cone. It may have been the cool breeze, or the laid-back vibe, but I was feeling a little too good. 

Bartender Rachel told me that each snow cone contains about a shot of liquor. While I considered my next flavor, she explained that on non-UFC fight nights, the place is usually quite packed. I asked when the Grove opened. 

"Around the end of May," she said, shrugging. "But it was raining a lot then, so —" Ah, yes, that time when torrential downpours transformed our fair city into a muddy, unforgiving jungle.

"I have a vitamin D deficiency," an older, well-dressed lady at the bar interjected. She was sipping Bud Light from a can and tapping away on a MacBook. "I moved down from Ohio around that time. I came here to see the sun, but all I got was rain." 

"And now it's too hot," I said. 

"I'm not an indoor person, so I'm fine as long as I'm outside," she said. "I'm glad I found this place. It's an oasis in all the steel and concrete." 

The lady went on to suggest that the Grove host a masquerade party for dogs, but her oasis-amid-the-city observation seemed rather insightful. Whether full of sporty young people or sprinkled with just a few Saturday night drinkers, the Grove just might be the green escape that Dallas needs. 
Get the SideDish Newsletter
Dallas' hottest dining news, recipes, and reviews served up fresh to your inbox each week.