A North Dallas strip mall may seem a dubious point of departure for far-flung culinary journeys. Yet as our entrées arrived on my first visit to Oso Food & Wine, which is hidden at the back of a shopping center at Preston and Forest, conversation ceased. We sat breathing in cardamom mingled with cumin and garlic and, above it all, something bright and citrusy and briny. The aromas unfurled like an olfactory magic carpet, and in that suspended moment, we were far away from nail salons and concrete—in the realm of bubbling tagines, meats braised with fruits, and spice blends that waft when a lid lifts away. 
Chef Kelly Hightower's menu reaches back in time to the Ottomans and Persians and across continents via camel caravans of spices.
Veteran restaurateur Michael Cox has created an oasis of calm, tastefulness, and elegance. And if the location seems unlikely, the surprise is all the more delicious. 
It starts at the door, which is opened for you, wordlessly. The staff gives a smile, a discreet nod, as if to say, "Welcome, we've been expecting you." Inside, an aesthetic takes shape. Carpet wall hangings—star designs in bold red, yellow, and white—are reminiscent of the Alhambra. Banquettes in darker tones are byzantine in their close-woven detail. Simple patterns of intersecting white lines adorn windows and light fixtures. The synergy of patterns, disparate but harmonious, is like what you might find in a Moroccan courtyard. Then the food arrives, transporting its cloud of fragrance.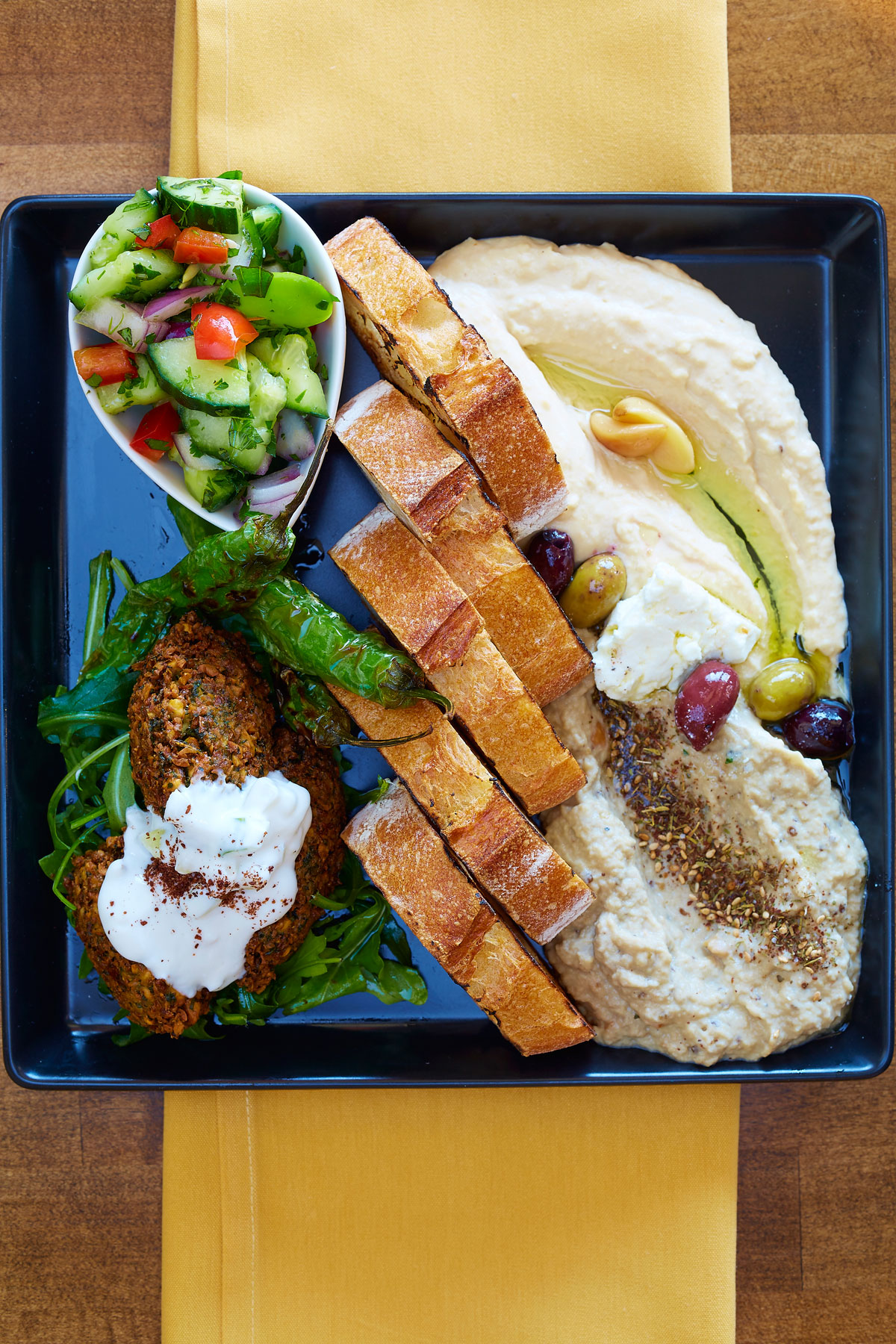 The menu at Oso is compact but hails from all parts of the Mediterranean, from Lebanon to Italy to Morocco. Chef Kelly Hightower has at his disposal a broad sweep of influences reaching back in time to the Ottomans and Persians and across continents via camel caravans of spices. Opening the Greek-centered Mediterranean restaurant Kavala initiated Hightower to this complex dance of spices. Under everything you feel the ease of a mature chef who has worked in some very fine kitchens—The Mansion, Tei Tei Robata Bar, Hattie's—and whose talent lies in making the food feel at once artful and deeply intuitive. 

The appetizers, few in number, take diners on a tour of the Mediterranean with remarkable sensitivity. Lamb is treated beautifully in the Turkish-style kofte, the juicy meat just fire-kissed and laid on a bed of olives and herbs with blistered shishitos. The lamb's complex flavor is front and center, as it should be. In the bacon-wrapped Medjool dates, no single ingredient dominates the plump little parcels resting atop a piquillo pepper sauce the color of persimmons. Pop one in your mouth and close your eyes as the flavors unfold—the sweet notes of date, the warm spices in the house-made chorizo filling, the savory bacon. The balance is perfect. Under their crispy exteriors, livers fra diavolo, an Italian classic, are so luscious and silky that they're like whipped cream. They come served over grits cooked soft and loose like polenta. (I did wonder why in the diavolo, of all places, they played it safe with the devil's fiery heat.)
I admired Hightower's deft handling of the daily crudo. One evening, translucent grouper was set off against capers and a fine blush of red onion, with just enough avocado to act as a silky binding agent—a study in subtlety. On another visit, a funky jab of XO sauce made scallops sultry and expressive (and not so far away from the Roman fermented fish condiment, garum). In each case, ingredients got just what they needed. 
Many dishes are powerfully evocative in their simplicity. The sirloin kebab with its generous dusting of tart, tangy sumac and accompanying rice, fragrant with saffron and studded with pistachios. The fire-charred rapini, whose slight bitterness tantalized and whose aroma lingered like smoke from a brazier. The mezze platter, a showcase of masterfully interpreted staples that on one night included hummus scored by a gully of olive oil; za'atar-coated baba ghanoush, rich with tahini; and some of the best falafel I've had, with chickpeas and favas ground loosely, then gathered into balls that were crispy and cratered and deeply browned, with a creamy, moist interior. And everywhere, fresh herbs in bright, vegetal flourishes, invigorating as a tarantella on the senses.

These are cuisines in which small details matter. "Everything is so simple and honest," Hightower says. "There's no fluff. There's no over-the-top trying to get too many ingredients on a plate. It's all about getting two or three ingredients on a plate and making them sing." Like the simple salads, made special with tiny triangles of lemon, a scattering of hazelnuts. 

One beautiful main dish is the bigeye tuna. It's not the fish I expect on a plate that reads purely Moroccan, with creamy-hot, bell-pepper-sweet harissa, a circlet of turmeric-infused yogurt, and a tabbouleh bright green with herbs and studded with golden raisins and bits of eggplant. But the balance of freshness and heat perfectly complemented the unctuous flesh of the fish. I may be forever spoiled for other renditions. 

Other entrées transported me less. One evening's special of mussels over house-made squid-ink fettucine was visually intriguing—a nest of black noodles and midnight shells, with garlic, chile flakes, and parsley like starry constellations. It was briny and generous and good. But it lacked the deep mystery that squid ink can impart, and the more I dug in, the more the shells' bulk felt awkward. I wanted desperately to love the lamb shank—and almost did. Hightower braises the meat with vegetables, chiles, and spices, reduces the jus, then serves the dish with an apricot-flecked couscous, roasted vegetables, and a generous bundle of fresh herbs from which you can pluck to cut the lamb's rich flavor. It's redolent and inviting. But the French-style reduction, which intensifies the sauce's flavor, left it too syrupy and sweet—a soulful dish strong-armed by technique. The trout's agrodulce sauce, too, was a fussy, sweet thing, out of sync with the bright trinity of shaved fennel, olives, and fingerling potatoes. 

But disappointments were fleeting. Even when dishes weren't perfect, the logic behind them was clear. By dessert, we were charmed anew by small pleasures like the fresh segments of grapefruit, orange, and Meyer lemon crowning the panna cotta with lemon curd; the intense pop of cardamom in an ice cream that was heady as a spice bazaar (though the chocolate harem dessert's decadence was simply too overpowering). On each visit, the service—courteous, attentive, understated—upheld the mantle of Mediterranean hospitality with a warmth that made it startling to step out into anonymity. 

Oso radiates integrity and purpose. Its wine list holds uncommon treasures, like a Picpoul white from Southern France's Languedoc that feels like a well-kept secret. But with its relatively tame lineup of entrées, Oso is still playing it safe. I found myself daydreaming about what Hightower could do with rabbit or the flaky layers of a savory-sweet almond and chicken pastilla. Like the endless permutations of pattern, one senses he could renew himself infinitely without straying far from the source. The hunch is comforting. In this unexpected haven, you can settle into your seat knowing you will be taken somewhere, trusting that it will be good.
Get the SideDish Newsletter
Dallas' hottest dining news, recipes, and reviews served up fresh to your inbox each week.