Forty seekers stand in a semicircle on flat, green ground, wearing shorts and spiked shoes and the earnest, yearning look only golfers and puppies possess. Behind them squats an innocuous black box containing a Trackman-brand Doppler radar device. In front of them, an instructor says some stuff the golfers have never heard.
"Do you ever practice after a bad round and say, 'Oh, now I've got it'? No, you don't got it! You're probably just practicing that day's bad timing.
"Do you practice before you play? That doesn't work either. That's like cramming the night before the test.
"That old adage, 'Drive for show, putt for dough'? That's 100-percent false. Putting is a lot less important than you think." 
Were he giving a playing lesson—or recording a video for his website—the instructor might add a bit more tech to his presentation, in the form of a DJI Phantom 2-Plus quadcopter, the one with the three-axis, gyro-stabilized gimbal. That's right: golf, radar, and drones, with a chap named Scott Fawcett at the controls.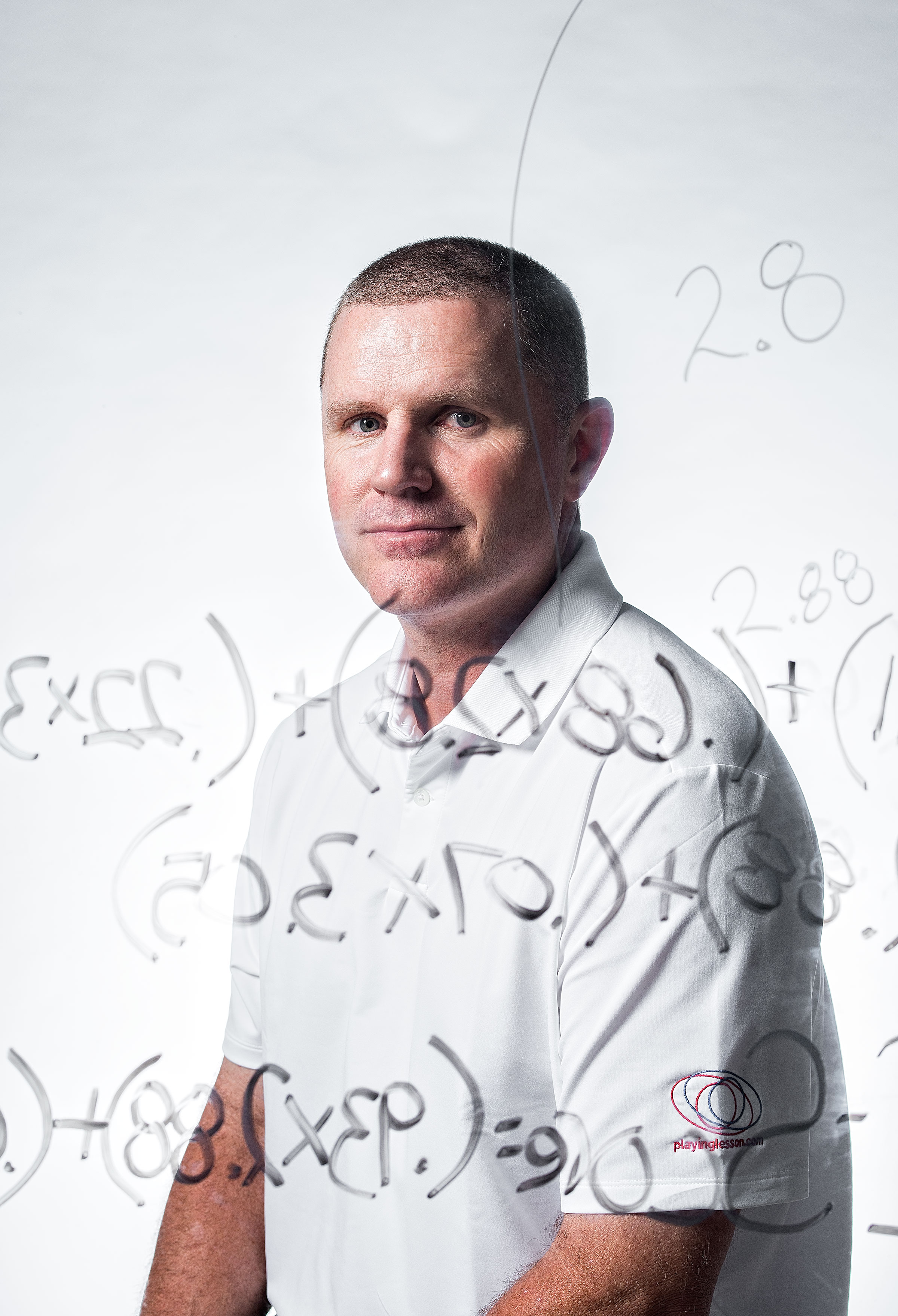 It just might be that Fawcett has come up with a new way to think about golf that will revolutionize the game, but his math-based solution to the 500-year-old problem sounds like apostasy to traditionalists. Which is exactly what happened when another innovative thinker looked at another old game in a new way. You may have heard of Billy Beane, the general manager of the Oakland A's, and the book and movie he inspired, Moneyball.  

Fawcett is 42 and fit, his thick arms and shoulders betraying a former addiction to the bench press. Above all, he is a numbers guy. But for a long time, the numbers worked against him. A very good but maybe not great golfer at Plano High and Texas A&M, Fawcett entered the cruelly Darwinian world of professional golf in 1997. Expenses were high and prize money was low in minor-league events in exotic locales such as South Korea, the Philippines, and Orlando. He played outstanding ball in two qualifying stages to make the field for the 1999 U.S. Open but was dismissed at the halfway point at Pinehurst with inglorious scores of 79-79. His reward for the weeks of work and hotel bills: nothing. Or nothing he could spend.

But late in 2001, at a Denny's in Honolulu, Fawcett happily picked up the tab for himself and a buddy, having won about $20,000 in the first three tournaments in a series of 10. It was a mini-tour, which is pro golf code for "playing for each other's money." The entry fee had been $11,000. Just as Fawcett swallowed the last bite of bacon in his Grand Slam, a fellow competitor entered the restaurant. "My check just bounced," he said. All of Fawcett's checks were about to bounce, too; instead of depositing them right away, he'd mailed them back to his bank in Dallas. The organizer of the mini-tour went to jail, cold comfort for the fleeced flock of golf pros. Fawcett limped home to Plano and a somber Christmas.  

"I had every intention of competing again in 2002," Fawcett says, "but I saw a story in the Dallas Morning News about electricity deregulation, and I decided to act." At last, the golfer's aptitude for math began to pay off. As one of the first electricity brokers in the state, he went after the biggest users, aggregating them to improve their prices and employing 10 salesmen to lock in long-term contracts. He worked 100-hour weeks and made good money and didn't play much golf. 

To scratch his competitive and mathematical itches, Fawcett played Texas hold 'em in underground games around town. He was good at it. Fidgeting opponents moved their lips and stared into space while trying to calculate pot odds. But the golfer could see the percentages as if they were written on the walls, and he wasn't bad at reading other players' tics and tendencies. Which was annoying, one erstwhile poker buddy recalls. Although he didn't cash, Fawcett added to his bona fides by going to Vegas and ponying up the $10,000 entry fee to the World Series of Poker Main Event.
Fawcett's big idea is that the club in your hands is closer to a shovel than a scalpel—or, as he says, "You're shooting a shotgun, not a sniper rifle."
Golf, poker, and kilowatt hours—Fawcett remained in his numbers games. But golf, which gives a number grade every 10 minutes or so, continued to frustrate. For example: one year, in Tampa, with two holes remaining in the marathon tournament to qualify for the PGA Tour, Fawcett's ball bad-bounced off the fairway and stopped smack up against a skinny tree. He had to one-hand it back into play. He double-bogeyed the hole and missed qualifying by one shot. 
What could be done about such randomness? Could it be overcome or adapted to? Fawcett looked for answers in the usual place. He took his first golf lesson since the late '90s in 2006 and fell into the rabbit hole of technical analysis of his swing for the next two years. That wasn't it. While dissection of planes and angles and vectors appealed to his digital brain, it added complication and provided no practical help. In the ensuing years, Fawcett quit pro golf, got married, competed as an amateur for a while, had kids, and played for pay again. He scraped his way into a half-dozen events on the Tour but barely won enough money to mark his ball. Then he re-renounced the pro game and continued to grind away at the probability problem of golf.
"Scott has one of those hyper-focused personalities, the type to get up in the middle of the night to work on an idea," says Rebecca Fawcett, an attorney, Scott's wife of seven years. "He can be a numbers nerd, but he knows how to talk to people. He's very direct. You know he's not BS-ing you."
The PGA Tour records every inch of every shot hit in every tournament with a system called ShotLink, which uses handhelds, lasers, 580 computers, and about 350 volunteers per week. Through Tour players he knew, Fawcett got access to the mountain of data, crunched the numbers. And—although there was no "Aha!" moment—he finally hit an overarching principle and statistical proof that embraces, rather than fights, golf's unpredictability. And it has nothing to do with the black arts of swing and putting stroke. 
It's strategy.
While everyone else is preaching grip-stance-backswing; or deep breathing, empowering thoughts, and imagery; or what alloy driver to buy, Fawcett uses probability to explain how to play the game. "I am the most knowledgeable golf strategist in the world," he says with complete earnestness.  
Simplifying quite a bit, Fawcett's big idea is that the club in your hands is closer to a shovel than a scalpel—or, as he says, "You're shooting a shotgun, not a sniper rifle." Most golfers observe the pole in the hole and reflexively aim at it. Wrong, wrong, wrong, says Fawcett. Plotting the standard deviations of his own shots and the numbers from the Tour proved to him that the world's best golfers are far less accurate than civilians might think. Add undetectable variables like wind currents on the ball's journey and adrenaline in the operator (or its lack), and it's clear that perfect shots are little more than happy accidents. Therefore expectations must be lowered if performance is to be raised. The smart golfer plans for degrees of failure rather than for perfection.
Although Fawcett wanted to test his hypotheses at the 2014 Texas Amateur at Brook Hollow, tendinitis in his right elbow would not allow him to play. But there was this skinny high school kid at his club. Will Zalatoris had a beautiful game and obvious dedication but no great accomplishment, as evidenced by his ranking as the 3,300th-best junior golfer in the world. Fawcett sent him a text: "I'll caddy for you. And if you do everything I tell you, I promise you will win." Zalatoris won that Texas Am. Two months and two more big wins later, Zalatoris was ranked the eighth-best junior in the world. Now touring professionals, club pros, college coaches, Tiger Woods' instructor, the PGA Tour, and Zalatoris—now at Wake Forest on a golf scholarship, possibly the next Jordan Spieth—all have Fawcett on their speed dial.
You can see Zalatoris and Fawcett at work in a YouTube video of the second-to-last hole in the final match of the 2014 U.S. Junior. Zalatoris has 119 yards to the flagstick. The golfer swings. Someone shouts, and Zalatoris raises his arms in triumph. The ball has rolled into the hole! And what had Fawcett said before the miracle shot? "Aim 10 feet right."   
He wasn't just guessing. After Zalatoris had hit many, many practice shots with each club, Fawcett had maps of the results. So he knew that with this particular club from this particular distance, Zalatoris, like many accomplished golfers, often hit it 2 or 3 yards left of his target, and there was trouble left, so aiming slightly right was the reasonable compensation.
Fawcett says 90-plus shooters would be better served working on mechanics and worrying about strategy later, but better players could benefit by building some data points of their own. With a 9-iron, for example, the array of one's shots around a target may be amoeba-shaped, or it might describe the jagged outline of your gerrymandered congressional district; in area, the pattern may be as small as a painter's tarp or as large as the first floor of your house. 
The golfer thus armed can play a more thoughtful game. Will your amoeba fit into the green shaped like a kidney bean?
To be clear: the credit for the success of Zalatoris goes primarily to Zalatoris. Lesser shares accrue to his teachers, Cameron McCormick, the director of instruction at Brook Hollow, and David Price, the head pro at Bent Tree. But it wasn't until Zalatoris added a strategist to his team that he won all those big tournaments and qualified for a Tour event in Los Angeles. Predictably, golf people noticed, and Fawcett's phone started to ring. Could you give me a look? asked Martin Flores, a touring pro from Fort Worth. Could you talk to our kids? asked Jason Enloe at SMU, and Jerry Haas at Wake Forest, and Alan Bratton at Oklahoma State. 
"Scott hasn't invented anything, but he's simplified it and quantified it, so he's got a lot of credibility," says Bratton of OSU. "Our kids think they're going to stuff a full 5-iron, but now they find that even Tiger Woods doesn't aim at the pin every time. I had a misconception, too. I used to think the big difference between the Tour player and the rest of us is putting. It's not. It's better strategy."  
Despite all the radar, lasers, data, and drones, a major component of Fawcett's program is as old school as it can be. The name of his website gives it away: playinglesson.com. In other words, he doesn't think anyone should waste his youth on the practice tee. He wants to take serious players out on the course and show them how to get around with the least pain and the lowest score. That's the way a lot of us learned the game, from our dads, usually. Mine would say, "See that lake on the right? Aim left." 
Fawcett's insights are more nuanced, of course, but the principle is the same. He feels fortune favors those who know the odds.
Get the ItList Newsletter
Be the first to know about Dallas' best events, contests, giveaways, and happenings each month.