When Leslie Typrin's husband was transferred to Dallas from Seattle last summer, she began driving along the Dallas North Tollway, searching for a home. She wanted to find a master-planned community with newly built, energy-efficient houses, sparkling neighborhood pools, and excellent schools for her two boys. But also high on Typrin's list were wide-open spaces, walking trails, and access to fresh, locally grown food.
Typrin, a nutritionist, had gotten used to feeding her family grass-fed beef, carrots and turnips from local farmers' fields, and honey produced by neighborhood bees feeding on buttercups and dandelions—all easily accessible from her old neighborhoods in Seattle and southern California. Typrin wasn't sure she could create the same lifestyle among the flat, treeless subdivisions that radiated for miles across North Texas.
Then, about 40 miles north of Dallas, just past the end of the Tollway, she found Light Farms, a $1 billion community unfolding along 1,070 acres of old corn and cotton fields in Celina, and zoned to the well-regarded Prosper ISD.
"We were so excited when we found it," Typrin says. "We fell in love with the open spaces and the small-town feel."
Neighborhoods like Light Farms are rising in North Texas as developers revamp traditional suburban communities to cater to residents like Typrin. These subdivisions are tapping into the popularity of organic and locally grown foods, and nostalgia for a simpler life. Developers for decades have been turning pastures into golf courses; now they're bringing back the farm.
"It used to be that Mom stayed home and took care of the kids, and Dad went out and played golf," says Stephen Melman, a director at the National Association of Home Builders. "That's not how this generation operates."
The demands of millennials—people born in the early 1980s to early 2000s who have begun raising families—no longer support building large master-planned communities around rolling fairways. Instead, developers are moving toward what they call "softer" amenities: open space for play and, in some cases, incorporating farming and agriculture into their subdivisions. "Agriculture is the new golf," developers like to say. 
"The millennial generation is now the largest segment of the home-buying population," says Tony Ruggeri, CEO of the Dallas-based Republic Property Group, which is developing Light Farms. A Dallas native who graduated from the St. Mark's School of Texas, Ruggeri considers himself a part of the older end of this generation—33, married with two children.
"Now that we're all starting to have kids, there's this overwhelming desire to get back to the basics and to live healthy," Ruggeri says. "Every other month there's a study that says, 'This causes cancer, and that causes cancer.' The one thing we're pretty certain doesn't cause cancer is locally grown organic food."
In April, Light Farms started hosting a weekly farmers market on Saturday mornings beneath a large gazebo in the community's Barn Yard, an open-air wooden structure. Dozens of moms and dads push their strollers along the streets as older children ride along on scooters and bicycles. Their subdivisions are marked with signs made from the reclaimed wood of old Texas barns. Across the property are restored tractors; developers tracked down ones that had been used to farm that land decades earlier. Residents can pick batches of spring onions, leeks, kale, and snow peas and carry them home in their reusable shopping bags. About 30 people have signed up to be part of the CSA, or Community Supported Agriculture program.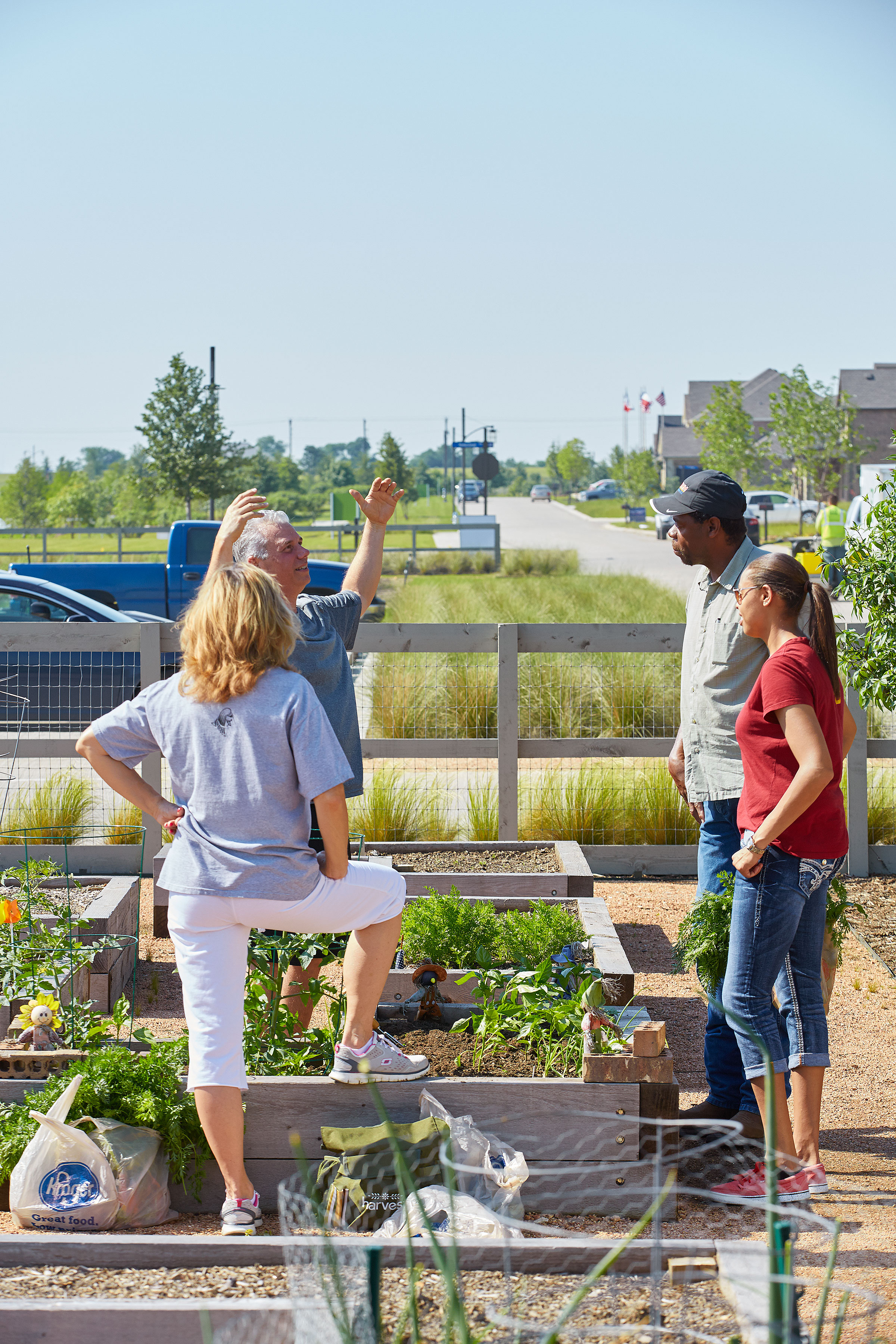 Despite their agricultural leanings, these communities aren't dramatically different from other suburban developments. There are still rows of new houses constructed by a handful of builders and tennis courts and swimming pools and minivans parked in plenty of driveways. The average house in Light Farms is 3,300 square feet and costs $387,000. Developers have sold 388 houses and plan an eventual total of 3,200. Basically, it's your typical subdivision, with an overlay of rural elements meant to evoke simpler days. Fields left open for kite flying and Frisbee tossing. A couple of cows grazing nearby.

At a development west of Light Farms, in Argyle, the Harvest community is building homes on 1,200 acres off Interstate 35 in Denton County, anchored by a restored 19th-century farmhouse. Developers hired a farmer to grow vegetables on 5 acres, beneath greenhouses in the center of the subdivision. 

Rocky Tassione drives in from his 150-acre farm in Stephenville to grow specialty lettuces, mustard greens, baby carrots, and miniature watermelons, the same kinds of produce that he sells to about 30 restaurants in Dallas, including Bolsa, Hibiscus, and The Porch. Tassione pulls his lettuce out of the ground and delivers it to their back doors within 24 to 48 hours.

In exchange for providing Tassione with rent-free land to farm—adding ambience to the neighborhood—he helps residents grow their own vegetables in raised beds beside the greenhouses. "There's this one guy this year who has really gotten into it," Tassione says, laughing. "Everybody keeps coming up to me, saying, 'Whose plot is that?' I mean, it's just beautiful. I've been growing lettuce for 17 years, but when these people get their first taste of fresh lettuce, they send me all kinds of pictures and happy texts."

The subdivision started with 48 garden plots. They rented out so quickly that developers built 70 more. Residents say the gardens have become a gathering spot, a place to meet new neighbors and make friends.

"In our last move to Denver, it was really hard to get plugged in and make good, solid friendships," says Trisha Simms, a 37-year-old mother of three who moved into Harvest last year. "But most people here are transplants. Everybody is in friend-making mode. We felt at home here very quickly."
Get the SideDish Newsletter
Dallas' hottest dining news, recipes, and reviews served up fresh to your inbox each week.