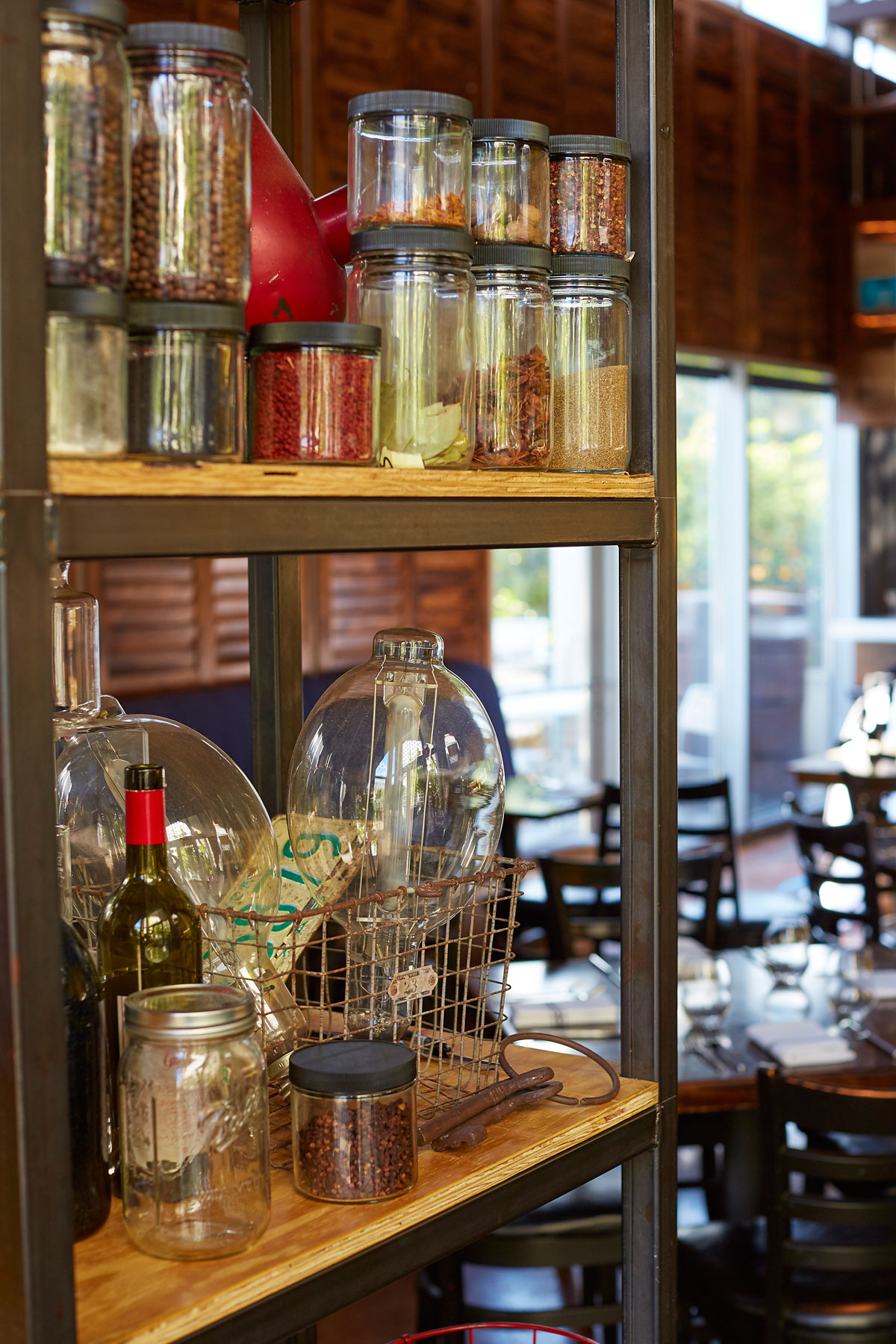 Proof + Pantry is not just a bar. What it is, though, is tricky to say. The entrance bears no name, no insignia; just floor-to-ceiling windows looking onto One Arts Plaza. They suggest perfect transparency—or nothing at all. Co-owners Michael Martensen and Sal Jafar II deliberately chose the name for its vagueness. "Proof is alcohol…and pantry is kitchen," he says. "We didn't want to let ourselves get pigeonholed into something." It took me a while to realize what this reminded me of: the Wyly Theatre, a stone's throw away, its protean stage perched high above street level, shape-shifting for every production. We are the stage for your fantasies, they seem to say—or we're still deciding who we are. 

The decor is the first clue. On prominent open shelves, a vintage typewriter is clearly decorative. But elsewhere, jugs of oil, Tetra Paks of juice, and a workman's ladder crowd in, the utilitarian mixed pell-mell with the artful. Our waitress explained that the dry-aged New York strip steak priced at $125 is cured in Himalayan sea salt and that we could order boutique meats by the ounce. Meanwhile, the shelf under which we sat was crowned with a box of toilet paper. We were in the land of mixed messages. 

The bar is incontestably central, glittering at the back of the room like an Emerald City. This is the kingdom of cocktail genie Martensen, a James Beard Award semifinalist whose work at The Cedars Social helped herald a new cocktail scene. "Dallas was in this horrible, syrupy martini world. Just nasty stuff," he remembers. "No one was using fresh juice or making fresh syrups or looking up old recipes." He has a knack for the zing of tart flavors balanced perfectly with the sweet and the fresh. Ingredients like peach shrub and lime curd make unexpected and delightful appearances. Each drink, no matter the proof, is imaginative and balanced. 

The best dishes, too, have a fairy-wonderland quality that makes you forget everything but the little world in front of you. On our first visit, a Lilliputian landscape was set before us: baby braised radishes, daintily tipped with butter like chocolate-dipped strawberries and arrayed on rye crumb "dirt," their leafy tops simulating a miniature garden. It was a clever wink at the French classic of radishes with butter and salt. On a dish of roasted cauliflower and farm cheese, delicate truffle shavings—earthy, deep, and satisfying—had the grace of fallen petals. The bone marrow was sumptuous. Warm marrow, tomato jam, and hazelnut gremolata melded superbly in a halved bone's hollow, toasts served alongside. There was a lot going on—crunchy, unctuous, savory-sweet—but the staging was precise, inspired. We scooped shamelessly to the bone. 
The best dishes, too, have a fairy-wonderland quality that makes you forget everything but the world in front of you.
You can feel the forward momentum of executive chef Kyle McClelland, who returned to Dallas after a successful plunge in the New York culinary scene. He shines in these architecturally arresting dishes, microcosms of geometry, flavor, and texture. An exclamation accompanied each as it was set down, a little gasp or murmur. And every meal could end with the Pavlova, created in the same spirit. The focal point is a rich chocolate mousse, set off with droplets of brilliantly tart passion fruit gel. A little busy, perhaps, this deconstructionist whimsy with its swirls and smears (and oddly named, as the customary meringue takes the form of minuscule marshmallows, like soft barnacles at the bottom of the bowl). But the real test—the flavor—was intense and astonishing.
Frequently, though, the spell was broken. Expectations reversed, assumptions upended for the worse. From a burrata, I crave sensual silkiness. Baked, it was a mess of oil and string cheese, utterly denatured. The fondue tart was no tart at all, but an ungainly pastry puff, weighted down with cooled, congealed cheese and crowned awkwardly with globules of salmon roe. Both dishes played with classics. Both felt like blunders, missing the point. Another dish started well. Hamachi paired with foie gras brought gamey meatiness and sweetness into perfect union—a brilliant marriage. But it was served with a graceless potato latke that did nothing for the dish but add crunch and fat. The strangest and most absurd: a miniature skillet arrived with a towel tucked under it, everything suggesting heat. Inside was an ice-cold panna cotta and sous vide egg whose yolk was cold as an arctic sunrise. Moments like this left us perplexed. 
The effect Martensen and Jafar are going for is the opposite: warmth, coherence. Martensen has a deep belief in the communal nature of food. "The restaurant business is probably the oldest business in the world," he says. "When man got fire, he started cooking. Whoever had the best antelope, or whatever he was cooking, had a lot of friends." The goal is to remind diners that "once you break bread with someone, it's a very intimate experience. The idea is to have things that remind you of family. When Grandma would come out with a big pot roast. As a child, I loved that. We want to be this warm and welcoming establishment."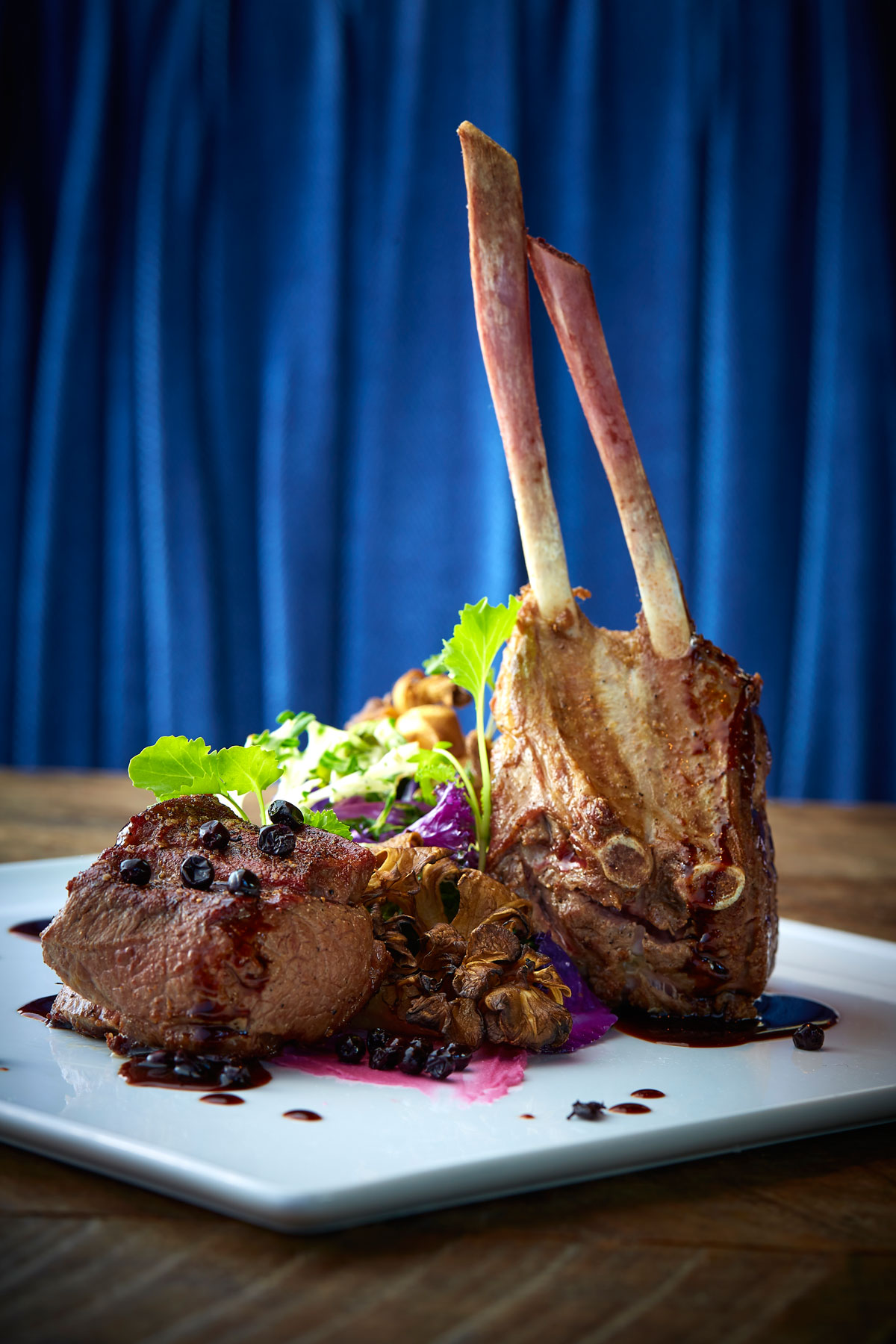 The service is lovely, it's true. And the kitchen can do comforting with charm and delicacy. The handmade pasta with charred lobster, for example. Swirl the quivering poached egg into the tangle of noodles, and spoon it up with a sigh. You've arrived at something between carbonara and heaven. They also get some of the shared dishes right. I love shared platters when they're truly participatory, when there are choice parts to vie for, and half the fun is digging into the delicious melee. The whole chicken was just such a romp. Juicy and tender, it had treasures of cauliflower and hidden mushrooms and salsify to discover and divide. (The rib-eye, on the other hand, gave us much less to do—or love.) One friend's complaint: even in the best dishes, a distinct note of vinegar became tedious, ubiquitous until dessert. Also, a solo diner or duo might find it hard to cobble together a meal between the giant and the small. 

On a stormy night, the atmosphere was everything Martensen wanted—cozy, enchanting—as we savored a mini French press of coffee and an anise-infused cake made especially for Dia de los Muertos. All around was the chatter of a pre-symphony crowd. It was like Prospero's magical feast in The Tempest. A little chill sets in with the bill (that single coffee was $6). It can seem like they hired consultants to hit all the items diners expect and that command high prices—which might even work if everything were as magical as the dishes that are worlds of their own. But those worlds are like islands. In this bar and curiosity cabinet and utility closet and palace of fantasies, Proof + Pantry is trying to do many things, not all of which are intuitive. Be warm and friendly; create beauty on the plate; blend the homey with the avant-garde. The equation becomes this + that; X + Y. The result can feel like the absurdist Italian play Six Characters in Search of an Author. There are wonderful things in both bar and pantry. What's needed is the equation that brings it all together.
Get the SideDish Newsletter
Dallas' hottest dining news, recipes, and reviews served up fresh to your inbox each week.