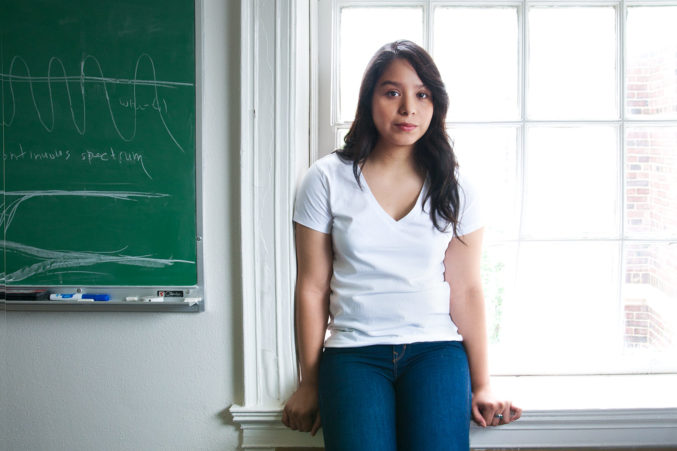 The New Dallas ISD
How Jessica Leija accidentally became the valedictorian at Thomas Jefferson High School.
Jessica Leija didn't even know what a valedictorian was until her junior year at Thomas Jefferson High School.
Junior year is when administrators first release a class ranking. Her classmates placed bets on who would own the top spot. Odds favored one of the Asian kids. Leija's name hadn't even entered the conversation.
Leija was just as surprised as everyone else, but she took the honor in stride. Any hazing she might have gotten was dampened by two factors. First, she likes to help people. "My classmates were like, 'Hey, Ms. Valedictorian, over here. Can you help me with this?' " The other thing that helped: Leija was a member of the Junior Reserve Officers' Training Corps. "I can be tough sometimes," she says. "When I have to, I can."
As a member of JROTC, she was on the Marksmanship Team, comprised of the five best shooters in the school. Also: she was captain of the math team, participated in the band's color guard, played on the golf team, co-founded the Green Team, and studied Chinese for four years.
If you want an idea of what Dallas ISD can achieve, picture Leija. Forty years ago, the district's student population was 12 percent Hispanic; today, it's about 70 percent district-wide and 93 percent at Thomas Jefferson. The shifting demographics—and the socioeconomic implications—present a challenge for a huge, urban school district. Leija and her family show us what's possible when that challenge is met.
Leija got a full ride to SMU. She is the first in her family to attend college. Her dad only made it as far as middle school. Her graduation is the only time she has ever seen him cry.
She made her valedictory about the Green Lantern. "You know the oath that gives them the power? I broke it down and explained how it could help people in real life, making the world a better place."