For a decade or so before it didn't, Love Field throbbed with energy. The jet wash from the country's eighth-busiest airport pulsed over nearby clubs, restaurants, and swinging-single apartment complexes. A Dallas-based airline not named American or Southwest led the merry way, on the ground and in the air. Love bloomed.
"This area was what Greenville Avenue became later," says Larry Perry, 80, from behind the bar at the Cockpit, on Marsh Lane, a pilot-founded relic from the glory days. "Everybody had money, and no one locked his door."
Maybe it started with a book. On the heels of the 1967 bestseller Coffee, Tea or Me?—a fictional account of the amorous adventures of two stewardesses (but presented as fact and written by a man)—along came Mary Wells. Given charge of the Braniff International Airways account, the powerhouse New York ad gal observed the bland "greige," as she called it, of the industry's departure lounges and plane interiors, the from-the-factory polished aluminum aircraft exteriors, and the prim, faintly military stewardess uniforms. Wells responded with color and designer everything. She dressed Braniff 707s in seven sexy new hues, including turquoise and metallic purple, and dressed Braniff stewardesses (they were called "hostesses") in layered Emilio Pucci uniforms that were gradually de-layered in flight, which the ads called "The Air Strip." The tagline of one print ad summed up Wells' approach: "Does your wife know you're flying with us?"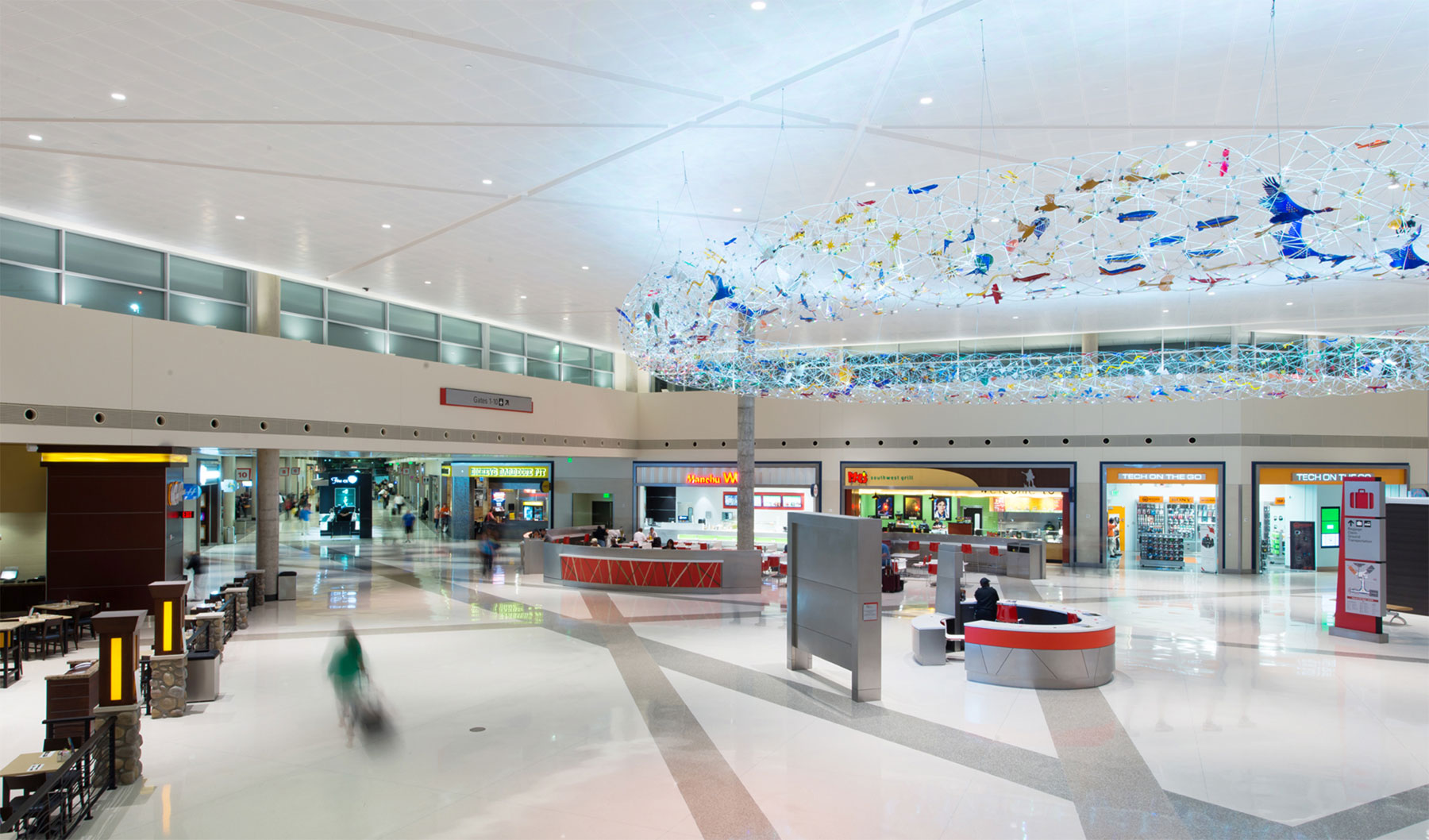 The campaign and the rebranding knocked the industry on its ear. Business boomed. The boys at Braniff HQ—in sight of Love Field, in Exchange Park at Mockingbird and Harry Hines—were delighted. Braniff flight attendants were being referred to as "Pucci Galores"—Bond girls, in other words. In this super-heated atmosphere, it seems somehow fitting that flamboyant Braniff president Harding Lawrence and Wells divorced their respective spouses and married each other, forming an unusually powerful power couple. They had a cute little weekend home on Preston Road in Highland Park, across the street from where Cowboy-in-Chief Jerry Jones lives. 
The glamorous flyboys and girls dated each other—sometimes hurriedly, because they had a plane to catch—and lived at Sherwood Forest, the Barcelona (which ran shuttles to Love), the Trails, the Village, Statler Terrace (two swimming pools), and Lake North Apartments on Webb Chapel, where a Sam's Club now resides. Pool parties were the thing. Women wore bikinis, mascara, false eyelashes, and hair spray, and they stashed diet pills in their purses. Men went in short, tight trunks and sometimes, for fun, their uniform hats. Both genders held drinks and cigarettes. Weed was not a big thing in this circle. It was more illegal back then, and it might make the stewardesses hungry.
I strolled around the grounds and the bean-shaped pool at Tudor-esque Sherwood Forest (now called the Gates of Bluffview), trying in vain to taste yesterday's wine or smell yesterday's Coppertone. But, later, with a single four-letter word, former Braniff stew Helen Adair woke up the echoes. That word: toga. 
At the frequent parties "there would be nothing but pilots and flight attendants," says Adair, a volunteer at the Frontiers of Flight Museum at Love Field. She lived at the Statler Terrace back then. She managed not to sigh at the memory of young men in sheets. "It was a beehive, for sure," Adair says.
Marcella Gleason, another Braniff ex, described her life back in the day: "I had to have a Camaro, of course-, an avocado green one, like one of our planes. But I made only $325 a month, so I couldn't afford to go out much, and sometimes it was a choice between food and fuel. Then I couldn't eat anyway, because you didn't know when they were going to weigh you." 
The 5-foot-5 Gleason was not allowed to weigh an ounce above 122 pounds. Before the flight attendants' union got some teeth, all the airlines had random weigh-ins, and disallowed husbands and pregnancies and being older than 32. Gleason eventually broke all three rules. She married a pilot. 
But life around Love wasn't only Greek-themed parties and weight-watching women. There were boat races on Bachman Lake, the dawn of disco dance clubs, restaurants by the dozen, and bars by the score. A
favorite for those in the know was the Luau Room, a Polynesian-themed eatery above the main lobby in the Love Field terminal building. Post mai tai, couples would stand outside to watch planes take off and land. Pre jet bridge, passengers would unload via stairs right on the tarmac. Men in suits, ladies in dresses; one dressed to fly back then.
A development on Northwest Highway called European Crossroads also attempted an exotic theme, with cobblestone streets and buildings intended to evoke England, France, Italy, and so on. Twice a day it "snowed" soap flakes or something—that was Switzerland. Although the Disney-esque development looked absurd in its declining years and was razed not long ago, back then it was a cool place to shop and hang out. 
The bright lights of Northwest Highway attracted fun lovers from all over the city. Robert Compton III, a black man from South Oak Cliff, says that a bar inside the Love Field terminal was one of the few places in town that tolerated interracial dating. Goldfinger Greek Restaurant—it was on what's now Webb Chapel Extension and eventually became a Tex-Mex joint—was supposedly where swingers went to hook up. It also had the best dolmas in Dallas, according to an early issue of D Magazine.

 "We used to drop acid and climb up the hill between the lake and the edge of the airport," says a longtime local who prefers to remain anonymous. "We'd lie flat on our backs, with our heads 6 feet from the end of the runway. And when a plane came in to land, it was like, 'Wow, man.' I know one thing for sure: you wouldn't want to go to Bachman Lake at 1 in the morning nowadays."

Braniff flight attendant Terry Daniels recalls a sad counterpoint to all the frivolity. "I did some of our Vietnam flights," she says. "We took troops out and came home with bodies."

Larry Perry saw it all. The Love Field-area food and beverage lifer can't tell you everything because, well, some things are confidential. But he allows that Mickey Mantle, the baseball and drinking great, occupied a stool wherever Perry poured. Dallas Cowboys he won't name sometimes came around and got spectacularly over-served. Perry's favorite posting may have been the piano bar at Preston Towers, a mecca for the top dogs in the local gambling community, where "nice call girls, not prostitutes" circulated. One night there, in the aftermath of what must have been a wonderful payday, one of the sporting gentlemen bought a couple of rounds of beers for himself and his friends—19 glasses of Bud—and tipped the bartender $100 for each one. "And the waitress he had that night, she never worked again," Perry says.

But Love Field fell to earth with startling abruptness. From a record 6.6 million
enplanements in 1973, it managed less than half a million in '75. What happened to DAL? DFW happened, of course. A second punch to the gut arrived in 1979, with the Love Field-limiting, DFW-protecting law known as the Wright Amendment. 

As for Braniff, along with every other carrier at Love (except Southwest), the sexy
airline moved to the new airport. But it didn't thrive there. There were bankruptcies and comebacks and, finally, a death knell. "The Women of Braniff" headlined the November '82 issue of Playboy, with 15 of the airline's best posing out of uniform. The subtitle beneath that Braniff cover blurb: "Hard times can't kill that ol' Texas spirit."    

By then Love Field had lost its snap. The party went elsewhere.
Get the D CEO Newsletter
Stay up to speed on DFW's fast-moving business community with weekly news reports, interviews, and insights.