The bartender pulled a bottle of Grüne Fee from the shelf and left it sitting on the bar as he prepared what he called "proper drip service." I crept closer to get a better look. The label featured a pretty woodland fairy in a swirling gown. The liquid in the bottle was viridian green. It looked like a magic potion. Or a fluoride rinse. 
On a recent Tuesday night, my partner in crime and I popped into Driftwood, an Oak Cliff seafood restaurant and bar, for some after-work drinks. I'd heard Driftwood had added an absinthe menu to its beers, wines, and cocktails.
"Customers don't believe it's the real thing," said Josh, the plaid-clad bartender. "Some people think absinthe's still illegal."
"Absinthe seems like a strange thing to specialize in," I said. 
"We wanted to do something different," he said. "It's definitely an acquired taste. It's not for everyone." When he warned us about its extreme licorice flavor, my friend grimaced.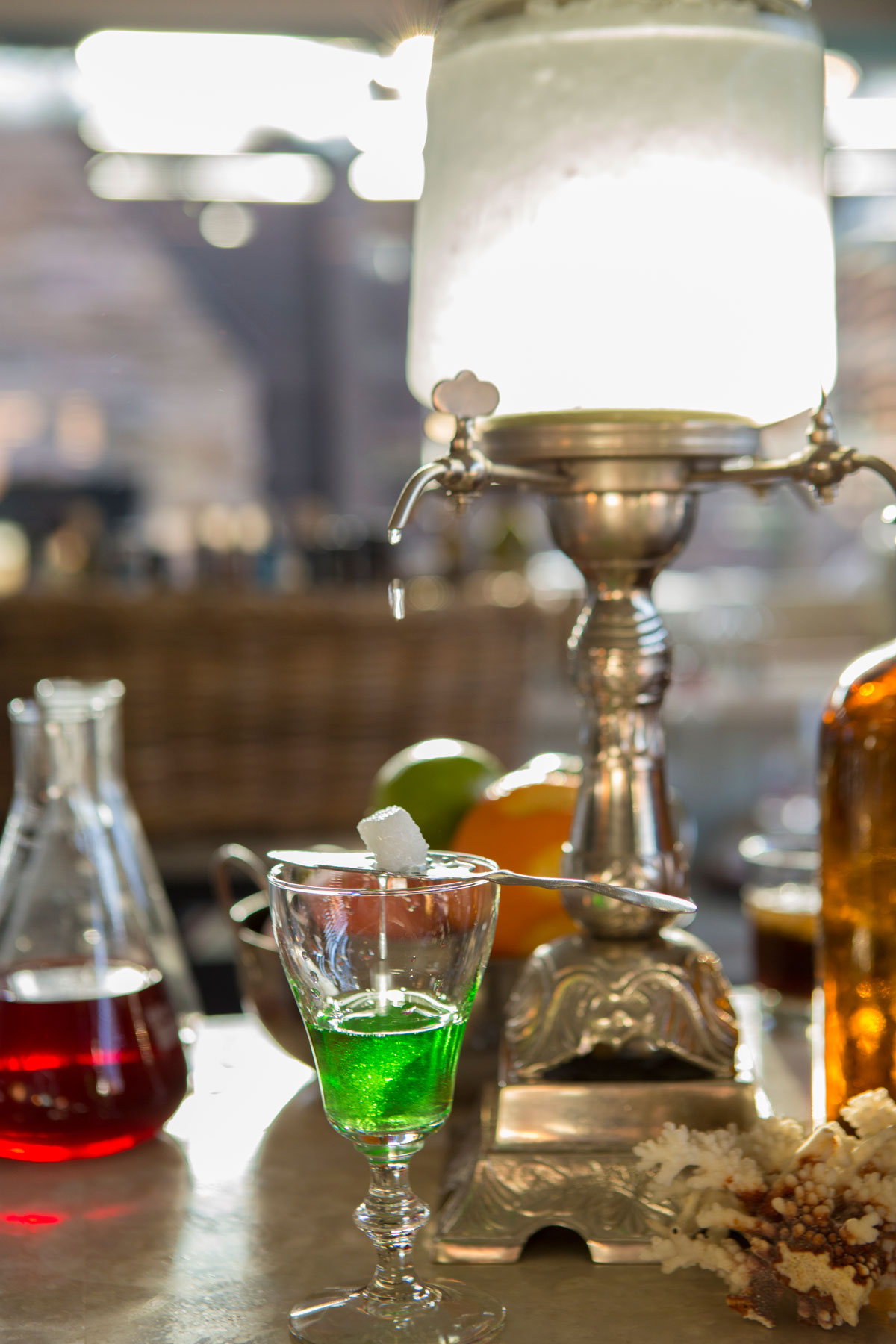 Driftwood is stylish, compact, and sparse: light woods, white walls, and spotless white tile behind the bar. There's a gaping set of silver-cast shark jaws by the door, and the back wall showcases carefully arranged pieces of driftwood. We'd grabbed seats at the bar and perused Driftwood's options, which include absinthe (the real deal), pastis (absinthe made without wormwood), and absinthe cocktails (including the Hemingwayesque Death in the Afternoon). For us, Josh recommended Le Perroquet, a minty pastis cocktail, and the Forbidden Beer, made with root beer. These two, he promised, were some of the more palatable options.

As we awaited our selections, we turned our attention back to the Grüne Fee. Cold water dripped from a silver spigot of an elegant absinthe fountain, through a sugar cube, and into a waiting glass of absinthe. As the glass filled, the liquid clouded. Josh dropped the drink off with Stephen, a guy at the other end of the bar. When I ventured over, Stephen said that this was his third absinthe of the night. He'd started with the Swiss Kübler, moved to the floral Tenneyson, and saved the Green Fairy for last. 

"You get used to the taste after the third drink," he said.

"The third drink?" That didn't bode well.  

"He means after the third sip," his wife clarified, lifting her glass of red wine. "But personally, I hated it."

Still, I was undaunted. I returned to my spot at the bar just in time for Josh to deliver our cocktails. 

"Try not liking absinthe with this," he said.

I took a big swig. Le Perroquet tasted like a licorice-flavored mojito. It was sweet, pleasant, and strong enough that I felt an immediate kick. I was about to take another taste, but I remembered something else about absinthe. I knew it would probably sound silly. But I had to ask. Just in case. 

"Is this going to make me hallucinate?"

Josh smiled. "If you drink enough of anything, you'll probably hallucinate."

I decided not to ask any more questions. After all, what's absinthe without a little mystery?
Get our weekly recap
Brings new meaning to the phrase Sunday Funday. No spam, ever.