In 1965, Gunter Schnetzinger and his wife, Ute, moved from Germany to Texas with $1,000 and a single suitcase. 

They were young newlyweds seeking a break from the crowds of Frankfurt. Their plan was to stay in Dallas for three years, make some money, and then head home to Germany. But the Schnetzingers began to soak up their surroundings: the greenbelts, the bright sky, the wide-open spaces. They liked driving along a road for a few hours at a time and seeing nothing but picturesque countryside. 

They learned English little by little and eagerly worked to understand American customs. During their first year, they
were baffled on an evening in late October when crowds of costumed children rang their doorbell and demanded treats.

"We had to conform," says Gunter, his accent still crisp decades later. "We never wanted to have Germany here." Gunter has wispy white hair and wears suspenders over his long-sleeved shirt. Ute is tall and poised, with smooth skin and colorful jewelry. 

Despite their initial love for Texas and the immaculate scenery, it was a challenge to make ends meet. Gunter took a job as a hairdresser, and Ute found work as a bank teller in Highland Park. She remembers struggling to understand English by studying people's mouths as they spoke. 

Gunter had always been a plant person, beginning his first cacti collection at age 7. After nearly two years in a Dallas apartment, the couple moved into a house, which granted Gunter the space to accumulate plants again. In those early years, he tended cacti and African violets. He got his first orchid in 1969, and, like many people, became captivated by the exotic, challenging plant. It wasn't long before he installed a 10-by-12 greenhouse. When that became too small for his growing collection, he expanded to a 20-by-34 greenhouse. By then the dream that he might be able to profit from his floral fixation had taken root, and Gunter and Ute became business partners. Seven years after they left Germany, the Schnetzingers opened Gunter's Greenhouse and Florist in Richardson. Their first location sold cut flowers and didn't even have a greenhouse. He grew all the plants at home.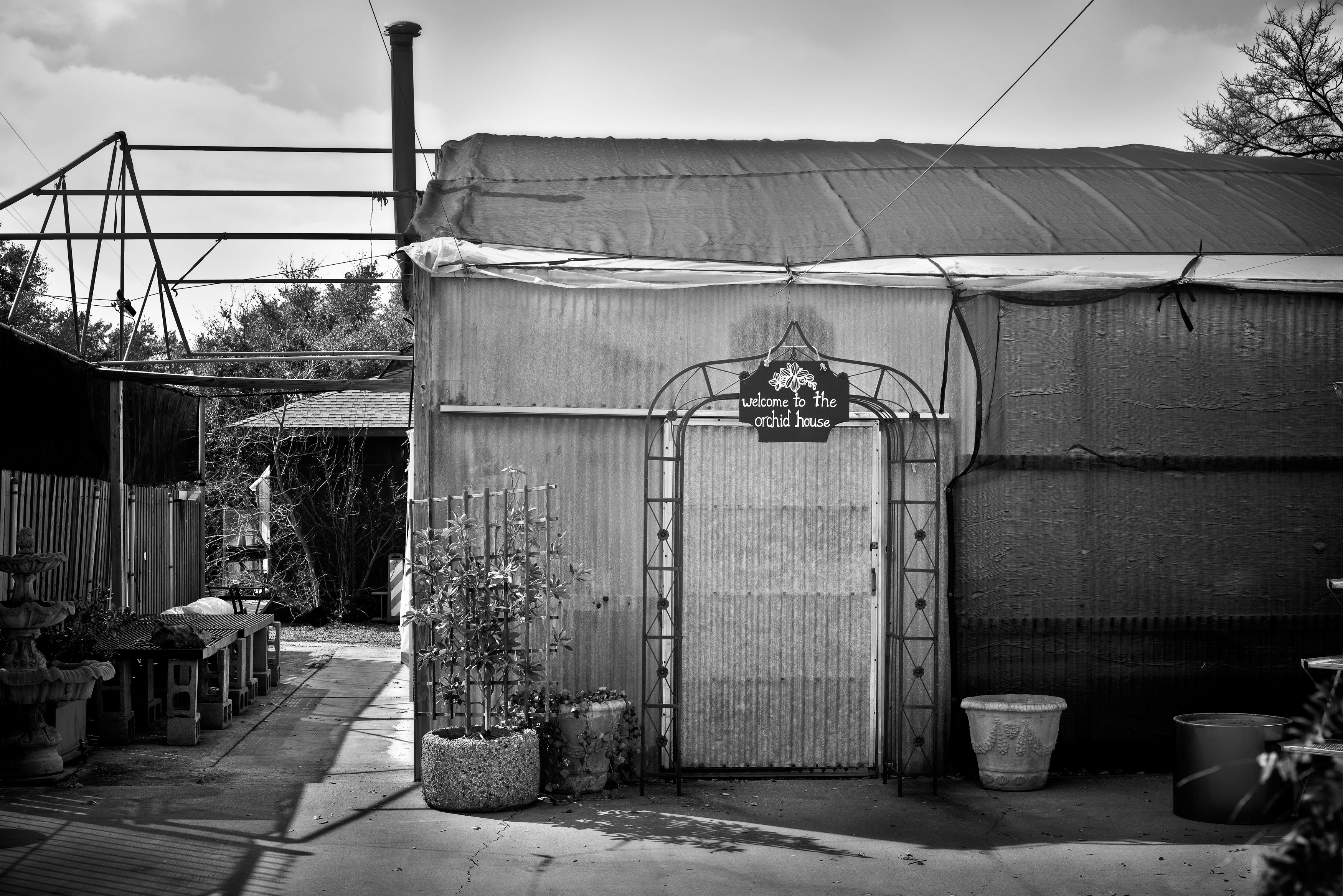 During the Victorian era in England, well-heeled collectors sent orchid hunters traveling all over the world in search of rare and exotic varieties. Orchids were like living treasure. Single plants carried huge price tags, but they often died because their owners didn't know how to properly care for them. As people learned more about the orchid, its fan base grew. The Greater North Texas Orchid Society was founded in 1946, but the plant was still rare and expensive back then. Most of the people fawning over it were hobbyists and collectors.  
"Houseplants didn't become popular until the 1970s," says Jon Pinkus, owner of North Haven Gardens, a family-owned garden center in its 63rd year of business. "Orchids followed and have become very in vogue during the last few years." 
In the late 1990s, Gunter noticed that orchids were transitioning from a hobbyist's obsession to a fashionable houseplant. His orchid greenhouse was already the largest in North Texas, with more than 100 strange, colorful varieties. (He says that the most individual orchids he ever had at one time was about 15,000.) Soon orchid novices were traveling to Richardson to seek out Gunter's expert advice. After all, he had already been growing and selling orchids for several years—and obsessing over them for even longer. 
 "People would come to us from as far away as West Texas, Houston, and Oklahoma," Gunter says. 
In addition to the two expansive greenhouses, the Schnetzingers' 1-acre commercial property included a beautifully landscaped front-yard garden, a shop replete with designed arrangements, and plenty of outdoor patio space—a plant lover's dream.
"Sometimes hybridization can be like getting a child that didn't turn out good," Ute says. "Every orchid is like a kid—except you're stuck with kids."
While Gunter worked in the greenhouses, Ute, an accredited member of the American Institute of Floral Designers, designed creative compositions for commercial displays and for sale in their store. As orchid fever gripped Texas, business began to pick up. The Schnetzingers were raising three small children (who, once old enough, would assist in the greenhouse) and running their company, which often included providing flower displays for two or three weddings a weekend. 
The worldwide demand for orchids grew, and soon overseas companies began using orchid tissue to clone the lucrative plant. This mass production, Gunter explains, is the reason you can walk into any supermarket or hardware store today and pick up a blooming orchid for a fraction of what it used to cost. Instead of driving the Schnetzingers out of business, the sudden abundance of affordable orchids brought the plants greater mainstream attention—and crowds of curious people wound up discovering Gunter's shop.  
"As orchids got more popular, we got a broader customer base," Gunter says. "After all, we still grew better orchids than anyone else."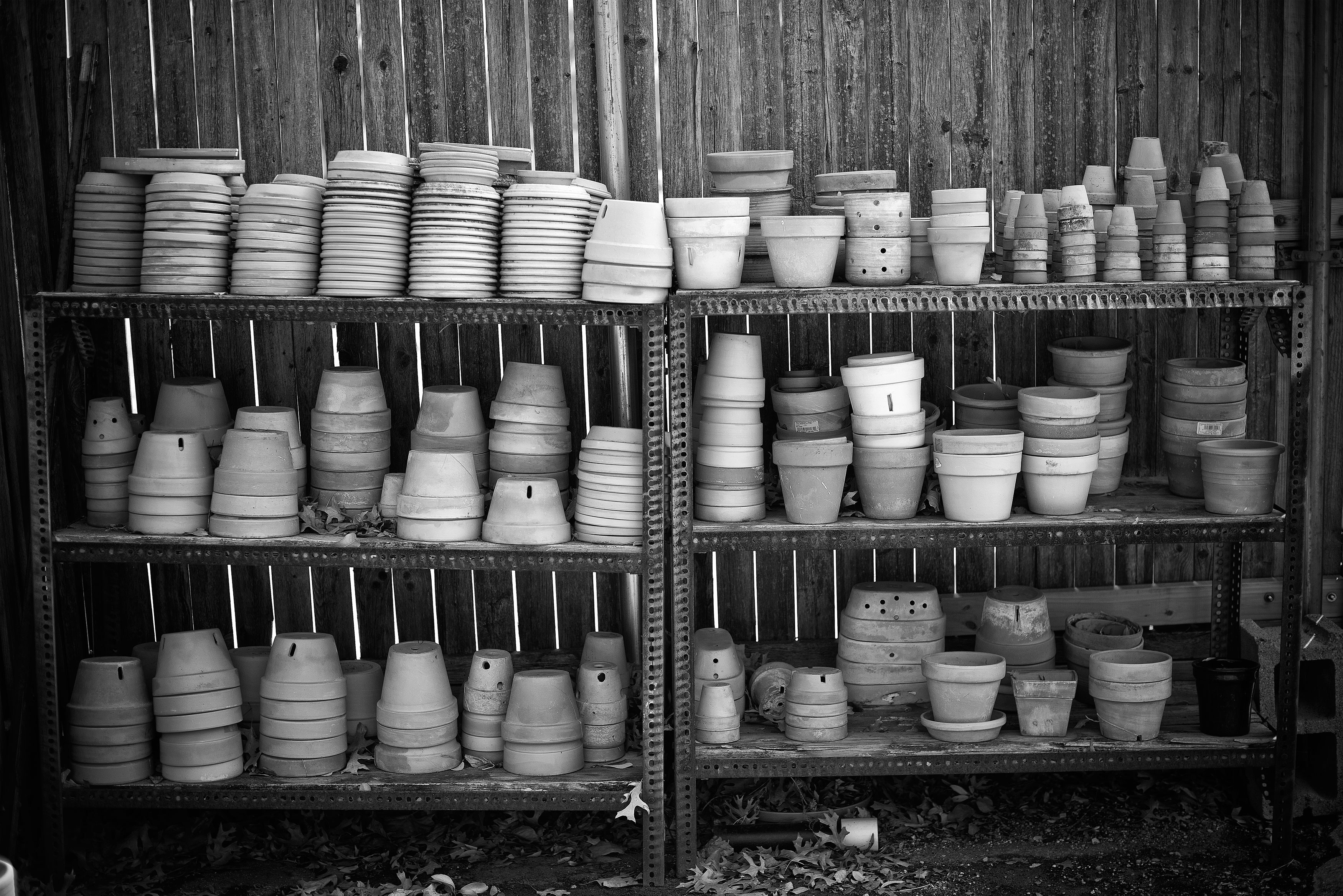 There are thousands of species of orchids smattered across the globe, adapted to thrive on every continent except Antarctica. There's the fragrant cattleya, showy phalaenopsis, and pouty, delicate lady's slipper. Plenty of people are captivated by their unique beauty, but one place orchids haven't adapted to quite as well is a living room—they're notorious for breaking houseplant owners' hearts. While you can buy an orchid at your local grocery store, it's more difficult to find an experienced orchid expert to help you care for it. After four decades on the job, Gunter got good at keeping these fickle plants alive. Ute calls her husband "the orchid doctor." 
She describes the time a lady brought in two orchids in bad shape. Their leaves had mostly fallen off. When Gunter took a closer look, he found that the roots were brown and shriveled—not plump and silver white, the signs of a healthy orchid.  
"They're dead," Gunter told the woman. 
But the customer disagreed—these orchids were her babies, and she refused to believe they were beyond rescue. Despite the orchid doctor's diagnosis, she purchased new pots and fertilizer and vowed to Ute and Gunter that she would save them herself.
"If you can save them, come back and I'll give you a job," Gunter promised her.
A few weeks later, the woman walked back into the shop. 
"You were right," she said. "They were dead."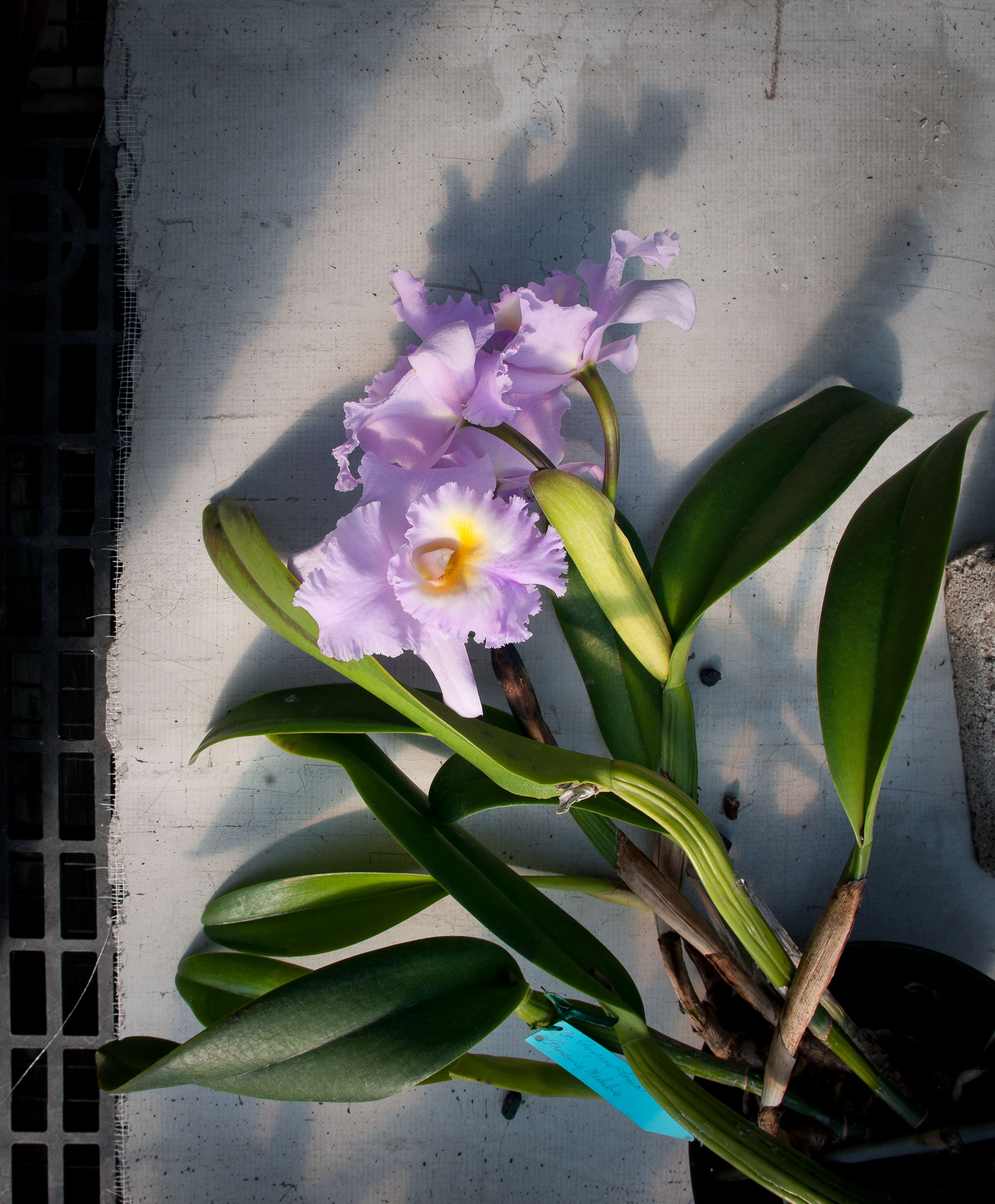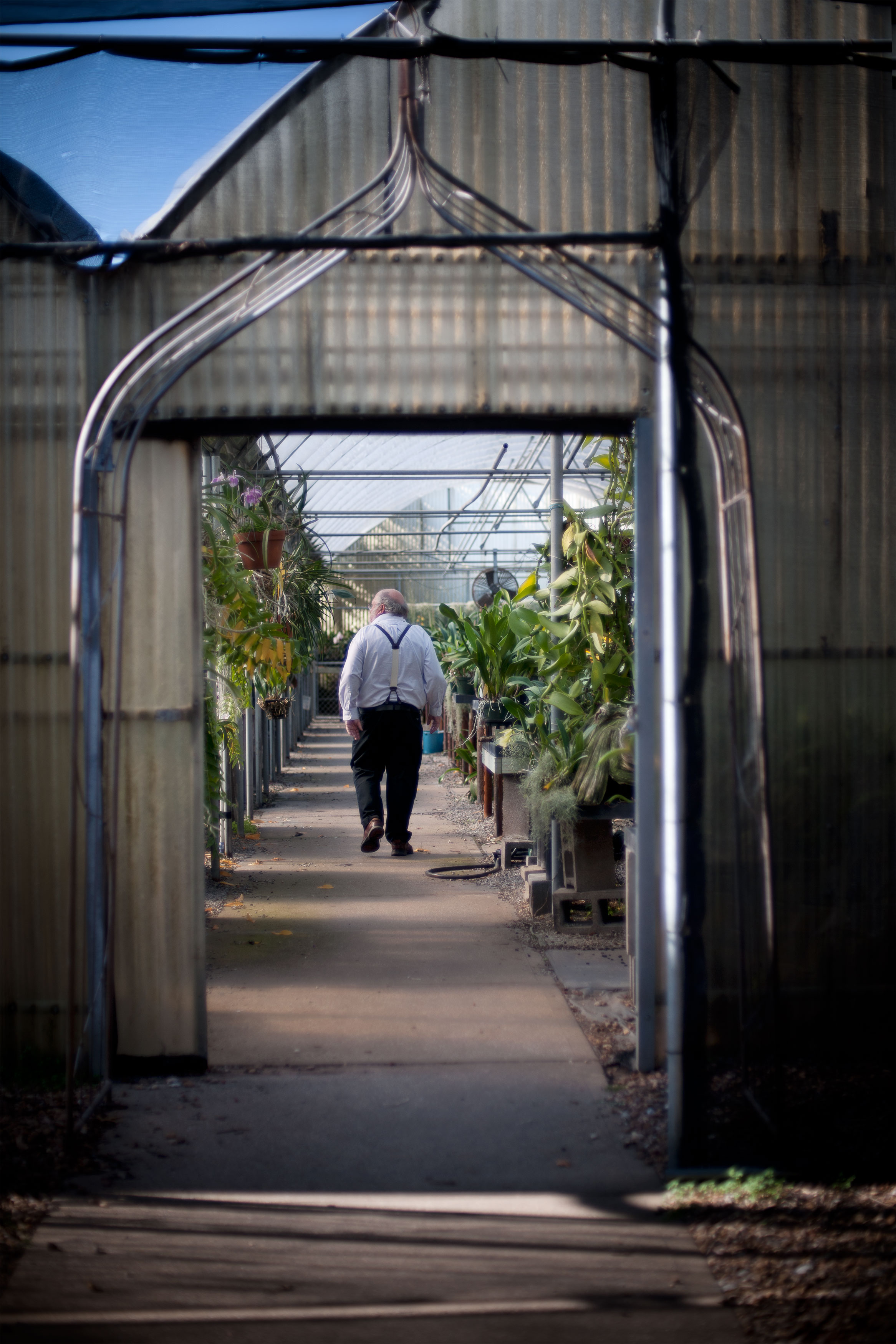 Over the years, Gunter prescribed treatments for orchids with infections and pests. He applied time-tested remedies for orchids damaged by overwatering, overfertilizing, and too much—or not enough—light. He repotted orchids for casual orchid admirers who weren't sure how to safely transplant their finicky plants. He even offered advice in hopes of preemptively saving them: Gunter cautions against watering orchids from above, for example. If water pools in the crown (the junction where the leaves converge), "the orchid will rot and die almost immediately," he warns. 

And their skills went beyond the greenhouse. Ute translated a handful of German floral-design books to English, bringing them to the American market. With the help of his grower, Gunter created new kinds of orchids through hybridization, a 3- to 5-year process in which two existing orchid species are crossbred to make a new one. One of his crossbreeds is named after Judy Garland. Another is the Troy Aikman cattleya. Both are registered with the American Orchid Society. 

"Sometimes hybridization can be like getting a child that didn't turn out good," Ute says. "Every orchid is like a kid—except you're stuck with kids."

Ute and Gunter have three grown children—two are floral designers (the third is a triathlete)—and eight grandchildren. They've laid down permanent roots in Texas. Their eldest daughter, Diane Reis, is a wedding and special events florist in Tyler. She began floral design at age 11 and did her first big event, at Billy Bob's in Fort Worth, at age 17. Their son, Glenn, is a florist in Arkansas who has twice done floral designs for the Academy Awards.  

In time, Gunter's Greenhouse and Florist grew into a 15- to 20-employee business. Gunter taught countless classes on orchids and plant care. Ute lectured on floral design. They designed orchidaceous displays for Ronald Reagan's inauguration in 1985 and George H. W. Bush's in 1989. They decorated the DeGolyer house at the Dallas Arboretum and provided floral design for colleges and libraries. Gunter and Ute got so many wide-eyed orchid neophytes off to happy starts that years later some of these customers returned with photos of their plants' growth progress. The Schnetzingers keep one such photo framed on a wall in their home. 

In April 2013, after more than 40 years of business, Ute and Gunter sold their shop and retired. They wanted to spend more time with their children and grandchildren, travel the world, and leisurely peruse antique malls. At the beginning of this year, the Schnetzingers enjoyed a jazz cruise, and they plan to head back to Germany soon to visit their roots and enjoy their favorite treats: "schnitzel, bratwurst, and anything from a German bakery," Gunter says. Not surprisingly, the Schnetzingers haven't lost their passion for plants. They grow roses in their yard and keep a collection of lady's slipper orchids in their home. They visit the Dallas Arboretum often. 

Meanwhile, orchids continue to enjoy mainstream popularity. It seems that just about everyone has one—or has killed one. Elegant orchids inhabit Thai restaurants and grace the pages of home-design magazines. They sit on window sills tucked between spider plants and cute little succulents. Grocery shoppers passing through the floral department buy orchids on a whim.  

Charles Ingrum, owner of established Dallas floral shop Dr Delphinium, acquired Gunter's Greenhouse and Florist upon the Schnetzingers' retirement. 

"Gunter created something very unique—a place where he was able to grow orchids in an environment typically not suited to them," Ingrum says. "These orchids are adapted to our environment and are of better quality than orchids that have been shipped in." 
The orchids grown in Gunter's old greenhouses now populate the floors of both Dr Delphinium locations. At any time during business hours, you can walk into the Richardson store, head through the shop, and go out into the bright, warm greenhouse. It's a meditative, fragrant place, and customers are welcome to purchase any orchid they discover among the thousands of plants. 
"We're continuing Gunter's traditions," says Ann Currie, store manager of the new Richardson location. 
Some days the staff needs Gunter's orchid expertise. Maybe it's a particular variety they can't pinpoint or questions about a mysterious ailment. He's happy to pop back in to visit his old greenhouse and offer advice as needed. Gunter and Ute are grateful for the seamless transition. They feel they left their "baby" in good hands. 
 "Sometimes I look at Ute and say, 'Life is good,' " Gunter says. 
On a bright afternoon in early spring, life was good. Ute and Gunter were back at their old shop, taking a little time to smell the flowers. The thousands of orchids that the Schnetzingers spent so many years caring for had sprouted and spiked, and sleepy buds had burst into bloom. There were yellows, pinks, and whites. Many were mottled and multicolored. Some of the blooms—particularly the cattleyas—resembled faces. Clustered in tight colonies on their respective inflorescences, they looked like creatures out of Irish fairy lore. 
As Gunter and Ute drifted down the aisles of flowers, they looked at each other and smiled. The Schnetzingers furnished North Texas with beautiful plants for more than four decades. Now they can step back and let them thrive. 
Get our weekly recap
Brings new meaning to the phrase Sunday Funday. No spam, ever.