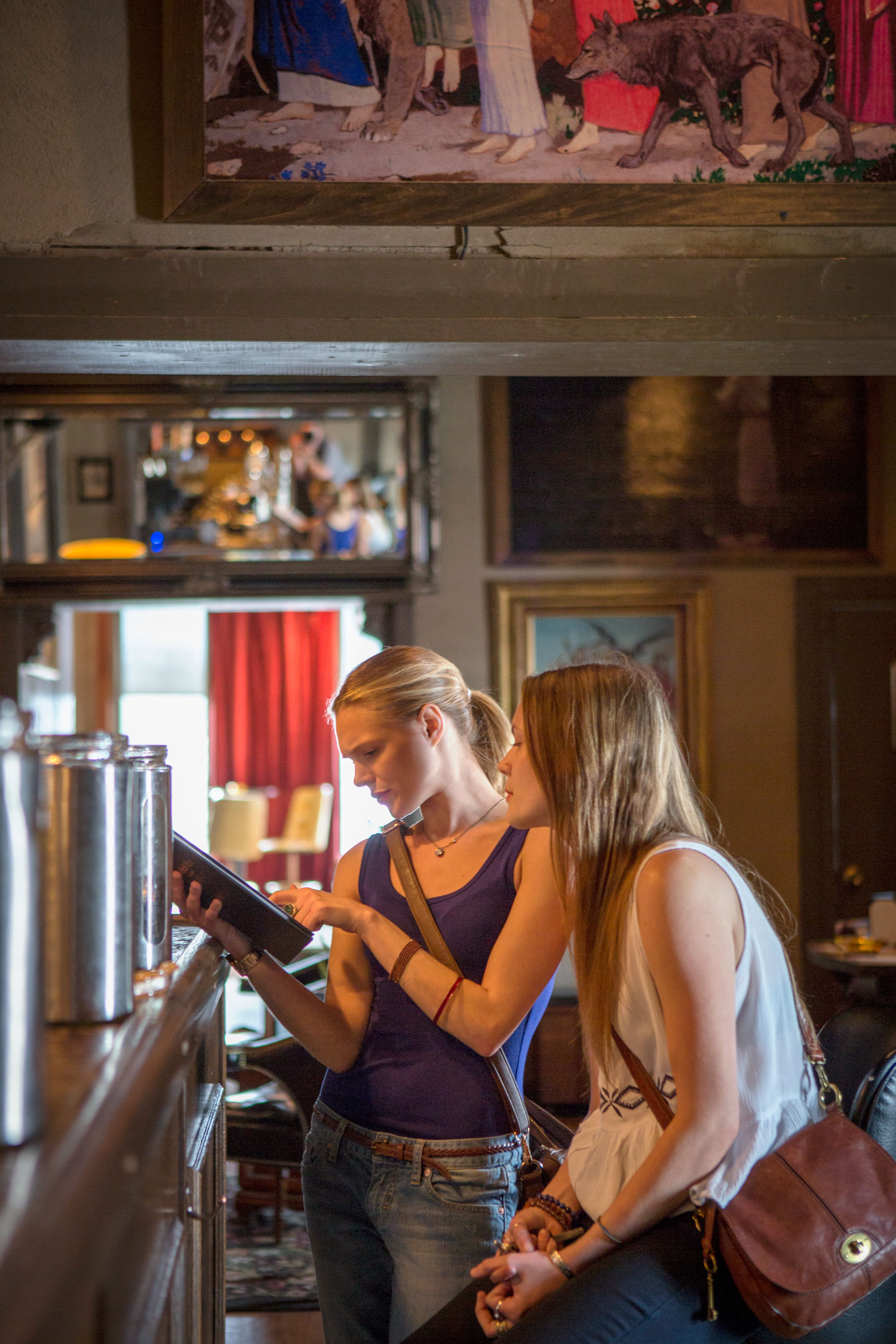 T
he unmarked wood door
was
easy to miss. I walked past twice before identifying it as the portal to Denton's (obviously) low-key Paschall Bar. When my bearded friend pointed out that the door is plain on purpose, my frustration vanished. Who doesn't love a secret bar? 
After climbing a tall, steep staircase and opening another door, we found a low-lit and smoky space with dark woods, red drapes, and walls covered with portraits and traditional European-style art. People seated on long leather couches played chess and flipped through books pulled from huge bookshelves that line the walls (I spotted everything from a collection of English literature to the Encyclopedia of Organic Gardening). There are dartboards, Persian-style rugs, and a vintage wooden bar. 
Bartender Thomas told me that Denton folk-rock band Midlake opened the bar in October 2011. Paschall may still be a secret to some of my Dallas friends, but here in Denton, word's gotten around. The line at the bar was growing fast, so I settled in to wait for a drink. I watched as the bartenders shook, stirred, spritzed, and even set things on fire (more on that in a minute). Paschall's menu boasts a slew of specialty cocktails with names like the Spiced Iris and the Jack Rose, plus a selection of martinis, mojitos, mint juleps, and craft brews. My friend opted for a White Russian, but I still hadn't made up my mind. The tattooed bartender said I couldn't go wrong with the Smoking Jacket. James, a tall man standing behind me, agreed: "It's really good." 
As the bartender mixed, James and I chatted. He used to be in the military, but his passion is writing. He told me he's been working on a novel for eight years. "I used to write whenever inspiration struck me, but Stephen King said that's for amateurs," he said. "Now I write whenever I can."  
We agreed that, with its mountain of books and sultry allure, Paschall Bar is literary inspiration waiting to happen. I turned back to the bartender just in time to watch her create a small bonfire with a mini blowtorch. Then she placed my glass upside down over the smoking maple wood before pouring in the concoction.  
Back at my table, I sipped my smoky cocktail and studied the crowd: mostly local grad students and young professionals. There were plenty of people in skinny jeans, and at least one group of middle-aged couples. Nearby, four bespectacled men in hoodies politely clinked glasses. 
At the far end of the bar sat two trendy regulars. She had dark red hair and square-framed glasses; he was slim with tight, red pants. They said they were recent graduates of the University of North Texas and live nearby. The redhead ordered the Spiced Iris, which came lilac-colored and fragrant. 
"The drinks aren't cheap, but we don't come for cocktails," she said. "We come for masterpieces."  
Get the SideDish Newsletter
Dallas' hottest dining news, recipes, and reviews served up fresh to your inbox each week.