The Queen of the Can
Don't laugh. Suzy Batiz is building an empire with her Poo-Pourri.

The first thing most people ask about Poo-Pourri is, does it work? It does. Who knows what effect all that oil might have on the sewage system over time, but it smells good: a citrus-y mix of bergamot, lemongrass, and grapefruit. If you took someone wearing a blindfold into a bathroom after using Poo-Pourri, that person would likely still know where she was, but she would note that it was well-perfumed. 
There are two sources of stench in a typical bowel movement. (Space and taste prevent an examination of what happens during extreme situations.) As food is digested in the stomach and then makes its way to the large intestine, various gases are produced: nitrogen, carbon dioxide, oxygen, methane, and hydrogen sulfide. It's the latter one that gives offense. Some of these gases exit the body during the eliminatory act, but the underwater ejecta, too, continues to emit the gases. That's
where Poo-Pourri comes in. By creating a thin film of oil on the water's service, it traps the odors.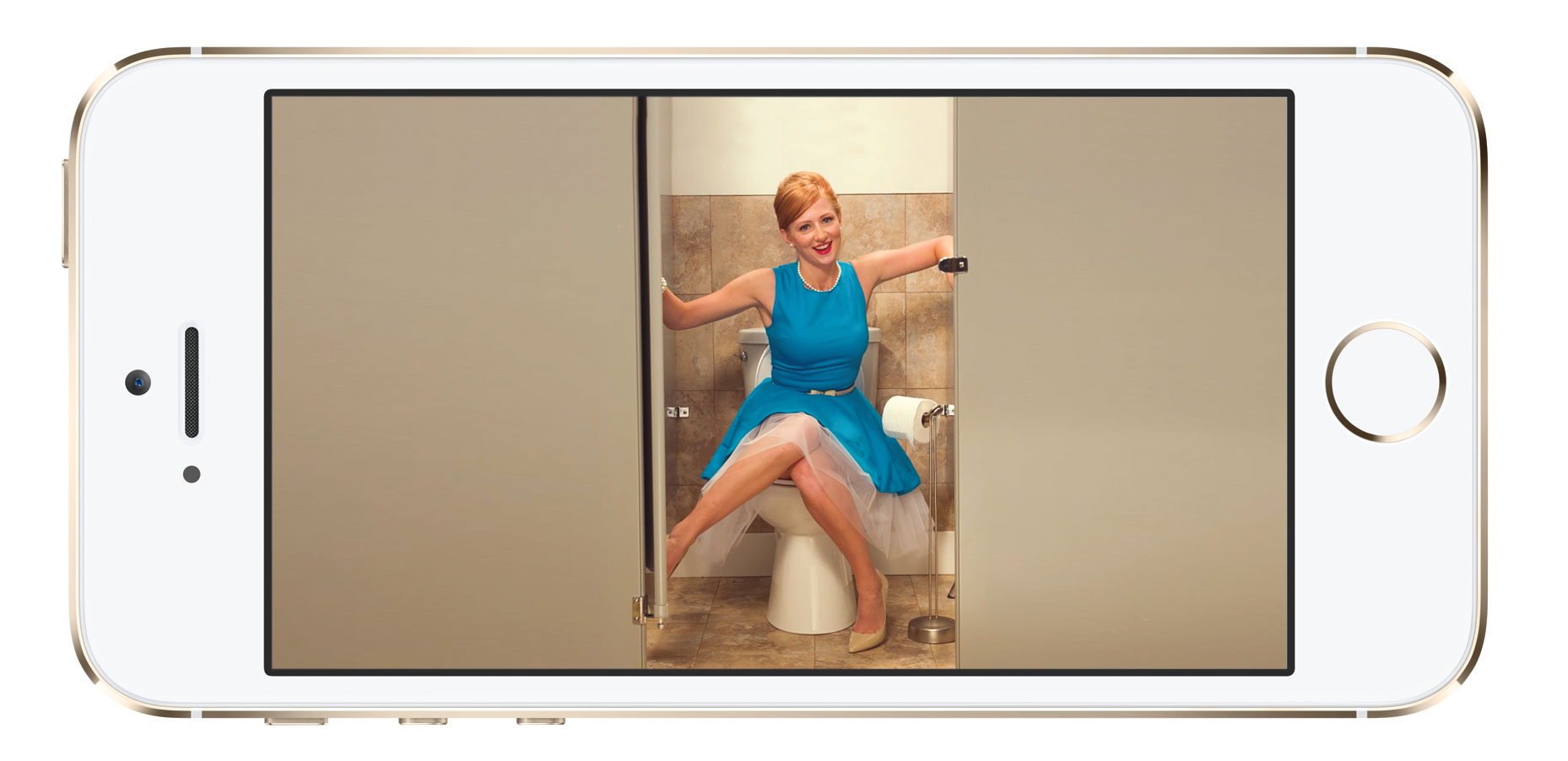 Suzy knew she had a good product. Her friends couldn't stop talking—and laughing—about it. She just needed to figure out how to sell it. Part of her challenge involved what she calls "re-educating people on how to go," noting that "people are used to sitting in their own smell, then spraying afterwards. They've done that all their lives. This reverses the order." The other problem: the people who would most want to buy this product—the people with the most bathroom anxiety—are also the people least likely to pick up a bottle of the stuff at a store. 
First she needed a name. Hector was a big fan of Trap-a-Crap. Suzy's sister-in-law suggested Poo-Poo-Pourri. Someone she was doing interior design for suggested she shorten it: Poo-Pourri.
Suzy figured most of her clients would be women. "Everyone knows that women don't poop," she says. So she wanted to design the bottle to look like an antique French perfume container. For the label, she decided on a putto (a Renaissance cherub) sitting on a toilet, lifting a plunger like a trumpet. On each bottle, she added a tiny charm with the letter "P."
"I knew it had to be pretty," she says. "But I also knew it had to be funny. You can't talk about this without humor."
She thought about the anxiety so many people feel. "Even animals," she says. "Dogs kind of look around like they're embarrassed when they go, or at least really vulnerable. It's a really vulnerable moment." She came up with a quick rhyme that would both touch upon that anxiety and explain her product: "Spritz the bowl before you go, and no one else will ever know."
The business was up and running in the spring of 2007, with the founder mixing batches and bottling them in her kitchen.
Hector brought some samples to a live appearance of two local radio personalities, Lex and Terry. (At the time, they were broadcast on KEGL and syndicated in more than 20 markets.) The next morning, Hector heard Pauly Shore, their guest on the show that day, reading the Poo-Pourri label and talking about the product. 
As word spread, orders came in from every direction. One shop owner would tell another somewhere else, about this funny new product. Suzy continued to use her house in Prestonwood as the headquarters, even as the business grew. She had her sons help out. Suzy says they fired them both at least 1,000 times, but then there were always some more boxes that needed moving. 
Within a few months, there were boxes from floor to ceiling in the garage, the kitchen, the media room. On some days, they had more than 100 store orders to fill. Every morning there were giant stacks of boxes lined up from the front door to the curb. Eighteen-wheelers came and went all day. 
They sold more than $1 million of Poo-Pourri by April 2008. When they did
finally move into the office space in Addison, a neighbor had a one-word reaction:
"Good."
Imagine the largest mall you've ever seen. Now multiply that by, say, four or five. That's what the Total Home & Gift Market looks like at the Dallas Market Center. More than 20,000 gift and home-decor lines on 16 floors. The halls are packed with buyers from stores far and wide, big-box and boutique, all looking for new inventory. Many bring luggage to accommodate all the samples. 
The Poo-Pourri display is on the 12th floor. There are dozens of bottles of the product strategically displayed on the tables, and all the Poo-Pourri representatives, including Suzy, wear black shirts and turquoise scarfs. A steady stream of buyers walks by, with most stopping when they recognize the brand, then coming over to talk about either the product or the funny commercial they've seen.
In the first six years of the company's existence, something of a cult following developed, and Poo-Pourri sold more than 4 million bottles without much advertising ($5 for a small purse-size bottle, $10 for a 100-use regular size). But last year Suzy wanted to, as she puts it, "step on the pedal." Really, she was thinking back to when she was 17 with that shoe and the chance she may have missed. 
They hired an advertising firm in Utah to make a YouTube commercial that would boost direct-to-consumer sales. When Suzy and her team got back the initial script, they didn't know what to think. Nicole Story, the company's poo marketing director, remembers being worried.
"I don't think any of us were expecting to read those kinds of words," she says.
The script, titled "Girls Don't Poop," called for a prim, youthful British woman sitting atop a toilet, using expressive language. The two-minute ad would start with her kicking open a stall door, looking into the camera with a smile, and saying, "You would not believe the mother lode I just dropped." She goes on: "And that's how I like to keep it, leaving not a trace that I was ever here, let alone that I just birthed a creamy behemoth from my cavernous bowels." 
Then she's on a toilet, computer on her lap, in the middle of a busy office. "Nothing is worse than stinking up the shared toilet at work," she says. "Or at a party. Or your lover's apartment." She's back in the stall. "Of course, flushing removes the graphic evidence, maybe two or three flushes if your skid marks are as tenacious as mine. But what can be done of that subtle scent of a"—she pauses, and suddenly she's sitting in front of a noisy group of cows—"300-cow dairy farm?" 
The woman explains that aerosol air fresheners aren't the most effective option, nor the healthiest, and asks with a grin, "How can you make the world believe your poop doesn't stink? Or, in fact, that you never poop at all?" That's when she introduces Poo-Pourri and explains how it works. 
Suzy remembers being particularly disturbed by "creamy behemoth." "We also tried 'steamy behemoth' and 'steamy, creamy behemoth,' " she says. Such are the nuanced decisions in a venture like hers.
Joel Ackerman, who wrote the script, says the character in the commercial was inspired by his wife. "Sometimes her bowel movements are incredibly large," he says. "I wanted to use poetic language to describe that." He says, aside from the word "ass-tronauts," he wanted to avoid puns. (Although he does at one point describe his writing as "poo-etry.") Instead he focused on the surprising contrasts: a beautiful, dainty woman with what we think of as a refined accent, talking about something uncouth. Florid phraseology applied to bodily function. "The humor defuses the anxiety," he says.
To play the spokesperson, they hired Bethany Woodruff, a 21-year-old BYU student from Scotland. She put on an exaggerated British accent for the part, but jokes that most Americans can't tell the difference between a British and Scottish accent anyway. They shot the commercial over a couple of days last August in Utah. Everyone associated with the commercial thought it was funny, but nobody had any idea how big it would become. These days, strangers recognize Woodruff from the commercial. "It's not often you hear a girl talking about her tenacious skid marks," she says. "It stands out in your memory a lot."
Back at the Dallas Market Center, a buyer from a wholesale flower shop in Vermont seems smitten with Woodruff, who's in town for a two-day appearance at the booth. The buyer asks for a photo with Woodruff that he can send to his 8-year-old son, who loves the commercial. Then the buyer shows her a video his son made in reply. The boy looks right into the camera and says, "I love you, poop girl!"
"Oh, my life," Bethany says. "How adorable!"
It's a little strange to be known for this, she admits. If one day she wins an Oscar, she says, people will tell her, "Bethany, you started on a toilet and worked your way up from the bottom." 
She lifts up her phone to make a video she can send back to the boy. She looks into the camera and smiles with the same fervor she exhibits in the commercial. 
"I love you, too, Charlie," she says. "Keep using Poo-Pourri!"
• • •
In early September, they put up a few versions of the commercial on YouTube. Each was hidden, meaning it wouldn't come up in search results. Viewers had to have a direct link. A few people associated with the project shared the commercials with friends. Those friends shared it with friends, and so on, the same way those first bottles sold when Suzy started the business. Within a week, there was a link up on the Huffington Post. Jezebel and the Washington Post and dozens of other sites around the country followed. It was shared and liked tens of thousands of times on Facebook and Twitter. Then radio picked it up, and Poo-Pourri became fodder for shows coast to coast. All unsolicited. Ryan Seacrest talked about it. So did Howard Stern. His sidekick, Robin Quivers, is quite a fan.
In all, the video got more than 10 million views in less than two weeks. Suzy and Hector weren't prepared for what happened next. Thousands of orders poured in from all over the world, and the company's computers weren't talking to each other. (There had been plans to integrate the website with the computers.) There was also an issue with a shortage of spray nozzles, and at one point it looked like the company might miss shipping more than $1 million worth of orders for the holidays.  "Crap! Crap! Crap!" Suzy said.
In the end, she worked it out, and business has never been better. In the last six months, the staff has increased by 10. They have accounts in more than 90 countries. The original scent is still the most popular, but the Poo-Pourri catalog now has more than two dozen fragrances, everything from Poo La La (peony, rose, and citrus) to Call of the Wild (ruby red grapefruit) to the line aimed at men that includes Heavy Doody (neroli, sandalwood, and sea salt) and Royal Flush (eucalyptus and spearmint). There's also a gift set for men called Master Crapsman and lines for children: Little Stinker and Super Dooper Pooper. There's even a product that's supposed to deodorize a pet's coat called Pooch-Pourri.
"A lot of our meetings are just people sitting around making poop jokes," says Story, the marketing director. "And once you get going, everything is a poop joke."
They're working on a new product right now, an unscented line. "It's actually pretty weird," Suzy says. "Think about it. Your entire life, every time you've gone, you've always smelled something, whether it was good or bad. But with this, it's just nothing. It's trippy."
Suzy's life has turned out like that little girl in Arkansas hoped. But now her dreams have gotten even bigger. One day, she'd like to see a bottle of Poo-Pourri in every bathroom in America. Maybe her invention will leave a lasting impact on Western civilization, one that future historians will write about. Don't laugh. As any entrepreneur will tell you, shit happens.