Diane Fourton sits on the edge of the butterscotch leather couch in the family room of her home in the M Streets. 
She tugs the bill of her baseball cap over her eyebrows, bows her head, and covers her face with both hands. Tears spill down the "More Cowbell" lettering on her dark-brown t-shirt. Her two dogs, a French bulldog named Mr. Boudreaux and a pug named Daisy, rush to the rescue, licking the tears from her chin. "I feel like they just kicked us in the gut," she says. "We put our life savings into this space. Now, three years later, the new owners of the Farmers Market are going to gut it, and if we stay, we won't see that money." 
Across the room, her husband, Justin, sits in a stylish oatmeal armchair. His deep-blue eyes are welling with tears. He shifts his lanky frame and nervously clears his throat. "Everybody in Shed 2 is upset, and they are afraid to talk because of what it will do for their business," he says.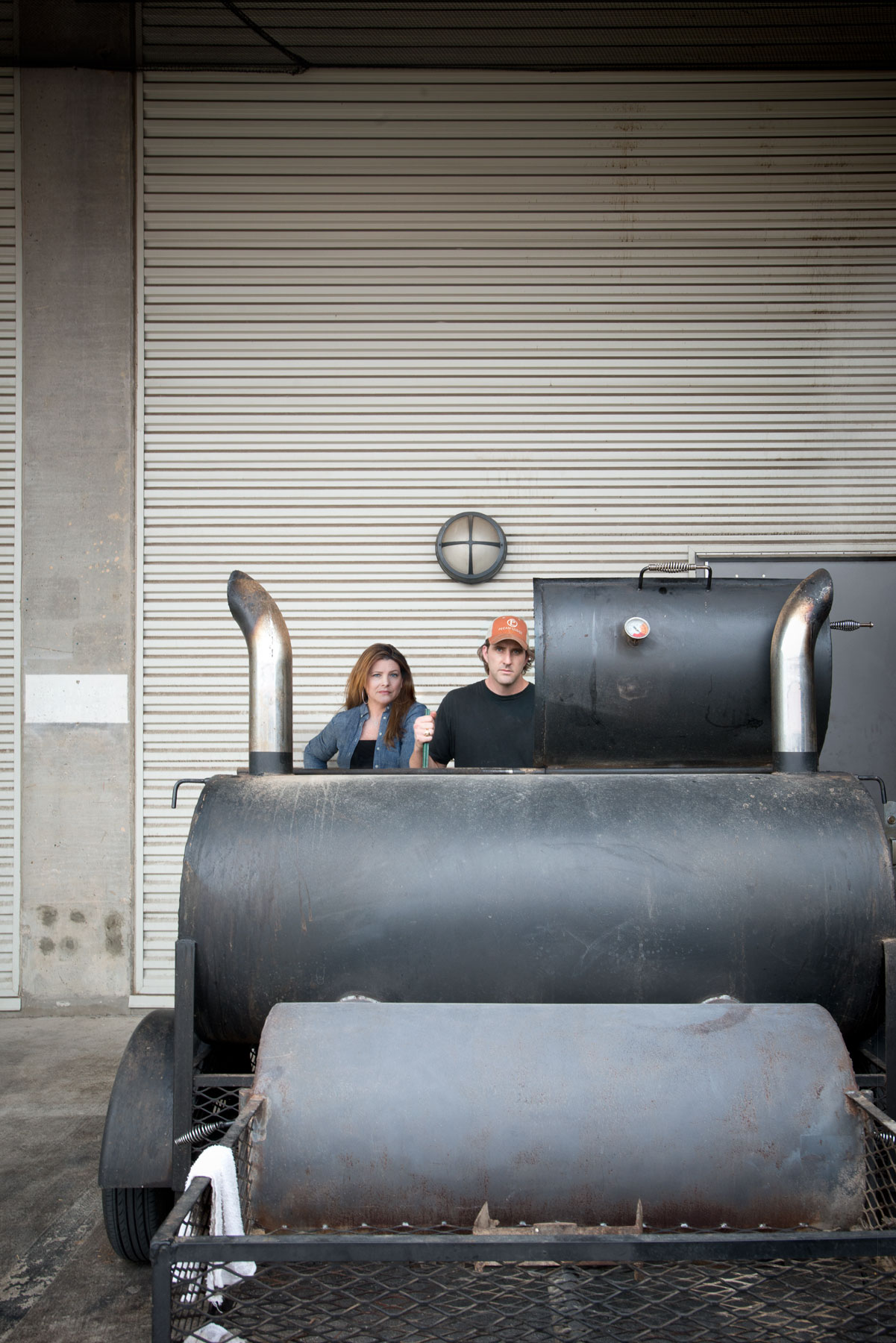 The Fourtons own Pecan Lodge, the little catering company that opened as a stall in Shed 2 of the Dallas Farmers Market and quickly emerged as one of the most famous barbecue stands in Texas. As the Fourtons sat crying in their home in late August, the sweet deal that kick-started the business—renting a 1,400-square-foot space, which was only open for lunch four days a week—was about to disappear. Their landlord, the city of Dallas, had sold the market a couple months prior to DF Market Holdings LLC, a private entity with plans to redevelop the market area. Now the Fourtons had to decide if they were ready for the headache and risk of becoming restaurateurs.
They didn't rush to make a decision. The Fourtons went back and forth for months, crying, praying, and leaning on family, friends, and fellow restaurateurs. When they intimated that they might not agree to a deal with the Farmers Market, they were flooded with texts, calls, and emails from landlords all over North Texas. On June 20, Pecan Lodge tweeted: "Rec'd calls from mayors of 3 different cities offering us incentives. None were from City of Dallas. :-/"
This wasn't just any old barbecue joint they were wooing. Just after Pecan Lodge Catering opened in March 2010, local barbecue guru Daniel Vaughn, now the barbecue editor at Texas Monthly and author of The Prophets of Smoked Meat: A Journey Through Texas Barbecue, wrote on his popular Full Custom Gospel BBQ website, "This might just be the finest brisket in the Dallas city limits." 

In 2012, D Magazine named Pecan Lodge one of the 10 best new restaurants in Dallas. Then Texas Monthly picked Pecan Lodge as the best barbecue newcomer in Texas. Southern Living magazine declared that they sold the South's Best Butt. Then came Diners, Drive-ins and Dives and the No. 2 position in Texas Monthly's 2014 "The 50 Best BBQ Joints … in the World!" 
"We got huge bumps when the magazines came out," Justin says. "But the lines went to over an hour wait after the TV show." 
It used to take years—decades—of hard work for a barbecue joint to gain a loyal following. Social media and food TV changed that. Without knowing or even aiming for it, the Fourtons hit the stage at just the right time. 

• • •


The birth of Pecan Lodge came with a bowl of homemade grilled-jalapeño, onion, and tomato salsa. 

Diane Mason, a 33-year-old divorced mother of two, was working as a corporate trainer in finance change management for Bank of America in Charlotte, North Carolina. When a freak blizzard shut down the city on January 15, 2000, Diane strapped on a pair of bright-red galoshes and tromped through the snow to the Selwyn Avenue Pub. 

Justin Fourton, a 24-year-old management consultant for Accenture, sat at the bar with some of his buddies. He watched her from across the room. Bolstered by a few Red Stripes, he worked up the courage to approach and tapped her on the shoulder. "I turned around, and all I saw was his belt buckle, because he was so tall," Diane says. "I thought he was a basketball player. He was such a dork." Justin's opening line cemented her assessment: "I wonder if you can settle a bet between me and my buddy. Is that a wedding ring on your finger?" She and her friends shared a hearty laugh as Diane held up her hand adorned with a chunky, dark-blue mood ring. 

A group of barflies headed outside, where Diane had organized a snowball fight. "I was impressed he played in the snow barehanded," Diane says. Before they said goodnight, the 6-foot-7 Justin and 5-foot-3 Diane built a snow lady topped with a cowboy hat. They discovered they were both from the Dallas area and from families with deep devotions to cooking. 

Justin was born in Abilene but grew up in Carrollton. He learned how to handle a smoker at an early age. His close-knit family on his father's side gathered each Labor Day weekend for dove hunts. At the end of the day, they would gravitate to the portable wood-burning smokers, cook, and drink beer. His maternal grandfather in East Texas taught him how to fish and use an offset pit. Diane grew up in Mesquite, but her mother's parents were in Weatherford. She'd make the drive each Labor Day to participate in her family's dove hunt. 

A few weeks after the snow day, Diane invited Justin to a friend's Super Bowl party. "He showed up with a bowl of homemade salsa, and that was it for me. We were inseparable after that."

Eight months later, they moved to Denver, stopping in Abilene for Labor Day, where Diane would learn that Justin's grandfather, George Minter Jr., was mayor from 1959 to 1961 and owned Minter's Department Stores. Minter also had a 640-acre cattle ranch just outside of town. As a child, Justin had played around the white stucco casita, surrounded by towering pecan trees. The family referred to the house as Pecan Lodge. After his grandfather died in 1996, the property was sold. Justin mourned the loss of the ranch.

Diane and Justin's life together flourished in Denver. Diane's children, Austin and Baylee, lived with her former husband in Chicago, but they would spend summers and holidays in Colorado. In 2003, Diane and Justin, now both working for Accenture, briefly relocated to Hermosa Beach, California, and rented a house on the beach. They hosted lavish dinner parties, and their friends urged them to become caterers. Accenture covered their housing, and the couple socked away money. Two years later, they moved back to Dallas and bought a house on a treed lot behind the Episcopal School of Dallas. "The first thing we bought was a backyard barbecue pit," Justin says. "I started making my own rubs and sauces for fun." Two years later, they were married. 


When Diane discovered she was pregnant, she and Justin traveled to Chicago to celebrate with Austin and Baylee. She miscarried that night. A week later, Justin's cousin died of a drug overdose. They left Chicago to attend the funeral and got a call that Justin's 57-year-old father, Happy, had died of a heart attack on a cruise ship in Alaska. "Our life was just an endless cluster of crap," Diane says.  

She got pregnant again in November 2007, and her son, Austin, moved from Chicago to Dallas to finish high school. He didn't want to go to private school, so the Fourtons moved to a house in Frisco, just three weeks before Henry was born. "I was close to making partner, and traveling all of the time," Justin says. "After all of the emotional stuff with my dad and wanting to be a father to my son, I started trying to figure out a way to stay in Dallas."

Accenture started downsizing and, when Henry was 6 months old, Justin left the company. Soon after, Diane did, too. Catering still felt risky, but the Fourtons' combined nine-month severance package gave them a cushion and the courage to take a chance. "We started casually letting our friends know that we were going to cater," Diane says. "We were going to give it three months."
Get the SideDish Newsletter
Dallas' hottest dining news, recipes, and reviews served up fresh to your inbox each week.