The first two months Souk was open, the food was a disaster. Najat Kaanache, a modernist chef who'd breezed into Dallas as a consultant to Stephan Pyles' Stampede 66, was running the kitchen. Born in Spain of Moroccan descent, Kaanache made a name for herself apprenticing in famous kitchens all over the world and writing an eclectic blog about her travels as "The Pilgrim Chef." She left Stampede 66 and, during her short stint at Private Social, gained the reputation of a flaky and fiery leader who claimed to have invented the cronut. 
At Souk, Kaanache's menu was a mash-up of Spanish paellas and Moroccan items, all of which were overly illustrated with swishes, swirls, dashes, and dots of sauces and oils. When she worked the room, she made people uncomfortable by butting into conversations to talk about her food. 
In late February, owner Yaser Khalaf and Kaanache broke up. Kaanache floated out of town, and Khalaf reinstated a more Moroccan menu. Khalaf is a talented veteran restaurateur. Since he moved to Dallas 15 years ago, he has owned and operated Medina Oven & Bar and Baboush, which he has since sold to his former partner Sam Benoikken; Farnatchi Pizza & Wine; Ketchup Burger Bar; and LA Gourmet Pizza. When Trinity Groves started taking applications for restaurant concepts, Khalaf decided he wanted to do another Moroccan restaurant. 
As the plans for his new venture were shaping up, he read an article about Kaanache and asked her to meet for coffee. Khalaf took her over to look at the construction site, and before he knew it, he was standing in the shell of his new restaurant, and Kaanache was his chef and partner. "I really wanted it to work," Khalaf says. "She was a Moroccan chef, and I wanted to give her a chance." 
Now, the laid-back space at Trinity Groves is turning out food with consistency and panache. Moroccan-spiced cocktails set the tone. The Marrakesh Express is an interesting blend of gin and apricot and lemon juices, with a long cinnamon finish. I found the Casablanca Mint Tea a tad more refreshing on a warm spring evening. The drink is made with vodka, green tea, orange-blossom water, and touches of fresh mint and lemon. Compared to other cocktail dens in town, these are a bargain at $8.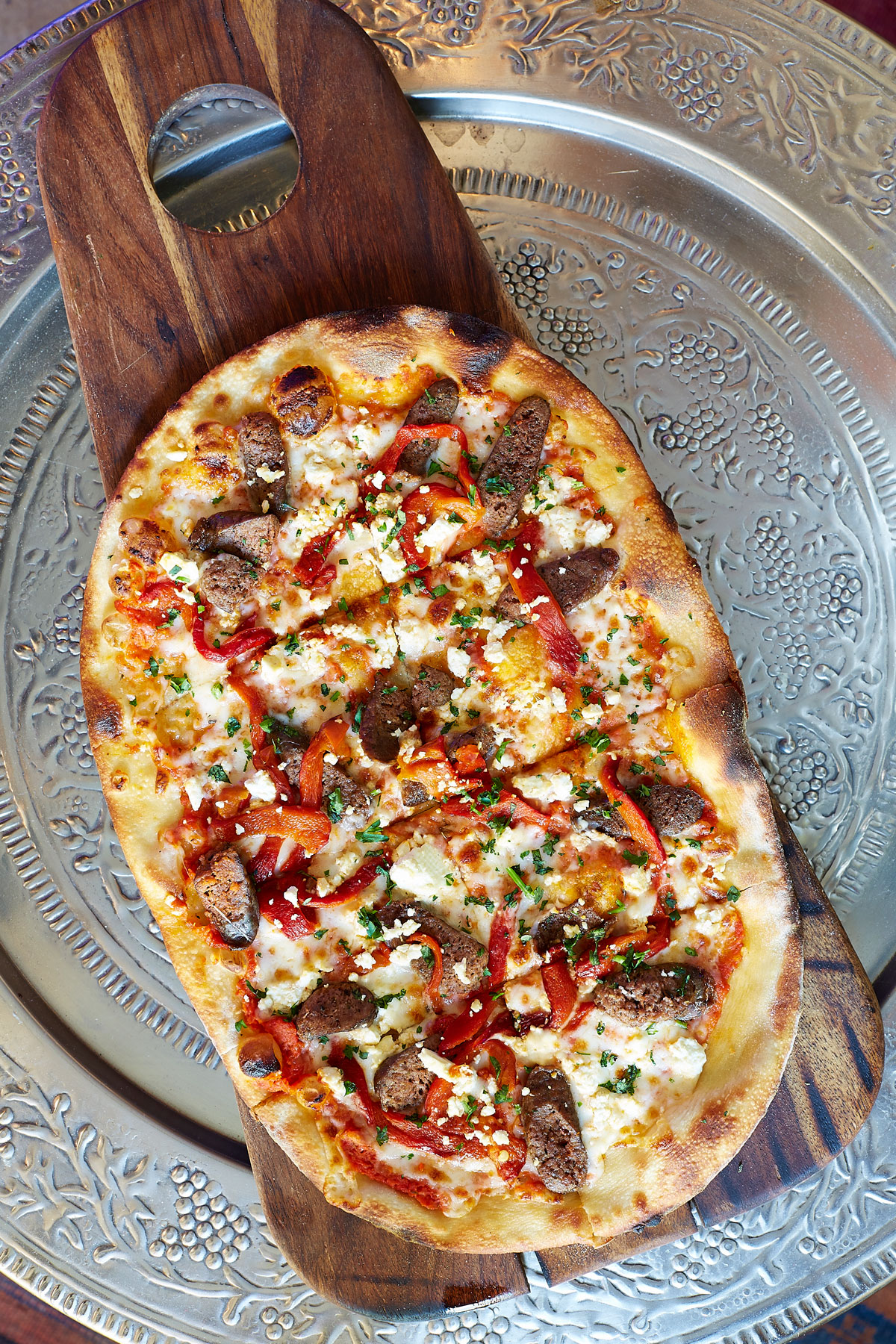 Khalaf presents a safe version of a pastille. The savory and sweet Moroccan phyllo pie is filled with braised chicken and scented with orange blossom and cinnamon before it's topped with a gentle dusting of powdered sugar. Traditionally, this famous dish is made with pigeon, and I love the way the gamier meat plays off the sweetness of the sugar and the almond paste. 

The kitchen is equally cautious with many of the entrées. Beef and chicken kebabs served with airy couscous will satisfy unadventurous eaters. The hummus is a straightforward, thick, slightly nutty blend of chickpeas, and light on garlic. The Souk Platter, however, is a showstopper. For $18, you get a sampling of spreads, breads, and treats, including olives rolled in garlic and olive oil; two squares of ma'akouda (a fried mashed potato cake); roasted eggplant, tomato, and garlic spread; and a small bowl of exquisite house-made labneh (cheese made from strained yogurt) blended with sweet tomatoes. As I wiped the last of the cheese out with a warm triangle of hot pita bread, I looked at the happy-hour crowd on the patio and realized that this platter is a perfect cocktail party nosh.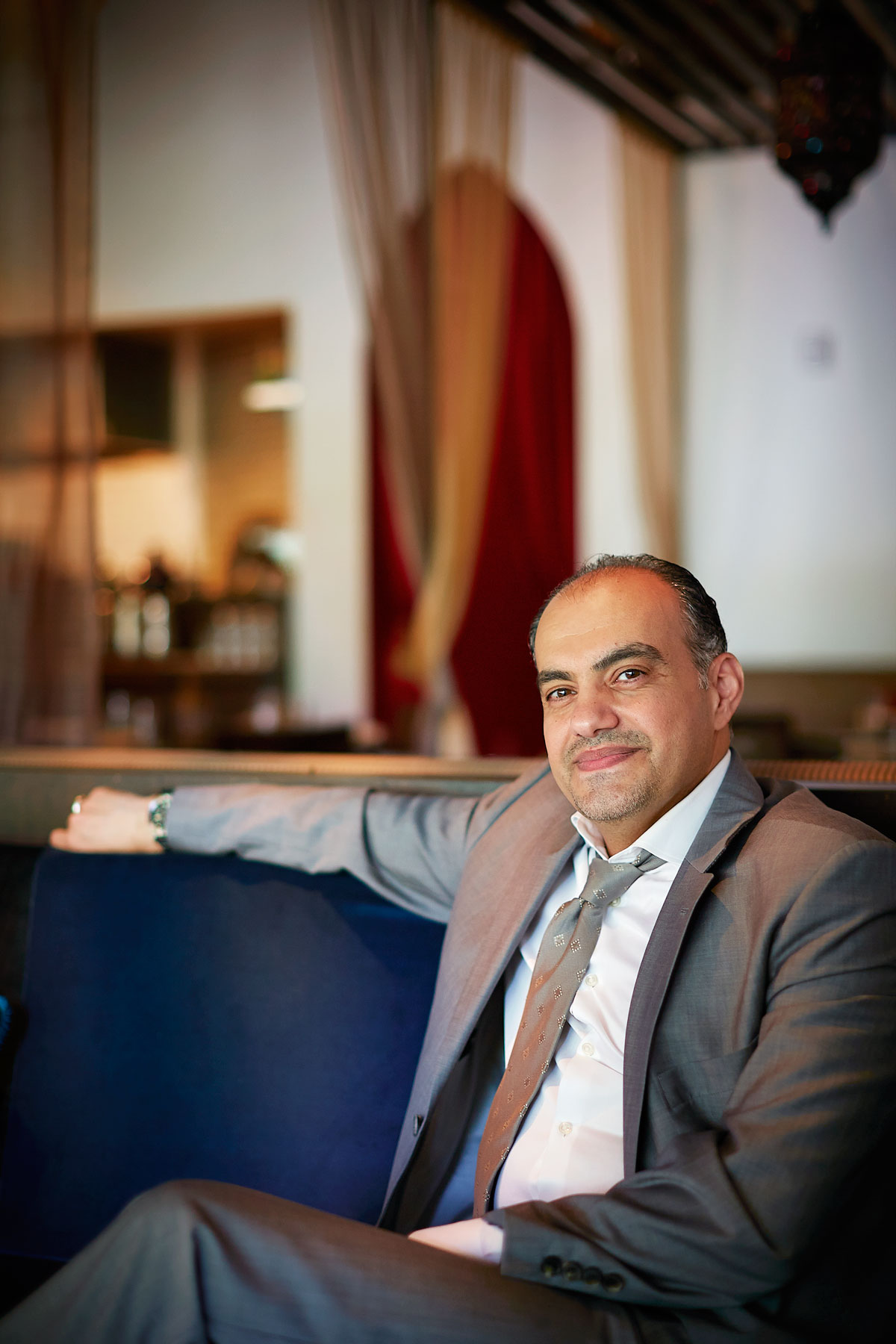 Instead of basking in the glow of the late afternoon sun and a warm spring breeze, my friends and I sat inside. The dining room, like all of the others at Trinity Groves, feels like it was produced on Design Star, the HGTV show where contestants with limited time and money compete to design and build out a space. Owners of restaurants at Trinity Groves are limited to how much they can spend on the finish-out, which leaves them with the difficult task of choosing between a state-of-the-art pizza oven or a dazzling chandelier. 

The interior at Souk screams Bedouin on a budget. It is filled with clichéd accoutrements: multileveled brass light fixtures, sheer curtains wrapped around poles, and low, U-shaped "leather" and velvet banquettes. 

But who cares? Every night at Trinity Groves is a party, and especially at Souk on Friday and Saturday nights, when belly dancers work the crowd into a frenzy. Give Souk 24 hours' notice, and they will prepare opulent feasts, such as a whole roasted leg of lamb with platters of appropriate side dishes. Otherwise pick one of the delightful tagines; the lamb braised in saffron and vegetables, caramelized onions, and toasted almonds is the best. Whatever you do, do not pick the seafood pastille. I poked through the thick phyllo and pulled out a fork full of the thick, dark, mustard-colored mixture of white fish, calamari, and shrimp combined with vermicelli. I stuffed it back in and tried to patch it back together. The rubbery calamari refused to break down in my mouth and was more unpleasant than accidentally biting into a stick of glue gum. 
If you're looking for a quieter celebration, choose the flatbread generously topped with juicy merguez sausage and feta cheese and spiced with harissa and roasted peppers. But don't pair it with a glass of white Ouled Thaleb, a Moroccan wine. It's too thin and dry. Instead, try the Moroccan Syrah. It's not the best wine in the world, but it goes with the food. Our polite and efficient server (on all occasions, service was spot-on and gracious) informed me a new wine list was under construction.

If you drop by the patio for a quick bite, try the chicken shawarma. The spicy, open-faced sandwich is the real deal. You can watch them shave it off the spit in the open kitchen. To finish the meal, skip most of the desserts, but order Kaab el Ghazal, crescent-shaped almond cookies, and a stealthy cup of Moroccan-scented French roast coffee. Even Bedouins on a budget need a boost before they head out into the night. 
Get the SideDish Newsletter
Dallas' hottest dining news, recipes, and reviews served up fresh to your inbox each week.