1.
"What's the mayor's name?" a smiling young woman asks, leaning her head through the window of her SUV while stopped in one of the drive-through lanes at the new location of Rudy's Chicken on Lancaster Road. "I forget."
I know she doesn't mean Mike Rawlings. She's referring to the tall man in the burgundy cowboy boots who just walked past her, the guy who has been directing traffic for the past half-hour—moving pylons, waving his arms, hollering and fussing, smiling and cajoling—helping customers navigate Rudy's new two-lane drive-through. 
"Dwaine Caraway," I say.
She turns to her passenger. "See, that's the mayor of Dallas." She turns back. "That's what I was trying to tell my girl here. That's the mayor of Dallas right there."
Even though she's speaking in the present tense, the smiling young woman in the SUV is not entirely wrong. Caraway was the mayor on an interim basis, from February to June in 2011, after Tom Leppert resigned to run for a U.S. Senate seat. Now he's back on the City Council, term-limited out next year.
In District 4—the sprawling area south of downtown bordered by I-45, I-30, and Loop 12 that he's represented as a city councilman since 2007, and lived in since 1961—he might as well still be mayor. Touring Caraway's district with him is like a real-life version of the scene in Goodfellas when Henry Hill winds his way through the back of the Copacabana, with a handshake and familiar word for everyone he encounters. 
Except in this case, the scene lasts six hours—an endless stream of honks and waves, shoulder-to-shoulder hugs, friendly reminders, and, occasionally, stern admonishments—and instead of a front-row table at the Copa to watch Henny Youngman perform, Caraway winds up eating a tuna Flatizza at a Subway, inside the Walmart he helped get built on a hill that used to be a junkyard full of buses and pit bulls.
"All right, mama," Caraway says, walking past the SUV again. "Get ready to rock."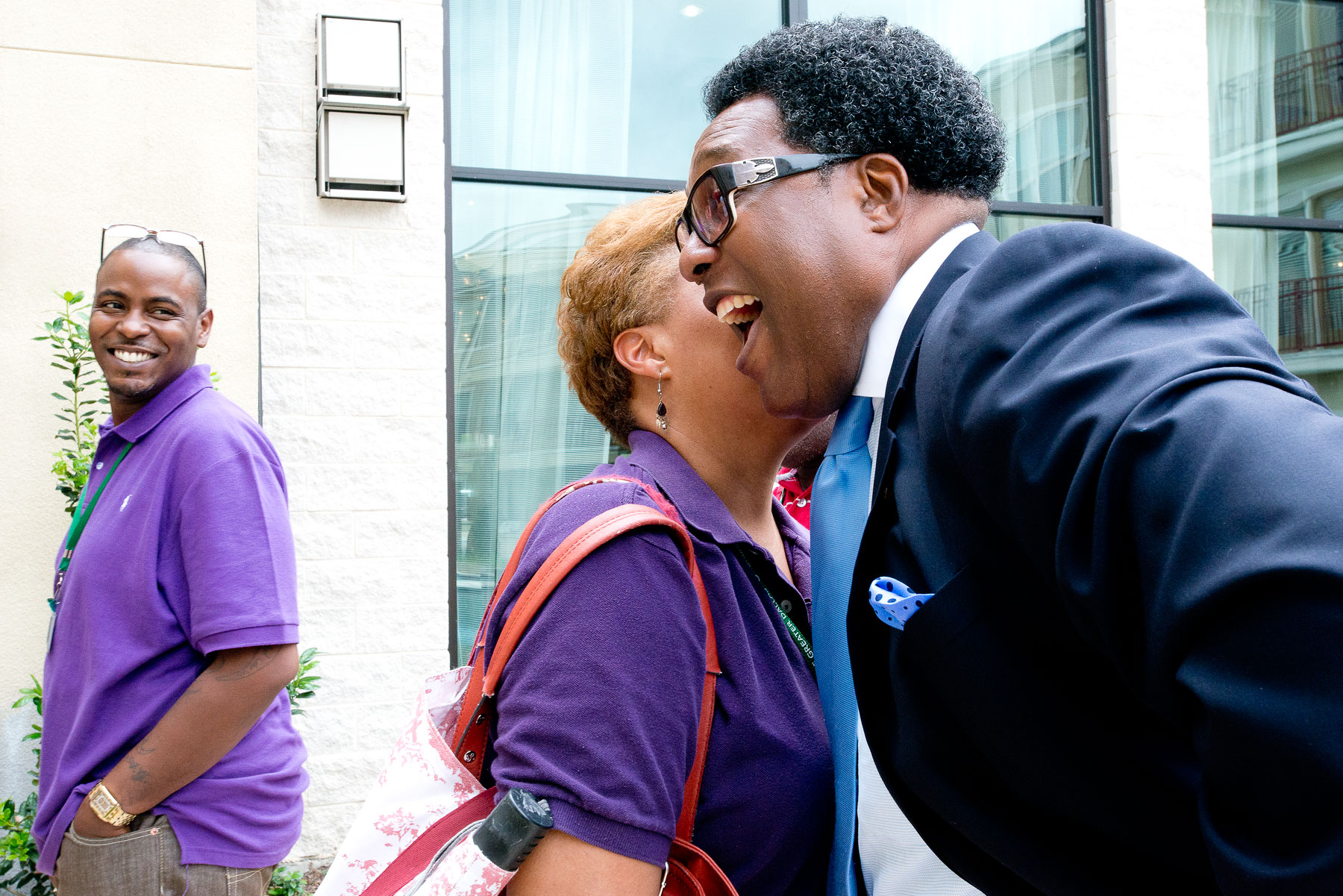 2. 

"Even before he was in office, he could drive down the street—this is before he is in office—he could drive down the street and people would wave, walk up to the car, knock on the window, tell him to roll it down," says Michael Davis, Caraway's appointee to the City Plan Commission and his longtime right-hand man, as we pull up to Caraway's modest house in the Cedar Crest neighborhood. His wife, former Democratic State Rep. Barbara Mallory Caraway, arrives not long after we do, home from a trip to Philadelphia, wearing an Elect Barbara Mallory Caraway t-shirt.

"People beeping, waving—nobody here I've seen have that reaction," Davis continues. "And it's not just District 4; it's just everywhere. They want to talk to him about something. They remember him from school. I guess it's just different when you grow up in the area, and you're always involved in politics and crazy things."

 

3.

Caraway is in his early 60s and listens to the old R&B records he grew up with when he drives. (What he drives: a black BMW 750i, with DWAYNE—yes, DWAYNE, not DWAINE—vanity plates.) Wedged between the passenger seat and center console is a jewel case for a Curtis Mayfield CD. When he was driving home one night about 15 years ago and noticed the under-construction clubhouse at Cedar Crest Golf Course was on fire—the clubhouse he fought to get rebuilt while he was on the city's parks board, after it mysteriously burned down in the 1960s—he was listening to James Brown's "Say It Loud—I'm Black and I'm Proud." 

Right now, it's Johnnie Taylor's "Running Out of Lies": "You know, a lot of times, I don't want to talk about it / I try, I try to get it off my mind / But then my conscience—you know everybody got a conscience / My conscience get to bothering me."

For better or worse, Caraway rarely wrestles with his conscience, at least regarding whether or not he should say something. The answer is always "yes," and the time is always "right now." It's partly why, a few weeks before I met him on a Tuesday in the middle of May, Caraway was described to me as "the most trill councilman ever." If you don't listen to much Bun B—and if you do, bear with me—"trill" is a portmanteau combining "true" and "real," and I suspect few council members, in Dallas or anywhere else, have had a word popularized by a Southern rapper ascribed to them. 

Since he's been on the Council—and, okay, well before—he's been the squeaky wheel that an oil spill couldn't fix. While speaking his mind, and usually doing so at top volume, has gotten results—you don't get a hot-sheet motel torn down quietly—it also means Caraway overshadows himself. His bigger ideas (his wide-ranging campaign against sagging pants that landed him on Dr. Phil, the single-use plastic-bag ordinance he got passed earlier this year) obscure the smaller, block-by-block work he's been doing, building what he calls "little nooks" of retail activity. 

An example: last May, during a meeting of the Council's quality of life committee, Caraway brought up one of his little nooks, a few blocks of Cedar Crest Boulevard between Bonnie View Road and Stella Avenue. The idea: with a little help, a loosening of the rules governing sidewalk cafes and awnings and so on, it could be another Bishop Arts District. Certainly an achievable goal, given that Bishop Arts wasn't always Bishop Arts.

But the only idea anyone remembers coming from Caraway at that meeting was his proposal to dig up Main Street and turn it into a canal, so Dallas could have a river walk like San Antonio.

Later in the day, I ask Caraway if he thinks he gets in his own way sometimes.

"Nah—they just don't want to hear it," he says. "I've been making too much progress. You ain't seen nothing but progress. You ain't seen nothing but progress. Man, come on. When I'm ranting and raving and all that stuff—but look at the results from ranting and raving. Motels are shut down. Things are here. Community's clean. But it takes every bit of that just to get to these points. And if it were to ever be where folks really are sincere about the things that we should be doing, we wouldn't need all that shit."



Get the D Brief Newsletter
Dallas' most important news stories of the week, delivered to your inbox each Sunday.