For 53 years Thelma Thomas has lived in her house on Inca Drive, in southern Dallas, a few blocks from the VA Medical Center.  On a sunny day in June, with cicadas droning in the distance, she sits on her front porch, behind a cage of security bars, regarding the house across the street. Her one-story, 1,226-square-foot brick house was built in 1959, just like nearly every other house on the block. Some, like hers, have security bars on their windows. Most don't. The house across the street does, but there the similarities end. The house across the street was built in 2004 and has 3,398 square feet spread over two floors. It has two fireplaces and a porch flanked by Corinthian columns. Every other house on the block is brick. The house across the street from Thelma Thomas' is stucco. Call it a light salmon color.
"A lot of people did come by, you know, just to see the house," she says, recalling the summer 10 years ago when the house across the street was built. "There is no way I would pump money like that into a house in a neighborhood like this. Uh-uh. That was the only thing I didn't like about it. It just threw everything out of whack.
"They were good neighbors," she says. "But it's like I tell the people who call on the phone and try to tell me I've won something: nothing in life is free."

•••

When Al-Mela and Anthony Biggins moved into the house on Inca Drive, it was brand new, its stucco a darker, richer shade of pink, not yet sapped by the sun of 10 brutal summers. They had been married four years. When they'd met, Anthony was working as a certified sterile processing tech at RH Dedman Memorial Medical Center. The night of their first official date, he was on call and a call did come. Not a problem, though. She was in school to become a surgical tech, just beginning to learn about the instruments used in an operating room; he already knew plenty. That night, he took her to work with him. The next few weekends they spent together at Dedman, Anthony courting Al-Mela over all manner of forceps and scissors and retractors. Three months in, he was hooked and ended his other romantic pursuits. Four years later, they married. Anthony adopted Al-Mela's three young children from a previous marriage.
They bought their first house together on Inca Drive in the fall of 2002, picking the neighborhood because it was filled with older people who'd lived there a long time, who kept their eyes on things. Their house stood in the precise spot where the salmon stucco number now stands. Like every other house on the block, their first house was brick, built in 1959. It was 1,256 square feet and cost them $74,160.
Then Anthony and Al-Mela got discovered. They went to a dog show at Reunion Arena with their three kids and a litter of nieces and nephews. They were a big, raucous, fun-loving group, apparently hard not to miss. A television producer working for a company called Rocket Science Laboratories approached them after the show and said, "I was listening to you guys. Y'all are hilarious."
Fox's Trading Spouses: Meet Your New Mommy was one of two spouse-swapping reality shows that debuted in 2004. The other was ABC's Wife Swap. In Trading Spouses, the wives switched households for a week. Al-Mela moved in with Yuki Nakamura, a plastic surgeon with a 5,000-square-foot house in Colleyville. Tammy Nakamura, in turn, moved in with Anthony. Sure, he knew how the producers were casting his family, but he looked at it like this: $50,000. That's what each family got for letting cameras record a week of their reality.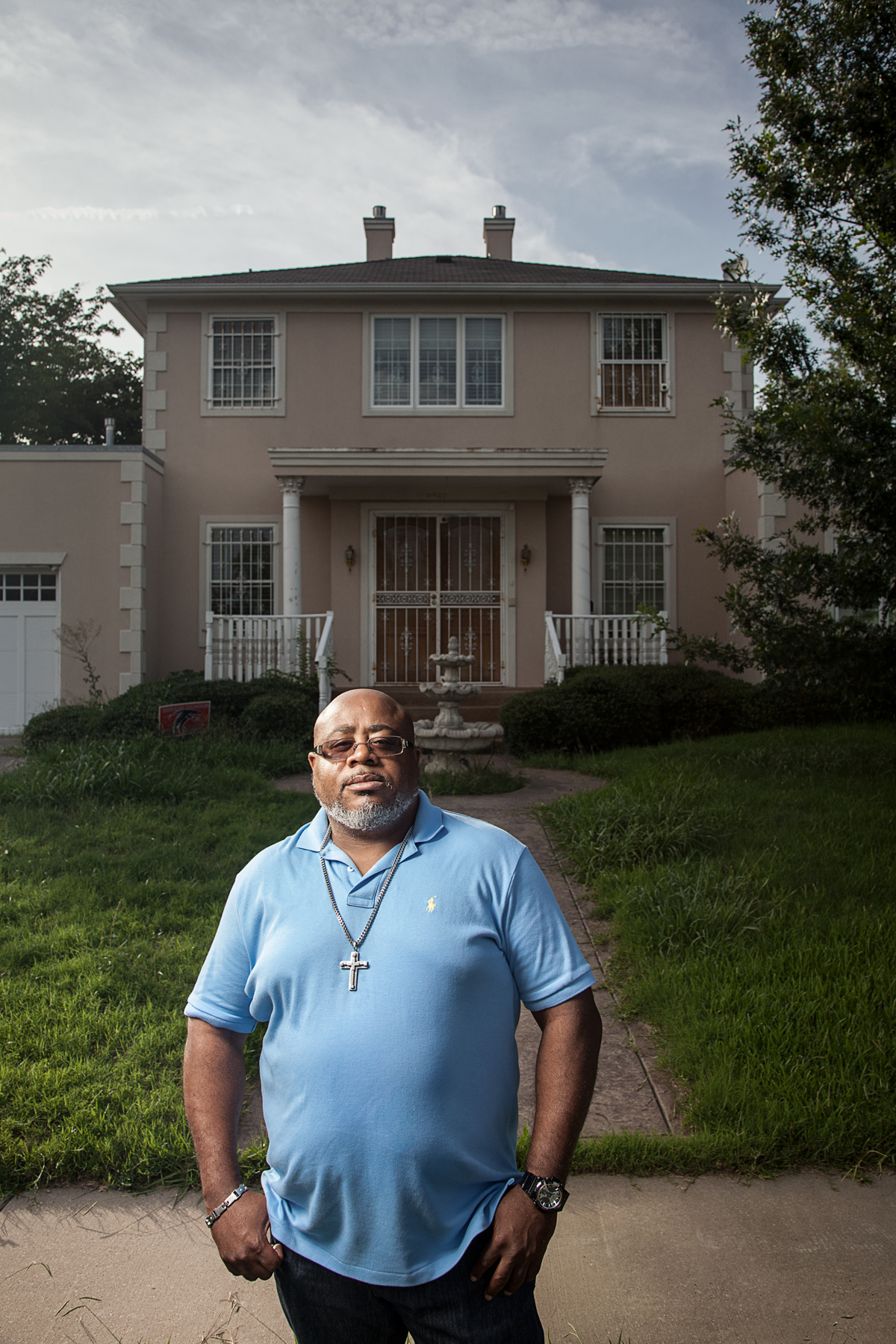 Anthony's first line on the show, which he uttered not knowing a camera was on him: "Well, hell, you better get your beep button ready, because I'm gonna do a lot of goddamn cussing." Anthony is an affable fellow with a thick Texas accent so syrupy that it sounds like he won it in a Shreveport casino. "Winners" is
winnuhs
, and "yard" is
yawahrd
, except he only pretends to pronounce the "d." He speaks his mind. When he says something funny, which is often, he'll follow up with: "I'm just telling the truth."
On Trading Spouses, he made good on his promise to do a lot of cussing. The producers sabotaged first his washing machine, then his air-conditioning unit, forcing him into uncomfortable situations with blond, buxom Tammy. When he came home from work one day and it was hot as hale, he'd had enough. He yanked off his mic. "I work hawahd," he told the producers. "Don't make it look like I stay in some kind of rathole. We bought these appliances when we moved in. They new. Ain't shit wrong with my house." In 20 minutes, the air conditioning was back on.
The big surprise came at the end of the show. Turned out, each wife got to decide how the other family had to spend its $50,000. The Bigginses had been thinking about doing some renovations, maybe putting a deck on the back of the house. Tammy instead decreed that $10,000 would go toward tuition for Al-Mela so that she could pursue a degree she wanted in criminal justice; the kids would each get $5,000 for a college fund; and the final $5,000 would go toward a vacation that Al-Mela and Anthony alone would enjoy. Fair enough.
The Nakamuras planned to use their winnings to buy a boat for their lake house. Al-Mela had other ideas. During her week in the Nakamura house, she watched Nana, Yuki's 70-year-old mother, who lived with the family, do all the housework and take care of the kids. Al-Mela gave all the money to Nana, ruling that she get a new car and that any remaining money be used to take a trip back to her home in Japan. On camera, Tammy was gracious about the allocation. Off camera, she was furious. To Tammy's mind, Al-Mela had been just a little too fair.
That episode of Trading Spouses, the show's premiere, aired July 20, 2004, and it was a ratings hit. Fox and the show's producers, Rocket Science, knew they had struck gold with the Bigginses, and the television folks rushed to get the family into another reality show premiere, this one scheduled to air only 43 days later. One catch: the show would raze their house on Inca Drive.
Get our weekly recap
Brings new meaning to the phrase Sunday Funday. No spam, ever.