Luck has 40 craft beers on tap, a daunting collection of IPAs and stouts and lights and darks and everything in between. As I scanned the long line of spigots behind the bar with mild trepidation, I knew I had some tough decisions ahead. So many beers, so little time! 
The next thing I learned: the 40 beers that make up LUCK's rotating selection all hail from within a 75-mile radius—the Beermuda Triangle, as our waitress put it. But it wasn't long until this talk of so much beer had the former bartender of my group a little skeptical. Forty kegs in one place? How fresh could they possibly be? I decided we'd find out. 
LUCK (it's an acronym for Local Urban Craft Kitchen) opened in Trinity Groves a few months ago, and on a recent Friday night, it was positively slammed. Fortunately, some college kids in skinny jeans had just abandoned a booth. We quickly settled in and surveyed the place: earthy tones, low-hanging lights, big windows, and walls sprinkled with local art for sale. 
The waitress's name was Amber (how appropriate), and she knew her stuff. She described flavors and types until my eyes glazed over. When I asked for a good light beer, she recommended Mike Modano's 561. The number refers to the goals he scored during his career. She also told us that Modano had come into LUCK a few weeks ago, and that all the servers wanted pictures with him.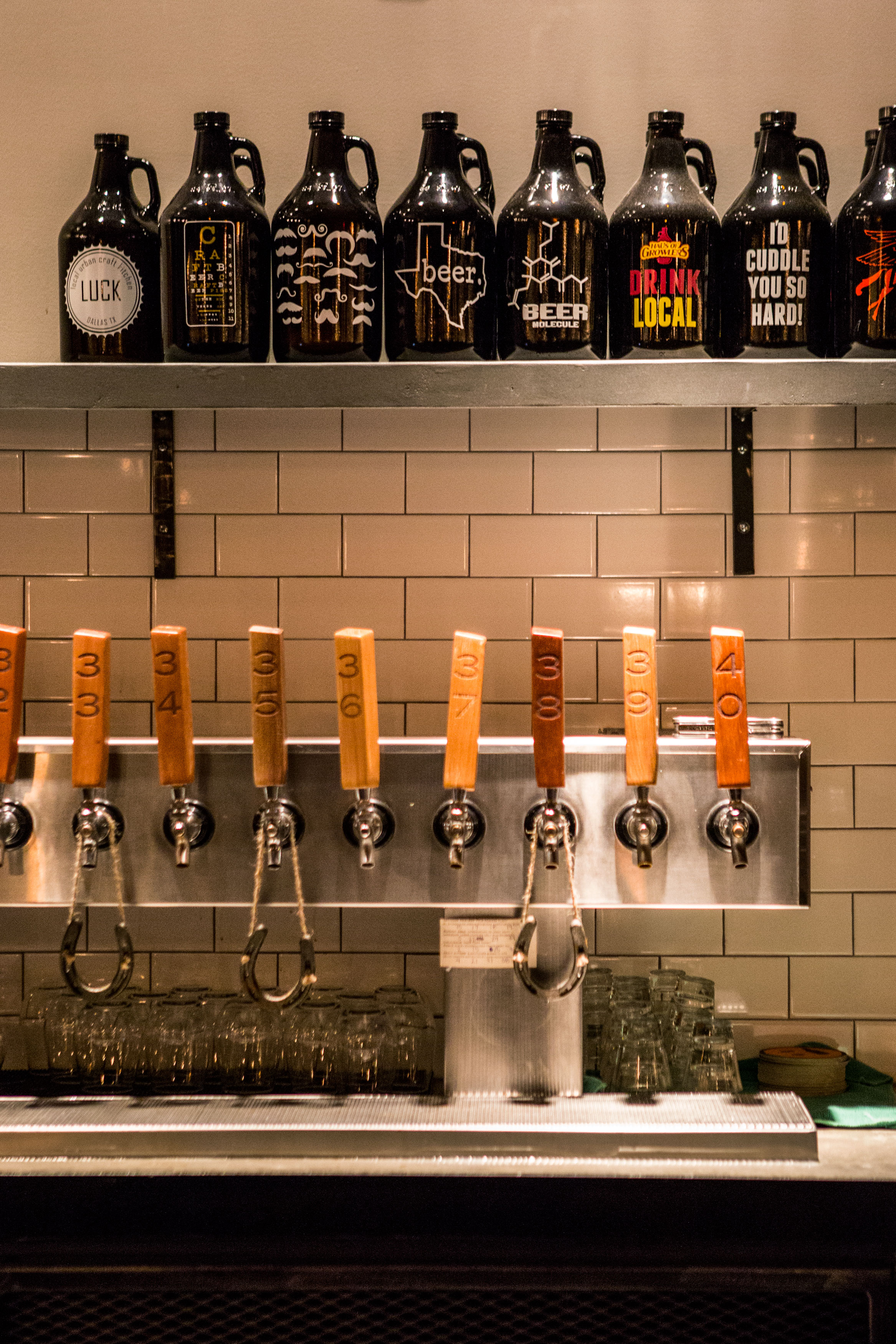 Amber's beer knowledge comes from time spent working at World of Beer. Her then employer sent her to a two-week course. "Beer school," she said, laughing. "I drank so much." 
Under Amber's guidance, we made our selections. My bearded friend chose the Nextdoor Neighbor Flight, which features four beers from Four Corners Brewing Co. We passed them around the table and eventually agreed our favorite was the Belgian dark ale, Celebración. My blond friend opted for the Heavy Hitters Flight, four of the booziest brews: Velvet Hammer, Temptress, Inspiration, and Tenderfoot. Our moods only improved from there. 
But now that we'd had our fun, the former bartender's question remained. How does all this beer stay fresh in one place? Were we drinking old beer? Amber explained that LUCK uses slim kegs, and then sent over Michael, the GM (and certified cicerone, according to his business card). He said LUCK is dedicated to minimizing waste in general. They don't serve bottles or cans. But as for the beer?
"People drink it all," he says. "We do so much business that it's never a problem." 
Seemed reasonable. The place was busy. And the crowd, diverse: well-dressed middle-aged women, first-date couples, big groups, and a little old man who came over to personally thank Amber on his way out the door. 
When I got up to inspect the bar (and a nearby piece of art featuring a giant ear), I overheard three women talking about their ex-boyfriends' poor Lulu ratings and laughing with the bartender, Kevin. When I asked the ladies about their favorite beers, Maris, who had perfectly coiffed hair, was quick to declare her undying affection for the Temptress, an imperial milk stout. Kevin told us about a woman who so loved the Peticolas Velvet Hammer that she actually married it.
"I'm not lying," he said. "Now her name is Ali Hammer."  
After a chat about the perks of marrying beer over boys, it was time to go. Mrs. Hammer may have found her true love in a red ale with 9 percent alcohol by volume, but I'd only managed to sample a handful of beers from LUCK's expansive selection. Guess that means I'll be back.

Get the SideDish Newsletter
Dallas' hottest dining news, recipes, and reviews served up fresh to your inbox each week.