It seems rather small-town to boast about having an "urban experience" at any Dallas restaurant, let alone one perched on the edge of downtown. Certainly, ennui-swathed Manhattan crowds never coo over that heady feeling one gets when cars buzz by a packed street-side patio as glowing skyscrapers set an enchanted backdrop. No, citizens of world-class cities rarely coo.
But there my tablemates and I sat, relishing the eye candy that restaurateur Shannon Wynne's Lark on the Park offers. If you don't know Wynne, you know his establishments: 8.0, Meddlesome Moth, Rodeo Goat, his chains of Flying Fish seafood restaurants and Flying Saucer Draught Emporiums, as well as a host of dearly departed nightclubs, including the Rio Room and Fast & Cool Club. He has entertained the city for more than 30 years.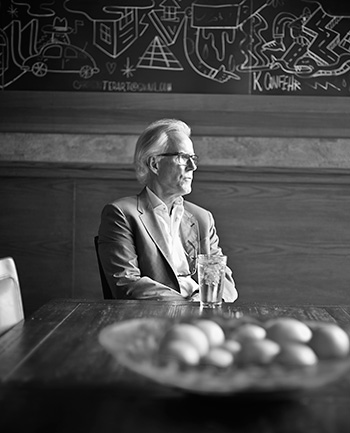 So it should come as no surprise that both the savvy entrepreneur and his longtime partners, Keith Schlabs and Larry Richardson, know a good spot when they see one. Lark sits along the northern edge of Klyde Warren Park. The restaurant's floor-to-ceiling windows provide a swell view into Dallas' new urban oasis connecting the downtown core to its glitzier Uptown neighbor. During the day, commuter cars roll along the access road separating Lark from the park. Though the view into Klyde Warren is partially obstructed by temporary construction walls surrounding the park's soon-to-be-opened Savor restaurant (at press time, Savor was scheduled to open the middle of this month), it doesn't take much imagination to picture fall in Dallas, when a table on Lark's patio will be tough to score. Even in the heat of summer, though, you can see Dallas at its big-city best, as children dance in the park's fountains, and couples stroll hand in hand. (Yes, people actually walk in Dallas.)
Inside the restaurant, the show is just as impressive, both on and off the menu. The handsome dining room is anchored by large chalkboards covered with illustrations done by local artists. The show refreshes every three months with a new group of artists. The dinner crowds—a mix of smartly dressed middle-aged North Dallas denizens and young and restless Uptown kids—have discovered chefs Dennis Kelley and Melody Bishop. The couple came to Dallas from Suzanne Goin's Tavern restaurant in Brentwood, California, where they learned how to scavenge for fresh, local ingredients. At Lark, mushrooms, green papaya, and lemongrass come from Tom Spicer's FM 1410. Comeback Creek Farm provides tomatoes, peaches, and okra. Tassione Farms grows the greens. The chefs call their food "seasonal cuisine with global influences." To me, it feels simultaneously adventurous and comfortable.
My first meal was a blend of Indian, Asian, Italian, and good old Texan, with only minor missteps. Dinner began with thin slices of hamachi, so soft and buttery. Bits of heirloom melon added mellow sweetness and cilantro a nice bite. But finely diced jalapeño was one distracting ingredient too many. The summer stone fruit arugula salad married beautiful flavors such as medjool dates, toasted hazelnuts, and Brillat-Savarin triple crème cheese. Curry pillows were tiny, crescent-shaped, samosa-like pastries stuffed with diced potatoes and onion, and served alongside a tart cilantro-ginger chutney. On my first visit, the tiny turnovers were a bit flabby, but a second visit found the crust buttery and flaky.
One read of the entrée side of Lark's menu and one can see why diners have taken to Lark. The food is hearty yet refined, with an agreeable mix of the familiar and surprising. Dallas loves its scallops, and Lark's rank among some of the best I've had in the city. On its spring menu, the perfectly seared bivalves were served with tender peas and a golden-hued saffron sauce. The dish was spry yet soothing. Summer's version offered a delicate acidity and slightly tart bite thanks to tomato water and basil.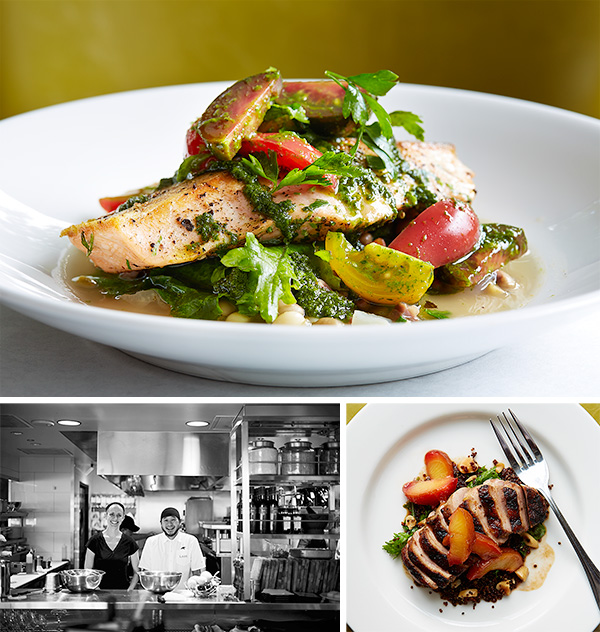 Moo krob was inspired by Bishop's brief time cooking in Thailand. Fatty and decadent, a slab of pork belly was braised and seared, leaving the rich, sweet meat both succulent and crisp. A generous pour of chile garlic sauce over the pork and sticky rice had my palate tingling. I was thankful for the cool relief of  the dish's green papaya slaw. Though a bit hearty for summer, the moo krob was a comforting dish I would happily eat throughout the fall and winter months.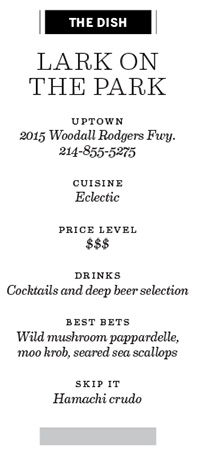 Other noteworthy dishes included braised lamb shank with Israeli couscous, feta, pine nuts, and oil-cured black olives; smoked duck breast with cavolo nero (black Tuscan kale), spiced plums, and quinoa; and house-made pappardelle tossed with wild mushrooms, spinach, crème fraîche, and Parmesan, one of Lark's most popular offerings. And, of course, how could a restaurant make a go of it in Dallas without serving beef? At Lark, I tried both the grilled hanger steak and grass-fed rib-eye. Though I preferred the more refined hanger steak, with its nice char and rosy pink center, my tablemate swooned over the more luscious and fatty rib-eye. "Most steakhouses only wish they could cook a piece of meat as perfectly as this," he said. I had to agree. Rich and buttery, it was a lovely medium, as recommended by the waiter. It's obvious that chefs Kelley and Bishop love their veggies. They treat them with finesse. Instead of heavy-handed steakhouse sides, Lark's beef dishes arrived with lightly cooked broccoli, morel mushrooms, and fingerling potatoes. They were fresh and welcome reprieves from the heavier beef.
At lunch, Lark's menu is more business friendly, with its mix of salads, sandwiches, and lighter entrées. It's the type of place one could dine at several times a week, and, from the looks of the suit-and-tie crowd that pack the restaurant daily, that's already happening. During my first two visits, I found lunch hit and miss. Most items were overdressed. A juicy, gamey lamb burger would have been perfect if not for an aggressive dollop of salsa verde. The mix of parsley, mint, capers, garlic, anchovies, lemon, and olive oil was certainly lively. But a little went a long way. The same could be said for the satisfying wheatberry salad. The chewy grains lent the salad a satisfying, meaty appeal. Alas, too much basil-mint pesto left the dish oily. Happily, on my last visit, there was less pesto. Now it's a salad that I crave. Other highlights included an asparagus and Gruyère tart from the spring menu and the poulet Francais. How nice to take a common grilled chicken—so popular with lunch patrons—and both lighten and elevate it. Kelley and Bishop love Beluga lentils and thought they would pair nicely with the chicken. Along with roasted baby carrots, pearl onions, and goat cheese, the dish is hearty without weighing one down. That's exactly what you want at lunchtime.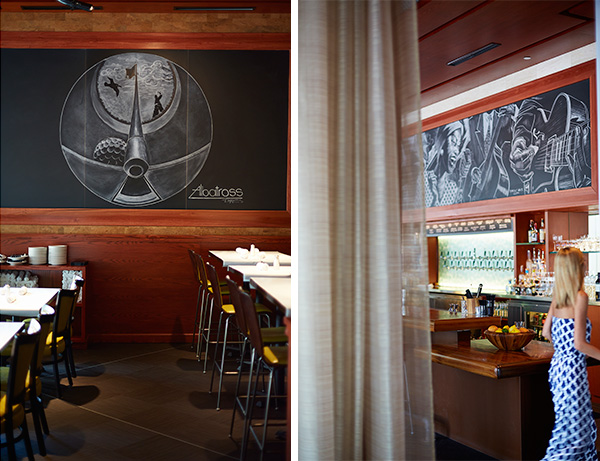 Besides the urban energy, there are many reasons to linger at Lark well after the main course dishes are cleared. Desserts were perfunctory when the restaurant opened: buttermilk pie, sticky toffee pudding, a chocolate pot de creme. Fine but predictable. Happily, pastry chef Laurel Wimberg, who created many memorable desserts at Craft Dallas, has hit her stride. The summer version of her inventive panna cottas features a vanilla custard with Zinfandel gelée, almond crumble, and chunks of peach and strawberry. But it's her spring version I can't forget. Bits of crispy prosciutto and sweet melon dotted a cool cucumber gelée and spicy ginger panna cotta. It was my ideal dessert and one I hope Wimberg would bring back soon.
Honestly, though, even if the food weren't great, I'd be content to sit at the bar and just hang out at Lark. The cocktail menu is a 12-drink-deep crowd pleaser, featuring a clever margarita with orange juice, lemon, lime, egg white, and a spritz of mezcal. (Don't question. Just try it. It's delicious.) The beer selection is impressive. That shouldn't be a surprise coming from the creators of Meddlesome Moth. The whole restaurant exudes a handsome nonchalance, not trying too hard to impress yet succeeding at almost every turn. Lark on the Park is a delicious neighborhood restaurant for the urban sophisticate. But that doesn't mean you can't go dancing in the fountain later.
For more information about Lark on the Park, visit our online restaurant guide.

Get the SideDish Newsletter
Dallas' hottest dining news, recipes, and reviews served up fresh to your inbox each week.