In the rearmost booth at Sevy's Grill, Jose Reyes sits picking at a plate of grilled chicken pasta. The smallish man with a receding hairline, thick eyebrows, and piercing olive eyes has had a bad week. "I've been getting messages and emails and letters from people saying, 'I'm flabbergasted by this. It doesn't make sense,' " Reyes says. "And I'm like, 'Yeah.' "
A fundraiser for various Dallas charities, Reyes, for more than a decade, has been a regular at society soirees, photographed alongside such boldface names as Caroline Rose Hunt and Jessica Olsson Nowitzki. But that was before the Dallas Symphony Orchestra fired Reyes as a volunteer, in a very public way, in July. The move was announced in a curious one-sentence statement from Chris Shull, the symphony's public relations manager: "The Dallas Symphony Orchestra would like to inform its sponsors and media partners that as of July 9, 2013, Jose Reyes is no longer affiliated as a volunteer with the Dallas Symphony Orchestra or with any of its volunteer organizations and/or organizing committees."
The statement sent some rushing to Reyes' defense. Tanya Foster, a socialite and public relations professional, said: "I feel sorry for him. He's not trying to hurt anybody." A headline on FD Luxe's blog referred to the DSO kicking "volunteer Jose Reyes to the curb in bizarre press release." One observer recalled the words of Annette Strauss, the late Dallas mayor, who once said, "You can't fire a volunteer." But others wondered what might have prompted such a public rejection. Too, there was renewed interest in Reyes' background. It seemed strange that so many people on the party circuit knew him, but none could say where he'd come from or what, precisely, he did for a living.  
Born in Mineral Wells, Texas, in March 1967, Reyes is the eighth of nine children. After graduating from the University of North Texas with an advertising degree, he set his sights on Dallas in 1990. He landed a series of jobs with name-brand organizations—Temerlin McClain, The Richards Group, AT&T, Bank of America—but was vague about his responsibilities. In the world of society parties, with their charming but brief encounters, when someone asked, "What line of work are you in?" it was enough for him to say that he was "in marketing." Nonprofit organizations depend on hardworking volunteers as well as generous donors. Reyes was available for any chore, always sharply dressed, and even willing to donate his money as well as his time. Why press him for personal details?
But complaints about Reyes bubbled to the surface. People griped that he crashed parties, blustered his way into photos, and misrepresented his role with the charities. "He did crash our [Fresh Faces of Fashion party] many times, and he crashed the Wyly grand opening," says socialite Yvonne Crum. "They challenged him, and he said, 'I'll go back and get my ticket,' and then he hung on to our group and waited until he saw an empty seat."
For AT&T and then, later, for Bank of America, he worked in a call center. Entry level for such a position would pay about $30,000 per year, making a $500 ticket a real sacrifice. Reyes did pay to get into some events, including the recent Young Friends spring party sponsored by the Ronald McDonald House of Dallas. And a while back, he bought a ticket to the Art Ball, the annual Dallas Museum of Art fundraiser. An organizer who worked on the reservation committee recalls that Reyes bought the least-expensive ticket and then stood at the front door greeting guests, as if to "appear that he was a huge sponsor."
More than once, Reyes was portrayed as having a grander role in these events than he actually had. The Dallas Voice described him in a 2010 interview as that season's DSO gala chair. Later in the same story, he was downgraded to the chair of the post-concert party. At Sevy's Grill, he clarifies, saying that he was the one who came up with the idea for the DSO's successful gala after-party. And he persuaded Anna-Sophia van Zweden, daughter of DSO musical director Jaap van Zweden, to chair the late-night fete. According to those involved, though, none of that is true. The event was staff-driven, including the ask for Anna-Sophia's involvement.
As for the photo ops, Reyes' efforts to have himself pictured with big names became problematic. Says one society PR person: "I used to feel sorry for him. Then the party crashing and photo setups/step-ins continued over and over. It just got pathetic." This past spring, for instance, Reyes rushed up to one event photographer and said breath­lessly, "Come over here. Peggy Sewell wants to have her picture taken with me." Eventually, PR people were told not to release photos to the media that had Reyes in them. One media type says she grew "weary from people calling in, asking us not to run their picture … when [Reyes] huddled up next to them."
Still, most nonprofits were not inclined to sever ties with someone who offered free help and donations that in some cases were matched by his employer. Gay Donnell, president and CEO at Lee Park and Arlington Hall, says she was grateful for Reyes' willingness to co-chair the group's latest Day at the Races event—and his $2,500 donation, which included matching funds from Bank of America. According to Donnell, Reyes handled his assignments with aplomb. And the event was their most successful, netting $40,000, twice as much as the previous year.
But while Reyes was scoring points with them, the jig was just about up at the DSO. A highly placed source within the organization says Reyes crossed the line on two sensitive fronts. First, one of Jaap van Zweden's family made a formal complaint about Reyes. A member of the DSO's elite Elan Circle agreed to check with others regarding their feelings about Reyes. Yes, they, too, had grown tired of his "lurking and hanging around."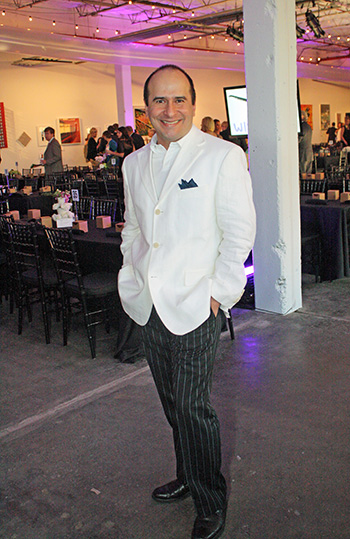 Then, in early May, Jenny Shep­ard joined the DSO from the Los Angeles Philharmonic to head the development department. Four days later, Shepard found herself at Anne and Steve Stodghill's Preston Hollow estate for the invitation-only DSO 2013 Gala Launch party. In attendance were such heavyweight symphony supporters as Randall Goss, Jennifer and Coley Clark, Barbara Daseke, Barbara and Bob Sypult, Myrna and Bob Schlegel, and Holly Reed. One person in the crowd stuck out: Jose Reyes. No one claimed to have invited him, and one key DSO sponsor was incensed by his presence.
Now the DSO had two unhappy groups on its hands: Maestro van Zweden's family and at least one top corporate supporter. It was time, the symphony brain trust decided, to cut Reyes loose. On July 9, Shepard phoned Reyes to tell him that his volunteer services were no longer required. Reyes asked for a second chance. Shepard refused. "When I asked her why," Reyes says, "she told me that it was because I overstep my boundaries when it comes to the media, which is false."
In his mind, all had been fine until Shep­ard—he calls her a "B on wheels"—arrived on the scene. Upset and angry, Reyes fired off emails about the situation to Anna-Sophia; Anne Stodghill, who would co-chair the symphony's September 28 Gala; and Blaine Nelson, chairman of the DSO board of governors. None wrote back.
Using his Bank of America email account, Reyes also sent a lengthy email to DSO president Jonathan Martin at 3:21 in the morning. Shepard "obviously does not know who she is talking to," Reyes bristled. "You do not bite the hand that feeds you, and this information is being duly noted by the Bank, which is not impressed. This is not going over very well with us right now." Warning further that "I won't go quietly," Reyes recommended that Shepard be replaced. He also "respectfully" asked that "this decision to oust me from the DSO family be reversed by you, and [I] would like for Jenny to send me a letter in writing apologizing for her very disrespectful actions." Martin did not reply. Shull issued his one-sentence statement later that day, and the DSO and its sponsors have maintained a "no comment" stance on Reyes ever since.
As he finishes his pasta, Reyes announces that he won't be attending this year's symphony gala because he doesn't want to "give them any more of my money." Asked how things are going with his job at the bank, he replies that everything is fine, that the bank's main concern is how the DSO has mistreated him.
The next morning, Bank of America fired Reyes.

CORRECTION (9/3/13): Jonathan Martin, the DSO's president and CEO, sends a letter of clarification: "The article 'The Talented Mr. Reyes' suggests that the decision to end the DSO's relationship with Mr. Reyes was influenced by others, such as the van Zweden family. That is not correct. The decision to end our relationship with Mr. Reyes was made solely by me as the CEO of the Dallas Symphony Orchestra."
Socialite Yvonne Crum was quoted as saying, "He did crash our [Fresh Faces of Fashion party] many times, and he crashed the Wyly grand opening." Putting aside the question of Reyes' invitational status at the various parties preceding the Fresh Faces gala, he did buy a ticket to the 2008 gala itself. Furthermore, after publication of this story, Reyes provided proof that he did purchase a ticket to the grand opening performance at the Wyly. We regret the error.
Get the FrontRow Newsletter
Get a front row seat to the best shows, arts, and things to do across North Texas. Never miss a beat.