Why El Centro's Cooking School Matters
For nearly 50 years, the program in downtown Dallas has produced some of the city's finest chefs. Now, it needs the city to give back.
In a cramped kitchen in an unremarkable building in downtown Dallas, culinary students shape brioche, challah, and marble rye from dough they prepared the day before. They mark their initials and the baking time on parchment paper. Bread moves in and out of ovens. This class is required only for a pastry specialization, but one student is clear about why he's here: "I can't imagine going to work for someone and they say, 'Can you do this?' And I say, 'No, I didn't take that class.' "
"This is just a gold mine," another student says.
At El Centro College's Food and Hospitality Services Institute, part of Dallas' network of community colleges, individual culinary classes cost between $150 and $175, and a full associate's degree with specialization in culinary arts, pastry, or food and hospitality management comes in at under $4,000. That's important math for the motivated, the hungry. Programs at proprietary schools like Le Cordon Bleu can cost more than $20,000, and many offer only certificates. Students can leave with ponderous debt as they enter a career that will probably start with minimum-wage jobs.
"The community college is the only entity that gets it right," says Mary Ramirez, assistant dean.
But the facility, wedged between parking lots and fire escapes, is old, the space awkwardly designed. The students ask questions over the screech of antiquated rotating oven racks. One instructor says that a few appliances date to the late 1960s. That's why things are set to change. A task force has been formed to identify donors who might fund the school's move to a new facility.
C. Gus Katsigris comes strolling through the baking-class labyrinth. He has almost half a century's perspective on the Dallas culinary scene. Spry at almost 80, he technically retired last year but hasn't gone far. While he didn't found the Food and Hospitality Services Institute, he became its driving force and innovator when he started there in 1970, an accidental pioneer.
"I came through the back door," he says. "My mind was not in restaurants. I married into that."
A Greek émigré, Katsigris earned degrees in business and industrial relations at Columbia University. His world was more account books than saute pans until, stationed in Waco as an Air Force flight instructor after college, he fell in love with a woman with Texan blood and restaurants in the family. Katsigris ran one of the restaurants for eight years. Trekking from Waco to Austin, he also worked on a doctorate in general management from the University of Texas. Then, he applied for a job at the fledgling culinary arts program that had sprung up at Dallas' El Centro Community College.
The program was tenuous. Dallas lacked culinary magnetism, the kind that would support a thriving school. "It was not attractive in 1970 to be a chef," Katsigris says. "There were five downtown hotels, and that was it. We were serving a lot of fried foods and steaks." But he decided to give it a year. And something happened in that trial year. In 1971, the Texas Legislature passed a law sanctioning the sale of alcohol by the glass. Until that time, Dallas liquor laws required that patrons bring their own bottles, while restaurants provided setups for a fee. "We finally became somewhat civilized in that you could go into a bar and get a drink, a single drink," Katsigris says. Alcohol sales encouraged investments of culinary talent—and money—in Dallas.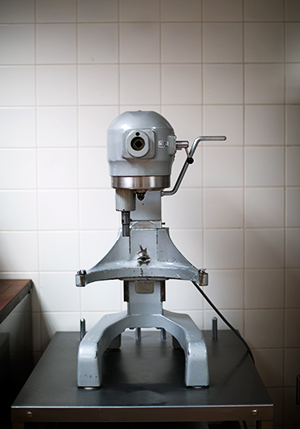 The new liquor law had an effect like flipping a switch at the school. "Enrollment just zoomed," Katsigris says. The first cohort comprised 14, then 24, 80, 150. The program now enrolls about 500 and has a wait list.
When Katsigris recounts stories in his still-thick accent, the culinary Dallas of the '70s sounds like a European village. "Across the street was The City Club. The chef was Swiss. He adopted us as his second job," he says. Chefs knew they stood to gain from the program's success.
Katsigris had seen enough in his first year to intuit the potential of both the program and the city it served.
"We knew what we wanted to do, where we wanted to go," he says. "I had spent eight years in a family restaurant in Waco, and I saw how hard it was—and how much harder if you didn't know what the hell you were doing."
At the time, the country offered few culinary-school models. City College of San Francisco had run a program since 1935, New York's famed Culinary Institute of America was still small when Katsigris lived there, and Texas had only one program, at Del Mar College in Corpus Christi. Katsigris' goal, driven by business acumen, was to reflect industry realities as closely as possible. Of paramount importance was re-creating the rhythms of a restaurant, the urgency and volume. Borrowing an idea from Del Mar, Katsigris launched an in-house, student-run restaurant. For $1.25 (now $12) patrons got a four-course meal; meanwhile, students had to satisfy real customers. By 1974, they offered a different menu three days a week. "We wanted to make it real," Katsigris says. "That was a little too real." They cut back to once a week.
Before moving to its present location in 1974, the program operated out of a makeshift facility on the first floor of the downtown Sanger-Harris department store, in what Katsigris thinks used to be the shoe department. Students pushed through three swinging doors from kitchen to restaurant, a service nightmare. Whenever they washed the floors, the water would put out the electricity on the floor below. That the department store would welcome this odd fellowship at all is telling. From the beginning, Dallas gave big-city resources and small-town goodwill.
Students came for a variety of reasons. The first group included a nun from a convent in Oak Cliff, sent to learn to cook for her sisters. The chief judge of the Fifth Circuit Court of Appeals took classes recreationally, walking the few blocks from the courthouse to put on chef's whites and chop vegetables.
"What we see now is a lot more students right out of high school," Katsigris says. "Some want to cook. Some open restaurants. Some, Mama brings them down and says, 'You have to go to college.' " Others feel a calling, but aren't sure. "This is the cheapest way to find out," Ramirez says.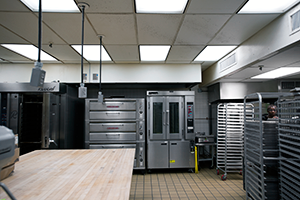 El Centro has the support of the Greater Dallas Restaurant Association, which provides scholarships to high school students with a GPA of 2.5 or above and has long had an El Centro-specific endowment for current students. And El Centro's advisory committee includes GDRA members. "It's a way to distinguish yourself in the industry: 'We've heard you, we listen to you. Let us know if we're doing the basics right,' " Ramirez says. "They have to know they can count on you."
Katsigris was a visionary, and the program he fashioned flourished. But when kitchen equipment dates from the '60s, longevity is a liability, too. That's where people like instructor Jessie Yearwood come in. Yearwood has an eye for the future and a heart full of faith. She understands that education gives people a chance. Like Katsigris, she's an immigrant, raised in Jamaica's Blue Mountains, where she carried water on her head and brought baskets of homegrown vegetables and fruit to market. She was the president of her high school's home-economics club and, once in the United States, trained as a dietitian at Texas Woman's University.
When a position opened at El Centro, Yearwood showed up in Katsigris' office. She must have made an impression. Tall, with high cheekbones, short hair, and tailored outfits, she's all professionalism, no nonsense. Previous work with the Dallas Independent School District, including its district-wide breakfast and lunch program, positioned her to understand El Centro's students. At times, she taught night classes as a single parent, making it work because she believes in the school's mission.
"We have a professional community willing to take in people who have been broken," she says. "The students will tell you I am mean to the core. But if you want somebody on your side, I'll be there for you. We keep the community off welfare. We develop talents and gifts. We give people hope. Our business is the place where people get saved.
"Six years ago, there was this Idea," Yearwood says, like the word has a capital "I." "The Idea was that we needed an improvement on this 35-year-old facility."
A team of faculty, with Yearwood as coordinator, discussed options. What emerged was Bits & Bites, an annual fundraiser that invites Dallas to buy tickets to dine at El Centro, sampling the food of local chefs, many of them alums. Even Dallasites who have never crossed El Centro's threshold are likely familiar with its graduates: restaurateurs such as Marc Cassel (20 Feet Seafood Joint), Dunia Borga (La Duni restaurants), and Richard Chamberlain (Chamberlain's Steak and Chophouse and Chamberlain's Fish Market Grill); industry leaders such as Janice Provost of Parigi, who is not the first grad to serve as president of the GDRA; alums such as Chad Houser, who fosters culinary talent in at-risk youth through his program at Cafe Momentum. Many give back to El Centro by returning as advisory board members, guest lecturers, or mentors. As for Bits & Bites, earnings are earmarked for facility renovation. But the event brings in up to $25,000, and the renovation "magic number" is around $15 million. That's 600 years of Bits & Bites.
Then, last December, something fell out of the sky.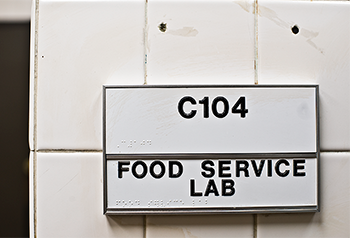 On a Friday afternoon, the staff was called to a meeting with college president Paul McCarthy. He wanted them to dream, he said. What would their ideal facility look like, if money weren't an issue?
"I could not believe what I was hearing," Yearwood says. This was the first indication, to her, that powerful people were entertaining a much bigger Idea. "That conversation was happening above us," she says, "almost like angels hovering over your head."
The faculty visited other facilities. They dreamed up a space with two bake shops, a teaching space triple the current size. Notes filled a whiteboard. They're still up when I visit months later, the group's excitement captured in handwritten form.
The Dream document was delivered to McCarthy in early January. Meetings ensued with the college chancellor and members of the GDRA. "Turns out they liked all the grandiose stuff," Katsigris says. "They loved it. They didn't cross anything out."
The questions, now, are where, and who will pay for it.
Ideally, the facility would be nearby, keeping students close to public transportation and within walking distance of their other degree courses. There's also the symbolism. "We want to stay a truly urban college," Yearwood says. "We're the first college in the downtown area, and it should stay that way."
What they need is donors. Yearwood tempers her optimism, knowing that finding the right candidate isn't easy. "It's a dream. It's hard to convince people. Someone wants a refrigerator named after them," she jokes. What they need is people who understand that El Centro's fate, like its past, is inextricably tied to the city it serves. And that the school needs Dallas now.
Katsigris is hopeful there's a breed of Dallasites able to see that: "They will have invested in something that's community-driven."
Time will tell. McCarthy is leery of saying much on the subject, though the pieces are falling into place. The college hired a consulting company, which assessed the feasibility of a capital campaign. That evaluation proving favorable, the college is now forming a task force charged with seeking potential donors and interviewing them in the coming months. "We have high hopes," McCarthy says.
"We're living in that time of waiting," Yearwood says. "We have literally no idea where the money is coming from. It's like a wonderful island in the Caribbean Sea, surrounded by beautiful waters. The island is yours. But you can't see it because you don't know where it is."
Still, the dream may be dashed. Yearwood wears no rose-colored glasses. "If it's not happening, then it's not happening," she says. "If the truck doesn't show up at the back door with what you need, you go to the chef's special. You pull out what you have." One way or the other, they'll keep cooking.