What Obamacare Means For You
A guide to the Affordable Care Act.
No one is 100 percent sure if your insurance premiums will go up or down, if your employer will stop paying for health care and instead pay the penalty, or if your doctor will stop taking insurance altogether. One thing we do know: there are no death panels. So rest easy.
Here's how the Affordable Care Act might affect you, if…
… you are uninsured.
First of all, Texas has declined—or stood up for states' rights and adamantly refused, depending on your political views—to establish a state-based health insurance marketplace. So that means 675,000 uninsured Dallas County residents will be served by the federal Health Insurance Marketplace instead. Starting October 1, the uninsured can go online and research coverage options, and enrollment will begin January 1, 2014. Many first-time insurance buyers who earn between roughly $12,000 and $46,000 will be eligible for some type of federal subsidy.
To aid the underinformed, local initiatives have popped up across the state: the Texas Organizing Project, Blue Cross Blue Shield's Be Covered Texas, and Enroll America, a federal group with a Texas office. Each group is tasked with canvassing and organizing community meetings where Texans can get more information.
"I think the most important thing is that people should ask who in their lives needs to know about this," says Mimi Garcia, head of Enroll America's Texas office. "If you yourself have insurance, you know somebody that doesn't. We want everybody to be talking about this."
U.S. Health and Human Services Secretary Kathleen Sebelius has also met with local and state leaders on multiple trips to Texas, and, in August, the United Way of Metropolitan Tarrant County was awarded nearly $6 million by HHS to help Texans navigate the health insurance exchanges.
"We're moving beyond the partisan discussion and focusing on—with the fourth-most uninsured county in the United States—what we can do to lower that number," says Dallas County Judge Clay Jenkins.
Covering the uninsured isn't just a medical issue; it's also an economic one. The Dallas hospital district, anchored by Parkland Memorial, provides $562 million in unreimbursed care annually, a figure that is offset, but not eliminated by, the $425 million in property tax that funnels to the district.
… you are looking for a primary-care physician.
More than half of uninsured adults who tried to find a new primary-care doctor in the past three years reported difficulty, with 20 percent claiming it was "very difficult." And, with about 30 million more Americans expected to be covered by health care exchanges by 2019, that will not change.
In Texas alone, 2 million to 3 million more patients are expected to want primary care, estimates Rice University's Dr. Vivian Ho, a demand that will require between 560 and 925 new primary-care docs statewide. (If Governor Perry pulled an about-face and decided to expand Medicaid, the resulting money could support 33,000 new family-practice doctors for a year, according to the left-leaning Center for Public Policy Priorities, in Austin. Dallas County's share alone would prop up 3,200 docs. But that's not going to happen.)
Still, there's a faint glimmer of hope.
The National Health Service Corps repays educational loans for primary-care physicians, dentists, nurse practitioners, physician assistants, and other primary-care providers who choose to work in underserved areas. The ACA dedicated $1.5 billion to the program; from 2008 to 2012, the number of Corps clinicians in Texas climbed from 115 to 325.
And with your time in the office likely to rise, your likelihood of actually seeing a doctor may fall. Physician assistants and nurse practitioners are filling the gaps, and medical education programs are adapting, too. University of North Texas Health Science Center's physician assistant program now gets 1,000 applicants for 75 spots, says program chair Hank Lemke. The Bureau of Labor Statistics expects the profession to grow 30 percent between 2010 and 2020, more than double the average for all other professions.
… you have mental health issues.
All new small-group and individual private market plans will be required to cover mental health as part of ACA's Essential Health Benefits categories, and behavioral health benefits will be covered the same as medical and surgical benefits.
Starting in 2014, insurers will no longer be able to deny anyone coverage because of a pre-existing mental health condition. These policies are expected to provide care to 32 million people who have never had it before and improve coverage for another 30 million Americans.
The ACA also ensures that new health plans cover recommended preventive benefits without cost-sharing, including depression screening for adults and adolescents and behavioral assessments for children.
Though not directly related to the ACA, President Obama's 2014 budget also calls for $130 million to help teachers and other adults recognize signs of mental illness in young people, to provide students counseling to improve mental health services for young adults, and to train 5,000 more mental health professionals, with a specific focus on serving students and young adults.
… you are a smoker.
Let's be honest. You should probably quit. Smokers cost employers an extra $5,816 a year in health care expenses compared to a nonsmoking employee, Ohio State University researchers found. But the ACA has a way to help with that. Under the law, insurers are required to cover tobacco-cessation as a preventive service.
If you don't quit, you'll likely see your premiums go up. Starting in January, insurers are allowed to penalize smokers by charging up to 50 percent more for their premiums, a practice that 58 percent of Americans
support, according to an August Gallup poll.
And even if you qualify for a low-wage tax credit for an individual, exchange-purchased plan, the credit only covers the premium, not the smoking penalty, leading health care experts to reason that many smokers will be priced out of coverage. So come on. Quit.
… you are a woman.
Good news! For half of the U.S. population, things should get better. Insurance plans are now required to provide cost-free preventive screenings, including pap smears and mammograms. The latter screening is especially important for newly insured women. A 2012 study found that uninsured women are substantially more likely than women with private insurance to be diagnosed with breast cancer in a later stage and to require more intense treatment.
Starting in August 2012, insurance companies were required to offer birth-control and emergency contraceptives free of charge, though there are some stipulations. The Obama administration and religious organizations are still fighting over an exemption to the rule for those groups, and not all birth-control methods or brands are covered.
Charging women higher premiums simply because they're women—in Texas, 100 percent of best-selling plans gender-rate, according to the National Women's Law Center—will be banned in 2014. In Texas, in 2012, gender-rating practices led to an average premium bump of $550 to $650 for a 40-year-old woman when compared to a 40-year-old man. The minimum difference in premium costs was 22 percent; the maximum was 56 percent. Eighty percent of best-selling plans charged a nonsmoking woman more than a smoking man.
For the uninsured, there's a lot of ground to make up. Of U.S. counties with more than 25,000 residents, Dallas County's rate of uninsured women under the age of 65 ranks 16th-worst, at 29.1 percent. Of the worst 52 U.S. counties in that category, 36 were in Texas.
Domestic violence against women (or men) also no longer counts as a pre-existing condition, but that just seems like a no-brainer.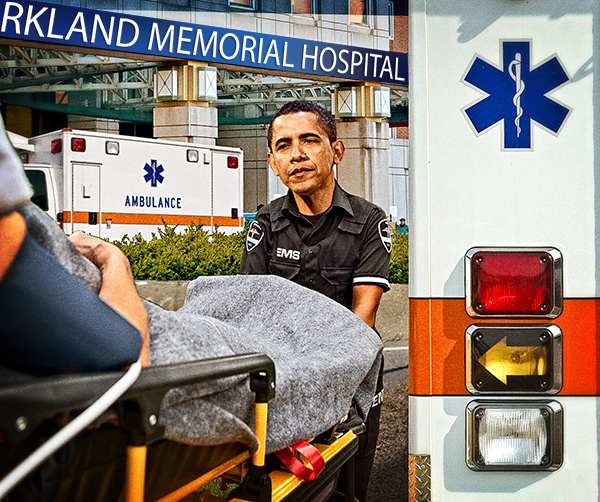 … you are at the emergency room.
In short, you'll likely wait longer. As the number of insured climbs and the primary-care physician gap grows, more and more Americans will turn to the emergency room for care. When patients can't get an appointment with their primary-care docs, small problems will become bigger problems, and emergency room waits will grow. When Massachusetts passed its own health-care reform law in 2006, ER visits climbed 4 percent, according to a 2011 study published in the Annals of Emergency Medicine. And, according to the American College of Emergency Physicians, 7 percent of emergency rooms have closed in the past 10 years, compounding the demand problem. On the flip side, the ACA will likely mean that the people coming to the country's emergency rooms will now be insured. Previously, the costs of patients who couldn't pay for their care were spread around to everyone else (see: Parkland Memorial). The law also prohibits insurers from charging higher co-pays for out-of-network ER visits, but nothing in the law stops hospitals from charging you later for services your insurance doesn't cover.

… you are pregnant.
In addition to the now-free wellness visits for all women, pregnant women now receive a slew of amenities for both themselves and their children. OB/GYN visits can now be scheduled without a referral, as insurance companies are no longer allowed to require a woman to obtain prior approval.
Gestational diabetes screenings are included with no co-pay, as is breast-feeding consultation. Breast pumps and accessories are now covered for no additional fee, a benefit that will save new mothers hundreds of dollars.
The most beneficial provision, however, is the new coverage for maternity services. Prior to passage of the ACA, maternity coverage was grossly inadequate, particularly in the individual health insurance market. Most individual health plans fail to provide any coverage for maternity care, which means pregnant women—even without complications—face expenses of $10,000 or more. While this expansion of coverage promises to bring significant health benefits for women and babies, federal officials have not provided specific guidance on what must be covered under the broad category of maternity care, leaving the risk of incomplete or inadequate coverage.
… you have a pre-existing condition.
If you're one of the nearly 4.9 million Texans—including 1.1 million in Collin, Dallas, Denton, Parker, and Tarrant counties—with some type of coverage-denying pre-existing health condition, rejoice. As of October 1, insurers can no longer deny coverage to children because of a pre-existing condition, and, beginning in 2014, insurers can no longer deny coverage or charge more for coverage for anyone because of a pre-existing condition. Insurers are also banned from charging higher premiums based on health status and from selling policies that exclude coverage for certain benefits based on a person's pre-existing condition.