Bar Review: Twilite Lounge
Enjoy Deep Ellum for adults with a frozen Irish coffee.
Growing up in  the suburbs, I was told Deep Ellum was full of booze, thumping music, and corrupting characters. My parents didn't want me to go there. Kids went to Deep Ellum to grind and head-bang and develop behavioral problems. But sitting in the plush confines of Twilite Lounge feels nothing like that. Couples in red vinyl booths talk quietly over candlelight. Guys in their early 30s tip back canned beers as they talk about sports and taco trucks.
On a recent night, my friends and I were trying to figure out what to drink. The menu features beer, wine, and an enticing array of Big Easy-themed cocktails, such as the NOLA Pimm's and French 75. I opted for the Cucumber Fizz, a crisp, summery concoction. One of my friends decided on a frozen Jack and Coke, but he took a sip and immediately made a face. "This is sweet—like a Slurpee!"
The bearded bartender responded with science: "It's hard to freeze if there's too much alcohol in it." (Tip: it's better with an extra shot on top.)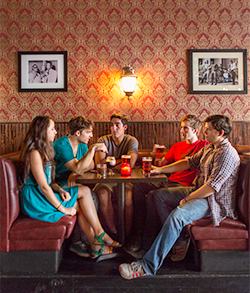 Drinks in hand, we took a stroll through the bar. The gold lamps and blood-red curtains evoked a distinctly Southern Gothic vibe. There was a cigarette machine by the door, a candle lighting every table, and a framed photo of Burt Reynolds (from Gator) hanging on the wall.  
Near the door to the French Quarter-style courtyard is a small reading area with a bookcase full of beloved classics. Ernest Hemingway. Harper Lee. Larry McMurtry. Even Shel Silverstein's Where the Sidewalk Ends. I narrowly avoided the temptation to kick back with one of them and instead wandered out back.
Here, we found Deep Ellum at its most serene: ivy-swept trellises, potted ferns, tons of twinkling Christmas lights. We chose a table next to two beer-drinking brunettes wearing floral-print dresses.
Twilite Lounge opened its doors in June. It's a collaboration of Jess Barr, guitarist of Slobberbone, and Danny Balis, producer of The Ticket's Hardline. When I asked a bartender where the owners' idea for the bar came from, she shrugged: "They love New Orleans. Who doesn't?"
My friends decided to try the frozen Irish coffee for their next round. This NOLA staple debuted in July and has been popular since. It's the perfect pick-me-up on a warm night.
"As my friends quickly downed their frosty beverages, I approached a pair of beer drinkers seated a few tables away. Keegan, a pretty brunette with bangs, had a sweet smile. Her friend Dennis was thin, with glasses, and claimed it was his first time to the bar.   
When I first started coming to Deep Ellum, this place was a coffee shop, and one of the few spots I could go at the time," Keegan said. "When Twilite opened, I came first for the nostalgia. But I began to like it for itself."
Specifically?
"It's like Deep Ellum for adults," she said. "After all, you can only drink Pabst Blue Ribbons with bikers for so long before it gets old."
I headed back to my table to find that my companions had finished their frozen concoctions. We journeyed back inside and found that all eyes were on the bearded singer at the front of the room. He picked his guitar and alternated between soulful vocals and soaring harmonica. And, no, Mom and Dad, no one was head-banging. We were on our way out but stopped for a minute to listen.
I turned to my friends: "Anyone want another frozen Irish coffee?"
For more information about Twilite Lounge, visit
our online bar guide.