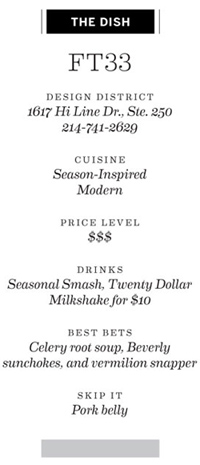 Matt McCallister likes to eat at Mission Chinese Food when he's in New York City, and he once found a baby snake while foraging for spring onions. He runs 6 miles on a treadmill to take the edge off when he's had a rough day. His wife, Iris, owns a small brownie-making concern. She is picky about the soaps she uses in her bathroom, and she got an awesome new computer for Christmas. I know these things about the McCallisters because I read Facebook and pay attention to Twitter.
I find it fascinating that so much of McCallister's success—or, at the very least, his name recognition—has been generated through social media. Certainly his bio doesn't suggest that he has done as much "gutter time" as other local talents. I'm not saying the man isn't talented. But I do think he is the first prestigious Dallas chef to earn his celebrity status with food blogs and social media, before he opened his first restaurant. After just seven years in the business, he stands in the kitchen of the most talked-about restaurant in Dallas, FT33.
Stephan Pyles hired McCallister in 2006 to work in his eponymous restaurant, and the young man rose rapidly through the hierarchy of the kitchen. He was a sous after his first year and executive chef after only three. Pyles and McCallister explored a sort of molecular gastronomy inspired by Spaniard Ferran Adrià and served their dishes at Fuego, the name given to an inner sanctum of Pyles' restaurant. After four and a half years of cooking with Pyles, though, McCallister left his mentor to travel the country and stage in the illustrious kitchens of McCrady's in Charleston, Alinea in Chicago, and the French Laundry in Napa.
All along, Iris chronicled on Facebook her husband's education at the elbows of the masters. Yes, the couple also produced the successful Chefs for Farmers event that brought together local farmers and chefs, but the McCallisters became the culinary darlings of the local dining scene with an online reality show of their own creation. Yes, McCallister is doing gels, foams, dirts, dusts, and powders, and, yes, he sources as many of his ingredients as he can locally, but when I hear gastronomes talking about how McCallister will push Dallas into the international spotlight, I have to wonder.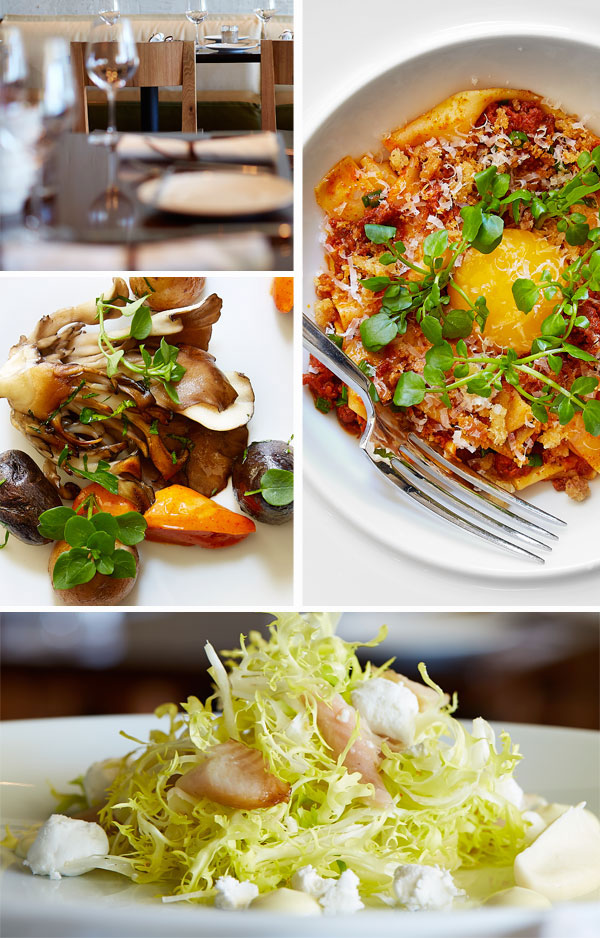 The first night I visited FT33, McCallister put me in a trance. The dining room was full, servers scurried between tables, and the kitchen staff worked at full tilt. But McCallister was oblivious to the madness. He stood motionless in the display kitchen with a spray bottle of vodka in one hand and a dish towel in the other. I set a stopwatch. He sprung to life 90 seconds later, when expeditor Josh Valentine relayed an order. As Valentine talked to him, McCallister squirted the plate and rubbed it with the towel. Another 90 seconds passed before McCallister set the spotless plate down and began his composition. His movements were swift and delicate, as if he were applying paint to a canvas. He didn't look up until the perfectly composed dish was whisked away.
"I'm a horrible expeditor," McCallister told me later. "I'm real ADD, and it's best I plate and execute the food and watch the tables. I use vodka because it works best on getting any spots off the plates."
His intensity makes for good theater. I couldn't keep my eyes off him and left the restaurant that first night without noting one detail about the interior.
I did notice the uninterested looks on the faces of the servers, though. The menu is small, just six appetizers, six entrées, and five desserts. Descriptions are brief ("beef cheek, vanilla-lemon polenta, candied citrus, toscano kale, fennel), so the servers must recite elaborate explanations, which can take some time. If the dining room is buzzing, as it was when I ate there, servers must repeat themselves. They seemed to me like midway carnival ride operators, bored with the repetition of their job. Rather than encourage a dialogue, they weaved in and out of the rustic-chic dining room with no spring in their step and an automaton's dedication to their duty. At Alinea or the French Laundry, these servers would have been fired on their first night.
The waitstaff had best shape up. McCallister has taken a huge risk—and not just with his menu. He opened FT33 in an empty space between the Fendi and Dahlgren furniture showrooms in the Design District. It's a bold move. The restaurant is not located on a busy street, and the showrooms are closed at night. (The trade-off, I suppose, is that he's got maybe 120 free parking spaces on the weekends.)
McCallister's menu is written to pique diners' curiosity, filled as it is with items from local purveyors, farmers, and foragers. Dishes change daily or even several times in one seating, depending on which ingredients are available. I love the spontaneity but wonder how the average Dallas diner will receive it. The menu says: "Substitutions and modifications respectfully declined."
"People either totally love it or don't get it at all," McCallister says. "I may not have a steak on the menu, but I always have a beef dish. I'm not here to compete with Pappas Bros." He admits that some diners have struggled with the menu, saying, "An older lady left after she couldn't get a wedge salad."
At FT33, you might best be served if you abandon your daily cravings and trust McCallister's instincts. Forget the wedge salad. Look instead to McCallister's crisp Belgian endive surrounded by pools of lemony aioli that resemble dabs of paint on a rectangular palette. Five rolled strips of house-cured duck ham lean against the lettuce. A poached duck egg with an orange yolk sits on top. I snapped a picture of the salad and now use it for the launch screen of my phone.
McCallister's eye for design likely precedes his kitchen work. He studied fine art at the Metropolitan Arts Institute in Phoenix, where he worked with oil paint and enjoyed sculpting but found the most satisfaction in drawing.
At FT33, for instance, a mix of sunchokes and lightly roasted Brussels sprout leaves needs only a white wall and a frame to look like fine art. The sunchokes, darkened by roasting, sit like rocks in a lush garden of green leaves. Crushed pecans look like rocky dirt. The salad winds and twists down the left side of the plate, leaving exposed most of the spotless white expanse.
Celery root soup is simple but stunning. The surface of the creamy beige concoction is dotted with pools of hay oil and appears to lap at a thin, crescent-moon black beach made of crunchy malted barley and rye crumble.
The quality of the food, though, varied over my three visits. One night the cubes of bourbon-glazed pork belly were tough and the sauce too jammy, sticky, and sweet. The next time, they were soft and slightly sweet.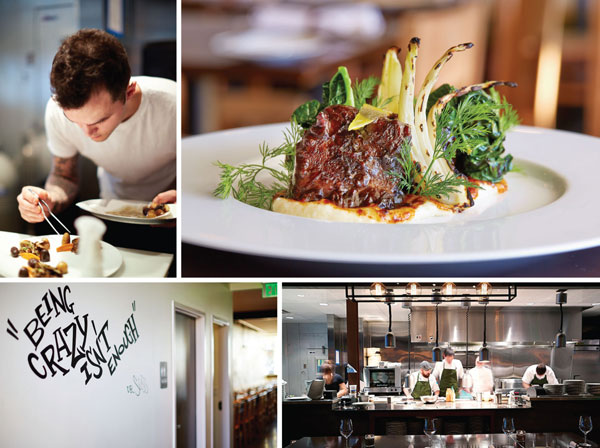 Main courses were more consistent. The best dish I tried was a vermilion snapper from the Gulf of Mexico perched to the side of a Franco-Asian-style sauce, a smooth curry-carrot broth thickened with Vadouvan yogurt. The fish was garnished with picturesque micro carrots, daikon, and mint. The beef cheeks were fork tender, served on a bed of vanilla-scented polenta, and presented with kale and caramelized fennel decorated with exotic nasturtium leaves that looked like small lily pads.
The beet salad was perfection. The combination of tender beets, a washed-rind goat cheese, and the nutty, almost sweet, essence of mache created a palate-confusing mashup that I'd willingly submit to every weekend. So simple and colorful—yet the blend illustrates McCallister's dedication to creating unique taste experiences.
Both the chicken and the lamb offerings listed confit as an element on the plate. When the plates were presented, though, each included a square of shredded, dry meat that bore no resemblance to a true confit, a moist meat cooked and preserved in its own fat. The "confit style" chicken featured pulled thigh and leg meat that was dry (but came to life by stirring in a teaspoon of the marvelous truffle mushroom mousse served on the side).
The dessert presentations must have been inspired by Salvador Dali. The components—drops, gels, dirts—were scattered across wooden platters and plates. Mixed with various cakes, creams, and cereals, they revealed McCallister's true intentions. A persimmon, bandage-wrapped cheddar, and pecan dust concoction was something to behold. Deep, funky, buttery, and sharp tones of aged cheddar hit tart against tangy-sweet notes of persimmon. Textures also played a role in the success of the playful puffed candied wild rice coated in chocolate and served with soft chocolate cake, a swish of banana cremeux and mango sorbet.
The 160-bottle wine list, composed by sommelier Ryan Tedder, is adventurous, fun, and, like the food menu, designed to encourage conversation. Wines are organized from light to heavy and grouped by varietals—four German Rieslings (gasp!). Though most diners think "sweet" when they hear Riesling, the wine pairs well with McCallister's food. Its minerality is clean and the high acidity plays nice with house-smoked trout and higher-fat sauces.
I was pleased to spot the single vineyard Domaine Faiveley Mercurey Clos des Myglands Premier Cru 2010 (French Pinot Noir!). If you aren't a wine snob, don't be intimidated. Go with Tedder or choose familiar names such as Stags Leap, Mondavi, and Penfolds. "I want to be hospitable," Tedder says. "But I need to execute Matt's synergy of flavor." Tedder keeps it real. His whimsical pairing notes suggest you drink Spatlese with wisdom, a Pinot Bianco with adventure, and Chardonnay with marriage.
Let's hope the service quickly matches the enthusiasm of the proprietors and that Mr. and Mrs. McCallister keep the status updates coming.
For more information about FT33, visit our online restaurant guide.

Get the SideDish Newsletter
Dallas' hottest dining news, recipes, and reviews served up fresh to your inbox each week.