So many lives have been touched by the nurses featured on this list. Their hard work, sharp minds, and easy bedside manner earned them a spot in our second Excellence in Nursing Awards. We received 339 nominations (to see how we narrowed down the list and for the full list of finalists, click here). One nurse continued to treat others as she underwent chemotherapy. Another broke through language barriers to better care for two young boys. And there's the nurse whose impact was so felt that his young patient declared she wanted to take him home with her. We're lucky to have these nurses in North Texas.

Tamara Johnson
Occupational Health
Tamara Johnson spent her first five years as a nurse in clinical settings, treating patients in emergency departments and operating rooms. Then, eight years ago, she decided to take care of a different group of people—her colleagues.
As nurse manager in UT Southwestern Medical Center's Occupational Health Department, she watches over the health and well-being of more than 14,000 employees, 2,000 students, and 2,000 faculty members. With an annual budget of just under $2 million, Johnson develops and implements programs that protect the people who work at the research facility, from mitigating risks for employees who do animal research, to carrying out a vaccination plan during the H1N1 influenza pandemic, initiating a tuberculosis surveillance program for 6,000 clinicians, and developing a response plan for cases of blood-borne pathogen exposure.
"The best part is my patients are also my peers, and I'm lucky enough to see the fruits of my labor when they come back to work," says Johnson, who is FEMA certified in National Incident Management, National Response Plan, and Incident Command. "It's the typical nursing paradigm, the 'be part of the solution' approach. You had an injury, now help us evaluate it to make it better for the next person."

Pamala Gessling 
Women's Health
Pamala Gessling knows babies. since her first position as a staff RN and assistant charge nurse 27 years ago, she has been responsible for newborns and their new moms. "You have to be more than just one type of nurse because you see the whole spectrum of life," Gessling says, "whether it's in the ER, OR, or the neonatal ICU. It's rewarding to be there when the mother says thank you, but we see a lot of very sick patients, too, and we help them through it, whatever the outcome is."
Working her way from night nurse to director over labor and delivery services, Gessling has experienced OB-GYN triage, high-risk pregnancies, and all other aspects of obstetrics, expected and not. At Methodist Dallas Medical Center, she oversees the 50-bed Level III neonatal intensive care unit and newborn nursery, and she manages high-risk labor and delivery, ante- and postpartum patients, and perinatal education and outreach programs, including one that handles bereavement. 


Donna Scott Tilley
Education
It took just a couple of days at a women's shelter for Donna Scott Tilley to understand how thoroughly an abusive relationship can impact a victim's health. "They don't take care of themselves because all of their energy goes toward keeping him [the abuser] healthy," she says two decades after taking the undergraduate class that first exposed her to domestic violence. In the early 1990s, people asked why the women didn't simply leave. Tilley, when she arrived at her doctoral program, asked a more compelling question: "Why does he hit?"
She began working with the men convicted of battering their partners, researching why they hurt women as a way to cope with their own difficulties. "Some really are just monsters," she says, "but a lot of them don't want to be this way. Working with men like that is a little more gratifying." 
Now, in addition to her faculty duties at Texas Woman's University College of Nursing, Tilley spends time in rural settings, where everyone seems to know everyone else and it can be hard for nurses to ask women if they feel safe at home. She is teaching nurses how to screen for abuse and follow up.
Tilley began her career as a critical care nurse and has participated in the Pediatric Sexual Assault Nurse Examiner Training Program, the Texas Office of the Attorney General Sexual Assault Prevention and Crisis Services Program, the Adult Sexual Assault Nurse Examiner Training Program, and the Council for the Advancement of Nursing Science 2010 State of the Science Congress on Nursing Research.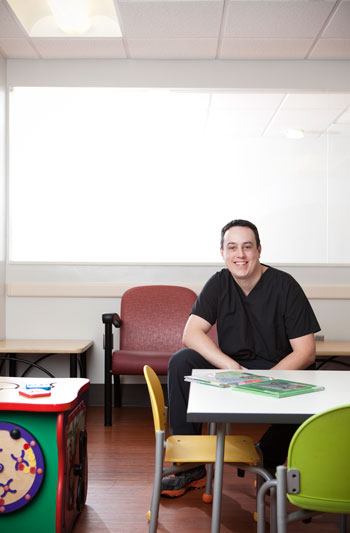 Mark LeClair 
Emergency Medicine
Mark LeClair remembers one of the numerous times he has had to place a large IV into the arm of a diabetic child, a traumatic procedure for many kids. "She was one of the ones who could leave the ER and not have to be admitted," he says, "and after six to eight hours, she seemed almost sad to see me go." A fellow employee tells the story this way: the child wanted to take LeClair home.
A father of two daughters, LeClair relies on his insight into a child's mind, as well as his training as an EMT, registered nurse, and specialist in pediatric emergency nursing. "Sometimes, they deal with it well. Sometimes they are very upset or so sick that they don't have an understanding of what is going on," he says. "Some people might think that kids are just little adults, but that is so far from the truth."
LeClair began at Children's Medical Center of Dallas in 2003 as a volunteer, was hired as an EMT in 2004, and returned to school for his RN in 2009. He always thought that he wanted to work in adult trauma or adult emergency, but when he went to Children's, he knew that pediatrics was where he would make a mark. The hospital runs the busiest pediatric ER in the nation, with 170,000 cases per year, and sometimes 500 per day, including many underprivileged kids who lack adequate primary care. "I think I make life better for children," he says, "and the people I serve make my days worthwhile."
Jeanne Seitz 
General Practice
"I can still remember my first year of nursing and how traumatic it was. So I like to make sure I give young nurses a chance to develop, to tell them they shouldn't think they have to know everything that first year," says Jeanne Seitz, who began her career 34 years ago right where she is today, at UT Southwestern Medical Center.
Seitz, who specializes in medical-surgical nursing, has trained hundreds and always advises her charges to get the broadest experience possible. "I encourage the medical-surgical area because it is the best way to become comfortable and competent," she says. She stresses the importance of developing the ability to juggle, prioritize, and think critically, all of which are tested on the medical-surgical floor.
A strong proponent of ongoing learning, Seitz encourages her nurses to earn certifications and professional appointments. As a member of the hospital's unit-based governance council and magnet committee, she supports fellow nurses in their continuing education.
Outside of UT Southwestern, Seitz finds time for her creative nature. As a child in Wisconsin, she sewed and imagined herself becoming a fashion designer. During high school, her mom, who was a certified nursing assistant, returned to school for her licensed vocational nursing degree. She suggested that the profession might be a suitable choice for Seitz, who agreed, retiring the sewing machine, if temporarily. Now, in her spare time, she is the costumer for The Regal Opera Company.

Mary O'Hagan
Home Health
Mary O'Hagan was a neonatal/pediatric flight nurse, performing critical care in the sky. She took care of infants in Children's PICU. She would not have expected, earlier in her career, to be caring for the elderly outside a hospital setting.
"While I loved the ICU, and flying around was very exciting, I love this demographic," O'Hagan says, "And assisting them while they age at home, in their own surroundings, is a wonderful opportunity."
As director of private-duty nursing for Reachout Home Care, O'Hagan handles patient assessments, determines treatment plans, and supervises 130 skilled nurses and home health care aides. Some of her patients have been on her service for years. The daughter of one of them notes O'Hagan's instinct and commitment. "After my dad died, she continued to visit my mom and could tell just by looking that she needed medical help," Ilayne Geller says. "Mary still comes to visit, calls my mom when she knows I am out of town, and joins us to celebrate her birthday every year. Mom is now 87, thanks to Mary, I might add."
For O'Hagan, nursing is an honor. "I've been privileged to take care of people when they are vulnerable and at their weakest," she says. "When you are at the bedside for 12 hours a day, you connect with families and develop deep bonds."

Dora Bradley
Leadership
As one of the country's foremost experts in the professional development of nurses, Dora Bradley has written and presented extensively on models of professional practice and was instrumental in developing the Baylor Health Care System Professional Nursing Practice Model, a professional practice  framework which hospitals worldwide have adopted as their own.
"When I entered into nursing many years ago, a person would actually stand up when a physician walked into a room. Now, we are seen as true partners of care," says Bradley, who is also an associate dean at Baylor's Louise Herrington School of Nursing. "We have all this technology, all this extra stuff, but a central part of nursing is being a patient advocate, supporting him through life encounters, helping that person have the best outcome he can."
To that end, Bradley oversees Baylor's staff nurse education and competency, advancement program, and policies and procedures, having a hand in training from a nurse's first year onward. She served on three boards and, as a grant writer, landed Baylor a multimillion dollar grant to study interdisciplinary care of geriatric patients. She also developed and implemented the BHCS Continuing Nursing Education Provider Unit and organized the first National Nursing Conference regarding professional practice models. 
When she was in eighth grade in Kansas, Bradley spent time visiting her ill grandfather in the hospital. "I would go and sit with him, and talk to the nurses. I just knew it was what I was going to do," she says.

Jo Darling 
Oncology
Jo Darling decided to join the air force reserves after graduating from college in Ohio. Her father, uncles, and cousins were all military men. She was getting her private pilot's license. It made sense. "Growing up as a child of the '60s, I had that real sense of service, of community, and doing for others," she says.
She served one active-duty term as part of the San Antonio 59th Medical Group, flying supplies overseas and back, doing noncombat missions in Germany. When she returned, her mom became ill and moved from Ohio to Texas to live with Darling, who took time off to care for her. "That set the foundation for me about being her advocate," she says, "about how the family is drawn into that whole change of health, how it touches every aspect of your life."
Darling's mom died five years later, and Darling, who was trained as a general medical-surgical nurse, began looking for work. In 2003, her résumé landed with an oncology group in Irving. "I don't think I would have chosen it, but oncology chose me." She began as an infusion nurse and then worked as a practice nurse for several years before Baylor Medical Center began a Nurse Navigator program at its Irving Cancer Center, in which one nurse walks a patient through the treatment process from beginning to end, from diagnosis through diagnostics.
"Each story is so different, how they cope, how they are managing," she says. "You want to bring something to them to lessen the impact of having cancer. Even if treatable, it is devastating."
Darling, who is currently earning her master's, works with the American Cancer Society to bring programs and classes into the Cancer Center. She runs a support group open to all patients, organizes the yearly Pretty in Pink PJ Party for cancer survivors, and was one of the key leaders in implementing a distress screening tool for all patients who receive treatment. 
"As a kid, I took everyone in the neighborhood and put Band-Aids on their knees," Darling says. "I developed myself into a world where I can do the best I can."

Susan Houston
Research
Susan Houston's résumé is 31 pages long. Her academic and professional accomplishments are notable and numerous, earning her recognition as a distinguished leader in the nursing profession.
As director of nursing research for Baylor Health Care System's 15 hospitals, she develops innovative ideas for patient care and treatment, and explores the impact of care practices. From conceiving research ideas to conducting studies and collecting and analyzing data, Houston aims to change and enhance practice at Baylor. Whether a study of feeding infants to decreasing pain or examining stress in staff, the research aims to fix or improve patient care. She has conducted more than 38 funded research studies. "The ideas come from nurses themselves or from journals, conferences, or other exposure," she says. "We explore whether they are appropriate for research." 
Houston began her career as a critical care nurse before earning a master's and supervising staff. She has always "had her toe" in academia, completing a Ph.D. and teaching. She has published more than 62 articles that encompass higher care standards, nurse leadership, and improving patient outcomes, and is an active and sought-after speaker, sharing her learning throughout the Baylor Health Care System, the nation, and the world.

Julie Balluck 
Surgery
"Sometimes, we come in and think, 'this is what we do.' It's not unfamiliar or necessarily scary, like it is for patients. As nurses, it's really important to realize that they are going to remember that nurse in the recovery room or the nurse in the OR," Julie Balluck says. "I'll never forget my nurse when I had my kids. It's so easy for nurses to lose that, to forget how important we are."
Balluck, who supervises all of Texas Health Presbyterian Hospital Dallas' surgical affairs, rose from evening staff nurse, to charge nurse, manager, and now director. She is responsible for preadmission testing, day surgery, same-day admissions, preoperative holding areas, operating rooms, postanesthesia care units, anesthesia services, and sterile processing. "It is a big job, with a lot of moving parts. I sort of feel like I'm the conductor for a symphony," she says. "It's easy to keep doing what you're doing. My job, though, is to improve the experience and outcomes for patients."
In addition to her supervisory tasks, Balluck does rounds each day—"those sacred 60 minutes"—to improve the engagement between leadership and staff, and management and physicians. "Relationships make everything work."

Jeanne Reeves 
Nursing Administration
When the beds are full, jeanne reeves lends a hand on the floor. Administration can wait. She always wears scrubs.
As chief nursing officer at Methodist Mansfield Medical Center, Reeves oversees more than 700 nurses, allied health workers, and support employees, as well as 276 independently practicing physicians. With 27 years of health care experience and 22 years of progressive managerial administrative and executive responsibilities, she is known as a determined and dedicated teacher, leader, and facilitator.
In her position, Reeves has secured for the hospital a Pathways to Excellence designation, an accredited Cycle 3 chest pain center, and a recognized breast imaging center. Also, she led a $32.3 million expansion to accommodate growth. Under her guidance, the hospital opened a dedicated PCI floor for patients, enabling them to bypass the ICU.
She developed a nursing practice model that focuses on pairing nurse competencies with patient needs to promote patient safety and facilitated a cohesive outpatient program to help patients better understand their discharge instructions. As a mentor, she has encouraged 45 nurses to further their educations with master's degrees and certifications.
"Jeanne becomes intimately involved in the unit processes and has the ability to effect change in behavior and mindsets," co-worker Angel Biasatti says. "When units experience a difficult patient death, she responds to the department to care for the staff who are caring for the family. She comes in on her vacation to be with staff and to comfort them when the need arises."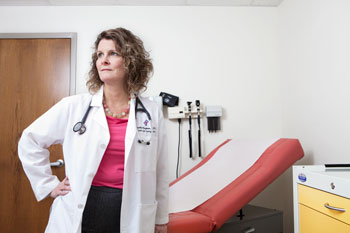 Martha Kingman
Acute Care
For the past three years, Martha Kingman, a nurse practitioner in the pulmonary hypertension program at UT Southwestern Medical Center, has been working on developing national patient safety guidelines for high-risk medications. She believes these guidelines will reduce errors with the administration of infusions to patients like the ones she handles. "It's very easy to make mistakes," Kingman says. So, as part of her doctorate work, Kingman decided to see just how many mistakes were being made. "We surveyed 97 centers in the country. Are there errors happening throughout the country?" The answer was yes. "We were shocked." Her guidelines, a result of the surveys, were recently accepted for publication, and though they're not in print yet, they are listed on the Pulmonary Hypertension Association's website.
Kingman is the first nurse practitioner at UT Southwestern to receive her doctorate in nursing practice. She has spent 26 of her 49 years as a nurse, first in an emergency department, and now in the pulmonary hypertension program, where her patients fight a rare, incurable lung disease. Most of them live an average of five years after diagnosis. "You have to get yourself in a mindset that you really are extending their lives and improving their quality of life," she says. "It is very sad. You have to compartmentalize it in able to keep doing it."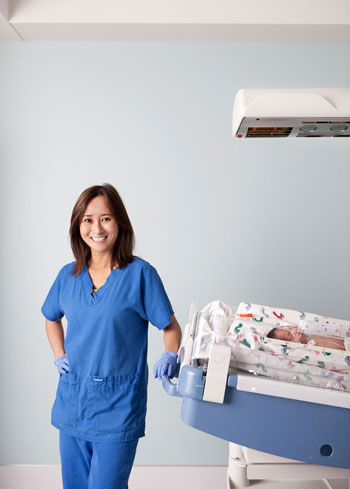 Thao Nguyen
Neonatal
Before college, Thao Nguyen didn't intend to become a nurse. Her mom is a nurse, and Nguyen was determined to chart her own course. Plus, she didn't think she was good at biology or chemistry. But that changed once she got to school. "My biology and my chemistry teachers, both of them, were just amazing," she says. "It gave me confidence that I could learn something that I once thought was so intimidating." Nguyen thought she should do something in the medical field but still wasn't thinking of nursing. One day, her mom brought up the topic. "Honestly, it was the right question at the right time," Nguyen says. "It was like, 'Yeah, that sounds good.' " 
Nearly nine years later, Nguyen loves her job as a nurse in the NICU at Texas Health Presbyterian Hospital Dallas. "I've learned so much and have a whole new respect for my peers," she says. "I really, really respect nurses. I'm proud to be one."
The 33-year-old has even found a way to infuse her hobby of photography with her work. Though most of her patients grow up and live happy lives, not all of them make it past the first few weeks. Nguyen uses her photography to give these babies' parents lasting memories. Her work has not gone unnoticed. Nguyen recently received the DFW Great 100 Nurses award. Her mom, the one who convinced her to get into nursing, also won the award. It's the first time a mother-daughter duo has won.
Ulondia Lee
Internal Medicine
To this day, Ulondia Lee can't forget her first experience as a patient. She was a teenager, and she had to go to the emergency room for an injection. "I was so terrified," she says. But there was a nurse there who held her hand, talked calmly, and made eye contact. "She relieved the whole fear I had," Lee says. "It made me want to deliver that level of care and help to people." The 37-year-old has been a nurse for 16 years.
Lee is currently the director of surgical acute at Methodist Mansfield Medical Center. Her mentor asked her to take the position because of Lee's leadership abilities. "I'm definitely hands on," she says. "I like to figure out what is inspiring, motivating for staff." Don't call her right at 3 in the afternoon. She'll be busy recognizing her staff's good work during what she calls Circle Up.
Lee realizes that not every day goes well, and there are struggles that result from being a nurse. But her message to her staff on such days is simple: "Keep focused on the patients and their loved ones," she says. "You'll win every day."

Joy Macaluso
Primary Care
When a child is born with a single ventricle in her heart, she has to go through three surgeries in order to live. The first surgery takes place right after she's born; the next surgery occurs between 4 months and a year of age; the third surgery takes place between 4 and 6 years. Between the first and second surgeries, there is a good chance that the baby won't survive. That's where Joy Macaluso and her cell phone come in.
Macaluso, a nurse practitioner in the Heart Center at Children's Medical Center of Dallas, helped develop a home monitoring program that walks parents through the process of taking care of their children in the comfort of their home before the second surgery. Two of the practitioners at Children's carry a phone that families can contact 24 hours a day, seven days a week if they notice a problem or have questions. "Anytime a family goes home for the first time after being in the hospital for three weeks to two months, there is some anxiety," Macaluso says. "It's being able to tell them it's okay. This is what a normal baby does. Besides having this severe heart defect, your child is also a baby, and she's going to do the normal baby things as well." For Macaluso, 48, seeing the babies grow makes the stress of those late-night calls worth it. "You've helped this kid progress and grow and become independent," she says. "It's a special time."  

Damon Watkins
Neurosciences
When Damon Watkins was a kid, he accompanied his mom to her job as a nurse's aid at a nursing home. "I hung around all the elderly patients," he says. "I liked working with them. It was kind of a calling after that." He never second-guessed his career choice. Now Watkins is an RN clinical coordinator at UT Southwestern Medical Center. Through his 18 years as a nurse, he has developed something of a sixth sense for recognizing when a patient is starting to die. He immediately starts making suggestions to the family and works with the patient in his or her last hours. Another skill is that he's able to place IVs in arms that others cannot. One patient he worked on had limited mobility on her upper extremities and couldn't talk. Though the husband was extremely anxious, Watkins placed the line with no problem. "The patient was smiling and crying at the end," Watkins says.
Though he's good with his patients, Watkins' skills and leadership are beneficial to his department, where he supervises both nurses and radiology technologists. "Technologists feel like they're unseen, so sometimes people overlook them," he says. "I give them a voice." At first, he admits, the technologists didn't like the idea of answering to a nurse. "Over time, I think I've proved to them that I'm attuned to what their concerns are and address those with physicians in leadership."

Katherine Johnson
School
It's hard being an elementary-aged kid. It's even more difficult being an elementary student with a chronic illness. According to Wolford Elementary school nurse Katherine Johnson, 30 percent of the students in her school have medical alert or chronic conditions.
A couple of years ago, Johnson had a student with spina bifida and who was in a wheelchair. Johnson saw that the child's classmates didn't understand her condition, so she arranged a Wheelchair for a Day program. Each fifth-grade class had one representative who had to be in a wheelchair for a day. The things that I learned from them were fascinating." The children found that handing in a paper was a chore, and at lunch, it was hard to see the food. "It was very eye opening," Johnson says. She has also developed a day-in-the-life program for diabetes and is working on one for the vision impaired.<>
Johnson, 48, understands that the parents who send their kids to her every day put a lot of trust in her. So it's up to her to make their kids' grade-school experience as normal as possible. "They're entrusting these kids with you and to work with them," she says. "To develop that trust over years is really very rewarding."

Tamara Barr
Pediatrics
Tamara Barr, a 37-year-old registered nurse at Children's Medical Center of Dallas, always goes for the underdog. A couple of years ago, two boys with autism came to the department. The boys could speak only Spanish and were "very, very wild." Barr took them under her wing. "Each time they're here, they teach me words in Spanish, and I teach them words in English," Barr says. "It's gotten to where we can communicate pretty well with each other." The boys come in every week for a three-hour infusion. Over the past three years, the kids, now known as Tami's Boys, have changed immensely. "They used to hit, kick, and spit. Now they hug and blow kisses to people," Barr says.
But Barr's compassion doesn't stop when she goes home to her family. Not long ago, her daughter's best friend's parents passed away. Barr and her husband adopted the girl, taking their family to five. Just a year ago, the Barrs took in another teen abandoned when he was a child and living with members of Barr's church. His latest family was moving, and the teen couldn't go along. So, of course, Barr opened up her home. "I hate to see people suffer," Barr says. "I hate to see people scared."

Kathleen Andrews
Intensive Care
Twelve years ago, Kathleen Andrews was the bedside nurse to a football player who had suffered a head injury during a game. "He was just a mess," Andrews says. He had several infections, pulmonary and neurological issues, and blood pressure problems throughout the weeks he was in the hospital. "I went through it with the family, went through all that. I developed a great relationship with them." So great, in fact, that the family called her their adopted daughter. She felt helpless but did her best to keep the family informed of everything that was happening to their son, even if that meant answering the same question multiple times. "I think that meant a lot to them."
Andrews, nurse manager at Methodist Dallas Medical Center, still keeps in touch with the football player's family. She says her role as a nurse in critical care is to be there for all the families who come through. That's why she knew intensive care was for her. "I knew I wanted to be challenged and be busy and really enforce my critical care skills."

Mila Cruz
Cardiology
Fifteen years into her career as a nurse in the ER and ICU, Mila Cruz was feeling a little burned out. Around that time, a patient came in with locked-in syndrome. His wife was from Germany and had little to do with the family business. She couldn't drive and she didn't even know how to write a check. When her husband died, the woman was at a complete loss.
Cruz had a difficult time watching the events unfold. "It was hard for me to handle." She had to take a step away from the case. "That was the time for me to realize, 'You wanted to do nursing and that is what it is.' " 
Twenty-three years later, Cruz, 63, is still pursuing her passion for nursing and striving to make her department better by implementing a hand-off communication system and sitting on the governance board. She gives the best care possible to her patients—that's what made her choose her profession in the first place. "When I was a young kid, my father was in the hospital. I was so impressed with the nurse that took care of my dad," she says. "From then on, I decided I wanted to be a nurse." 

Cherie Adams
Orthopedics
When she was 6 years old, Cherie Adams got a doctor's kit. She was hooked. Today, the 54-year-old is a registered nurse at Baylor All Saints Medical Center. In 2001, she was diagnosed with multiple myeloma. Throughout her treatment, she continued to work. "I would use my lunch break and go down and do my radiation," she says. Though the schedule was difficult, for Adams, it was better than being at home where she said she'd be tempted to throw pity parties. At work, she was surrounded by people who were in worse condition than she was. The work took her mind off her own illness. 
Beyond her day-to-day duties of taking care of patients, Adams is one to always take the extra step. She brings in food for the staff, delivers gifts to foster kids during Christmas, and serves as the chair on the unit's shared governance council. 
Adams is now doing better. But her experience has made her an even better nurse. "You've been on the other side of it," she says of battling cancer. "You know how scary procedures and waiting for the outcomes can be. It helps you help them."

Mary Jones
Orthopedics
Kids break bones and pull muscles and tear ligaments, and most of the time, their injuries heal after treatment. The orthopedic clinic at Children's Medical Center sees 28,500 ambulatory visits each year, most of which result from accidents. But about 300 cases are not so straightforward. Kids with bone, muscle, and joint infections present a different story. 
"These are primarily musculoskeletal infections that require a multidisciplinary approach," says Mary Jones, the nursing team leader for the orthopedic department and program director for the Disease Specific Care project, the nation's only such program that coordinates the evaluation and treatment of such pediatric patients.
Jones organizes and leads patient care teams from orthopedics, infectious disease, general pediatrics, radiology, nursing, and social work. "Our goal is to streamline care, no matter where these patients are in the hospital. The nurses and the physicians know what to expect and how to treat so that there is consistent care," Jones says. "The idea is to get the parents at the bedside, but making it happen can be very challenging."
Jones has worked at Children's for 14 years, beginning on the medical surgical service. She moved to orthopedics three and a half years ago to assume her current role. She is a member and past co-chair of the Pediatric Special Interest Group of the American Academy of Ambulatory Nursing and has served on medical mission trips to Laos, Belize, and the Dominican Republic.
Get our weekly recap
Brings new meaning to the phrase Sunday Funday. No spam, ever.