There was enormous intensity to my father's final years. In his 70s and for most of his 80s, free of the need to make money, he returned to philosophy. He joined a philosopher's forum, a group of professors from the local universities. He loved taking them on, arguing the merits and demerits of pragmatism, structuralism, and phenomenology. When he delivered a paper on Arthur Koestler, the anti-Soviet literary intellectual, it was a proud moment, his bar mitzvah and college graduation rolled into one.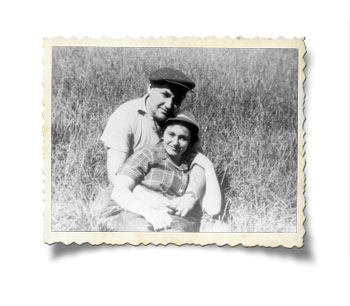 He also joined book clubs, choosing only those that read the classics. He reread Joyce's
Ulysses
—a novel I could not get through the first time I tried—Dostoevsky, Proust, and Faulkner. He devoured the Greek tragedies. His appetite grew for jazz and especially classical music. He developed a keen interest in the early modernists—Bartók, Stravinsky, and Shostakovich. He listened to his records at ear-splitting volume as he mock-conducted in the exuberant style of Leonard Bernstein.
Most moving of all, though, was his concern for his children and grandchildren. During a tough transition time in the life of my sister Elizabeth, he opened his heart and home to her and her children. He did so without complaint. And even though he himself rejected my sister's new-found Christianity, he understood its pivotal role in her life. He supported her spirit. He became a car-pool grandfather, driving his granddaughter Julia back and forth to Hillcrest High. He gave up much of his own hard-earned comfort to accommodate his progeny. He practiced sacrificial love.
In 2004, Dad was 88 when I invited him to my baptism at a black church in Los Angeles.
"That's ridiculous!" he cried. "Why in your right mind would you do something like that?"
"It's not in my mind to do it," I said. "It's in my heart. But I'll understand if you don't come."
"Don't come! Are you crazy? I wouldn't miss it for the world."
He was there like a bear. He dominated the reception with his heavy-handed views on theology, but I didn't care. It was enough for me to overhear his answer to a question from my minster.
"Given your background, Mr. Ritz," she asked, "was it difficult for you to sit through today's service?"
"Not at all," he answered. "I had to show my son unconditional love."
When Dad turned 90, I decided to give him a 10-day trip to New York, just the two of us. He'd never flown first class. This was my big chance to treat him. When we got on the plane, he wanted to know the price of the tickets. I wouldn't tell him.
"It's a gift," I said. "You're not supposed to know."
He looked around and saw empty seats in coach. "Let's go back there and sit," he said, always the child of the Depression. "You'll ask for a refund."
When I told him it was too late for refunds, he sighed, opened his copy of the latest Philip Roth novel and, while I slept, read for three hours straight.
At a luxury hotel on Lexington Avenue, we had separate rooms.
"We could share a room," he said, "and you'll save money."
"I'm not sharing a room with you. I'm indulging you."
In fact, my father was indulging me by giving me so much of his time. I wanted to show him off to my book editors. Both he and I loved hearing them say that he looked and acted 60, not 90. He regaled them with literary stories from the '30s and '40s. He talked them under the table. I could not have been prouder.
I took him to meet my agent, whose office was on lower Broadway. Looking around during our meeting, he wandered off. It seemed that he had lost his focus. I worried that something was wrong.
Finally he said, "I've been here before."
"Impossible," I said.
"You're wrong. I met your mother in this very room. This is the site of the hat factory where we worked."
Someone who overheard him happened to have a history of the building. From 1935 to 1952, Hutt & Wasserman Inc. was, in fact, housed in that very space.
Dad beamed and said, "That'll teach you to doubt me."
We went to jazz clubs and ate at the old Jewish delis on the Lower East Side. At the Museum of Modern Art, he sat before one of Monet's waterlilies for a good hour. When I finally asked him what he was thinking about, he said, "How I wish I was still in my 80s."
On my father's last trip to Los Angeles at age 91, I took him to hear jazz singer Little Jimmy Scott, whose biography I had just written. One evening in the faraway '50s, my father had driven me through the black ghetto of Newark, New Jersey, while he delivered pretzels to a bar where Jimmy was singing. That was nearly 60 years ago, but he and I never forgot that night. Now, in another lifetime and in another place, Dad and Jimmy spoke like old friends—the diminutive jazz singer and the former truck driver.
In his 90s, his body weakened but his mind was still sharp. He remained engaged in theological discussions—my sister and I failed in our nominal attempts to bring him to the beauty of Christ—and yet his heart softened as his compassion increased. Miracle of miracles, he became a better listener. When he moved to the Windsor Senior Living home on LBJ where he was loved and appreciated, he forged new friendships. His curiosity never waned. As a bona fide born-again Dallasite, he finally put aside philosophy in favor of sports. He read less and watched TV more. He followed the fortunes of the Cowboys, Rangers, and Mavs with unswerving dedication. He promised not to move to the other side of time until at least one of his teams won it all. When the Mavs came through in 2011, he claimed the victory as his own. I'd never seen him happier.
The last thing he read was an article I wrote last year for D Magazine about my indoctrination into the Dallas ad game as a young man.
"That was the first of your reinventions," he said. "The first of many."
In the end, like so many old folks, my father suffered a final fall, never to get up again. The last weeks were rough. His body, so sturdy for so long, quickly crumbled. In his room, my sisters spoke to him of rebounding, of finding a burst of healing energy that might give him another week or month or year. It wasn't meant to be.
He died in his sleep on a blistering hot night in July. I don't know why, but I couldn't weep then. It's still difficult for me to weep now. It's not difficult, however, to feel pain and confusion. I hate the feeling of not having a father. I hate that I can't get him on the phone to talk about the Cowboys game. I want to get in touch with him. I want to know where he is. I want to see him. I want to hear his voice. I want my father.
When I was a little boy, I had many fears, including fear of the dark and fear of killer monsters. When the fears became unbearable, I'd call him to my bed, where he slept beside me. I'd then silently challenge the monsters to come get me. They didn't dare. I had my dad between them and me.
Now I have only his spirit. Spirits are ephemeral. Like God, they are invisible and inaudible. In this material world, I seek to touch a garment made of spirit. I pray that his spirit touches me. I pray that my father—a good and decent man, a mensch who fought the frustrations of life and performed with a parent's sense of sacred duty—be remembered not as one who achieved but as one who struggled. As my friend pointed out, I honor him by struggling. Struggling to understand what I will never understand: the permanent fleeting nature of love and loss.
David Ritz, who began his writing career at D Magazine in the early '70s, has collaborated on biographies with everyone from Ray Charles to Don Rickles and is currently working with Joe Perry of Aerosmith. He lives in Los Angeles.

Get our weekly recap
Brings new meaning to the phrase Sunday Funday. No spam, ever.