"Ol' Piggy Clark said one guy had a full-page ad about a town meeting," Jerome Lednicky says. I'm in his office, with his wife, Lucille. Jerome has been the president of State National Bank for decades. "So he went up there, and he says the lawyer was up there, and the other six or seven people were from out of town." He means people who have lived in West for only a few years. "And a lawyer was asking them, you know, if any of them had any medical problems. And this one lady said, 'Well, yeah, about three years ago, I had to go see a psychiatrist' "—he and Lucille both start laughing—" 'and I think I might have to go again.' But, you know, they weren't even from here. So the people that are suing so far are either insurance companies or out-of-town people."
There have only been a handful of lawsuits filed in the wake of the explosion. And Jerome is right—they are all the work of insurance companies or "out-of-town people." Whether it's the right or wrong course of action doesn't matter. It's not the way things are done in West. Like Lucille says, "People around here take care of themselves." That means you don't sue your neighbors.
Everyone in town knows Wanda and Don Adair, who bought West Fertilizer Co. in 2004 when it was on the verge of closing. Don is a farmer, and Wanda used to be a substitute teacher and writes a column for the West News. Everyone in town knows the plant manager, Ted Uptmore Sr., too. The plant was only insured for $1 million, but that number is almost irrelevant. No one blames them for what happened. They don't care that the plant had a decades-long history of compliance problems with various governmental oversight organizations.
It was an accident. And no one knows exactly what caused it. Investigators from the federal Bureau of Alcohol, Tobacco, Firearms and Explosives and the Texas State Fire Marshal's Office have narrowed it down to a few things: an old golf cart parked in the seed building, shoddy wiring in the building itself, maybe even arson. It's unlikely they will narrow it down further, given that all the potential evidence is scattered as far away as 2.5 miles, and the people on the scene are either dead or don't remember anything after arriving at the plant. But even if they do, unless it points to Don Adair holding a gas can and matches, it won't matter.
None of the homeowners in Zone 3 are suing, except for Bridgett and Roger Bowles, who live two doors down from the Woodards. They filed their suit nine days after the explosion, asking for $1 million in damages. No one knows them well. Most of the people in the neighborhood weren't even sure what their last name was. They think they moved in from the Connally area four or five years ago.
They are out-of-town people.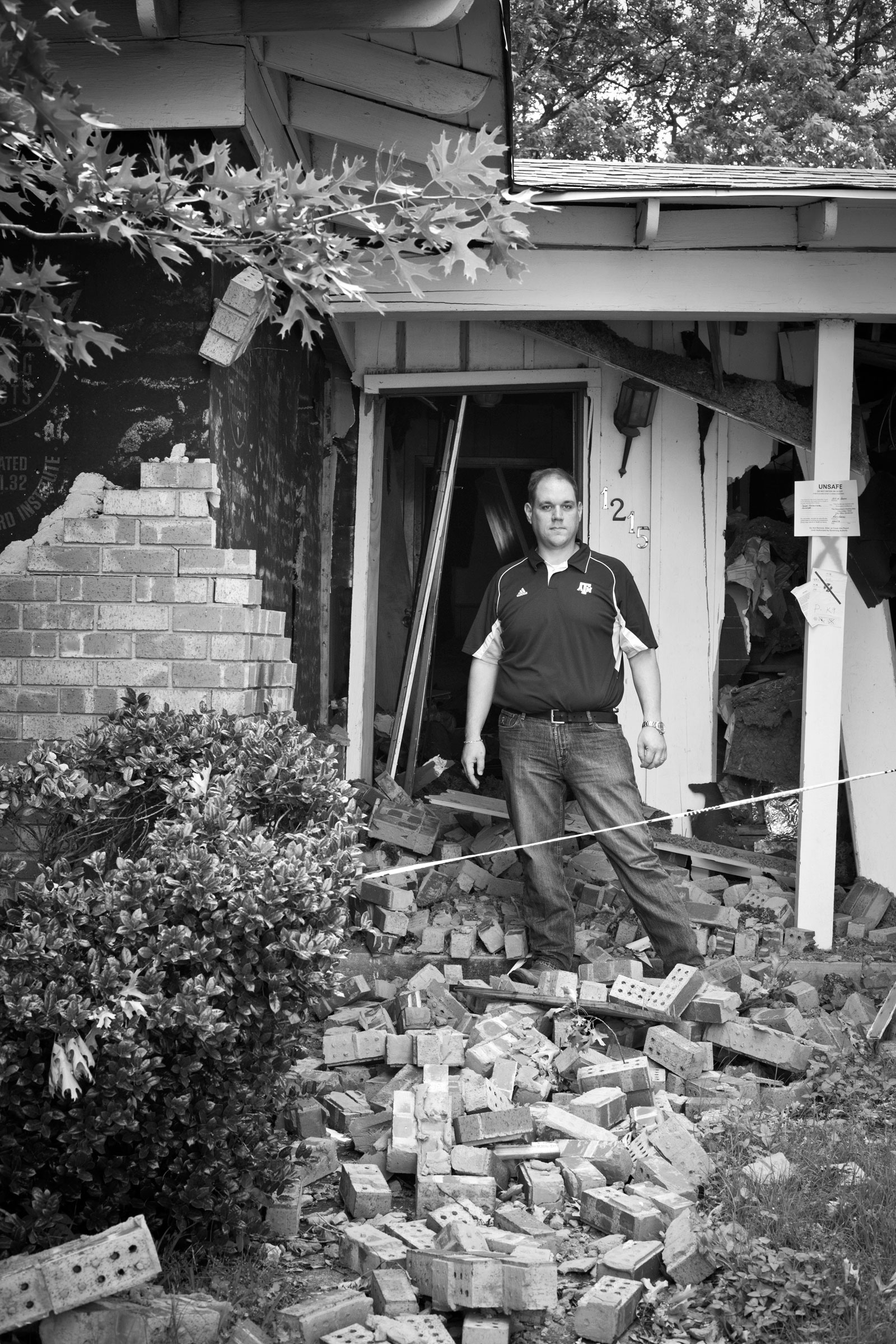 What I remember about Lucille and Jerome Lednicky's home is the smell of Jerome's pipe tobacco. I grew up with Mike, their youngest child and only son. We played in the open fields around the fertilizer plant, before houses started going in. Jerome and Lucille built their home on Reagan Street in 1964, when the only thing to the east of them was the plant.
On April 17, Jerome went into his backyard to see where the smoke was coming from. When he realized it was the fertilizer plant, he told Lucille they needed to get out of there. She grabbed her purse—because she was driving—and they took off in her Ford Expedition, leaving everything else behind. They drove south past a gathering crowd.
"There were so many people by the apartments, and cars," Lucille says, "cars just stopped and looking."
It's May 11 now, and Mike and I are in his parents' backyard with them. Jerome's shed is there, mostly still intact. His kids and grandkids have spray-painted NA ZDRAVI on the side. It's a Czech saying that means "to your health." They did it the first weekend everyone in Zone 3 was allowed back. Most of the homes on Reagan and Davis have something painted on them. Some just say KEEP OUT. Others say GOD BLESS WEST, 4-17-13. The Malers' house says RSP FOREVER on one side, and DÊKUJI WFD-EMT on the other. "Dêkuji" means "thank you" in Czech.
"That Saturday, we first got back in the neighborhood, and Daddy found his beer," Mike says. "We iced it down with some ice the Red Cross gave us. We were drinking in his backyard just like normal, and come to find out a lot of people did that. Like Ricky Wolf lives down there, Coach Wolf—Pat Wright said they were doing that that Saturday when they got done moving stuff out. They were sitting in Rick's backyard, drinking beer. It felt normal."
Mike and his sisters, Karen and Kathleen, are here, too, helping get a few more things out of the house before it gets torn down. Mike and his wife, Jill, moved back to West five years ago. They were in Houston at the time, and had talked about moving to West when their three kids were a little older. Then Jill, a doctor, got a job at Providence Hospital in Waco, so they left. Mike bounced around for a few years. He took a job near Fort Worth ("It sucked"), then a job in Waco ("It kind of sucked"), and finally found a gig he likes at the new power plant in Riesel, where he's the accounting manager. "I'm probably taking half the pay I was in Houston," he says. Being back in West makes up for some of it. They live outside of town, on 50 acres of family land.
We move around front. Jerome looks at what's left. "That roof is sagging more all the time," he says. Jerome used to sit on his front porch and watch the high school boys play baseball at the diamond across the street. He remembers one of the Sykora boys knocking out a window with a home run. They sent Steve Kucera over to retrieve the ball and apologize. "I said, 'Here's a dollar. Tell him to hit another one.' "
A steady stream of cars and trucks slowly drives by on Reagan Street. Some of them are here to help. People walk alongside with bottles of water for the residents who are working to clear out their homes. Another group comes by later with sausage sandwiches and chips bundled in plastic shopping bags. But many of them are here just to gawk. The ones who drive by are tolerable. It's the ones that stop. Mike had to chase off one woman who got out of her car and was walking up to his parents' home, filming with an iPad.
Charles Hutyra pulls over and walks up. Mike calls out, "Chuck Roast!"
"What's going on?" Charles asks. He has run for West sheriff for years, thus far with no success.
"Aw, we're just reminiscing," Mike tells him.
They talk about where people were and what happened, who got beat up a little bit.
"Well, Mrs. Rauschuber was in her damn front yard and didn't get hurt," Mike says. "She got blown back. She's 85. They said people who were outside fared better than, you know, inside they got—like ol' Steve Matus—"
"How's he doing on his eyes and everything?" Charles says.
"Jill saw him that night—they were triaging—and he said his eyeball was busted open, basically. So they think he lost sight in—Karen, did you hear how Fool was doing?" That's what everyone who knows Steve Matus has called him for years. "Can any of them see?"
"Yeah, he can," his sister, Karen, says.
"What about his wife?" Mike asks.
"His wife is blind, and the grandson can see."
"Is she gonna be blind for sure?" Charles asks.
"That's what they said." (We later learned Steve has partial sight in one eye, and is blind in the other. Brayden has partial sight in both eyes.)
Everyone is quiet for a while. Charles leaves, and Mike and I walk down Reagan Street, past the nursing home and the apartments, wandering toward my old house. This is the first chance I've had to come down here since the explosion. The last time I was here was in September, for my 20-year high school reunion. My parents moved to Waco eight years ago, so I took the increasingly rare opportunity to drive around my neighborhood. I lingered by the park, drove slowly up and down Reagan and Davis, remembering.
Like Brian says, no photograph does justice to what it looks like now. The facades have the jagged smiles of jack-o'-lanterns, their bricks and boards covered in dirt and ash, even after recent storms. Some are burned, others caved in, each exterior damaged in similar and unique ways. A few look salvageable from the front, but it's deceiving. A peek in the window reveals piles of drywall and insulation studded with the accumulated belongings of decades spent in the same home. And there is glass everywhere, scattered in yards and driveways, driven by the force of the blast into walls and door jambs.
Mike and I walk down to the end of Reagan Street, to my old house. It looks better than most from the front, but it has been marked for demolition like all the others. Upon closer inspection, it's easy to see why. The roof is warped and buckling, the sure sign of broken support beams.
We turn and head back, walking through the alley that separates the homes on Reagan and Stillmeadow. We pass where Brian Kaska lives with his wife. Their home burned down that night. They've been going through the ashes and rubble with a box sifter. They were able to find his class ring from Texas A&M, and that's about it. We finally end up at the park, close to the fertilizer plant, or what little remains. Two flags—of Texas and the United States—fly above the rubble. Mike gets quieter as we get closer. We walk past the apartments again.
"One of the firemen, C.J. Gillaspie, his son is on our T-ball team," Mike says. "He was there with Joey Pustejovsky." Pustejovsky, West's city secretary and a member of the volunteer fire department, was one of the first responders killed in the explosion. He grew up in one of the houses we just passed. "C.J. went to change the hoses, him and Marty Marak. That's the only reason they're alive. I seen him that Friday. I said, 'C.J., I was thinking about you.' He said, 'Well, I shouldn't be here, Mike.' And I said, 'Yeah, you should. You are here. There's a reason.' "
• • •
Joey Kolar was just a kid when I moved away from West. He lived two doors down from me. I remember him tagging along with his brother, Ray, and Kyle Hobbs, my next-door neighbor and de facto little brother. Kyle died in a car accident in 1996. That was the kind of tragedy West was used to dealing with.
We're at Joey's parents' house. He wanted to show me the damage it sustained, but mostly we just trade stories about growing up here—in West, generally, and on Reagan Street, specifically. That's how it has been with almost everyone I've visited in West. Sadness doesn't last long. They dwell on good times here, not bad ones.
"A lot of the things that I did or accomplished, I attribute to everybody that we grew up with around here," Joey says, "because you had so many older people that could show us younger bucks what to do, how to do it. That's something I try to tell people. To have a childhood growing up like what we did here. It was awesome, because you would have, at any given time, 15 kids around the same age, within three or four years of each other, out there playing football, doing whatever they could. Football, baseball, basketball, putting a purse out in the middle of the road and reeling it in, redirecting traffic with cones."
Not long after the explosion, Joey began planning a Reagan Street Posse reunion at the Knights of Columbus Hall, trying to get everyone back together. Many of them are still there, because West is a place where people come home to. Many of the people I grew up with are here. Some never left. Some came back after moving to bigger cities. I wouldn't be surprised if I end up back in West one day. No one would. I've lived in Austin and Dallas, at more addresses than I can keep track of. But there is only one place that is home. I didn't realize that until April 17, but I do now. Joey Kolar is right.
The explosion destroyed houses and businesses, but it didn't break West. West is built like a sedimentary rock formation, each new generation adding another layer. If anything, the disaster and its aftermath strengthened it, as the townspeople rallied around each other, looking inward for help and support, relying on the friends and neighbors they've known for decades. In the wee hours of the morning after the explosion, WFAA Channel 8 broadcast from an empty gym in Abbott. It had been set up to accommodate victims, but everyone in West had friends and family to take them in. No one showed up.
People in West move ahead in the stoic manner I recognize in my mother, and I now see in myself and my brother and sister. There have been fundraisers all over the state. Travelers have stopped at Czech Stop and donated more than $100,000 as they leave with their kolaches. But the people in West already have what they need. They have it in their front yards and after church and at Wolf's Sports Bar on Friday nights and the Knights of Columbus Hall on Sunday afternoons.
The fertilizer plant is gone, but they'll have each other forever.
Brian and Buck Uptmor constantly gave each other hell, the way brothers do. If one of them was frustrated with the other, he'd say, "You better quit talking like that. You won't have anybody at your funeral." The other would say, "Hell, I bet my funeral is bigger than yours."
"So, that asshole won that deal, I think," Brian says. He laughs and takes a long pull from his schooner of Miller Lite.
Since the neighborhoods around the fertilizer plant were reopened, when he's not working, Brian has been using equipment from his new job to help people clear out their homes. He did his grieving, in private, after the funeral. He's done. Now he's back to doing what he knows best. He's fighting a fire. This one is going to take a long time to beat.
"I mean, my brother's dead. You know? Ain't nothing you can do about that," he says. "What we can do is help the people who need some help. People ask me, 'What can I do? What can I do?' Man, hey, we had a great funeral. Everything's awesome. My family is taken care of. We have a house to live in. They all have clothes. There is hundreds of people that don't have a place to live. Don't ask me. I'm good. Let's help them, okay?"
Get the D Brief Newsletter
Dallas' most important news stories of the week, delivered to your inbox each Sunday.