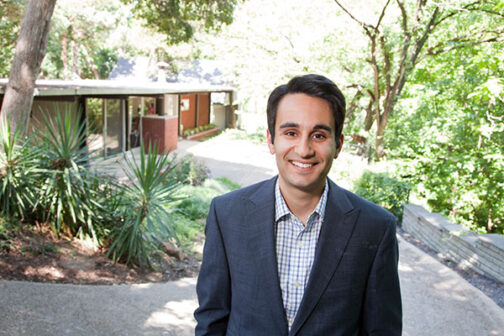 OAK CLIFF
The Neighborhood:
Oak Cliff/Kessler Park
The Sellers:
Mo Alturk and Lauren Leahy
The Objective: Time the hot market to cash out of a two-bedroom, midcentury modern starter home and upgrade to a larger house in either East Dallas' Lakewood or Lake Highlands neighborhoods.
The Sellers' Story: Mo Alturk and his wife, Lauren Leahy, bought their unique midcentury modern house in 2010, when the Dallas market was in a financial limbo—not quite up, not quite down. Just three years later, they started hearing that the residential sales market had loosed itself from limbo and started to soar. So knowing their long-term plans involved having kids, which would require more space, they called real estate agent Ed Murchison, who specializes in midcentury houses, and asked his advice. "Ed told us now was the time to sell," Alturk says. "He thought it would be a sellers' market." He was right. The couple put their Kessler Park home on the market in April, had multiple offers within a few days, and closed on a sale just 13 days after listing the property.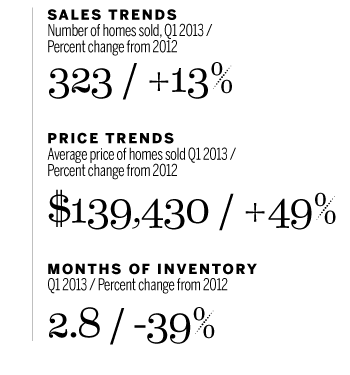 The Market:
Prices spiked higher in North Oak Cliff than in any Dallas neighborhood from the first quarter of 2012 to the same period this year. The average home price is up 49 percent in that period. The reasons for that are many, including the allure of the booming Bishop Arts District. But Steve Habgood, a partner with Hewitt & Habgood Realty Group in Dallas and a Kessler Park resident, also thinks the area is drawing buyers willing to pony up more cash because of the wide array of housing stock and a landscape unique to the Dallas area. "There are hills and trees here," Habgood says. "I'm looking at some right out my office window. And, in Kessler Park, there are also homes that range from $240,000 to $1.4 million within four blocks of each other. You don't find that in many other areas."
The Catch: Alturk and Leahy didn't find what they were looking for in the areas they wanted to buy in once they'd sold their Kessler Park house. "The flipside of this being a sellers' market is that, once you sell, you go to the buyers' side," Alturk says. "And it's not so good on that side. We had been out looking for a home every weekend from the time we decided to list our place—about three months. But we couldn't find anything that met our needs."
The Solution: How do you deal with a short supply of houses across the entire Dallas area? Add to the supply. Alturk and Leahy are doing just that. The couple recently bought a lot in Lake Highlands, in the Richardson Independent School District, and will build a four-bedroom house there over the next year.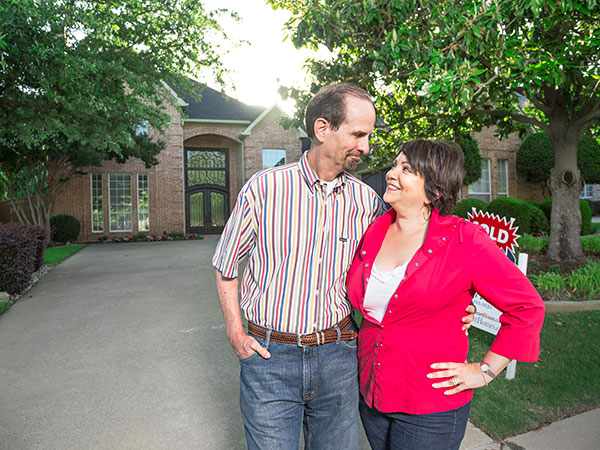 COPPELL
The Neighborhood:
Coppell
The Sellers: Jacqueline and Jack Eslick
The Objective: Find out if now is the right time to sell in Coppell, or if it is better to wait a year as the couple prepares for an eventual relocation in Michigan.
The Sellers' Story: The Eslicks have moved "something like 11 times" in their lives together, following Jack's career as a manager in the hotel and lodging industry. But they plan to make their next move—to a lot they've purchased outside of Traverse City, Michigan—their last. "We're building our dream house there," Jacqueline says. Still, the couple, who have a son at Texas A&M, wasn't ready to relocate until their daughter graduates from high school in Coppell next year. So they didn't know if they should put their home on the market now or wait. Laura Barnett, a real estate agent with RE/MAX DFW who specializes in Coppell, helped them decide now was the time. "Laura said that if we could find another place to live, now might be the best time to put our house on the market because sales were so strong," Jacqueline says. "So we did. And, in one day, we had two offers. It was crazy." It was also unlike anything the Eslicks had ever experienced in their prior moves—including selling two prior houses in Coppell. "It has never taken us less than six months to sell a house," Jacqueline says. "So we were prepared to be in the house for a while when we put it on the market. But the sign went on the front of our yard, and 12 hours later we had one offer, and the next morning another, and both were above asking price." For the next year, as their daughter finishes high school, the Eslicks are renting a townhouse in Coppell.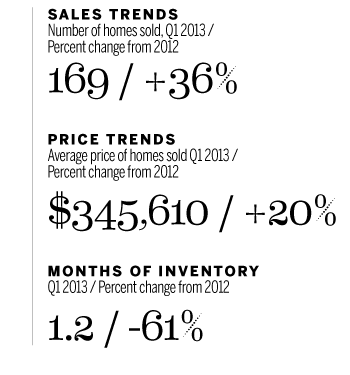 The Market:
Coppell can make a claim to the title as the Tightest Housing Market in the Dallas Suburbs. Sales volume—the total dollar value of all sales—was up 63 percent from the first quarter of 2012, a bigger gain than was posted in any close-in suburb. In fact, within the city, only North Dallas/Preston Hollow and North Oak Cliff posted bigger increases in sales volume. And, at the same time, Coppell's inventory of available houses has shrunk dramatically, down 61 percent from the first quarter of 2012. Only The Colony posted a steeper decline in that same time period. Take those two stats together and you get this: there are fewer homes available than last year, but the homes that are available are selling for a lot more money than homes sold for in Coppell last year. A sellers' market, indeed.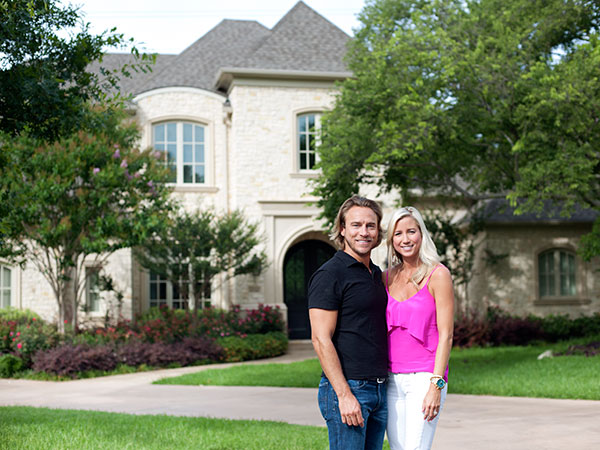 PRESTON HOLLOW/NORTH DALLAS
The Neighborhood:
Preston Hollow
The Buyers: Kim and Jed Hildebrand

The Objective: Find a home in a neighborhood where supply is low, demand is high, and prices have increased by double digits this year.
The Buyers' Story: She's a dentist, he's an orthodontist, and they both own smiles that would be perfect in a toothpaste ad. But until this year, Kim and Jed did not own a home. The couple, who has been married since 2011, have been renting high-rise apartments in downtown and Uptown. But this year, with their rent on the rise in part due to a resurgence in the condo sales market (see page 88), and interest rates at historic lows, the Hildebrands decided it might be time to move down from their deluxe apartment in the sky and into a house. But as soon as they started looking in Preston Hollow, they realized the search would not be easy. "I felt like a lot of the houses that were on the market—in good condition, and priced well—got snatched up almost immediately," says Jed, whom you might recognize from his stint on Survivor Thailand in 2002. "So it could be frustrating if you didn't stay on top of the listings every day." But that's exactly what the Hildebrands did. First on their own, checking sites like Realtor.com daily, then with their real estate agent, Clay Stapp, who runs Clay Stapp & Co. in Uptown. "Having a good real estate agent really helped our search. By ourselves, we cast too wide of a net. I felt like I knew every house that was out there. There were probably 50 to 100 that we were looking at. But we narrowed the search and played the waiting game."
The Market:
North Dallas/Preston Hollow is, by the numbers, the most hotly contested neighborhood in the city. Sales are up nearly 50 percent from the first quarter of last year, total dollar volume of those sales is up 74 percent—the largest increase of any neighborhood in Dallas or any of its close-in suburbs—and the average price is up 16 percent. Only North Oak Cliff, Oak Lawn, Garland, and Plano have seen bigger price increases.
The Catch: The median price is still down in North Dallas/Preston Hollow, more than 8 percent from 2008 levels. While the neighborhood is hot again, it's not fully recovered from the housing slump of the past few years. That means sellers should be cautious. Just because the market is up in North Dallas doesn't mean any house will sell fast. "Stuff that's priced well is selling," says Blake Eltis, a partner at the Carroll/Eltis Group, a real estate firm that specializes in Preston Hollow, Oak Lawn, and the Park Cities. "Buyers are not in a position where they're going to dramatically overpay for something. But we are seeing many well-priced properties, in good condition, with multiple offers."
Preparation Meets Opportunity: That's exactly what happened to the house the Hildebrands ended up buying. It had multiple offers. But when a contract fell through, they put an offer on it immediately. "Our agent, Clay, told us it was coming off the market, and we were there the same day it did," Jed says. "We had spent four months looking at houses that were not ideal for us, but we knew this one was. So when that property became available, we knew we had to move quickly. And we got it."
Get the AtHome Newsletter
Enjoy Dallas' best trends, hot properties, and tips from local designers to help you nest in style delivered weekly.