The model isn't West Dallas Investment's plan; it was created by urban design students as a vision for the area. It also isn't the only vision that has been proposed. The West Dallas Urban Structure and Guidelines is a planning document that was created by the CityDesign Studio, a publicly and privately funded urban planning organization that offices in City Hall, over the course of a year with input from neighbors and stakeholders, including West Dallas Investments, and adopted by the City Council in 2011. Like the model, it lays out a vision for the area that includes a mix of high-density commercial uses and urban neighborhoods. It shows development that spans the railroad tracks (a commuter rail connecting Dallas to Fort Worth using the tracks through West Dallas is included in the North Central Texas Council of Governments 2035 Mobility Plan) and spills from the West Dallas Investments' property into the West Commerce corridor continuing all the way to Interstate 30.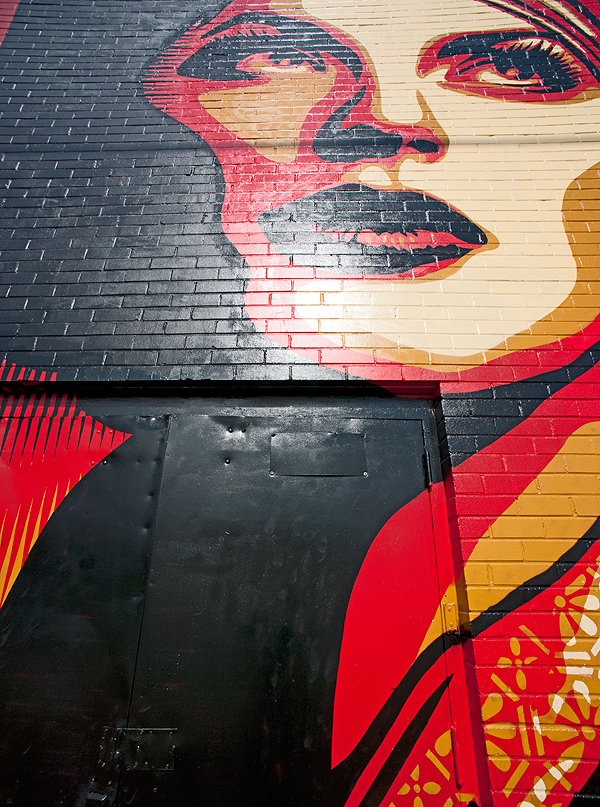 On the walls of the office, there's a third vision, West Dallas Investments' own renderings of its future development. Pictures show warehouses retrofitted with restaurants and retail shops, wrapped with four- and five-story apartment buildings, streets and pedestrian corridors teeming with cartoonish renderings of happy visitors to the new West Dallas. "We're going to be the gateway to West Dallas," Romano says.
All of these renderings are still fantasies. When
D Magazine
went to print in late November, not a single multifamily development deal had been inked. But the trio insists they are close. Romano says developer Robert Shaw, a key figure in the development of State Thomas, is looking at the project. Fitts says a developer is looking to invest heavily in the vision, rolling out 10 phases of 300-unit apartment buildings, the first breaking ground before the end of 2013.
West Dallas Investments isn't your typical land speculator. They want to stay involved in the development of West Dallas long term, not just by flipping their accumulated lots to developers, but staying actively invested in the projects, making sure, as the characteristically self-reliant Romano puts it, "it is done right." Appropriately enough, the first phase of Romano and company's "right" urban development is a restaurant project.
Before bringing in the property developers, West Dallas Investments is trying to make West Dallas attractive, to "add value," by making it a hot dining neighborhood. Romano's idea is a concept he is calling a "restaurant incubator." The biggest obstacle that faces a chef or a budding restaurateur that dreams of opening his own place is often finding capital. There's rent, the cost of equipping a kitchen, funding staff salaries, etc. At Romano's incubator, called Trinity Groves, Romano and a team of investors (separate from WDI) will survey applications for new restaurant concepts. If they like an idea, they will put up the cash to open the concept in West Dallas. They will even forgo rent in exchange for 6 percent of the sales. In return, the investment group will own half the restaurant.
The catch: each restaurant idea must be scalable. If a restaurant concept in the incubator works, then the Trinity Groves investors stand to make a bundle franchising it out across the country. If it doesn't work, then it will be swapped with another fresh idea. Romano calls it a win-win for the investors making a return on their initial investment, for the young chefs who get a shot at opening their own place, and for the neighborhood, which will be continually cycling through the latest trendy eateries.

The idea has already proven attractive to potential restaurant operators. Trinity Groves has about 20 spots to fill, and already more than 200 applications have flooded in. The first two spots, Babbs Bros. BBQ and Hofmann Hots ("Which will do for the hot dog what Fuddruckers did to the burger," Romano says), are open. Romano says a production company in Los Angeles has also reached out to him expressing interest in shooting a food-themed reality TV competition show at the restaurant incubator.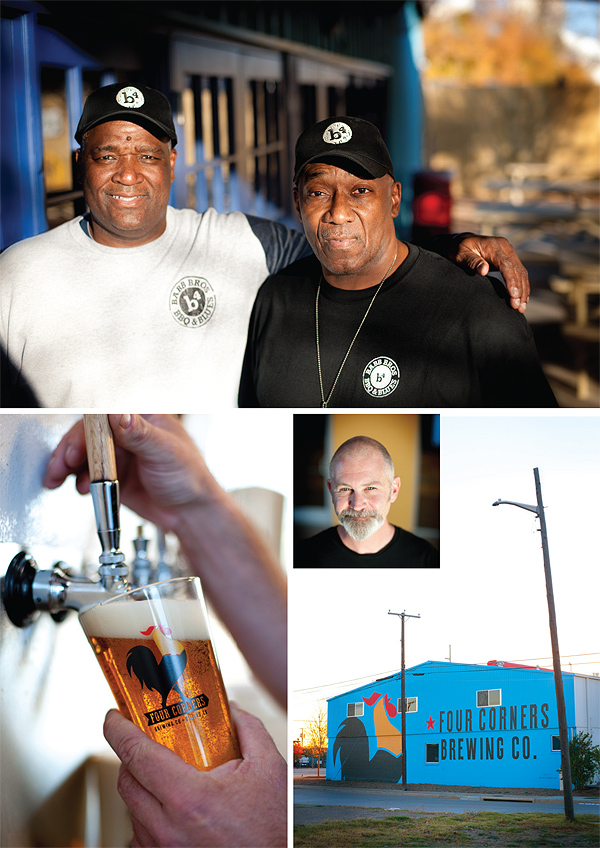 In addition to dining, West Dallas Investments also wants to attract compatible amenities like art and theater. They have already deliberately sought out arts groups, knowing that creative types are often the first to settle an on-the-edge area of a city. Art collectives and avant-garde theater groups have already staged shows and exhibitions in WDI's empty warehouses, and The Dallas Contemporary commissioned the well-known street artist Shepard Fairey to paint murals on some of WDI's buildings featuring two contradictory, ironic commands: "Rise Above" and "Obey."
In a way, Romano and his partners are taking an upside-down approach to the typical development model. Usually restaurant and retail proprietors want to see roof counts before they test the waters in a new neighborhood. Here the amenities are coming in first, with the hope that the people attracted to them will eventually want to move in next door. On the other hand, the model isn't as new as it sounds. Trinity Groves sits on vacant land at the end of a new highway connection. West Dallas Investments has come in, developed parking lots, and finished out spaces for retail storefronts. It's similar to the way countless highway interchanges have spurred adjacent development in North Dallas.

"Now we have money and developers coming out of the woodwork saying, 'Hey, we like this,' " Romano says.

The challenge for West Dallas, then, may be making the other elements of the project, the long-term vision—the apartments and offices that make up the dense, urban, walkable future city—spring from the ground in a way they haven't in nearly every other section of Dallas.
On one of the first cold nights of the fall, just before Thanksgiving, the levee at the edge of the West Dallas neighborhood of La Bajada is lit up with glowing tents, a shipping container repurposed as a gallery, and a floodlight that shines out on a mat of straw stretching down the levee toward the river. Children brandishing thin sheets of plastic throw themselves onto the straw and race down the levee face. Nearby, an old black-and-white photo shows kids in ragged pants and oversize plaid shirts also skidding down the levee on the scattered straw, revealing that this is a sport indigenous to La Bajada.
The event, called POP Dallas: Neighborhood Stories, has been staged by bcWorkshop, an urban design-focused nonprofit that received a National Endowment for the Arts grant to stage six such events highlighting the history of—and fostering a sense of community in—overlooked Dallas neighborhoods. The head of bcWorkshop is Brent Brown, an architect who is also the director of CityDesign Studio. Brown has been intimately involved in West Dallas for more than three years. He helped lead the drafting of the West Dallas Urban Structure and Guidelines, which now directs city policy on the development of West Dallas. He was also engaged in last summer's efforts by La Bajada residents to pass a Neighborhood Stabilization Overlay (NSO) ordinance, which would limit the height and function of structures in the working-class residential neighborhood adjacent to the West Dallas Investments' land holdings.

The NSO passed the City Council in September 2012, but the struggle to adopt it left a lingering distrust between the neighbors and West Dallas Investments. Each war story from the NSO fight has two faces. A job opportunity offered to a La Bajada resident by the investors looks like a bribe to the neighbors; a push to change the proposed NSO boundaries to incorporate more single-family homes by the residents feels like a breach of trust to the investor group. WDI says they never had any intention of building in La Bajada, but words like "bullies" and "liars" circulate through the neighborhood. In a documentary about La Bajada history bcWorkshop produced for the event on the levee, Ysidro Huerta, who has run Huerta's Garage on Singleton Boulevard since the early 1970s, chides the developers. "They asked me to name my price, and I said, $4 million," he says with a defiant chuckle.


Now that the dust has settled on the NSO, most of the La Bajada residents I spoke to say they have confidence it will protect their neighborhood from erosive real estate speculation. But the conflict between West Dallas Investments and La Bajada also highlights how hard it is to quantify the value of a neighborhood, and for some, the experience of living on the street on which you grew up, next to people you have known most of your life, who share the stories of your past, has no price. Fifteen years ago, Eva Elvove, a La Bajada resident who headed up the NSO petition, moved back into a house her father paid $9,000 for in the 1950s. It is the home she grew up in, and it now sits mortgageless, sheltering her two mentally handicapped brothers, in a neighborhood where everyone on the block knows that the brothers can sometimes wander out and get lost—or into trouble.
On the top of the levee, I chat with Ruben Rangel, a middle-aged man who grew up in La Bajada, and he tells me about the two old men he knew in the neighborhood when he was a boy who were said to have ridden with Pancho Villa. He also shared stories about runners who would crouch on the levees listening for the squeal of Bonnie and Clyde's car racing across Commerce Street Bridge, about the bags of money that would fly out the windows of their car to waiting neighbors. As we chat, a woman comes up to Rangel and tells him his brother, who led a Latino gang in the 1970s, once saved a man's life. Rangel later tells me his brother died in a car wreck.
As we talk, Ruben hands me a brochure he has been passing out about the city of Dallas' home repair program. Now that the NSO fight is over, community organizers are turning their attention to fixing up the homes they fought to protect. For all the bitterness of the dispute, it has sparked newfound enthusiasm for preserving the character and history of the neighborhood. In that way, La Bajada is also a reminder that the task of real city building—the forging of neighborhoods with character, texture, and a shared sense of identity—takes generations.

There's a new fight brewing over West Dallas. Late in 2012, West Dallas Investments submitted an application for a Planned Development District, or PDD, a request for a wholesale rezoning of the area. Even though the CityDesign Studio's West Dallas Urban Structure and Guidelines was adopted by the City Council as policy, that plan does not affect zoning. The problem is, WDI's PDD application differs in some key ways from the Structure and Guidelines document.
Speaking with the West Dallas Investment partners, it sounds like some of the key discrepancies between the PDD application and the West Dallas plan—such as the desire to transfer unused building rights between spots on their property, or to waive the requirement to plat—may be intentional. Romano and company want the most permissible zoning possible, because the ability to build big and dense in the long term, they argue, will attract more development interest today.
But CityDesign Studio's Brent Brown says that offering broad zoning entitlements would lead to development in West Dallas that wouldn't fit a proper urban pattern. "Most developers will say, 'Don't tie my hands because I need to have flexibility,' " he says. "You need flexibility over time, but in order to secure performance, you need specificity to make sure it is going to be built."
That specificity, Brown says, is provided by the West Dallas plan, which dictates that zoning permission must be "measured and strategic," so that it doesn't artificially increase expectations of land value, which could prevent incremental and organic growth.
But Romano argues that developers won't bite unless they know they will be able to realize the maximum potential of their investment from day one of the deal. "You take that attitude and nothing is ever going to happen down there," he says of Brown's insistence on incremental zoning. "We can't get big developers money to get funded if you say you can put only four-story buildings down here. And if you want to build more than four-story buildings, then you come to us and we'll decide whether you can build eight-story buildings. They'll say, 'Bullshit. See you later.' And you're going to see the economic impact that is going to be missed by Dallas."
It's a threat familiar to City Hall, and it's also an attitude that cuts to the heart of Dallas' attitude about the role of municipal government in fostering city development. Do we remain "business friendly," removing any and all obstacles to developers so as to entice economic investment, or do we leverage the tools of government to make sure the taxpayer investment in West Dallas—$10 million for a pedestrian bridge, $1.8 million for a gateway, $28 million invested in the bridge, plus millions in potential Tax Increment Financing subsidies—doesn't just produce economic impact, but helps shape Dallas into the city its citizens want it to become?

But perhaps zoning isn't Romano and company's biggest obstacle. While demand for a spot in his restaurant incubator and one-off events like concerts have proven that Dallasites are willing to cross the new bridge to play in West Dallas, convincing the young, urban-minded people Romano's team wants to live there is still an unproven goal.

"One of the things I noticed working in Dallas over the years is no one has a very clear understanding of scale," says State-Thomas planner John Gosling. "They were trying to create intense and exciting urban environments, but they were either in the wrong location or talking about too many acres. West Dallas, by any definition, is not urban. It is almost like rural Mississippi. It is the last thing from urbanity."

When Romano talks in his slurring, en-dearing upstate New York accent about wanting to do it right, about his sense of stewardship of the city, about how they want to wait for the right developer before acting, you can't help but take him at his word. But wanting to do something right and actually getting it right are entirely different things. At this point, the strongest indication that WDI may get things right in West Dallas is the patience it has exhibited during its eight years operating in the area. It's when developers get greedy and antsy that the temptation of an immediate return on investment stains the urban landscape for a generation or more.

Winding through streets like Herbert and Bataan, past smoking barbecues in the front yards of ramshackle bungalows, loitering neighbors chatting on a street corner, wandering stray dogs, or open workshops where carpenters carve custom furniture, a visitor can see that West Dallas is still marked by the development decisions made more than a century ago that turned this area into an industrial ghetto coupled with egregiously underserved working-class neighborhoods. And yet driving through West Dallas, you also feel the pace of the place, an ease, a slowness, and, despite its rough-and-tumble past, a sense of tranquility. It makes Gosling's comparisons to rural Mississippi seem like scant hyperbole.
There is change. I stop in at the new Four Corners Brewery, right across the street from WDI's offices, and the brew master is taking measurements on a resting mash. In the wood-paneled tasting room, I sample a half pint of a malty amber ale and stare out the brewery's garage door, thrown open to the street that runs past a lot of banged-up cars. It is quiet and still, save the occasional banging of the brew master's steel spoon on the hollow mash tun and the soft murmur of cars on Singleton 100 yards away. I can't shake the feeling that as much as this brewery—like those smoking ribs across the street or that pale bow of white steel marking the sky up the road—are harbingers of change in West Dallas, West Dallas seems to be having its own kind of quieting effect on them. Right now West Dallas is a place caught in a moment in time, not the urban vision of the future, and it's still infected with a palpable and lingering sense of the past. Perhaps the secret of its success will be for those two visions to learn, like La Bajada and the West Dallas developers did, to coexist.
WRITE TO [email protected].
Additional reporting by James Williford.
Get our weekly recap
Brings new meaning to the phrase Sunday Funday. No spam, ever.