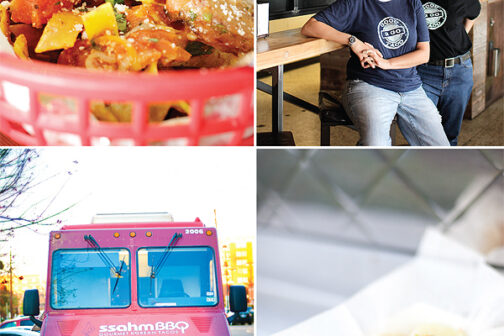 10. Good 2 Go Taco
There isn't another Dallas taco operation as universally beloved as Good 2 Go Taco. From its origins as a gas station taco counter at the ecofriendly Green Spot to its large reclaimed-elements appointed space shared with Cultivar Coffee, Good 2 Go, owned by Jeana Johnson and Colleen O'Hare, has consistently offered inventive, high-quality tacos.
The SoCo, a Southern breakfast in a flour tortilla, can send you back under the covers for biscuit-cushioned dreams smothered in sausage gravy. The Honey Bear is a happy parcel of honey-chile bacon with a fistful of spinach, scrambled eggs, and goat cheese. The Hotlanta is a popular item. It's fine with waffle-battered chicken, sweet potato, and honey butter, but it's no meat and potatoes capped with roasted tomato Hollandaise sauce—like the Paris, TX.
Either way, request an extra tortilla for the special of the day, whatever it is.
11. Revolver Taco Lounge
As proletarian as La Banqueta is, Revolver, in Fort Worth, is refined. Sort of. Anchoring the West Seventh Street entertainment district, this eating establishment from Chicago by way of Michoacán, Mexico, offers restaurant-goers and barhoppers elegant renditions of home-cooked standards. Inlaid firearms appoint the bar, while a design scheme of orange, white, and pale wood lends a mod, upscale ambience to Revolver.
Among the tremendous tacos are the requisite carnitas and the stunning huitlacoche. The latter, fungus that erupts from the kernels on the cob, is often referred to as corn truffle. Nestled in a white corn tortilla made in the restaurant's kitchen by owner Regino Rojas' "abuelita smock"-wearing aunt, huitlacoche is mild and ripe, mixing a bouquet of fall dew with salty queso fresco.
Pico de gallo gives the packed threads of carnitas a spicy nudge. It's not perfect, though. More crackling nibs to offset the tender meat would make the iconic taco from Michoacán a knockout exemplar of the dish.
If you want to go highfalutin, go for the duck taco with roasted poblanos. It also comes with a side of sticker shock. Four will set you back $20. Otherwise, go with the huitlacoche.
12. So-Cal Tacos
Scott Wooley knew exactly what he needed to do after surviving cancer: open a taco truck. "I was sure I was going to die," he says. "So when I beat it, I saw cancer as a springboard to fulfill a dream." So-Cal Tacos, the realization replete with surfboard, rolled onto the streets of Tarrant County in October 2011.
Since then, it has ridden the wave of fish-taco popularity. Deservedly so. The San Diego Classic is fried, flaky, and spicy. Texturally, it's complex. But, really, it's about comfort. An excellent fish taco like So-Cal's makes you feel good, a beach bum's respite for your taste buds and stomach.
Other lively choices include the sweet, pink curls of shrimp given a cabbage and crema cover as well as the traditional West Coast burrito. Though the chicken gets an A for effort—poultry is easily botched—it's been inconsistent from visit to visit.
If you order sopapilla fries with confectioners' sugar and honey, eat them first. The dessert cools quickly and becomes sticky, ashy, and leaden. Free with every order: the sincerest of high-fives from Wooley himself.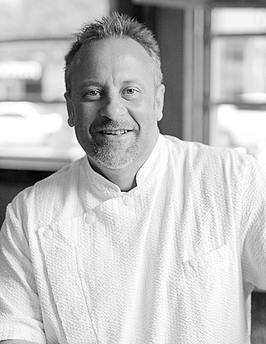 13. Rusty Taco
Rusty Fenton, owner of this SMU-friendly taqueria housed in a former auto mechanics garage, once told me he never planned to expand beyond the original Greenville Avenue location. He just wanted a little restaurant that would provide first-rate tacos and a decent living for his wife and daughters. I want to believe the affable Fenton. But I find it difficult to believe that a restaurant industry veteran would be content with one humble outfit.
The Baja-style shrimp taco's crunchy-and-spicy punch (a result of the interaction of the fried breading and chipotle crema) and the sly smokiness of the top seller, the brisket with queso fresco, make it even more incredible that Fenton never planned a chain. Because that's what he has, more than two years after opening the first store. There are five local outposts and two franchises in Minnesota.
The breakfast tacos are respectable morning jumpstarts, especially the chorizo and egg. The only adjustment that could improve Rusty's version would be to cook the components together. Also commendable is the cheese. A bonding agent as attractive as what I call a fiesta blend (cheddar and Monterey Jack cheeses) is something we need more of.
14. Ssahm BBQ
Andy Park, Oh Kwon, and Ssahm's staff have given Dallas top-notch Korean-Mexican fusion (Korean meat preparations with twists on staple condiments and garnishes in tortillas). It wasn't always so. The taco truck started out a bit shaky, marred by inconsistent tortillas. Sometimes they were greasy discs. On other visits, the center of the tortilla was soft, almost translucent, with a desiccated edge. It didn't take long for the Ssahm team to find its footing and garner enough success to unleash upon our streets a second rig.
At both, customers will find hearty kalbi (short rib) and mild daeji (pork). The $3 6-inch tacos come piled with a sesame-soy vinaigrette slaw, caramelized kimchee, kicking salsa roja, a spirited mayo, as well as the requisite cilantro and onions. Ddak (chicken) and dubu (tofu) are also available.
The kimchee fries, a basket of edible bottle rockets, ought to be tacked on to every order.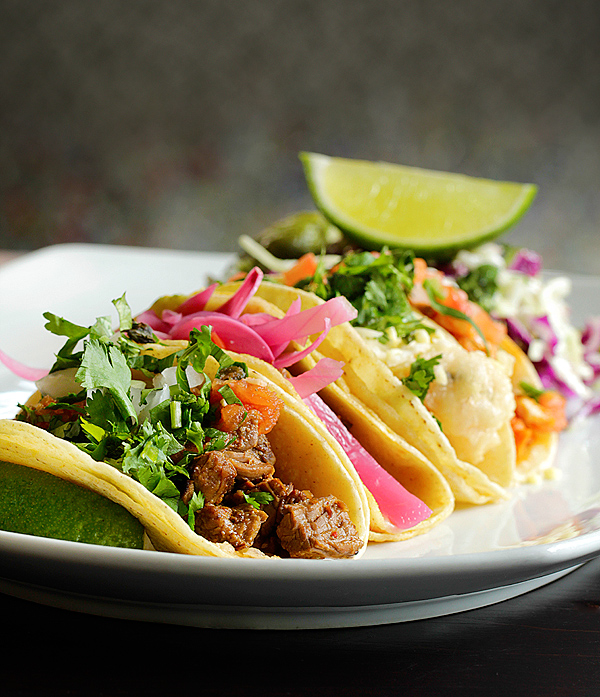 15. Lazaranda Mexican Seafood Grill
Addison is a culinary EPCOT. The small burb north of Dallas offers diners noshes from seemingly all corners of the earth, including a branch of the Mexico-based Lazaranda seafood chain. Named after the flat grilling implement often used to keep fish and vegetables in place, the restaurant is open and punctuated with portraits of Mexican painter Frida Kahlo.
The lobster, sweet and complex, with rice (a signature element of many of Lazaranda's tacos), refried beans, and avocado, is the best of the lot, as would be expected of such a restaurant. The taco comes in a flour tortilla, preventing the likely cloying assault a corn tortilla paired with the shellfish would provide. Cochinita pibil is a punchy choice. Baja-style shrimp is a sterling example of the style, adding a smear of beans to balance the sweet-spicy combo of shrimp and sauce. The chicken mole, however, skews dry. It could do without the absorbent rice.
Don't get creative. During one visit, my dining companion and I had the kitchen turn the blue crab enchilada into a taco. It was a terrible idea—fishy, sweet. The chefs know what they're doing, and you shouldn't tinker with their talent.

16. Wild Salsa
Wild Salsa had been open for a few months when I, heavy with doubts about Dallas Restaurant Group's take on a Mexican restaurant, dropped in to find a joint given a hokey Día de los Muertos design along with classic and classy tacos at reasonable prices (between $2.50 and $3.50).
Presented open-faced on Rudy's tortillas, the offerings from executive chef Kelly Hightower's kitchen are a diminutive bunch with several standouts. Pickled onions temper the saltiness dominating the lengua, braised for hours in chile morita (a type of chipotle, which is a smoked and dried jalapeño). The large pieces of al pastor are an earthy, oven-roasted filling under a pineapple pico hillock. Though the barbacoa is given first-class treatment with a beer braise, chipotles, and sweet-spiking onions, it's boring next to the mushroom taco, with a surprising salt slap provided by the sticky queso fresco. The rest of the taco is a delight, with rajas (slices of roasted poblanos) and seasoned with epazote, a weedlike, love-it-or-hate-it herb. The chicken tinga, administered a chipotle rub, was decent—by no means a failure—but the lengua and mushroom are hard acts to follow.
17. Gonzalez Restaurant
Cal-Mex's application of the assembly line concept revolutionized tacos. No longer did a fry cook need to make a crunchy taco to order. Industrialization turned this taco style into a fast-food abomination. Thankfully, some restaurants have resisted the temptation of convenience. Gonzalez Restaurant, along Oak Cliff's Latin American commercial strip, is one such establishment.
The crispy taco's pale shell, covered in air bubbles, is still warm when it reaches the table. Give it a minute to cool down. Then, bite down on half of it. What pieces of savory ground beef, lettuce, tomato, and cheese—not to mention fried tortilla—fall to the plate improve the adequate rice and refried beans.
A word of caution: prepare for a long wait on Sundays. Gonzalez is popular with the after-church crowd put off by nearby storefronts with chipped paint and window bars harboring other fantastic tacos.
18. Rock and Roll Tacos
Every city needs a straight-up taco truck—or 15—and ours found one in Mary Ann and James Quiñonez's mobile concern. The tacos, served in house-made corn tortillas, are an unpretentious lot inspired by family recipes. Rock and Roll's grilled fish taco, spiked with paprika, red and black pepper, celery salt, and a mix of other spices, then dressed with a lime-poblano sauce, inspired me to accept fish tacos. The crackling exterior of the fried carnitas keeps the juicy interior snug. The barbacoa is mellow, not dry. Neither is the chicken, which is given a gentle kick with chipotle.
In June 2012, the Quiñonezes opened a counter-service brick-and-mortar base in the Deep Ellum music venue called La Grange, which allowed for an expanded menu, including entrées and a salsa bar set into the bed of a 1954 Chevy pickup. It closed three months later. However, the owners plan to open a new space on Main Street. Whether it will be an improvement is anyone's guess. So, stick to the truck. Order the fish. Order the carnitas.

READ ABOUT JOSÈ RALAT-MALDONADO'S SEARCH FOR THE PERFECT TACO AT THETACOTRAIL.COM. Two restaurants (Taco Republic and Cafe Maya) that appear on this list in the February 2013 issue of D Magazine closed between the time the article went to press and when it appeared on newsstands.
Get our weekly recap
Brings new meaning to the phrase Sunday Funday. No spam, ever.