Julian Barsotti's decision to open Carbone's was inspired by his great-grandfather, Angelo Pasquale "James" Carbone, who was born in Naples and immigrated to the United States in 1898 when he was 8 years old. In the late 1920s, Carbone was a waiter at Gallagher's Steakhouse, in Manhattan, the restaurant and speakeasy frequented by gamblers, show business people, gangsters, and thirsty customers looking for a cocktail during Prohibition.
In 1933, Carbone opened Jimmy's, a small Italian deli and grocery shop at the corner of 46th and Broadway. In 1941, he renamed it Carbone's Fine Foods & Liquors and moved his business to Harrison, New Jersey, where it remained open until 1995.
Barsotti grew up in Dallas eating Italian-American food. His grandmother's Sunday suppers included handmade lasagna, a marvelous Southern-style pot roast, and a bowl of creamed corn. His grandmother on his father's side lived in Memphis. At Thanksgiving, she served a traditional turkey dinner with a large pan of lasagna. 
Barsotti had already completed one rags-to-riches restaurant success. In late 2007, he opened Nonna (the Italian term for grandmother), an upscale Italian-American restaurant on the edge of Highland Park, with little money. He installed a wood-burning oven and made Neapolitan-style pizzas before Jay Jerrier came to town. Barsotti sourced local ingredients and took a no-shortcuts approach to making pasta and charcuterie. Italian food lovers, starving for something more than marinara sauce, processed mozzarella, and oregano, flocked to Nonna. The cash register hummed.
Bolstered by success, Barsotti set out to fill a niche in the Dallas market. He would create Carbone's, a casual delicatessen with counter service and a small retail space filled with Italian products and wine.
He stuck with his methods of creating simple, high-quality Italian-American food. There would be no sauce from a can or pasta from a box. The deli counter would be full of homemade salumi, sausages, pastas, cheeses, and sandwiches. Barsotti would stock the grocery shelves with Italian-American foods and sell containers of his sauces and bags of his dried pastas. On Sunday nights, Barsotti offered a seven-course tasting menu.
Carbone's opened in April 2012. Six weeks into the business, Barsotti knew he was in trouble. "I dicked it up at the beginning by trying to do too many things at once," Barsotti says. "I was so fired up to do something cool like that, but it didn't work as a business."
The cavernous space was a confusing maze. The first time I stepped inside, I was startled. The products on the grocery shelves were few and far between. It looked like the place had been raided. After I scored a meatball hero, I couldn't find a place to sit. By the time I got it back to my office, the sandwich was cold. Even the store's schedule was perplexing. There was counter service at lunch and table service in the evening. The shop was closed in the middle of the day. And then there was Barsotti's elaborate, seven-course Sunday supper.
"I worked at Nonna six days, and on my one day off, I set myself up to come up with a seven-course tasting menu," Barsotti says. "I was stressed to the point where it was wreaking havoc on me and my wife. I had to turn it around, or I would have gone out of business."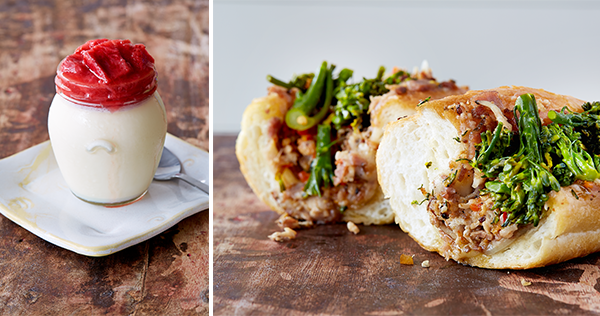 One year later, Carbone's is the finest Italian-American joint in Dallas. Barsotti and his team, which includes chef Jonathan Neitzel, have not stopped evolving and improving. The counter service is gone, except for to-go orders, and the room has been filled with tables. A good portion of the grocery section was removed and replaced with a 10-top table designed by Robert Bellamy. The menu is small, approachable, and the majority of the items don't change. It wouldn't be an Italian-American restaurant without classics such as spaghetti and meatballs, eggplant parmigiana, St. Louis ravioli, linguine with shrimp scampi, and grilled sausage and cannellini beans. The Sunday supper has been trimmed down to four courses.
The pasta at both Nonna and Carbone's is like no other in Dallas. Both restaurants are equipped with La Monferrina P3 pasta extruders and bronze dies, the changeable tips on the machine that turn durum semolina pasta into different shapes (spaghetti, ziti, rigatoni, fusilli, bucatini, and lumaconi). Barsotti picked bronze over the cheaper and more commonly used Teflon dies because it creates a rougher, frayed surface for sauces to cling to; smoother pastas let it slip right off. He doesn't skimp on the quality of the flour either. He buys only freshly milled durum wheat.
Juanita Cruz, the pasta maestro, pays equal attention to the egg pastas, which are made with powder-fine "OO" flour, water, and egg yolks. All of the lasagna, ravioli, agnolotti, linguine, fettuccine, pici, and pappardelle pastas are rolled and cut by hand. Eliminating the egg whites creates a tender, more resilient texture.
One bite of lasagna was all it took for me to appreciate the labor-intensive pasta. The beige, almost yellow, hue of the noodle is a familiar sight in southern Italy. Sheets of pasta are layered with house-made ricotta, ragu Bolognese with remarkably little tomato, and Grana Padano cheese. The dish is light and luscious, unlike many bechamel or cheese-laden versions found all over town. You can consume a full order of this lasagna ($16 at lunch; $17 at dinner) and not feel as if you've swallowed a boulder.
The meat dishes are equally intense. Chef Neitzel is serious about charcuterie. He orders primal cuts of pork and butchers them down into mortadellas, porchetta, sausages, and salames. The sausage is made with Berkshire pork shoulder and back fat, and seasoned with wild Sicilian fennel seed, garlic, pepper, and wine. Two 6-inch grilled links are served with a simple side of cannellini beans braised in tomato sauce. On one visit, the beans were firm; the next time, they were a tad mushy.
Meatballs are the heart of the menu. Firm strands of spaghetti are tossed with marinara, set in a shallow white bowl, and surrounded by six golf-ball-size meatballs. Instead of combining veal, pork, and beef, Neitzel uses only Berkshire pork shoulder mixed with house-cured pancetta, which is molded with onions, garlic, ricotta, bread crumbs, and Grana Padano. Once formed, they are roasted and then braised in tomato sauce. The technique creates a solid yet tender bite, and once the meatballs are removed from the liquid, you can taste the flavor captured in the sauce.
Sunday gravy—a traditional staple of Italian-American cooking as iconic as Tony Soprano—is listed at the bottom of the menu. Don't overlook it. There are as many recipes for Sunday gravy as there are Italian-American grandmothers, and Neitzel's upscale-granny rendition is superb. His version combines caramelized pancetta-and-sausage balls, chunks of browned veal shoulder, and a mixture of browned ground Wagyu beef and pork with onions and garlic. He cooks the concoction in red wine. Once the liquid evaporates, he braises the meat for two to three hours in marinara sauce. The rich sauce is tossed with long strands of supple fettuccine and topped with slivers of Grana Padano. I'm warning you: this comforting dish cures all ills. You will want to wrap it up in a blanket and fire your therapist. At Carbone's, they make that possible. You can purchase containers of the sauce and pasta in the retail area. Once I tucked the sauce safely in my freezer, I felt secure knowing it would be there to reassure me after a traumatic day.
Other stand-out items include toasted ravioli stuffed with ricotta and sausage and served with a marinara sauce. Crisp romaine and escarole provide a backdrop for a mound of chopped antipasti, which includes bits of salame, olives, fontinella cheese, peppers, and pistachios.
The wine list is brief and inexpensive and mostly Italian. The Scarpetta Pinot Grigio, priced at $48, is fresh and fruity and a great example of the high-quality wines in northeastern Italy. It goes down easy on a hot summer night.
One night, I sipped a second glass, and my friend and I split a lovely piece of Italian wedding cake, which is supplied by Rush Patisserie. We were checking out the other customers, including one couple dressed for a night at the theater sitting next to a family in shorts and flip-flops. I noted the wall covered with black-and-white photographs of Barsotti's relatives. Suddenly my gangster-movie-loving partner shouted above the din. "That's the painting from Goodfellas!" he shrieked.
Sure enough, surrounded by old family photos, there is a replica of the painting done by Tommy DeVito's mother, depicting a man sitting in a boat with two dogs. You know the one. She pulls it out at the dinner table when her son stops by with two of his gangster pals, and Tommy, played by Joe Pesci, says, "I like this one. One dog goes one way, da otha dog goes da otha way, and this guy's sayin', 'Whaddya want from me?' "
That movie scene, like Carbone's, is classic Italian-American.
For more information about Carbone's, visit our online restaurant guide.
Get the SideDish Newsletter
Dallas' hottest dining news, recipes, and reviews served up fresh to your inbox each week.