Best Designer-Label Clothing
Forty Five Ten

We go to a handful of Dallas shops to fill out the designer section of our wardrobes, but Forty Five Ten is our favorite. We like to fawn over the exclusive collections that can't be purchased anywhere else in town, receive the nod of approval from stylish staffers when we slip into the perfect fit, toast at Champagne receptions with visiting designers, and finish it off with lunch at the hip backroom restaurant, T Room.

Readers' Pick: Neiman Marcus


Best Garden Shop
North Haven Gardens

Thanks to a staff well-versed in all things flora, this horticulture paradise tucked away in a leafy North Dallas neighborhood is the go-to spot for garden wonks and those lacking green thumbs alike. Pair the know-how with North Haven's staggering array of plants on offer, and it's easy to see why the horticulture hot spot has made it to the top of our list two years running.

Readers' Pick: Nicholson-Hardie


Best Toy Store
The Toy Maven

It's rare to even find an independent toy store, much less one with a really fantastic selection. But The Toy Maven easily hits both marks. Former teacher-turned-retailer Candace Williams has stocked her recently expanded shop with the perfect mix of creative and whimsical toys, crafts, and books that kids really want to play with. Even when the Preston Royal Village shop is teeming with customers (almost always), there's a friendly sales person at the ready.

Readers' Pick: Froggies 5&10


Best Place to Buy Jeans
Original Octane

The carefully edited selection of premium denim here includes the very best, from Tellason, Prospective Flow, and Raleigh on the men's side, to Textile by Elizabeth and James, Calvin Rucker, and Levi's Made & Crafted in the ladies' wing. Remember, we said "premium": prices range from $188 to $500. But hemming, executed on a vintage sewing machine, is performed on the spot for free with purchase.

Readers' Pick: The Blues Jean Bar




Best Men's Clothing
Billy Reid

Dallas is only one of 10 cities in the U.S. to have its own Billy Reid shop. Lucky us. The Alabama-based designer's relaxed elegance and Southern charm is a welcome reprieve from the shaggy and disheveled hipster fashion. At Billy Reid's cozy Highland Park Village boutique, unstructured tobacco linen blazers, floral bow ties, and crisp chinos in a cavalcade of colors—tangerine anyone?—can transform the most unsure dresser into a Deep South dandy.

Readers' Pick: Neiman
Marcus


Best Traditional Furniture Store   
Timothy Oulton

Anglophiles, rejoice. The British aren't just coming. They've arrived. British designer Timothy Oulton populates his Dallas namesake boutique—the first stand-alone shop in the U.S.—with handcrafted, vintage-inspired pieces sporting a more modern edge than your typical traditional shop. That means you'll find a tufted black-leather Chesterfield sofa sitting alongside a Union Jack-upholstered ottoman next to a multiriveted aluminum desk inspired by vintage Spitfire fighter planes. Surprises lurk around every cheeky corner, making Timothy Oulton the city's top blend of style and wit—very British.

Readers' Pick: Weir's Furniture Village


Best Fine Jewelry Designer
Elizabeth Showers

With nearly two decades at the helm of her eponymous line, legions of high-wattage clients, scads of national press, and partnerships with fashion temple Forty Five Ten, Elizabeth Showers boasts some serious jewelry cred. But her exotic yet immensely wearable baubles are so lovely that we'd have likely put her at the top of our list even if she were a
newcomer.

Readers' Pick: Carter Malouf
Best Children's Clothing Boutique
Baby Bliss/MiniMe
This Snider Plaza shop has long been a mainstay of the chic-mom set. Owner Carrie Barnard originally set out to open a little shop filled with things she couldn't find in town for her own children. Cut to present day, and the burgeoning empire has added an adjoining sister store aimed at older kids and a thriving online shop. What hasn't changed is Barnard's spot-on selection of stylish, clean-lined, and often earth-friendly kids' togs from cult brands like Tea Collection, Charlie Rocket, and Pink Chicken.

Readers' Pick: Little Bean

Best Store for Children's Furniture
Wellness Baby
Wellness baby opened its doors nearly three years ago, but the Uptown shop still feels like a hidden gem. Step into the cozy old house on Routh Street, and you're greeted with a trove of modern baby furnishings, accessories, clothing, and gear from such cult brands as Oeuf, Nurseryworks, and DwellStudio, as well as a friendly, low-key sales staff committed to helping you suss out just the right piece for your bundle of joy. Can't make it downtown? They also recently launched a new website featuring online shopping.
Readers' Pick: Baby
Bliss/MiniMe

Best Home Accessories Store
BelAir Home
Thanks goodness designer Shannon VanBeber relaunched the home store she originally co-founded with two friends in a breezy Lovers Lane bungalow. The resulting space is a nester's paradise, filled with VanBeber's inspired mix of glam meets classic meets earthy furnishings, vintage finds, refurbished treasures, and creations by local artists. Each time we pop into the perfectly merchandised shop, we leave wanting every single pillow, lamp, decorative accessory, and piece of art in the place.
Readers' Pick: Fair & Square Imports

Best Shop for Outdoor Furniture and Accessories
Big Mango Trading Company
When in search of something to give your backyard the wow factor, this Design District wonderland is the place to hit. The minute you walk across the gravel courtyard, you'll abandon any thought of ho-hum patio sets and subtle fountains and marvel at how you ever lived without one of Big Mango's ancient petrified wood tables or massive stone sculptures. And don't sweat spotting your find in a neighbor's yard. The owners' frequent buying trips to Indonesia and relationships with international artisans and craftspeople ensure you'll always nab a one-of-a-kind treasure.
Reader's Pick: Jacksons Home & Garden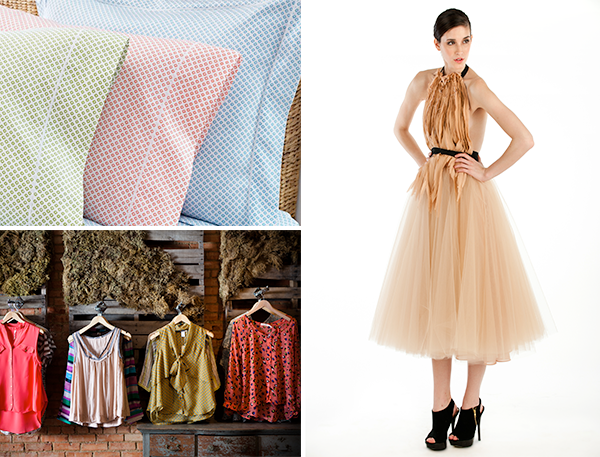 Best Affordable Women's Clothing
Milk & Honey
We're used to sticker shock in this town, but not the kind produced by flipping tags at Milk & Honey. With the store so hip and its clothing so on-trend, it's surprising to discover most of it is under $100. Now college girls and thirtysomethings can ditch cheap chains and fill their wardrobes with skirts, work-friendly blazers, and party frocks and still have funds left for rent. Don't miss the always-stocked sale section in back.
Readers' Pick: Milk & Honey

Best Store for Linens
Peacock Alley Design Studio
The Dallas-based linen company, credited with establishing the luxury linen market in the United States, turns 40 this year and shows no sign of slowing down. Need proof? Hit Peacock Alley's Slocum Street design studio and marvel at the 500-thread-count Egyptian cotton percale sheets, plush faux fur throws, exquisite Italian silk matelasse duvet covers (custom-made locally), and pattern-rich pillows. We guarantee you'll walk out dreaming of new linens for every room in your home.
Readers' Pick: Peacock Alley Design Studio

Best Hardware and Design Materials Store
Elliott's
Hardware
Founded in 1947, this Oak Lawn stalwart moved last year from its longtime Maple Avenue location to smaller and harder-to-find digs on Denton Drive. Trust us. It's worth the search. Customer service is Elliott's specialty. Case in point: we found a doorknob at a far fancier local shop but had to wait six weeks to receive it. The Elliott's worker not only had the same knob in stock but steered us toward a similar model at half the cost. "It's just as good," she explained. "No need to waste your money." Oh, and she called us "hon." A lot. Sold.
Readers' Pick: Elliott's Hardware
   
Best Vintage Clothing Store
Commonwealth Couture
Owner Lynda Piepgras scouts internationally for rare finds to share in her shop. But some of her dresses find her. The ladies of Highland Park seek her out when shedding their designer gems from various decades. The store has one of the best designer collections in town (at surprisingly reasonable price points) but also everyday retro goodness, like the rack of high-waist Levi's cutoff shorts hanging at the front.
Readers' Pick: Dolly Python

Best Jewelry Store
Ylang 23
The store features veteran designers like Irene Neuwirth, Cathy Waterman, Todd Reed, and their diamond-decked baubles. But co-owner Joanne Teichman also keeps an eye on cool up-and-comers, like CFDA award nominee Jennifer Meyer—the trendy duo behind Hipanema's Brazilian trendy beaded bracelets—and local Amanda Sterett and her handmade accessories. Whether you're looking for dainty little somethings for gifts or unique pieces to mark momentous occasions, you can find it here.
Readers' Pick: Nine-Eighteen
Best Floral Shop
Urban Flower/Grange Hall
Owners Rajan Patel and Jeffrey Lee have curated a mix of exquisite, odd, singular finds, ranging from resin-coated wood stools to a giant stuffed peacock to, yes, flowers. The duo turn out gorgeous floral creations (think orchids nestled alongside crystal-encrusted antlers and porcupine-quill-adorned succulents tucked into driftwood vessels) perfect for the friend who has everything, including insanely good taste.

Readers' Pick: Dr. Delphinium Designs & Events

Best Custom Clothier for Women
Nha Khanh
Designer khanh Nguyen's ready-to-wear collections have taken off, making it to the racks at Stanley Korshak, Saks Fifth Avenue, and Neiman Marcus. But at the heart of the production is still her custom atelier. Nguyen makes everything from cocktail wear to wedding gowns, employing her expertise in haute couture sewing and lace. Each bespoke design requires several months to produce and multiple fittings, but the outcome is a meticulously crafted garment worthy of the red carpet. 972-661-9969.
Readers' Pick: Stanley Korshak
Get the ItList Newsletter
Be the first to know about Dallas' best events, contests, giveaways, and happenings each month.