Why Plan B is a Good Idea For Restaurants
The company helps envision and brand unique dining experiences.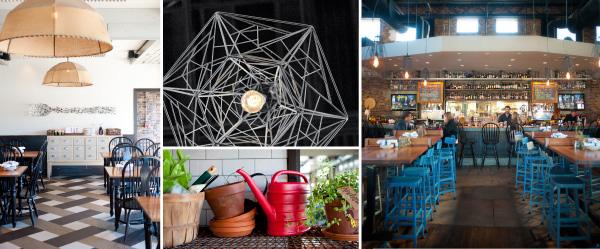 If you're smart enough to hire the Plan B Group to make the restaurant of your dreams come true, from architecture to interior design and even branding, don't expect owners Royce Ring and Alex Urrunaga to be your yes men. They call what Plan B does the "art of the possible," but that's only because they don't allow budget constraints to hinder creativity. For eight years, Ring and Urrunaga have been showing clients (including nonrestaurateurs) how to push the boundaries of architecture by putting a playful spin on classically anchored elements. They'll take an empty space and repurpose, reuse, and recycle whatever's lying around until the restaurant has that unmistakable Plan B stamp on it: a little bit classic, a little bit funky, and absolutely savvy.
"Because we're involved in the branding of the concept together, we try to give restaurants a voice or attitude of their own," Urrunaga says. "We create an animal from the ground up. We're not just putting the clothes on it. We're creating a beast." Urrunaga and Ring (business partners who finish each other's sentences as well as design plans) even help restaurateurs pick what music to play as guests are wining and dining. It's their job to know what people like. Paying attention to the smallest details and weird intricacies of human nature is what separates a successful restaurant from yesterday's lunch. Because those curious touches are exactly what Plan B specializes in, whatever they design is usually there to stay.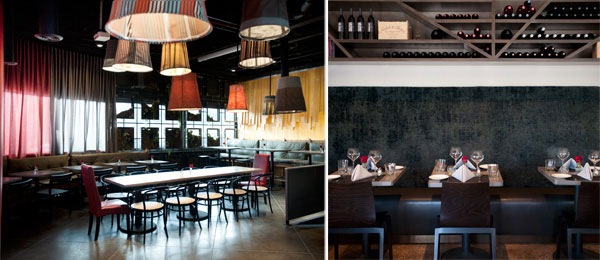 WHISKEY CAKE KITCHEN & BAR

FEATURES: Since farm-to-table food is the essence of Whiskey Cake's menu, the Plan B Group took a small side room and converted it into an herb garden. This Plano restaurant also has four kinds of seating: booths, couches, freestanding tables, and communal tables. If you're observant, you've probably noticed the solar panels on the roof, an electric car charger between the sidewalk and parking lot, and the fork sculpture in the private dining room. When Whiskey Cake inherited its space, the Plan B Group stumbled upon boxes of forks and made a "fork of forks."
CHALLENGES: Ring and Urrunaga had to chop up the big space inside Whiskey Cake to prevent it from looking like a sea of tables. They connected the kitchen to the main room by cutting a window into the kitchen so people could peek inside, and created eight seating vignettes in the dining area.

JOJO EATING HOUSE & BAR
FEATURES: Along the back wall of chef/owner Laurent Poupart's Mediterranean restaurant is a wine display that plays with lines and geometry. Some bottles stand up, while others are forced to lie on their sides. There's also an open kitchen, which doubles as a theater for guests to sit around and watch. But the patio is the most sought-after seating area, due in part to the water feature made from cypress wood cut at various lengths and placed at different angles. Ring says it looks like "a bunch of fingers with water playing over them."
CHALLENGES: This may come as a surprise, but JoJo's patio isn't actually outdoors—it's inside a parking garage. When drapes enclose the circular space, it's almost easy to forget. The seating is comfortable, the lighting creates an amber glow, and

EAST HAMPTON SANDWICH CO.

FEATURES: People don't usually associate sandwich shops with luxury, but Hunter Pond wanted his first restaurant to evoke the neighborhood. Urrunaga and Ring used roofing material to line the exterior side of the wall and put AstroTurf on the patio to simulate grass. Walking into East Hampton Sandwich Co. almost feels like you're going over to a neighbor's house for lunch.
CHALLENGES: "That space is not without its challenges in terms of columns and floor elevations," Ring says. "Plan B Group couldn't change the size of the columns, so we had to find a way to make them look less like eyesores. We even built a communal table around one." The restaurant before East Hampton Sandwich Co. had a fire and left charred rafters for its new tenants. Plan B left them because "it gave the space a personality. To fix it would've been too buttonedup for the brand."