On September 26, 1997,
on a small Wisconsin high school football field, Tony Romo played the game of his life. Fifteen years later, opposing players still talk about it, recalling minute details of his performance.
On paper, his Burlington Demons should have been blown out. The previous year, as a junior, Romo had led the team all the way to the state quarterfinals. But in 1997, Burlington was promoted to a tougher conference filled with teams from Racine, a brick-and-soot industrial city 30 miles down the shore of Lake Michigan from Milwaukee and a 45-minute drive east of tiny Burlington. Week after week, they were getting picked apart. They had lost three consecutive games.
Their opponents, the Racine Case Eagles, had a star running back named Leu Gillem, a hulking, broad-shouldered senior who was faster and stronger than anyone else on the field. Racine Case was a city school, much larger than Burlington, but it wasn't Racine Park, the perennial state title contender, a sports factory that has produced athletes such as former Packers offensive tackle Kevin Barry and Steelers running back John Clay. (Caron Butler is also a Park alum.) Case hadn't had a winning season since 1993. But that year, they had Gillem. They had a chance. By the time they played Burlington, however, if Case was going to make the playoffs, they had to win every remaining game on their schedule. In other words, Case was a team with their backs against the wall.
Romo passed for 392 yards and four touchdowns. But it wasn't enough.
When longtime
Racine Journal Times
high school sports writer Peter Jackel wrote up the story the next morning, he led with a touch of romance: "Just as a matter of historical record for when someone comes across this yellowed game story in their attic one day in the next century; that 1997 Case High School football team sure consisted of one tough bunch of kids." It must have been satisfying for Jackel, born and raised in Racine's working-class neighborhoods, to see Case finally muscle its way to a little gridiron glory. He quoted Case's giddy quarterback, Morgan Coyle: "We played Case Eagle smash-mouth football."
But Jackel had been reporting on high school football for far too long to stop his game story there. As much as the scoreboard confirmed that the story was about how Racine's perennial underdogs had handed the boys from little Burlington their rears, Jackel knew that wasn't really all of it.
After Tony Romo replaced Drew Bledsoe
in a game against the New York Giants on October 23, 2006, Fred's, a burger and beer joint on North Pine Street in sleepy downtown Burlington, became a popular place for Romo's former coaches and teammates to meet with the media. In those days, lots of journalists swooped into town to write the Cinderella story: "Kid from small-town Wisconsin now quarterback of America's Team." The dough-cheeked, grinning kid who used to play basketball for hours in the asphalt driveway of his low-slung ranch house in a cul-de-sac of fenceless homes was suddenly the face of one of sport's most storied franchises. Around the corner from Burlington's 90-year-old dive bar, Gabby's Palace, which still has a cheese-yellow bumper sticker on the bar that reads "Support Packing in Packerland," the Plaza Theater began running Cowboys games on the big screen each Sunday. And Fred's enshrined several high school and college-era photos of Romo. At a back table, under easy-to-wipe-down translucent shellac, they are preserved next to pictures of the Burlington High School title-winning trap shooting and clay target team.
In many ways, the Tony Romo story was a confirmation of what makes America great. Here was a hardworking kid, charming, polite, and maybe a little naïve, who had a heap of talent, a bunch of luck, and found himself on the cover of
Sports Illustrated
. He sprang from the image of an America we trick ourselves into believing is the norm and not the exception: a little town of about 10,000 people cut by a main street lined with quaint little brick buildings with storefronts still occupied by a record shop, a toy store, and an independently owned hardware store. Burlington is a town that once gave shelter to persecuted members of Joseph Smith's fledgling Mormon congregation on their way out west. Small businesses sprouted up to serve the needs of the surrounding farming communities. It is Chocolate City, USA, home to a massive Nestle factory that towers over the field where Romo played football. Stand on any street corner or quiet, house-lined lane, and you will smell the faint scent of chocolate hanging in the air, as if it were pumped into Burlington's atmosphere by the chamber of commerce, an omnipresent olfactory reminder that life in Burlington is ever sweet.
By the time Romo finished high school, he had earned Associated Press honorable mention All-State honors twice and was selected All-Racine County Player of the Year by the staff of the
Racine Journal Times
. He threw for 3,720 yards and 42 touchdowns over two years as a starter. But no matter how well you play football in small-town Wisconsin, to college scouts, those arbiters of the futures of young American sporting talent, you don't exist. The only colleges that were interested in Romo were Division III schools: University of Wisconsin-Whitewater and Minnesota State University-Mankato.
"These are all big names," Romo says with a flash of his familiar dimpled grin and more than a little sarcasm. "You should know them all."
Romo's star high school receiver and childhood friend, Steve Tenhagen, went to UW-Whitewater. During his single season with Romo, Tenhagen earned first-team All-State honors after catching 56 passes for 934 yards and 14 touchdowns. At UW-Whitewater, he set records for most single-season touchdowns and receptions. Now he is the only football coach at Delavan-Darien High School, in another small Wisconsin town about 25 miles from Burlington, who can say he took his wife on vacation with Jessica Simpson.
I met Tenhagen at Fred's on a sunny and warm Wednesday afternoon in early spring. It was after 4, and the front-of-the-room bar was already full, so we took a table in the corner. Tenhagen stands about 6-foot-4, and, like Romo, he wears a ball cap with a crescent-bent brim that frames his wide, intense eyes. He has large, strong hands, perfect for gobbling up Romo's passes, and he lays them on the table when he talks, the words coming out mannered and considered.
Tenhagen admits he was a little surprised to see his friend navigate all the way to starting for the Dallas Cowboys. He knew Romo was talented, everyone did, and that he worked hard. "You wanted to be on his team," Tenhagen says. "That dated back to when we were 6 or 8 years old. Whether it was pickup basketball to tennis, if you played on his team, then you'd win."
There's something of a mystique that seems to surround the player. People who know Romo like to talk about his work ethic and what an obsessive competitor he is.
"He was always doing something," Romo's basketball coach, Steve Berezowitz, says.
"He was a gym rat," Jackel remembers.
But there was something else. Paul Bondar, a former Burlington star defensive end who now sells insurance to trucking companies, remembers that even when they were sitting in a friend's basement, playing video games, there was something other about that Romo kid. "It's like a force field that you can feel around him," Bondar says. "He wills the situation. You know what I mean? You can feel it."
Romo never thought of himself as a football player. In Burlington, you grew up playing sports, not any one single sport. At first, he played soccer, golf, and basketball, which was always his best sport. He tried out for the freshman football team late in the season only to become a backup safety and "seventh-string quarterback," as Romo puts it. "I was at practice, though," he adds. He spent weekends playing golf with his father at Browns Lake Golf Course, a public track just up the block from the Romo house, or driving from town to town in rural Wisconsin, looking for pickup basketball or soccer games. At night and after games, he played video games, poker, or chess—anything to stay in competition—in the basements of his friends' homes. In 2007, he appeared on the sports talk show
Inside the Huddle
and shared an embarrassing story about what has to be one of the few individual competitions he didn't win outright during his high school athletic career: a botched first kiss.
Romo's high school football career stutter-started. He seemed poised to become the quarterback for the junior varsity team as a sophomore. Then, during a preseason practice, the JV coach decided Romo needed to be "taken down a notch," as Bondar remembers it. The coach ran a play named "get Romo," and the defense bum-rushed him. Romo broke his finger, knocking him out for the season.
"You have a lot of different practices, and any one player can annoy a coach," Bondar says. "And I think that particular day, he did something to annoy that coach."
And so, at the beginning of his junior year, in 1996, he was the varsity's third-string quarterback. Burlington lost their first game that year, 15–0 to Hartford, and the Demons' two quarterbacks that day combined for a whopping 12 yards passing. The following week against Elkhorn, coach Steve Gerber put in Romo, and the young quarterback threw for 308 yards, a number no passer in the county had reached since 1984. Romo had managed to do it without ever having played a single game of organized football in his life.
On September 19, 1997, the week
before the game between Burlington and Racine Case, Jay Luther, a short, stocky linebacker and Case's defensive captain, drove out with half his defense to Burlington to watch the game against Park High School. When Luther and his buddies—including running back Gillem, who also played linebacker, and cornerback Keontay Jackson—huddled on a cold night in the wooden bleachers that are set into an earthen berm overlooking Burlington's tiny Karcher Field, with its shortened track that runs through the end zone, they were watching for just one thing: Tony Romo.
Everyone had heard about Romo. The previous season, he had lit up the county, throwing for 1,863 yards, with 26 touchdowns and just 10 interceptions. Burlington beat up teams, racking up wins with score lines like 58–0 and 42–7. And yet, as he would in the Cowboys' playoff game against the New York Giants in 2007 and in last season's opener against the New York Jets, in the state quarterfinal game, Romo threw a late-fourth-quarter interception. Later, the team from Cudahy scored on a last-minute, five-play drive and treated Burlington to a stinging one-point loss.
Coach Gerber, whose first season coincided with Romo's junior year, said that he knew Romo was the school's best quarterback, but he didn't realize just what kind of a natural Romo actually was.
In many ways, the Tony Romo story was a confirmation of what makes America great. Here was a hardworking kid, charming, polite, and maybe a little naïve, who had a heap of talent, a bunch of luck, and found himself on the cover of Sports Illustrated.
"In high school, you normally tell the quarterback to look to one side of the field," Gerber says. "Maybe they get through their first or second read, and if you get to your third read, you're moving your ass out of there. But he wasn't that normal kid who could just read the one side of the field. You'd give him one side, and then he'd find a way to get the ball over to a receiver at the end of the third or fourth route on the progression list."Jeremy James, who became Romo's primary target during his senior year and went on to play at UW-Oshkosh, says it wasn't until college that he began to learn the things Romo did naturally in high school. "My college coaches would tell us, 'Watch cover three, change your offense,' and that's the kind of thing that Tony could just see," James says. "I mean, I'd be making my breaks, and the ball would be right there. And it would go through my hands, because he was throwing on timing, and we weren't at that point yet."
Jackel, too, took notice. "He made a comment to me one time that I never forgot," the reporter says. "He said, 'I just see things in slow motion. I just see it. I see the game well.' And then I read somewhere that he took the number nine because that is the number that Robert Redford wore in
The Natural
."
That cold night in Burlington, Keontay Jackson saw what all the fuss was about.
"We went to go scout, like, 'Let's go see what this Romo kid is about,' " Jackson says. "And every bit of it, we were like, 'He is the real deal.' "
Romo threw for 210 yards that night, completing 15 of 37 attempts, including one touchdown and a two-point conversion in a hard-fought 22–15 loss against the conference powerhouse.
"The talent pool in the city is a little different than the county," Jackson says, "so he didn't have the weapons that we have in the city. But he would call his own plays, call his own audibles, and his leadership—we saw all of that."
But Luther saw a weakness.
"Yeah, he could throw the ball," Luther says. "But he didn't have a million athletes on his team. And they weren't very good at running. They didn't have big, huge linemen."
Luther drew up a plan: line up four linemen and put two linebackers on the edge of the defensive line, right at the line of scrimmage, and rush Romo on almost every single down.
"We figured we could stop the running game just by playing our normal defense," Luther says. "But rushing him every play, we'd get at him."
Burlington met Case at Pershing Park,
a dinged-up and potholed field (since decommissioned for high school football). It sits about 30 yards from Lake Michigan. On that night, September 26, 1997, there was hardly a breeze coming off the glassy expanse of gray. The sky was clear. The air was crisp, 50 degrees. Conditions were perfect for passing.
On the first down of Burlington's first possession, the Demons try to run and are stopped. On second down, Case's linebackers push their way past blockers on both sides of the Burlington line, collapsing the pocket. Romo turns left, looks right, and, falling backward, flicks a little 10-yard jump-shot pass to Joe Steffens, who is behind two Burlington blockers, surging forward for another 19 yards and a first down. Burlington tries the run again and fails. It is second and long when Romo makes his first big passing attempt.
During the first possession of the game, Case quarterback Morgan Coyle tried a long pass, forcing the ball downfield with a weak wobble. It is that throw that makes Romo's first long ball look all the more impressive. On Burlington's fourth play of the game, the ball is snapped, Romo trots three steps back, plants his feet, and launches a high, arcing pass. When the ball comes out of his hand, it flies. It doesn't looked pushed, as Coyle's long ball did, or really even thrown at all. Rather, it appears Romo has merely convinced the football to take off by its own volition, carving its way up into the night sky and back down to the earth, sailing just over the fingers of a leaping Keontay Jackson and square into the arms of the streaking receiver, Jeremy James, who runs 25 yards for what is made to look like an easy Burlington touchdown.
"He threw a touchdown right over my head," Jackson says, the memory still fresh 15 years later. "I thought I had the jump on it, and he had the perfect amount of touch."
It is hard to decide what is most impressive about Romo's throw: its lovely shape, its pinpoint precision, or how the ball comes out of his hand, even before Case's defenders are able to push Burlington's offensive line a couple of steps off their marks. Watching the grainy video all these years later, we might almost confuse the past and the present, to mistake the Romo throwing at Pershing Park with the Romo who plays in the NFL. Romo consistently places balls exactly where he wants them, even under pressure. He is forced to scramble and rush throws, and he tries to place balls in the arms of covered receivers.
In the first half, Romo throws an interception and is sacked once, but he is still leading the Burlington Demons down the field with every possession. His team could have easily scored two more touchdowns in the first half if balls hadn't been dropped.
The Burlington defense, on the other hand, can't stop the bleeding. Gillem powers through the Burlington defensive line, scoring on 82-yard and 51-yard touchdown runs. Jackson also has his revenge, returning a Burlington kickoff for a touchdown.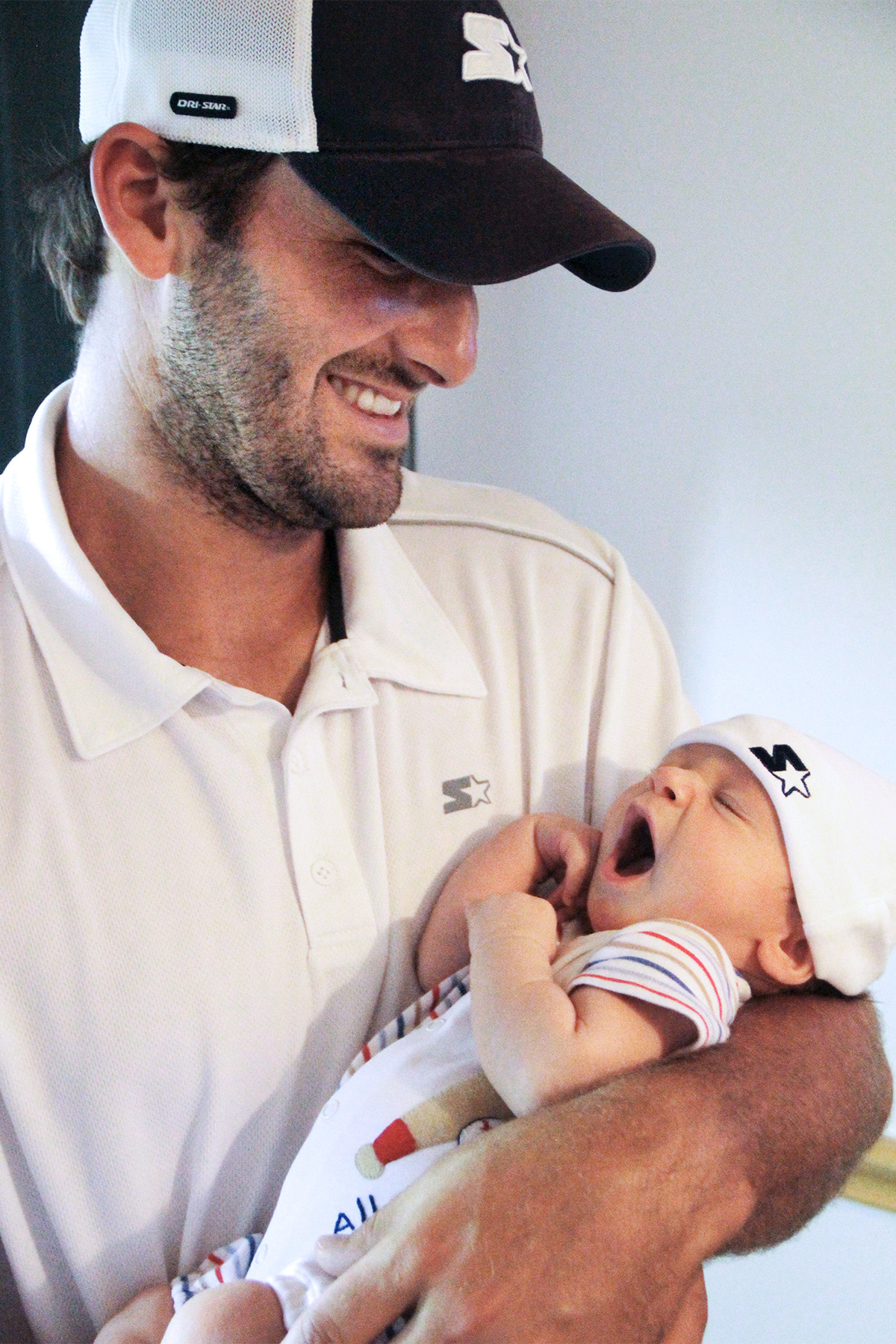 Early in the third quarter, it finally unravels for Romo. On a second down, with five yards to go, Romo takes the snap, and, in an instant, the offensive line evaporates. He scrambles out of the pocket, running while looking downfield. He motions with his left arm, trying to get one of his covered receivers to make a move, trying to take the nothing of the play and turn it into something. He doesn't see Dave Nielsen, an outside linebacker standing in the flat 10 yards away. Nielsen sprints and collides head-on with Romo, lifting him off the ground and slamming him down on his back.
"He ran right through him," Luther remembers. "While Romo's throwing, he's throwing it across his body, and he leaves himself wide open. And he gets laid out."
The ball pops out of the quarterback's hand and into the arms of safety Robby Collum, who runs it 53 yards for yet another Case touchdown. As Collum sprints for the end zone, though, the linebacker Nielsen just stands over the flattened quarterback, gazing down at him, worried that he has just knocked the life out of the kid.
"You could have put that on a poster," Jackson says. "Do I help the guy out? Do I leave him there? Do I ask him if he is okay?"
On the game tape, we never see Romo get up, but we do see Nielsen for a moment, stone still, head hung.
"We thought he got a concussion," Luther says. "He was woozy. We knew we got him."
Peter Jackel saw Tony Romo
play football for Burlington only a couple of times that senior year. He saw Romo play the second game of the season against Racine Horlick, a game in which Romo passed for only 123 yards, his second least productive game of the season. Racine County's outlying towns are part of Jackel's beat, high school sports programs he has covered for 33 years, but like any reporter making decisions about where to emphasize coverage, it makes sense for Jackel to watch the inner-city powerhouses more closely.
"Just from a travel point of view, we don't cover them that often, maybe a game or two a year," Jackel says. "I think we've only got one photograph of him playing in Burlington in the archives."
But Jackel wrote weekly previews for the paper. He saw the numbers Romo was putting up, and he wrote briefs and features when the player won awards.
"Nobody ever did what he did before," Jackel says. "He was putting up 250 yards every game. Usually, around here, it was five for 12, with 83 yards. With him, he was a complete natural."
Jackel is a hard-worn kind of guy with a great, heavy head; a lumbering walk; and a rapid-fire tongue. From his desk at the Racine Journal Times, he begins to produce clippings, manila folders with box scores that date back decades. He pulls out game stories and features, articles that track Romo's progress out of Racine County and onto college at Eastern Illinois. Jackel takes pride in how he tracked Romo's career through the years, always watching his surprising progress from the home front. "They don't get a lot of coverage at Eastern Illinois," Jackel says. "And when he won the Walter Payton Award [given to the best Division I-AA football player], I remember he called me that night."
The Racine paper is the only one Jackel has ever worked for, and Racine is the only city he has ever lived in. Over his three decades covering high school sports, he has seen a number of competitive, talented kids from the city make their way out and up in the world of sports, only to disappear.
"There are a lot of people who try to big-time you, and they won't return my calls," Jackel says, "But Tony is the opposite. He is one of my favorite people of all time."
Jackel, it turns out, grew up in the same Racine neighborhood as Romo's mother, Joan. He went to St. Catherine's, while Joan went to Park. Her grandfather once played for the Racine Raiders, the semipro football team. Romo's father, Ramiro, also grew up in Racine, playing soccer for St. Bonaventure, a private school just outside the city that was repurposed as a jail after closing in the 1980s. Tony Romo was born in San Diego when his father was stationed there with the United States Navy. When they returned to Wisconsin, Ramiro settled the family in Burlington, where he was a carpenter and worked in construction, and Joan worked as a cashier at the Sentry, a grocery store.
Jackel and the Romos grew up at a time when Racine could still call itself "the Industrial Capital of the World," when there was a chance that older neighbors had worked in a manufacturing plant alongside the women who had played for the Racine Belles, the World War II-era baseball team immortalized in the film
A League of Their Own
. There was a time in Racine, as Jackel tells it, "that when Park played Horlick, it was like the Super Bowl. People used to be hanging off the rafters."
Jackel pulls out the pages he was looking for, Burlington's box scores from 1996, and heads to the photocopier. "But that was a little before my time," he says.
Racine's motto now is "Racine: A Nice Place To Live." It is painted in a mural featuring an eagle on a brick wall up the hill from Pershing Park, overlooking an empty parking lot in Racine's windblown downtown. Up the block, Jay Luther, the old Case linebacker, tends bar at the Ivanhoe Pub.
"If you talked to me 15 years ago, it used to be a little more rough," Luther says of his hometown. "And I remember when I was a kid, it was pretty bad. It's actually coming together. We're not a normal city yet, but there are a lot of hard workers and people who want to work. Just the jobs ain't there sometimes."
Jackel grew up with another man in Racine who would figure into Romo's life. His name was Roy Wittke, a Wisconsin Eau-Claire football player and coach at Montana State University and Central Missouri State before eventually becoming a quarterback coach and offensive coordinator at Eastern Illinois University.
"I went to grade school with Roy," Jackel says. "And Roy's father sent him an article that I wrote about Tony. And he went and recruited him after reading that article. Otherwise, he wouldn't have really known about him."
Romo remembers first meeting Roy Wittke his senior year at a basketball game well after the football season had ended.
"His parents lived in Racine, and they were like, 'Yeah, this kid is in the newspaper,' " Romo says. "So he came and checked out a basketball game. I threw one behind-the-back pass or something."
During his senior year basketball season, Romo made third team All-State, higher honors than he received in football. Even Romo's football coach thought his quarterback would go on to play basketball in college.
"Honestly, when we found out he was going to Eastern to play football, it was a surprise to a lot of us," Coach Gerber remembers. "We thought it was going to be basketball somewhere, for sure."
But Wittke didn't drive all the way out to Burlington, Wisconsin, to recruit a basketball player, and unlike the Division III schools courting Romo at the time, he wasn't offering the player a chance to continue playing both sports in college. No, Wittke had come for a football player, and he wanted to sign the football player he had read about.
When Tony Romo was taken to the sideline
in the third quarter in the game against Case, he was in bad shape. He didn't have a concussion, but he was shaken, and he had a gash on his chin from where Nielson's helmet had snuck up under his face mask. "It was more just bleeding than it was painful," Romo says, underplaying the injury. But to stop the bleeding, a Burlington coach had to stitch Romo's chin right there on the sideline.
"Probably today, you wouldn't put a kid that was in that condition back in," Gerber says. "And I'm not real proud to say it was a different time, but he wanted to keep playing. And so he was stitched up and went back in."
At first Romo's return doesn't go well: a no-gain run, a blocked pass. But he begins to settle down and make completions: 15 yards, 23 yards. He lobs perfect balls to his receivers, along the sidelines, straight up the middle in traffic. Sometimes the balls hit the receivers' hands and bounce to the ground. No matter. Romo regroups: 6 more yards, 12 more yards.
"Man, they whipped it," Luther remembers. "And the whole second half was no huddle, which was very exhausting."
"You wanted to be on Romo's team," Steve Tenhagen says. "Whether it was pickup basketball to tennis, if you played on his team then you'd win."
After Romo took his big hit, Burlington possessed the football for the entirety of the third quarter, converting a long drive into a touchdown on the very first play of the fourth quarter. Case managed one more touchdown, but at that point, it didn't much matter. The game was decided. Case would win. Now it was just the Tony Romo show.
Romo scored his next touchdown with just two passes, favoring the middle of the field. Then Burlington recovered an onside kick, and Romo was at it again, running plays from the shotgun, no huddle, reading the defense, and marching down the field.
"We did a lot of what you call check-with-me's," Coach Gerber says. "At the line of scrimmage, he reads the defense, and then he has three or four choices based on what they ran."
Case's players start to notice what is happening: the seizure of complete control, Romo's ravenous hunger.
"He knew what he was doing," Luther says. "He doesn't look like your prototypical quarterback in high school. He knew where to put it. It was probably the most exciting thing I've ever been involved in."
After watching Romo in that game, Jackson says he believes that if Romo had played with any of the Racine city schools, they would have won the state championship. "It just doesn't happen," he says. "You knock a guy out, he comes back in, and he just torches you some more. It was just a game that you don't ever forget. I think if he goes to a city school, he goes to a high Division I university. We had all the exposure in the city. At given games, Wisconsin was there, Nebraska was there, Ohio State was there. All the scouts come into the city, because you find good talent with good competition."
At Pershing Park that September night, there were no top-notch scouts to witness what Romo did. His 392 yards represented the most prolific passing performance of his high school career. It was the kind of performance that you would think would earn most young athletes in most cities across America at least an introduction to a scout from a big-deal Division I university. But not Tony Romo. To get noticed, Romo had many more years of hard work ahead of him, many more years of playing second string to lesser quarterbacks, quietly challenging himself each day to get better and better.
But there was one person who took notice of Romo's performance at Pershing Park that day, and though it wasn't a man with pull at a top-flight university, he was a local boy who happened to have a grade-school friend named Roy Wittke and a pen and a game story to write. And so after taking care to record the 51–34 score in the Racine Journal Times and describe just how strong-hearted those Case Eagles played on that September night, Peter Jackel added one more line to the lead of his story.
"Oh, and while we're at it," Jackel wrote, "could a kid named Tony Romo ever throw the heck out of a football."
The Cowboys
 

Quarterback of 2035?
On April 9, 2012, Hawkins Crawford Romo was born to Tony Romo and his wife, Candice Crawford. We spoke to Romo about the birth, what kind of father he wants to be, and how it might affect his life on the field.

 
D Magazine: What were the days before the birth like? Were you nervous? Excited? Did it feel like you were getting ready for a big game?
Tony Romo: I just think excitement. You don't know what to expect. You have people telling you about the process, how it is going to go. You're just nervous. You're excited. You've got butterflies in a good way. It's a really neat experience, a very spiritual experience.
D: How did the actual day of the birth go?
Romo: It was good. The contractions were getting bigger, and we ended up going in and he ended up being born around 5:37 pm. It was a pretty neat day, just going through the whole process with the family and Candice and him coming out. In the end, he ended up coming out pretty quick. It was just a great experience to share with your family. It was just very special.
D: How long was labor?
Romo: We were in it all day, but I don't know how long the entire time frame was from when it started contractions.
D: Did you catch him?
Romo: Yeah, I did all that, cut the umbilical cord. He was a good baby. He made everything kind of easy.
D: Talking to people who are close to you, they all say that you are continually working on getting better as a quarterback. How has having a kid affected your work ethic and how much time you can devote to football?
Romo: I think the No. 1 goal is to be a good husband and father. That is why we are here. I was lucky enough to find someone who understands what it takes to be a quarterback of a football team and what it takes to be good and how to improve and get better. So I take my job very seriously—both of them, as far as being a quarterback and being a dad. I am the spiritual leader of our family, and, for me, that is an important aspect to pass down to my son. I had a great father. Candice had a great father. So it is easy to understand what steps to take to do things the right way.
D: Are you getting any sleep?
Romo: I'm getting some sleep, but that is probably the biggest difference. The sleep patterns are different than what it was.
D: Who are your father-figure role models? What kind of dad do you think you'll be?
Romo: I'm not sure. It's ever-evolving. Right now, he is starting to smile, and it is the funnest part of the day. You just try to get him to smile. You spend 30 minutes sitting there just trying to make him smile, and when he does, it is like you just won something. I think you just want to love on them and show them that you care and instill in them values and things that you've learned along the way.
---
Write to
[email protected]
.
Get the ItList Newsletter
Be the first to know about Dallas' best events, contests, giveaways, and happenings each month.