A few years back, my brother and sister-in-law went to a sports bar in New York while the Jets were playing. My sister-in-law's cousin was, at that moment, competing in the national figure skating championships. "You want to watch what?" the barman said, before getting permission from a manager, then pointing at a small TV tucked in the corner. "There," he said, "and no sound."
My brother and sister-in-law might have had more luck at someplace like The Owner's Box at the Omni Hotel downtown, where there are two private tables for game-watching with private sound systems. That's in addition to 70 other TVs, the biggest of which is 104 inches, and six HD projection screens, the biggest of which is a whopping 18 feet across.
On my visits, all of them were turned to sports—except one, tuned to the Weather Channel (patrons can make requests). I'm not much for watching sports, generally, but I love watching cards fall in a poker championship (and, every time, I think of James McManus' riveting Harper's article "Fortune's Smile"). The Tour de France is mesmerizing, all those beautiful towns with people lining the streets, all those men with long thighs pushing fiercely through mountains. Their helmets and jerseys were bright on The Owner's Box screen and nearly bigger than life. So big. In fact, you could, if you wished, watch games all the way from Young Street, or perhaps sitting out on the Omni's lawn on a blanket. I don't know how much the management would like that, but from a purely visual point of view, it seems possible. And while you picnicked on the lawn, you could see the food and drinks—the wings, nachos, beer, and cocktails—being brought out to the white stone patio, where patrons sit near water features and under muted umbrellas. Or eat at the food trucks—several were brought in the weekend we visited, since the hotel was so full.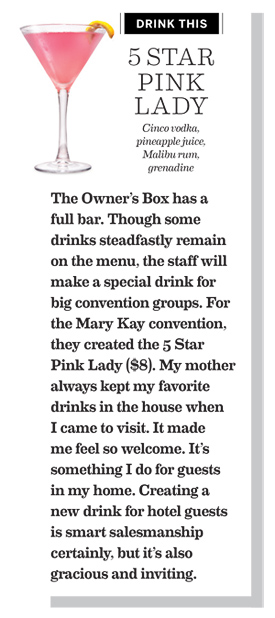 The city-owned hotel is attached to the convention center, and on both nights we went in July, teenagers were playing in sporting events: the USA Taekwondo Junior Olympic Championships and the USA Boys' Junior National Volleyball Championships. And so the teenagers, with their pimples, long arms, and gangly, still-forming bodies, trailed parents into The Owner's Box for something to eat.
It was something to watch them, knowing that these same ginky boys—my mother's expression—could move with grace and speed and accuracy. They must have been, in order to be champions.
The sleek bar interior looks like it was designed by someone expensive, with its high chairs and shapely black and white decorative tiles. The floor at the hostess stand is covered in newsprint from Dallas Morning News sports articles, perhaps to create a sense of place, perhaps to remind weary travelers where they are. The thick plastic covering the print has been scored or roughened so people don't slip, and I rubbed the soles of my shoes over it absently: pleasant sensation.
On our two trips we saw the following: a grandmother take a crying infant from a tired father to walk around the lawn. A couple who looked like they were on a date. Some guys sitting at the bar, their beers resting on the strip of ice that runs down the bar's center to preclude the need for koozies and their ilk. A loud woman who complained about other parents being loud and referees who make bad calls. We could hear her plainly, even though we sat next to the water feature, the bubbling drip no match for her frustration.
The Omni Hotel has exceeded its financial expectations—it was profitable in the first three months. Bookings at the convention center are up, too, which will bring more people into the bar if I were guessing. Mary Kay is hosting an almost-three-week meeting at the convention center, and it's fun to imagine the women in pink picking at wings. I wonder, too, which of the sports they'll watch. If one of them requests figure skating, I doubt the bartender will blink an eye. In fact, I'd be surprised if it wasn't already on, somewhere in the bar.
WRITE TO [email protected].
Get the FrontRow Newsletter
Get a front row seat to the best shows, arts, and things to do across North Texas. Never miss a beat.