To hear Osborne tell it, Copperfield is one of his biggest clients. He tells stories about the two of them go-kart racing in Lake Tahoe and the time he gave Copperfield a remote-controlled fart machine, which a crew member put in the magician's smoke-filled prop elevator. He chuckles about bringing the biggest magician since Houdini to his knees with a fake fart.
To hear Copperfield tell it, you'd think the two barely worked together.

"Be ready to hear a few 'Paul who?'s," Osborne wrote in an email to me after our first interview. "No magician will want to admit that they did not create their own miracles!"
I had asked Osborne for contact information for Copperfield and Blaine, to verify his claims that he creates illusions for their stage shows. He balked.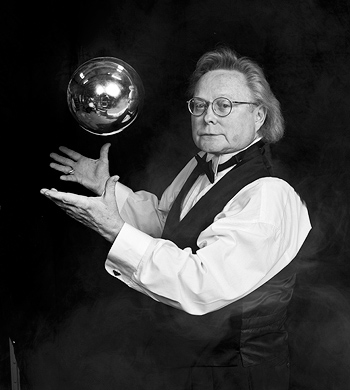 "I would feel a bit awkward having you contact my clients. As I mentioned, it's all about them, not me. I better stay in the 'back room.' "
I got nervous. How to verify claims that Osborne said couldn't be verified?
Our interview had taken place in Osborne Illusion Systems' 5,000-square-foot warehouse off Stemmons Freeway. The walls of an anteroom were covered with photos of him and Copperfield, an original Superman cape, and a mural advertising magic shows and puppet shows. There was The Great Blackstone's silver hoop and even Mark Wilson's TV Magic Kit that he'd received for his eighth birthday.
But what if that was all part of a performance, a very elaborate illusion? There was no question about the 30 books, but what about the tales of working with the world's most famous magicians?
Calls and emails to representatives for Blaine and Siegfried & Roy went unanswered, so I tried Copperfield. Within 12 hours, I had him on the phone.
"His hand, the way he draws, is how all illusion designers now draw their plans," he said. "The way he drew things defined how people would draw illusions for the past two generations."
Copperfield put me on hold for five minutes, the entire length of which I expected him to appear in a puff of smoke at my desk. When he returned, I pushed him on their relationship. I asked him if it was difficult to handle his appearance to the audience as a performer while someone else created the tricks.
He paused. "Is what difficult to handle?" he asked.
I rephrased the question, asking Copperfield whether the audience assumes he's not the sole creator of every trick.
"Well. He's not really a part of my design team, per se, and I'm very involved in the design."
He disappeared again. When he returned, I tried a different tack and asked him how he would define his relationship with Osborne.
"He's my buddy," Copperfield said. "He and his wife, they come to my shows. And we put together a book."
It's true. They are friends, and they did put together a children's book. But their relationship is complicated. Weeks later, at lunch, Osborne brought up my phone call to Copperfield.
"He called me after you talked to him and said, 'You didn't mention such and such, did you?' " Osborne said. "He was talking about other magicians. And I said, 'No, you're pretty much our main client.' We like David and everything, but the ego rate is very high." High enough that we barely discussed Osborne's meeting with David Blaine at an Uptown restaurant weeks prior. "The real good ones realize they can't do it all themselves. They have to have help. And that's why we have the secrecy agreement. If I do something for Blaine, he doesn't want Copperfield to know about it, but he knows I'm working with Copperfield. And vice versa. They're real touchy."
If we were talking about violin-making, Osborne said, it would be different. But we're dealing with magic. Secrecy is the only thing that matters. Copperfield offered to give Osborne credit on the TV specials he worked on, but Osborne had another idea: "Why don't you leave the credit off and just pay me?"

Now Osborne wants more than just money. He wants what he hasn't had since he was 22, bouncing around the country with Bozo. He wants back on the stage.
Theme parks are dying. Osborne still does shows at Six Flags parks across the country, but those McDonald's place mats offering 20 bucks off a kid's admission mean there isn't the kind of budget that allows for marionette shows and illusions shows. He holds out hope, though. He's in the process of buying the theme park rights for Popeye and Betty Boop. He sees Popeye at a water park, and Boop may reside in a saloon-style show.
And, of course, the plans for tricks are still selling. He can sit at his computer in his underwear, watch a credit card payment come in, and email a PDF of the Chest of Nefertari in 30 seconds.
But his big plan is his own theater. Osborne says he will drop some weight and return to his performing roots. He and his wife, Michelle, will pack up for a few months of the year, head to a resort town, and relive his Bozo the Clown days. It will cut down on the weekly travel he endures now. He'll put his 1,000-plus-piece illusion collection—which he estimates is the world's second largest, behind Copperfield's—to work, giving new life to old tricks and introducing new ones.
Copperfield owns a chain of islands in the Caribbean, where parties can stay for $37,500 a day, with a four-day minimum. All Osborne wants is a stage on which to perform.
At the end of our last meeting, I asked Osborne how he wanted to be remembered. After first answering with the requisite "probably a good husband," he reflected on his behind-the-scenes career.
"I'll probably be more famous after I'm dead, just because most people are," he said. "No one's ever done what I've done with the plans. So that will be my legacy."

WRITE TO [email protected].
Get our weekly recap
Brings new meaning to the phrase Sunday Funday. No spam, ever.