All Paul Osborne Jr. wanted for his eighth birthday was the Lone Ranger and Abbott and Costello to perform at his party. The Lone Ranger would storm into his parents' house, a red brick split-level at Farquhar Lane and Devonshire Drive. He'd arrive on horseback, of course, with Tonto at his heels, and maybe Abbott and Costello could hold court in the backyard. His dozen guests would laugh and cheer, and he'd be the toast of his elementary school.
What he got instead was Mark Wilson, host of Time for Magic, a local television show sponsored by Dr Pepper. This was 1956, and Wilson would go on to create the first magic show to be videotaped and nationally syndicated, and he eventually helped with the illusions on such shows as The Six Million Dollar Man and The Incredible Hulk. But Osborne wasn't interested. He knew nothing about magic and would have much preferred a white stallion tethered to his mailbox while the stars of stage and screen entertained his friends.
For his first trick, Wilson made a cane appear in his hand, then rapped the cane on the head of an unruly audience member, silencing him. His blue tuxedo jacket shone in the sun, and 20 minutes later he vanished.
Then, Osborne's parents presented him with his gift: Mark Wilson's TV Magic Kit.
"You never know what's going to happen," he said later. "Some kids, you give them a pair of ice skates and they skate for two weeks. You give another kid a pair of ice skates and they skate for the rest of their lives and go to the Olympics."
Osborne took the kit, closed his bedroom door, and opened the box. Inside, he found his future.

Wonder was in Osborne's blood. His middle name, Ferris, came from a distant relative named George Ferris, the inventor of the Ferris wheel. The first trick he attempted was the classic cups and balls trick, an illusion so old it may or may not be depicted on a 4,000-year-old pyramid wall, depending on the magic historian you talk to. He was hooked.
Looking to make extra money so he could buy more magic tricks, Osborne tried to mow his parents' three-quarter-acre lawn twice a day. Up and down the small hills and ravines he went, an 8-year-old behind a push mower as tall as he was. His parents converted one of their four bedrooms into a theater for their boy magician, a stage with seating for his one-man shows.
Within a year, he had performed at his first birthday party. Nervous, he stood on a pool table in a rec room, deceiving 20 children. He didn't ask for money, but the birthday boy's father gave him $50.
"You're a professional," he said.
His father, Paul Sr., worked as a geologist and mapmaker in downtown Dallas, blocks from Douglas Magicland, where a teenage Wilson had once worked as a clerk, honing his craft. For a burgeoning magician, Paul Sr.'s office may as well have sat next to Harry Houdini's house. Every day bore the possibility of Christmas, if his father just stopped at Magicland. Osborne was a model child; his collection of tricks depended on it.
On Saturdays, he and a friend would take the bus to the shop, sprinting up Ervay from Main Street, timing the crosswalk lights perfectly. They'd sit at the shop like barflies, soaking up the tricks.
At night, Osborne would join his father in the studio where he drew his maps. Paul Sr. sat at one desk, sketching topography and rock formations, while his son sat at another, drawing rudimentary magic tricks.
He performed throughout his teens, while attending Greenhill, and then into college, at Chicago's Northwestern, using his tricks to pay his bills. When his father died, he returned to Dallas to finish his degree at North Texas. When Osborne graduated, he handed his degree to his mother.
"Here's what you wanted," he said. "Now I'm going to do what I want."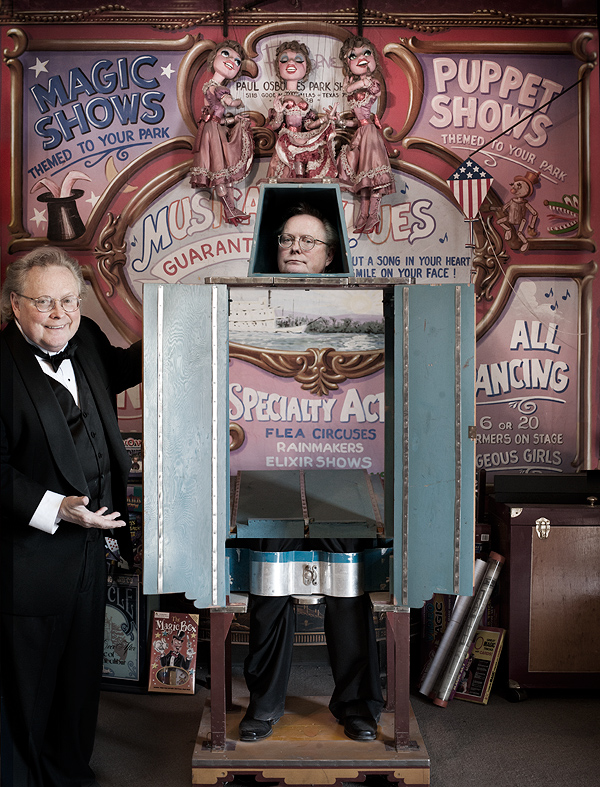 He landed a gig as the ringmaster for the syndicated
Bozo the Clown
show and traveled around the country, shooting remotes from New York to Los Angeles, his mind filling with creative possibilities. On these trips, he noticed a gap in the theme park world: live entertainment.
Osborne had a pitch for the mom-and-pop operators: "I'll do the whole thing for you. You pay me, and I'll get the performers. I'll worry about the costumes, the music, the sets, everything. I'll do a great magic show, a great song-and-dance show."
It was the early '70s, and every small venue was chasing Disney. Osborne was soon providing and producing a marionette show, an illusion show, and a song-and-dance show in 10 parks across the country. He hired college kids to manage the shows, then headed back to Dallas to his drawing board.
There he would spend days working on plans, perfecting the Chest of Enchantment, the Disembodied Princess, or the Mummy's Sarcophagus. He would send out the plans for $25 a pop, shipping them to amateur magicians across the country. In 1981, he bound his first series of tricks into an 83-page volume. Volume two followed a year later, then book three in 1983. He eventually authored more than 30 books, first editions of which sell for as much as $160 online.
"The biggest thing for me was just the unending flow of ideas," says Erika Larsen, a former editor of Genii magazine, which began printing plans and columns prepared by Osborne. "In that aspect, it's completely unprecedented."
Today Osborne is one of the greatest and most prolific illusion creators in history. He has worked for Siegfried & Roy, David Blaine, and dozens of others. His company, Osborne Illusion Systems, is the most revered magic trick company in the world. Michael Jackson, Britney Spears, and David Bowie have used his tricks onstage.
The only place you'd ever see their names attached to his, though, is on his accounting ledgers. "[Fame] has never been something that's interested me," he says. "I just want to hit the drawing board."
That's what Osborne has done for David Copperfield. In 1987, when Copperfield escaped from a safe tucked inside an imploding building, Osborne was there, behind the scenes.
Get our weekly recap
Brings new meaning to the phrase Sunday Funday. No spam, ever.