The Best Dallas Hotel Brunches
Though most hotel restaurants serve breakfast—making them ineligible for our best brunch list—it would be a crime not to salute these deliciously inventive establishments, our favorites in Dallas.
THE W HOTEL DALLAS – VICTORY
Brunch served Saturday and Sunday
Craft Dallas, the W Hotel's elegant diner, follows the same artisanal approach at weekend brunch that it observes at every other meal, with an emphasis on local, seasonal ingredients. The menu runs along classic lines, but attention to detail keeps it from feeling humdrum. Buttermilk pancakes are made from scratch in-house, and the maple syrup is the real deal from Vermont. Eggs Benedict features blue crab and an egg that's perfectly poached. Omelet fillings include wild mushrooms—no mere button—and only the greenest spears of asparagus. There are a few wild cards, such as an extra-juicy short rib and shishito pepper hash with diced potatoes, or a cheeseburger topped with an over-easy egg. The cinnamon roll and other pastries are made on-site. Pair one with a side of white cheddar grits or, better yet, a bowl of granola or steel-cut oats with raisins and dried fruit. For those seeking a huge spread, portions might seem model-size, while prices are not. But the service is sublime, and, besides, it's the W. What do you expect?
THE ROSEWOOD MANSION
Rosewood Mansion on Turtle Creek
Brunch served Saturday and Sunday
Even at brunch, the Mansion is the ultimate in refined dining, with white tablecloths, doting service, and things done just so. Forget the tacky buffet—this is a tasting menu, $49 a person. The menu is carefully curated, with new items from chef Bruno Davaillon folded in with Mansion "musts." There must be tortilla soup. There must be granola parfait, layered with yogurt and berries. Then it's on to Davaillon's twists on classic Franco cooking. Soups rotate. Right now, it's celery root bisque with soft chunks of lobster. There's a crab cake Benedict with wilted spinach, poached egg, and hollandaise sauce. Biscuits and gravy are a standout, with two eggs, spicy jalapeño sausage and shredded hash browns. Don't forget dessert, an ever-changing menu that runs from piémont with dark chocolate mousse to vanilla panna cotta with coconut meringue and exotic sorbet. 
RITZ-CARLTON DALLAS
Brunch served Sunday only
Ritz-Carlton Dallas may have a glamorous veneer, but the Sunday brunch at Fearing's has a surprisingly down-home vibe. The menu seems virtually torn from chef Dean Fearing's family album; just about every item has a personal angle. Carmella's Truck Stop Beef Enchiladas—a funky casserole with tortillas, beef, chili gravy, and a topper of fried eggs—was inspired by Fearing's assistant, Carmella Henson. Cos' Chili is the dish Fearing devised for Bill Cosby 18 years ago. It's served on jalapeño cheddar cheese biscuits, poached egg, and poblano hollandaise sauce. You don't have to guess the source of Granny Fearing's "paper bag shook" fried chicken, with green beans cooked all day like his grandmother made them in eastern Kentucky, served with whipped potatoes and smoky tomato gravy. The ethereal Jaxson and Campbell Style Pancakes are named for Fearing's two sons. Of all the major brunch spots in town, Fearing's makes the most thoughtful effort toward vegetarians with a stand-alone vegetarian brunch menu that includes a vegetable "kibbeh" crusted in chopped pistachio with rice and tomato-ginger chutney, and a nifty vegetarian sampler with spinach enchilada, butternut squash taquito, and avocado fries. The signature Bloody Mary is a unique spin—a little bit spicy, with baby tortilla strips, fresh jalapeño, and a smattering of micro-cilantro sprouts.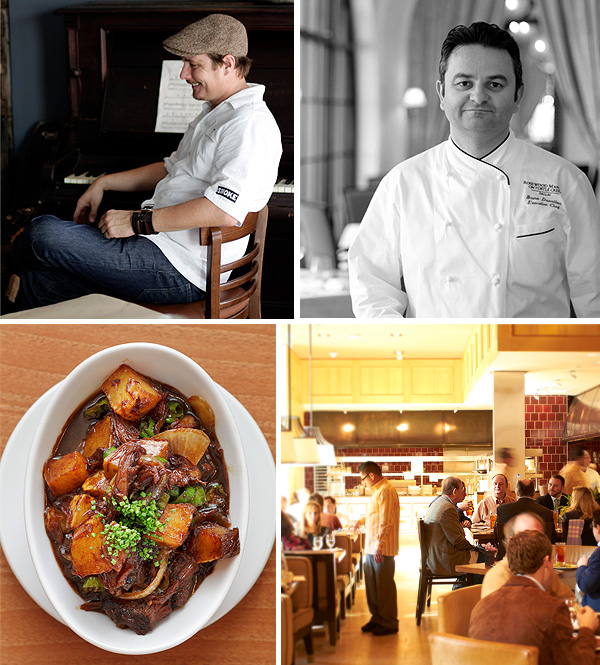 HOTEL ZAZA
Brunch served Saturday and Sunday
In the brunch world, Dragonfly at Hotel ZaZa has become better known for its monthly brunch party called Sunday School, held every third Sunday. There, brunch is accompanied by line dancing, sparklers, and people dressed in panda costumes. But the hotel does have a more conventional brunch every Saturday and Sunday, with a spread that combines "hotel classic" with ZaZa's hipster persona. There is the quintessential house-made granola, a basket of muffins and breads, and buttermilk flapjacks with Vermont maple syrup. But at no ordinary hotel would you find Pigs in a Snuggie—chicken-apple sausage links dipped in pancake batter and deep fried. Or chicken-fried lobster Benedict, with lobster chunks battered and fried, then placed on a potato cake with spinach and hollandaise. Dragonfly is surely the only place serving a pepperoni pizza omelet with San Marzano tomato sauce and mozzarella cheese. If the cliche is true that brunches exist to cure a hangover, then Dragonfly's will punch your hangover in the face. Its coffee vodka espresso liqueur with St. Elizabeth Allspice Dram and milk makes for one fearsome hair of the dog.
THE BELMONT HOTEL
Brunch served Saturday and Sunday
Located at the historic Belmont Hotel—a renovated 1940s motor court that oozes cool cat charm—this is easily the hippest brunch in Dallas. Chef/co-owner Tim Byres serves artisanal smokehouse-style fare putting a hearty meaty spin on brunch classics. House-smoked ham, a farm egg fritter, sweet corn griddlecakes, and Dr Pepper redeye gravy elevate standard ham and eggs to down-home haute cuisine status. Thick, cakelike ricotta pancakes are studded with a heavy dose of blueberries and topped with vanilla poached apricots and whipped cream. Smoked brisket cornbread hash is served with green chile rajas, pearl onions, and a poached egg. You get the picture: meat, and lots of it. That's a good thing because Byres smokes all of his breakfast meats in-house, including thick-cut pork belly bacon that is knife-and-fork indulgent. Southern touches fill the menu—sorghum molasses, collard greens, and homemade jams and jellies—and the restaurant has an easy-going Austin vibe that draws both families and hipsters on the weekends.