The Texas Legends: Where Hoop Dreams Linger
I'll always remember where I was when Greg Ostertag retired from pro basketball for the second time.
My 7-year-old son is obsessed with basketball. He routinely asks me questions like "Was Bob Pettit"—a Hall of Fame forward who retired nine years before I was born—"a good dunker?" Every car ride longer than 10 minutes becomes a what-if quiz show: do I think that Shaquille O'Neal was a better center than Bill Russell? Were the 1986 Boston Celtics better than the 1997 Chicago Bulls? For Halloween last year, he went as Pistol Pete Maravich, an esoteric costume choice that he had to explain to most adults, let alone his friends. (He eventually gave up and just offered "a 1970s basketball player.")
Part of this is my doing (mostly via the throwaway gift of SLAM magazine's special issue dedicated to the top 500 NBA players of all time). But he doesn't need me anymore. He finds YouTube clips and books on his own now and has disappeared into his own world. 
But he's also, thankfully, still a 7-year-old kid.
"He has really big shoes. Wonder what size he is," Isaac says to me, giggling. We are at Frisco's Dr Pepper Arena, home of the NBA D-League's Texas Legends, but he's not looking at the court, so he's not talking about Sean Williams or Greg Ostertag or any of the other players. He is talking about Dunker, the Legends' mascot, a man in a blue-and-white plush dog suit with, yes, a pretty giant pair of kicks. Dunker is connected to bungee cords and jumping up and down on a trampoline located behind one of the baskets.
The trampoline (there are two others) is part of a kids' area the team has set up. There are a couple of bounce-house-type basketball games and a slightly incongruous baseball tee. Before the game, Legends staff rounds up kids and lines them up to slap hands with the team as the players make their way from the locker room to the court, through the smoke of a dry ice machine. (To the tune of T.I.'s "Bring 'Em Out," whose title makes sense as intro music but whose lyrics strike me as not terribly family friendly. Example: "It's hard to yell when the barrel's in ya mouth.")
All of this is a cornerstone of the Texas Legends experience. It has to be. Unlike, say, minor league baseball, the team can't really sell the idea of seeing future stars on the way up, or even current stars on rehab assignments. Most of the players for the Legends (and their opponent tonight, the Oklahoma City Thunder-affiliated Tulsa 66ers) are barely on their way up—and probably only to a contract with a foreign team—or very definitely on their way down. Instead, D-League basketball in general, and the Legends specifically, has to be sold as a fun and fairly cheap (most tickets are around $20) experience, not just a game.
In other words, "a night the whole family can enjoy," as Nancy Lieberman says in a taped message on the arena's video board. Lieberman, an actual basketball legend who made history by being the first woman to coach a professional men's team in 2009, now serves as the organization's assistant general manager, as well as one of its faces in the community. "Welcome to where dreams happen. Welcome to the Texas Legends."
(Like I said, that last bit, about the dreams and such, is a stretch. But Lieberman has to say it. "Welcome to where aborted comebacks and misguided hopes happen and also we have games for kids" doesn't read quite as well.)
Mostly, a Texas Legends game works quite well as family entertainment, a few possible missteps aside. For instance, I don't know if I'd include Soulja Boy's "Crank That (Soulja Boy)"—with its please-don't-look-this-up-on-Urban-Dictionary "Superman that ho" refrain—on a mix for kids. But there it was, blasting through the arena prior to the game. That aside, the game provides the two essential elements of quality family entertainment: distraction and safety. Isaac and I spent some time in the kids' area before the game tipped off, obviously, because he wouldn't pass up a hoop set up in the middle of an active volcano without taking at least a few shots. Just before halftime, when he wanted to go back, I let him go off on his own—and I think that had much more to do with the atmosphere and less to do with my possibly being a dicey single father.
All that said, it's not just for the kids. It's still professional basketball, but with better and cheaper access. NBA (almost) athletes are quite breathtaking to watch up close, and there are very few places at the Dr Pepper Arena where you aren't. The arena looks like someone sliced off the top of the American Airlines Center, just above the lower bowl of seats, shook out most of the high-ticket items (the scoreboard at the Dr Pepper Arena is ridiculously frill-less), then put the roof back on. Just like the play on the court, it's like a half-scale
version of the NBA.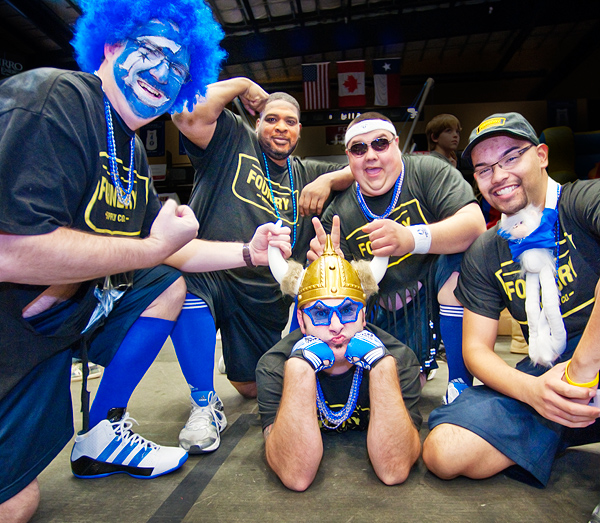 That idea continues through just about everything. Like an NBA team, the Legends have their overwrought, darkened-arena player introductions. But the light show that usually accompanies such things consists of two small spotlights on either end of the arena, visibly being spun wildly around by two Legends employees. They also have their own version of the Mavs ManiAACs, a burly troupe of guys called the Frat Boys, in belly-baring shirts and Viking helmets and "crazy" sunglasses, sponsored by The Foundry Big & Tall Supply Co. They have a real dance squad, too—though the phrase "the hottest dance team in the NBA D-League" probably tickled me more than it should.
And the Legends have half-scale fans, too—dedicated but maybe not diehard. The guy in front of me, with a long, graying ponytail and the mustache you'd expect to come with it, was very vocal, but had sort of a studied familiarity with the names he was calling out. I feel like he wouldn't remember the names later if you asked him. 
Being so close changes the dynamic. When Ostertag headed to the scorer's table to check into the game early in the second quarter, a man one section over from me called out to him: "Hey, looks like you're losing some weight." Ostertag looked over at him and made a face like he smelled a fart. (Welcome to where awkward interactions with players happen. Welcome to the Texas Legends.)
Ostertag, a 7-foot-2 Duncanville native who spent 11 years in the NBA (mostly with the Utah Jazz), signed with the Legends this season after five seasons in retirement. He was, to put it generously, not in game shape. He looked like he was wearing a bulletproof vest under his No. 99 jersey, and he ran like an old action figure before they had the technology to articulate all the joints.
After banging around for a bit without adding a number to his stat line other than "minutes played," Ostertag finally grabbed a rebound and flicked an outlet pass up the court, starting a fast break. He hung behind the play briefly and gave a short, curt head nod to himself, as if to say, "Yep. Still got it." (Maybe that was enough for him. He re-retired the next day, citing ongoing knee trouble.)
But that was enough for Isaac. I don't think Ostertag will be pitted against Russell or Shaq in any future what-if scenarios, but he is now in the conversation. On the ride home, we talked about Ostertag's NBA career more than anyone outside his immediate family has in years, or perhaps ever. I'm sure Isaac has already tried to look him up on YouTube. Ostertag is part of the obsession. Which actually makes me worry a little bit about my son, but I'm going to ignore that for now.

Write to [email protected].