The Chesterfield Wants to Please Your Tastes
Are you ready to order from an 11-chapter cocktail menu?
Eddie "Lucky" Campbell quit drinking the night before his first bartending shift. He has, essentially, been crowd-sourcing his drinks ever since. To get his drinks right, he says, he doesn't taste them. He asks people how they taste. And then he tinkers till he gets it the way his customers like it.
There is a lot that could be talked about in terms of Campbell and The Chesterfield, his new downtown bar. Campbell came to Dallas to become a real estate agent and landed in restaurant and bar work instead. He's shopping around a reality TV pilot about cocktail making and the struggles to get the bar built. He has studied old cocktails and worked with Michael Martensen, who was once part of the Chesterfield team. The place has an 11-chapter cocktail menu and an "ice program."
But this idea of Campbell not tasting his drinks seems particularly fascinating (and apropos) in this age of social media. Smart businesses—companies on the leading edge—are using digital technologies to learn more precisely what customers want. Which on a lot of levels makes The Chesterfield, a cocktail bar bringing pre-Prohibition drinks back to life, a modern, cutting-edge place. 
On a recent Friday night, the crowd was low key (jeans, comfortable, neighborhoody hangout dressed) in the elegant space. The bar is sumptuous, with rich, textured material on the walls, high ceilings, chandeliers that surely would make Edwardian buffs feel at home. I wanted to run my hands across the 100-year-old exposed brick walls, patched with bricks reclaimed from old Chicago warehouses.
But what made the bar sing, what made it come alive, was the blues. Mississippi Delta blues, John Lee Hooker blues, low down dirty blues, all playing through the speakers. It was the last thing I expected in a trendy, seasonal, artisanal, mixologist, early-1900s-inspired-cocktail-menu'd downtown bar, and, man, did it change everything. The music made The Chesterfield feel original and slightly rebellious, willing to risk making a statement. It was someone putting together peanut butter and chocolate, stripes and checks, Latin and the vernacular, and I appreciated that point of view. (Different members of the staff offer input into the music, and the music changes throughout the day, but Campbell told me that they all agreed on the blues, that blues felt right.)
My husband disagreed; he thought it was out of place, that The Chesterfield was too elegant and clean to make a home for the blues. And maybe he's right. But whether or not it was the right move, I loved the boldness of it. Our drinks were good, fresh, and well made—the whiskey sour especially so—but without surprise. I like surprise. I like to visit someone else's idea of what makes a whiskey sour or a risotto or a poem good. I may not have been able to drink the habanero whatever I had at Bolsa (I think it was the Passion Whiskey Fizz) because it was too hot for me, but I loved that someone put a habanero in my drink, that someone decided a freaking fireball habanero belonged in my drink in the first place.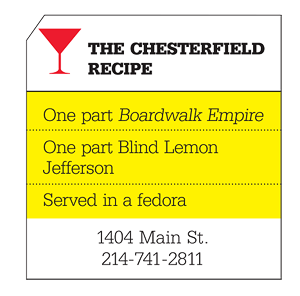 Of all the artisanal cocktail places that have opened around town, the one I've enjoyed the most was fleeting, the pop-up Bar 828, on Davis Street. The bar was just plain cool. An artist was painting a mural as we hung out, we struck up conversations with strangers, and the crowd was so utilitarian-sleek that even Steve Jobs would have been pleased. A woman from Whiskey Cake made me something with whiskey because that was all the direction I gave her, and it was spectacular and sharp and unexpected and new. We walked home and on our way got invited into a neighbor's house, though we'd never met him before, and he told us his stories of Jack Ruby and Oswald. I loved listening to him talk. I loved hearing his story, shot through with his bias, his slant, his perspective, and history, even when I disagreed.
I'm impressed that someone running a bar can create lovely drinks without tasting them. I really like the idea of building drinks to your specific customer tastes so that your whiskey sour is exactly the way your customer base wants it. But, unreasonably, I also want the sharpness of a particular perspective, the invitation to taste a whiskey sour made the way an expert thinks it ought to be.
Write to intoabar@gmail.com.